The first images of the planned Miami Formula 1 track layout have been revealed, showing it using an area previously incorporated into IMSA, CART and Formula E circuits.
Plans for the event, scheduled to start in October 2019, will be considered at a meeting of the city commission next Thursday.
The track passes around the American Airlines Arena, which is the home of the Miami Heat NBA team, and the pit and paddock area will be located adjacent to it.
From the start/finish it runs down Biscayne Boulevard, before it loops around and returns on the same street.
It then heads right towards a high-speed section along Port Boulevard, which crosses a bridge.
After a hairpin it returns on NE 6th Street via the same bridge to a second hairpin, before a run along the waterfront around the arena, through a series of 90-degree turns, and back to the start/finish line.
Some elements of the track resemble the original Miami street race layout, first employed by IMSA in 1983, and which also used Biscayne Boulevard and ran around the area where the arena now stands.
In 1986 local development meant that the IMSA event was later moved slightly north to a new venue at Bicentennial Park. It was also used in reverse direction for a CART Indycar race in 1995, won by Jacques Villeneuve.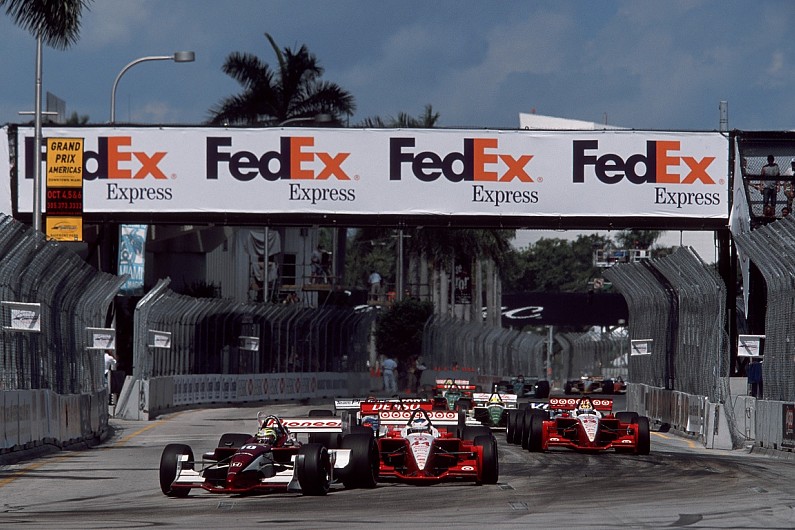 CART returned to the original location for two Champ Car races held in 2002 (pictured above) and '03, which had some elements in common with the IMSA track, and once again featured Biscayne Boulevard.
In 2015 racing returned when FE ran on a short 1.4-mile course that went around the arena, but then swung north.
The proposed F1 layout is the first to run across the water and back, although a similar idea was once discussed by Bernie Ecclestone and original Miami GP promoter Ralph Sanchez in the 1980.
It is clear that the hope is that the two long straights, both of which are followed by heavy braking areas, will contribute to similar action to that seen on the Baku street track used for F1's Azerbaijan Grand Prix.