Pirelli could produce as many as eight different tyre compounds for the 2018 Formula 1 season, instead of the current five, in order to provide greater flexibility.
A final decision will be made after McLaren drivers Stoffel Vandoorne and Lando Norris complete the last development test for next season's tyres at Interlagos next week, after Sunday's Brazilian Grand Prix.
Pirelli wants to expand its range to ensure that teams can choose from three viable tyres at every event.
At many races this season the harder of the three available compounds was barely used, reducing strategic variety.
Pirelli F1 boss Mario Isola explained that next year the compounds would be moved "one step on the soft side" - so effectively this year's soft will be next year's medium, for example.
"It's in between five and eight," said Pirelli F1 boss Mario Isola. "[The hard compound] was used in Barcelona, then we decided not to use it again.
"We will have a range that is more usable, including the [new] hard, so we'll have five compounds that are usable.
"We want to increase this range, and this is the reason why probably we are going to homologate more than five.
"If you exaggerate the number it looks like you are confused. So we need to choose a number that is enough to give us the flexibility [but is] not too big."
Isola said next week's test with McLaren would allow them to test some of those compounds.
"This will give us the final decision on the compound range," he said.
"After this test we will have all the information - if it is not raining, obviously - to define the range for next year.
"We don't know how many yet, but the idea is we need more flexibility to have choices that are more centred, so we have three compounds that are all usable at each event."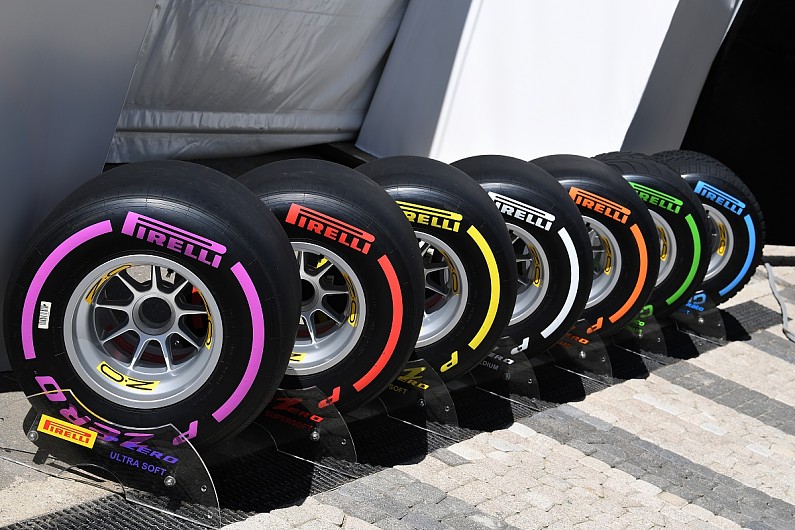 The current Pirelli range is in five steps defined by colour, comprising the ultra-soft (purple), super-soft (red), soft (yellow), medium (white) and hard (orange).
There are no plans to change the current system of compound names and colours, so new ones will have to be created to plug the gaps - although Isola does not want a "revolution" of the names.
"Giving different names to the tyres is a bit losing what we had in the last seven years,"he said.
"Now people have in mind that the super-soft is red, that the soft is yellow, and so on.
"It would be a pity to lose this association between names and colours."
"If we have to add softer or harder levels we need to consider 'super-hard' or something like that."
All 10 teams will have a chance to test Pirelli's revised 2018 range at the tyre test that follows the Abu Dhabi GP.