Paul di Resta says he is doing everything he can to convince Williams he deserves a Formula 1 race seat for 2018.
The team's reserve driver had chance to make his first F1 start since 2013 when Felipe Massa was taken ill at the Hungarian Grand Prix in July, and is now vying with Massa and Robert Kubica for the second Williams drive alongside Lance Stroll next year.
"They know me well enough now. I've been here over a year and a half," di Resta told Autosport.
"I've very actively tried to get as involved as I can here, as I will continue to do.
"As time goes on I've made it very clear what a dream it would be to get in the car.
"I'm racing DTM alongside what I'm doing, but being here and under people's faces is obviously the biggest thing.
"I've learned from my mistakes in the past, and I can try and put it to rights.
"It's a bit of a waiting game. I'm actively trying to do as much as I can to try and put myself in contention for it, because it is there, and it's an important time for the team as well."
Di Resta said his Hungarian GP chance proved a point to himself as well as Williams and F1.
"It would be wrong to say I lost my appetite for it. The longer [not racing in F1] went on, the more difficult it was becoming," he said.
"It proved to myself that I can certainly still do the job, although you always believed it.
"And maybe it showed the outside world a bit more that given the opportunity again, that was only a sniff of what you can do, given a proper chance."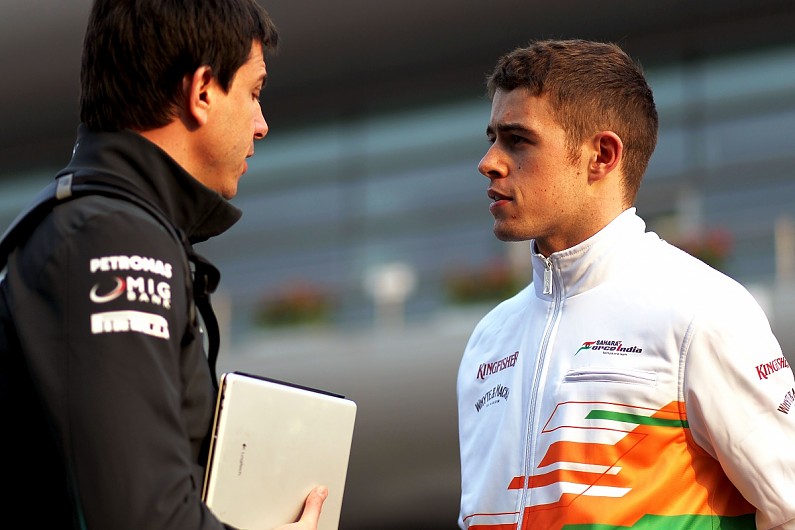 Mercedes motorsport boss Toto Wolff suggested in Hungary that di Resta had showed he was the best stand-in option for the works team.
Di Resta acknowledged that "I've got a relationship with Toto that goes way back - he knows my phone number!", but said his priority was the Williams race seat rather than a Mercedes third driver role.
"I've not thought of anything other than when you see this position that's available at the moment, that's the one you want to grab," he said.
"The rest is all second at the moment."