Romain Grosjean has compared the atmosphere in the Haas Formula 1 team to the feeling he had at French squad DAMS when he won the GP2 title in 2011.
Grosjean returned to the F1 feeder series after his brief but problematic promotion with Renault in the second half of the 2009 season, initially as a stand-in at DAMS for four weekends in 2010, before winning the championship with a full campaign the following year.
He said the level of faith shown in him by Haas during the American team's rookie F1 season reminds him of the way Jean-Paul Driot's DAMS outfit worked with him to prepare him for a second shot at F1.
"I'm just in a place where I'm driving, trying to push the team hard," Grosjean (pictured below with Driot) told Autosport.
"Sometimes I'm not using the right words, it's nothing personal, it's all in perspective and going in a good direction.
"You don't ask yourself is the team going to keep me on, does the team have faith in me, or where are we going.
"Earlier in my career with DAMS I had that feeling of doing something quite big for the team and I had the reward of respect from all the guys.
"I feel the same here, I crashed the car in Brazil [before the start of the race] and I felt so bad, but everyone gave me a hug and said 'It doesn't matter, we've got the next one, it's fine'.
"It could have been 'What was that?' but it's not like that here."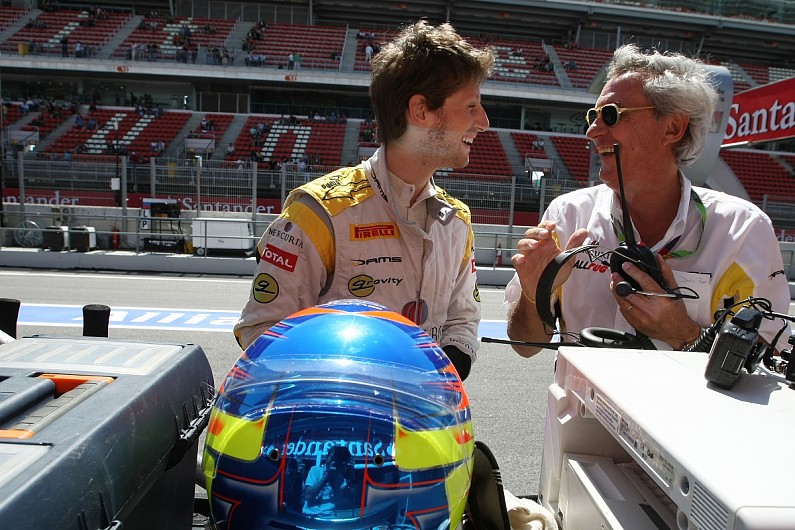 Grosjean added he is hoping to race for another "seven or eight" years in F1, and he believes Haas is committed long-term to its project.
"When I joined I knew it wasn't one year and I knew it needed to be a multi-year thing because it's a new team," he said.
"But the team and I know that I want to be world champion and I'm already 30, so I don't have 10 years in front of me.
"I may have seven or eight which is still a long time.
"I know one thing is Gene [Haas, team owner] didn't come into F1 just to be here.
"He's here because he wants to win, the same as [his team has] in NASCAR."