Kimi Raikkonen now feels he has the trust and commitment of his mechanics and that has inspired his improved form, according to Ferrari Formula 1 team boss Maurizio Arrivabene.
Raikkonen was comfortably outperformed by team-mate Sebastian Vettel last season and Fernando Alonso the year before.
But after re-signing in July for next year, his results have improved and he now sits five points and two places ahead of Vettel in the 2016 drivers' standings with four races to go.
Arrivabene has consistently praised Raikkonen's performances this year, at one stage saying he is "not a world champion for nothing", but at Austin elaborated on why he thinks the Finn has got better.
"Everyone gets surprised when they are talking about Kimi's performance but there is nothing to be surprised about," said Arrivabene.
"He's been a world champion, with us actually, and he is quite fast.
"He was most probably suffering a bit the last few years.
"Now he can feel that the part of the team that is working with Kimi is committed to him.
"He has a very good relationship with Sebastian and that helps.
"It's just a question for him to feel the trust of people around him and then he's going to do his best.
"When he has to push with his feet, he's pushing very hard."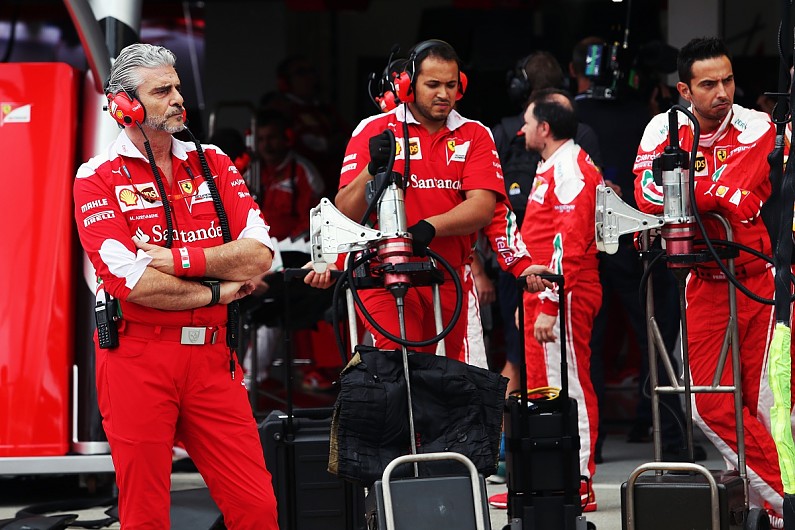 ARRIVABENE RUBBISHES CLIMATE OF FEAR CLAIMS
Former Ferrari chief engineer Luca Baldisserri told the Italian media last week that the Scuderia is suffering from a "climate of fear" that is leaving staff afraid to take risks.
When asked for comment, Arrivabene rubbished the claims.
"The atmosphere inside the house is different to what people think about or what you are reading in the newspapers," he insisted.
"It's an old story. Ferrari in Italy is like the Italian national football team.
"Having pressure is normal, having tension is normal, having criticism is normal so you have to live with that.
"Sometimes it's going too far.
"Our job is to be concentrated in what we are doing, it is to follow our way.
"This is part of the job.
"If you working in Maranello, if you work for a brand like Ferrari, you have to accept all of this, like it or not."
Autosport has produced a standalone special magazine to celebrate our 70th birthday. All current print subscribers will receive a copy for free. To order your copy of the 196-page Autosport 70th Anniversary issue, please go to: autosport.com/autosport70th