Bob Fernley believes Fernando Alonso should have backed off in his pitlane battle with Nico Hulkenberg that potentially could have cost Force India ground in the Formula 1 constructors' championship.
Emerging from a pitstop after 23 laps of the Belgian Grand Prix, Hulkenberg and Alonso ran side by side heading towards the pit exit where the McLaren driver touched the rear of the Force India as it edged in front.
Hulkenberg avoided any lasting effects from the clash, going on to finish fourth ahead of team-mate Sergio Perez.
Alonso and McLaren also avoided any punishment from the stewards for an unsafe release and took seventh after starting from last on the grid.
"Perhaps Fernando should have backed off a little bit in coming to the end of the pitlane just to give clear access," deputy Force India team principal Fernley told Autosport.
"You don't really want to have a pitlane incident, and it could have turned out worse. It was unnecessary.
"We were coming out of the pitlane first and you don't want to be touching cars on the way out, but it's not an incident that's going to bother us.
"I agree with the stewards, though, it wasn't an unsafe release, but as I say Fernando should have backed off in realising no advantage was going to come from it."
JUMPING WILLIAMS UNEXPECTED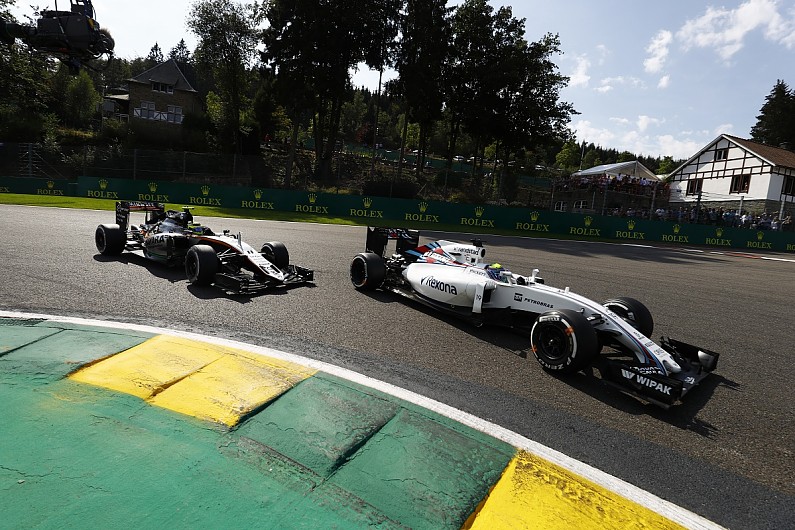 In scoring 22 points from the race, and with constructors' championship rivals Williams only managing five with Valtteri Bottas eighth and Felipe Massa 10th, Force India is now up to fourth in the standings.
Fernley added: "We weren't expecting that.
"We still need to take stock at the end of Monza [this weekend's Italian Grand Prix] as Spa and that circuit are Williams tracks, so it's important we don't get too carried away.
"But this was a good result for us. I didn't expect this bonus.
"We thought we could outperform Williams here, but that it would be hard work, so we expected to chip away at their lead rather than get a big leap as we did."
Force India now has momentum going into the last eight races, with Hulkenberg and Perez both in the points in three of the last four to outscore Williams by 44 points to nine in that period.
However, Fernley expects the two teams to go "toe to toe" in the championship over the rest of the season.