Nico Rosberg believes the radio instructions he received from the Mercedes Formula 1 pitwall to get around gearbox problems during the British Grand Prix were within the regulations.
The German, who finished second at Silverstone, is under investigation for radio traffic from his team that instructed him to avoid using seventh gear to prevent a gearbox failure.
But Rosberg believes the nature of the problem means he should not face punishment over rules that state the driver must drive the car "alone and unaided".
"It was a very critical problem because I was stuck in seventh gear and I was about to stop on track," he said of the late-race problem that put him under pressure from Max Verstappen in the battle for second.
"They told me to change to default [settings] and try and fix it."
When asked if he was confident the communication was within the regulations, Rosberg said: "Yep".
Rosberg was passed by Verstappen around the outside in the final part of Becketts earlier in the race, but the advantage swung back to the Mercedes driver when everybody switched to slicks as the track dried out.
"It was a cool fight," said Rosberg. "On the [intermediate tyres] not so much of a fight, it was done pretty quickly.
"But in the dry it was great, playing around with the ERS deployment.
"I was trying to get him to empty his battery but when he did, mine was empty too.
"It worked out well in the end, he did a great job defending - it was cool."
HAMILTON HAD MORE PACE IF NEEDED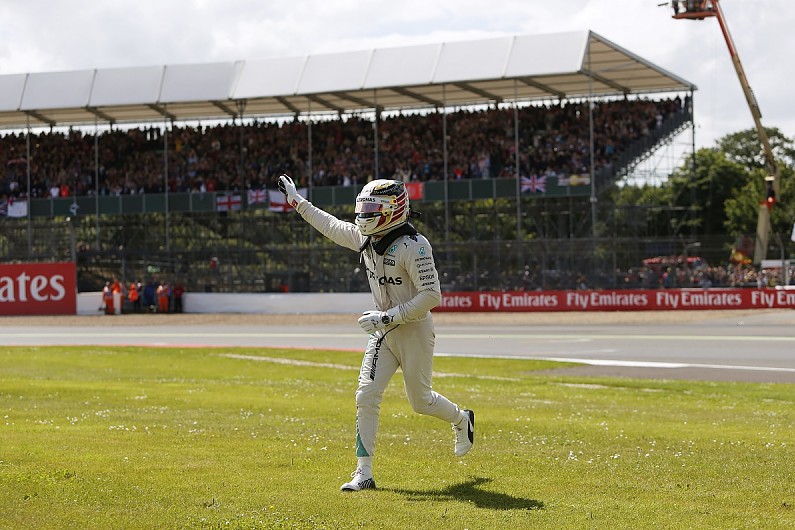 While Rosberg hung onto second, Hamilton took his fourth British GP win, and he said he had the race under control.
"I was very comfortable at the front, I was watching the times from the guys behind," he said.
"I had more. In those conditions you don't want to risk anything.
"I had quite an oversteering car in the beginning, and I knew I was quicker in the second and third sectors, so there was plenty of pace in that first sector if I needed it.
"I did everything I could in the race to save the engine, I saved it for quite a long period of time.
"I knew I had a good buffer to the cars behind to I didn't have to lean on it.
"On that slow down lap, once you come across the line, it's just the most amazing feeling.
"You just want to jump, but you're strapped into the car.
"It's surreal [to have four British GP wins], it shouldn't be but it is just because it's so special. I'm very proud."