Jules Bianchi's father says his son is continuing to fight for his life, but concedes they have started to think of the worst-case scenario.
Since his accident in last October's Japanese Grand Prix, Bianchi has spent almost the last eight months in a battle for survival.
After two months at a hospital in Yokkaichi close to the Suzuka circuit, the Manor driver was then transferred to a facility in his home city of Nice where he has since remained.
Although Bianchi is no longer in an artificial coma, the 25-year-old remains unconscious with the prognosis grim.
"The first thing is Jules is alive, that's the most important thing for us," said Bianchi's father Philippe, speaking to Canal+.
"He's fighting with the weapons he has, but in neurological terms I'm not sure he is able to do much now.
"Seeing him fighting gives a lot of hope to his loved ones, and it's important for us.
"While there is life, there is hope, even though after a while you are hoping for a miracle. Every day is difficult.
"The situation is stagnant. Jules' neurological progress is not what we would like it to be.
"When we get up every morning we think of Jules' life, we think also of his death.
"We have to think about death because we are in a situation where we know a lot of things can happen. It's terrible.
"I think we all stopped living that day, the fifth of October. It's something you can never expect.
"It's not what Jules wants, being in a hospital bed. It's not his life, it's not what we want either. But we have to keep hope."
It was a year ago at last year's Monaco Grand Prix that Bianchi secured a ninth-place finish for the team then known as Marussia.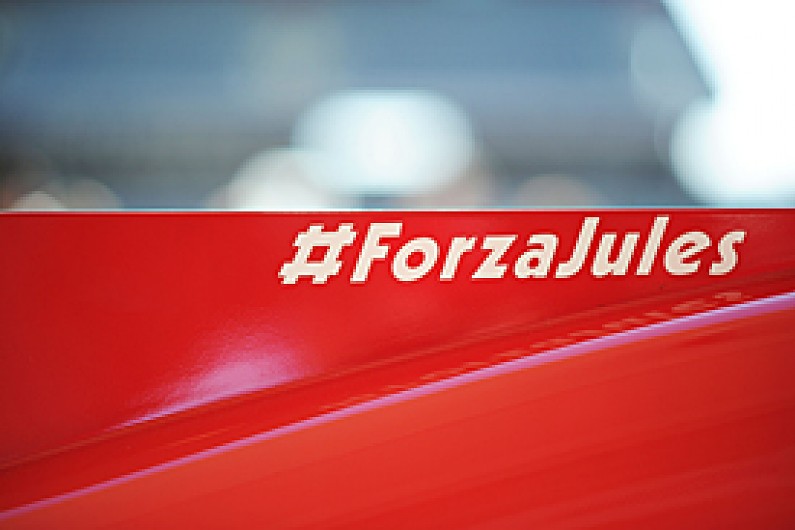 They remain the marque's only points in its five-and-a-half-year history, with Manor this weekend commemorating the achievement with a specially-commissioned wristband.
Believing his son will be able to feel the energy generated from the race just 20 kilometres away, Bianchi Sr added: "It was Jules' dream to score points in Formula 1, and he did it with Marussia.
"I was there, and I was lucky enough when Jules finished the grand prix that I was the first person he took into his arms because I was on my own when he finished. Those are incredible moments.
"Jules is here, despite the shock [accident] he had. He's still here and he's fighting.
"All of these people thinking about him gives Jules strength. He can feel it and it's beautiful. We're very touched by it."