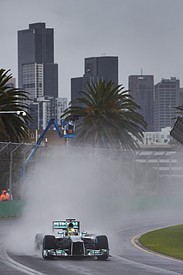 Nico Rosberg is certain he would have been on the front row if Australian Grand Prix qualifying had run its full course in the wet on Saturday.
Mercedes driver Rosberg was fastest in Q1, the only session that took place before a series of heavy showers prompted the FIA to postpone the remaining segments until Sunday morning.
"It's such a pity that the qualifying was stopped because in those conditions I was feeling really good and the car was going well," Rosberg said.
"A front row grid position was definitely on the cards today, so that's a bit disappointing."
He believes Saturday's performance is firm proof of Mercedes' progress.
"It's already looking a lot better than last year," Rosberg said.
"We wouldn't have been that quick in the wet at the end of last year, that's for sure."
Rosberg admitted that a similar performance was unlikely if the weather improved.
"If qualifying is going to be dry, it will definitely make it more difficult for us to be right on top," he said.
"But we have a good car so a good result is definitely possible."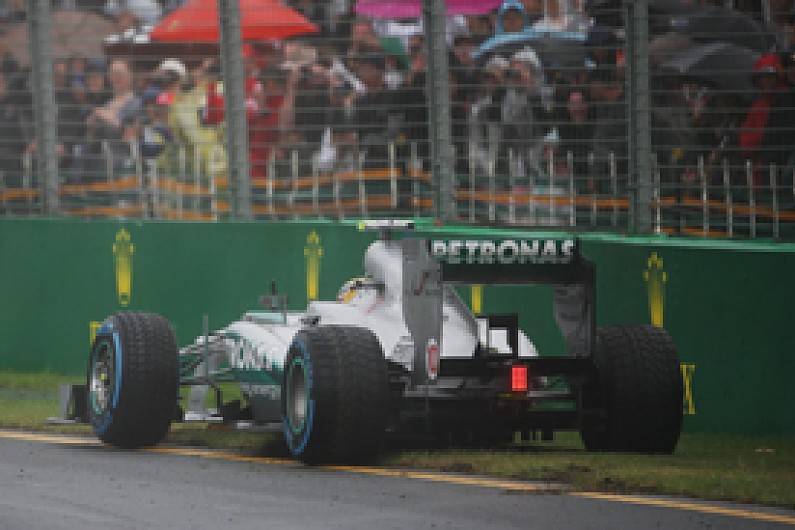 Team-mate Lewis Hamilton, who was 10th quickest in Saturday's Q1 session and had a spin, said that the Mercedes was good in both wet and dry conditions, but he hoped that the weather was dry on Sunday.
"I'm looking forward to it," he said of qualifying on Sunday morning. "It was quite tricky out there for everyone today.
"It's one of the slipperiest tracks I've driven on in the rain, because there are a lot of white lines which are painted black.
"I hope it's dry tomorrow. We've got a good car in both the dry and the wet, but in the rain it obviously becomes more of a lottery.
"In the dry I think we have a consistent opportunity to qualify reasonably high up."
AUTOSPORT Australian GP coverage:

FP1 FP2 FP3 Qualifying Race Gallery Live commentary Official quotes