As Nico Hülkenberg held the winner's name in an envelope, the ten students looked on nervously. One of them was about to have their life changed forever. The Renault Formula 1 driver had made the trip to INFINITI's global headquarters in Hong Kong to announce the winner of the 2017 INFINITI Engineering Academy Asia-Oceania final.
In a little over a month, the victorious student - Australian Jacob Debono - would be whisked off to the UK to begin his year-long work placement at both the Renault F1 team in Enstone and INFINITI's Technical Centre in Cranfield.
Now into its fourth year, thousands of applications from around the world were whittled down to 70 students across seven different regions: US, Canada, Mexico, Europe, Middle East, China and Asia-Oceania. After a two-day series of challenges, seven winners (one from each region) will commence their work placements in the UK.
The seventh and final two-day event took place in Hong Kong between 17-19 September and F1 Racing was present to watch the students undergo a series of challenges, both written and practical (some fun, others tough), where they had to impress the ever-present judges. Think X-factor, but for brilliant engineering minds, not showbiz wannabes.
"They obviously need to have strong technical knowledge, but we are also looking at how well they perform in a team," says Tommaso Volpe, the Global Director for Motorsport and Performance Projects at INFINITI. "One of the challenges is to build and race a dragster model and to achieve it, they need to work under pressure in a very small time frame."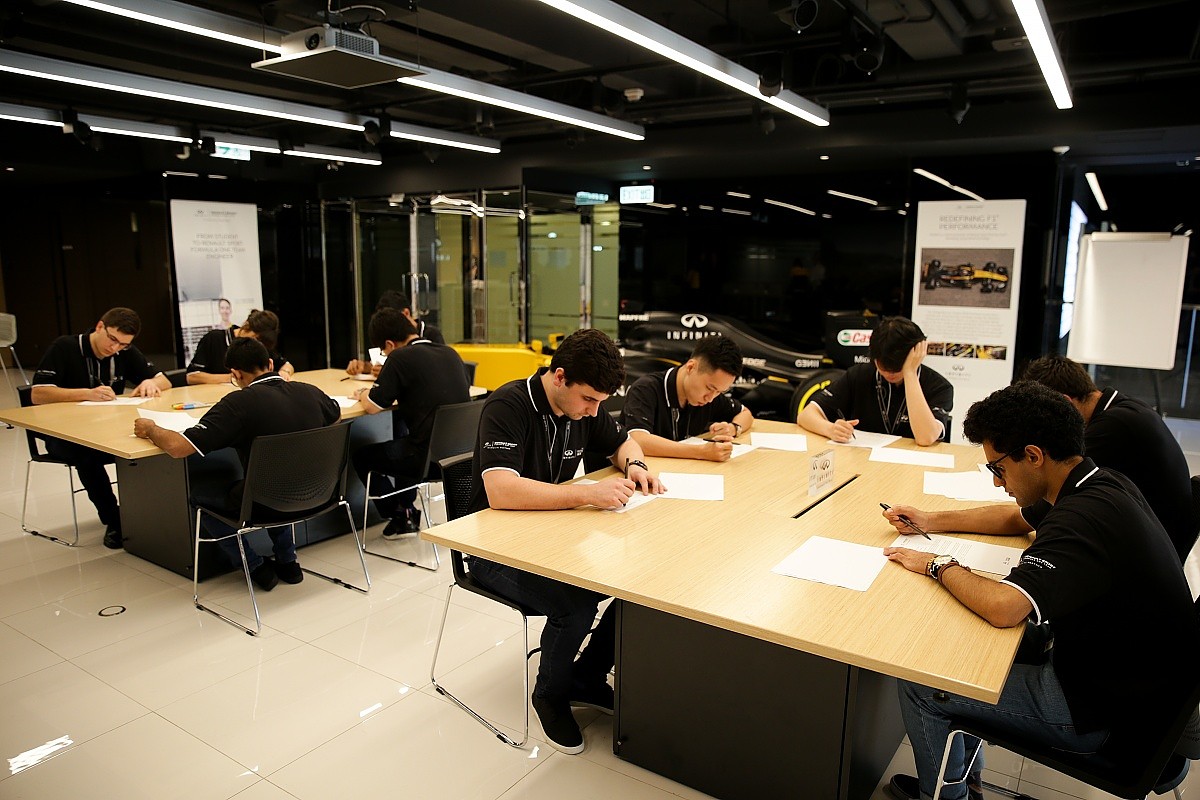 Other tasks included designing the site of INFINITI's technical centre in Cranfield, taking a written technical test and undergoing an interview in front of a panel of judges and Renault's team principal Cyril Abiteboul.
"This is a great programme that INFINITI have created because it is finding young talents for the future," says Abiteboul. "We are recruiting a lot at the moment and the fact students get the chance to work both at the Renault F1 Team and at INFINITI is a great way to get understand the engineering philosophies across both the automotive and Formula 1 industries.
"This project makes a lot of sense from INFINITI," he continues. "It's cost-effective and is a chance to invest in people because the talent of today is the performance of tomorrow."
Of the seven winners last year, a number have been given permanent contracts at either Renault or INFINITI, while the remainder have returned to university to continue their graduate studies.
The INFINITI Engineering Academy started four years ago when just 1,000 students applied for the scheme. This year 12,000 CVs were submitted from around the world and the academy is expecting an even bigger number of university engineering graduates will apply in 2018.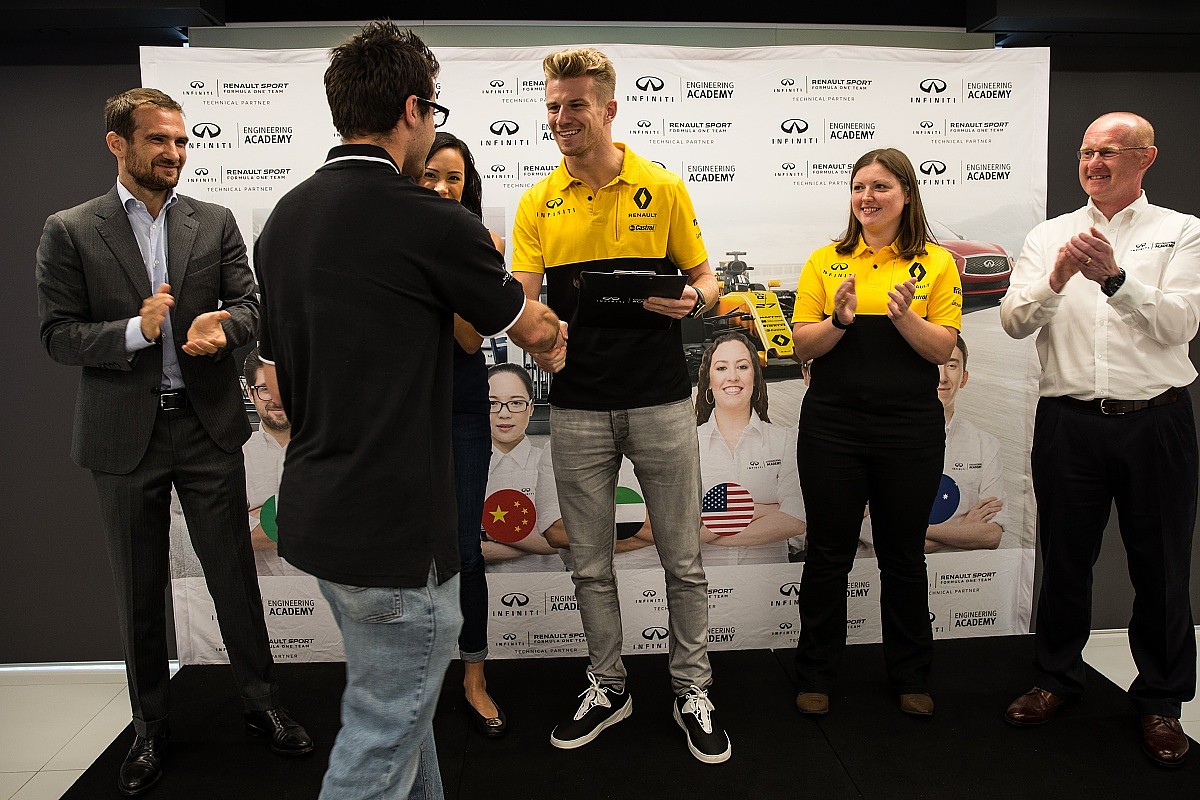 Having flown over to Hong Kong from the Singapore Grand Prix, Renault's Nico Hülkenberg helped the students in their dragster challenge and the German racer was impressed with their talent and teamwork.
"I think the INFINITI Engineering Academy is special and unique for these students to have this opportunity, because it's not easy to get to Formula 1," said Hülkenberg. "As it's such a technical sport, you need bright, smart young people who come with fresh ideas - and you have that here. That can ultimately make a difference to your results and your performance."
Think you have the engineering X-factor? Then consider applying for next year's competition...
How to apply
If you're a current engineering student and fluent in English then get your CV and application in for the 2018 INFINITI Engineering Academy for the chance to win a year-long work placement at both the Renault F1 Team and at INFINITI's Technical Centre in Cranfield (six months at each). Click here for more information.
Q&A: Tommaso Volpe
Global Director for Motorsport and Performance Projects at INFINITI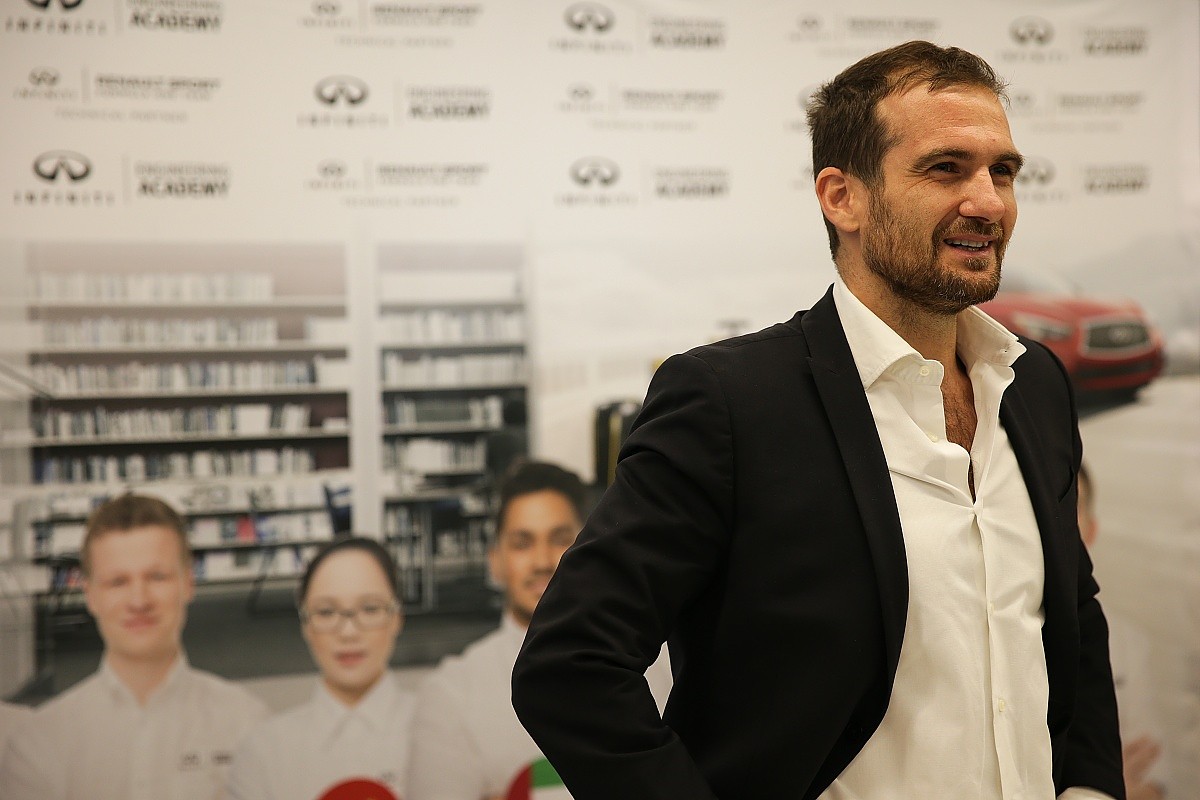 How did the INFINITI Engineering Academy come about?
"The reason we wanted to do this project, by hiring young talents from all over the world, is for INFINITI to bring to Renault added value as a technical partner, in addition to the expertise we bring with the hybrid technology in the F1 power unit. So we launched the INFINITI Engineering Academy in seven regions around the world: Mexico, US, Canada, Europe, Middle East, China and Asia-Oceania."
What do the seven winners get?
"They get work placements at the Renault Sport F1 Team and a further six months at the INFINITI Technical Centre at Cranfield. I don't know of another programme that does this for their students. Automotive and Formula 1 are different playgrounds but engineering principles are the same. Once we have these winners, we place them in the best field for their profile, so they will be placed in either vehicle dynamics or electronics or aerodynamics - depending on their area of study or skills."
How has the INFINITI Engineering Academy grown in the past four years?
"The first year we had 1,000 applicants and three winners, the second year we had 2,000 applicants and five winners and then 4,000 applicants and seven winners. Now we've had 12,000 applicants and we have ideas to evolve it further into next year."
How do you select the winners?
"There are two phases to determining who comes out on top. Firstly, candidates from around the world apply on our website, then there is a screening process to get down to the ten best candidates for each of the seven regions.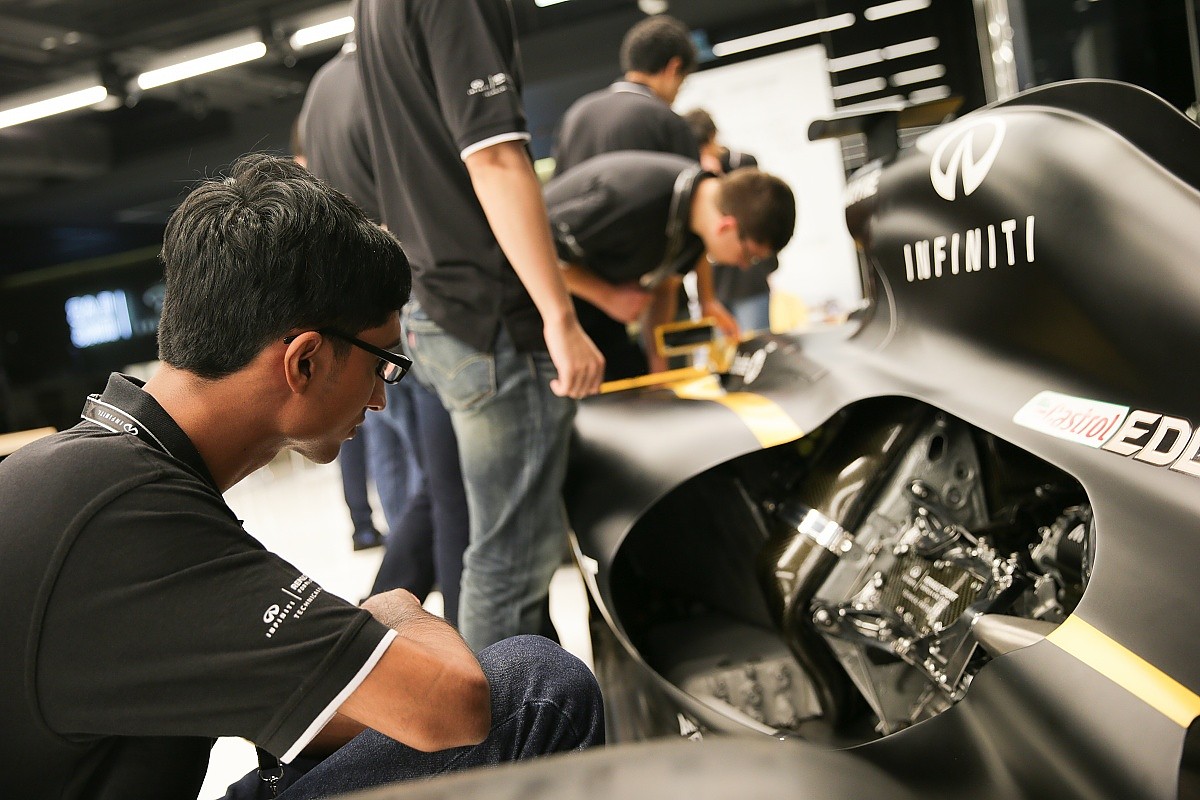 "Then we invite the ten best candidates and ask them to do several challenges over a two-day event. Some are fun, some are tough, but we test them on various things from different angles. They have interviews, a technical test, then they build and race a dragster."
What characteristics are you looking for?
"They obviously must have strong technical knowledge, but we are also looking at how well they perform in a team. How well they work under pressure and under tight deadlines. Finally, they need to represent our brand as an ambassador - that's why we subject them to so much filming."
What other projects are INFINITI working on with Renault?
"Earlier this year, we unveiled at the Geneva Motor Show, the Project Black 'S'. This road car will have dual-hybrid technology, so will recover both kinetic and heat energy much like the systems used in the power units in F1.
"The perception of hybrid is a consumption saving technology, but we are using it as performance technology. The Black 'S' is also more complicated than F1 because it is a twin-turbo, so we need two motors to recover heat from the exhaust gasses - so three motors in total."
Jacob Debono
Winner of the 2017 INFINITI Engineering Academy Asia-Oceania regional final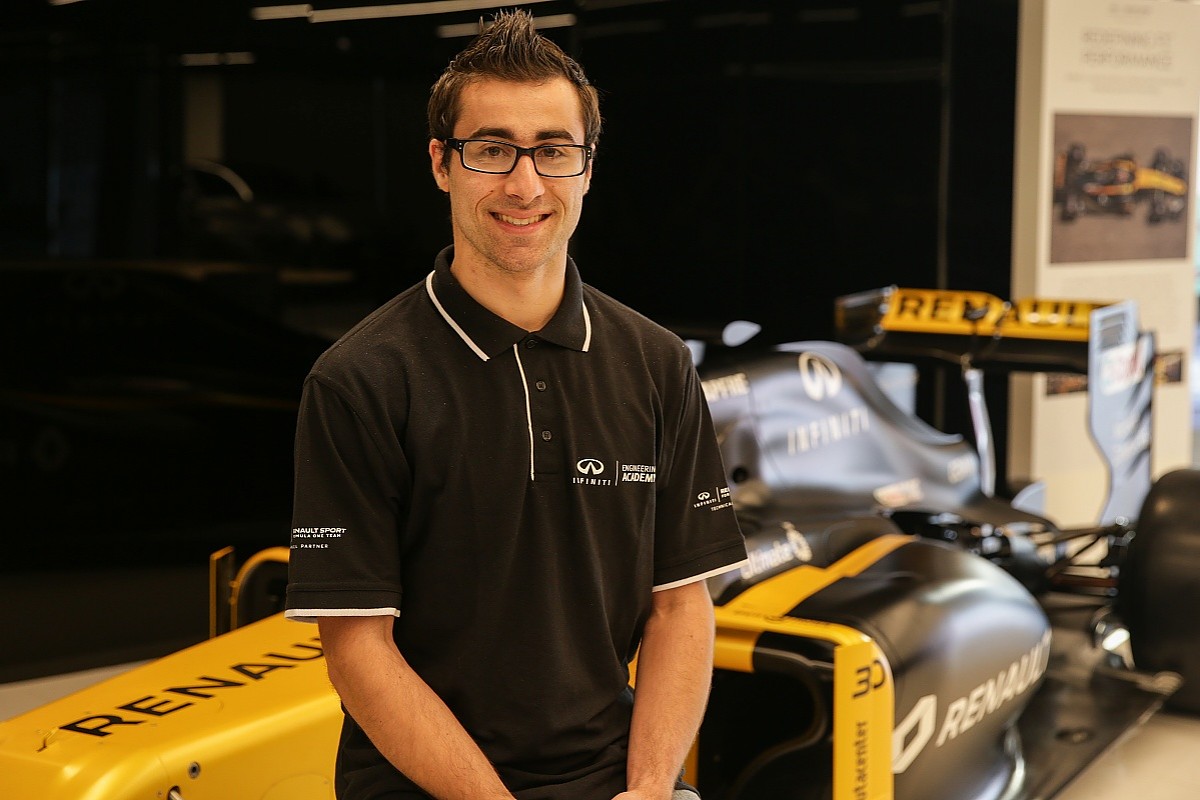 "I couldn't believe it when Nico Hülkenberg stood there, opened the envelope and read out my name. I never expected to win and it was very overwhelming. To spend a year working with a Formula 1 team at Renault and an automotive manufacturer, INFINITI, is an absolutely, invaluable experience.
"The challenges in the two-day final were fantastic, they were much more hands-on than a lot of us had been exposed to before, so it pushed every single one of us. Also, working with Nico Hülkenberg has been extremely surreal. He helped us in the dragster challenge, where we were put into two teams of five.
"We could change suspension geometry, tyres, setup and our race strategy - so the best way to run the car, for example, when to deploy power. As a team we really gelled and it was important to understand how everyone worked together.
"As a young engineer, this is one of the best opportunities you can have in motorsports. I've been planning to get into F1 engineering, and so this opens this door wider for me. I'm extremely privileged to have won and I will make sure I don't pass this opportunity up when I start my work placement with the other six regional winners later this year."