DS Techeetah's credentials as Formula E's benchmark team were further underlined as Antonio Felix da Costa wrapped up the team's second successive title in Berlin last month - and third drivers' title success. But it's not only top-level drivers that the Mark Preston-led team has in its favour - it also has a strong engineering group, complemented by a team manager who has been there and done it first as a race engineer and latterly as a technical director in Formula 1, IndyCar and sportscars.
The son of the works manager at McLaren Racing who spent his summer holidays and Saturday mornings at Colnbrook, Nigel Beresford graduated with a mechanical engineering degree from Brunel University - sponsored by the National Maritime Institute - where he learned all about windtunnel testing working in the field of industrial aerodynamics.
He landed his first motorsport job at Ralt in 1986, but only stayed six months working for the "brilliant but very demanding" Ron Tauranac before moving to Tyrrell, first as a design engineer then a race engineer following an off-the-cuff conversation with Harvey Postlethwaite, a man who "got more out of you than you thought you had".
PLUS: How pragmatic principles made Tauranac a design legend
"That was a time when you could go from zero experience to running a Formula 1 car, literally overnight," he says. "One thing I always tell people who ask me for advice is 'make sure that the people who have the power to advance your career know what you want to do'."
Starting out with Jonathan Palmer in 1989 - scoring a point for sixth in his second race - he formed a close bond during 1990 with Jean Alesi, whose impudent pass on Ayrton Senna at Phoenix in that year's opening race has passed into F1 legend.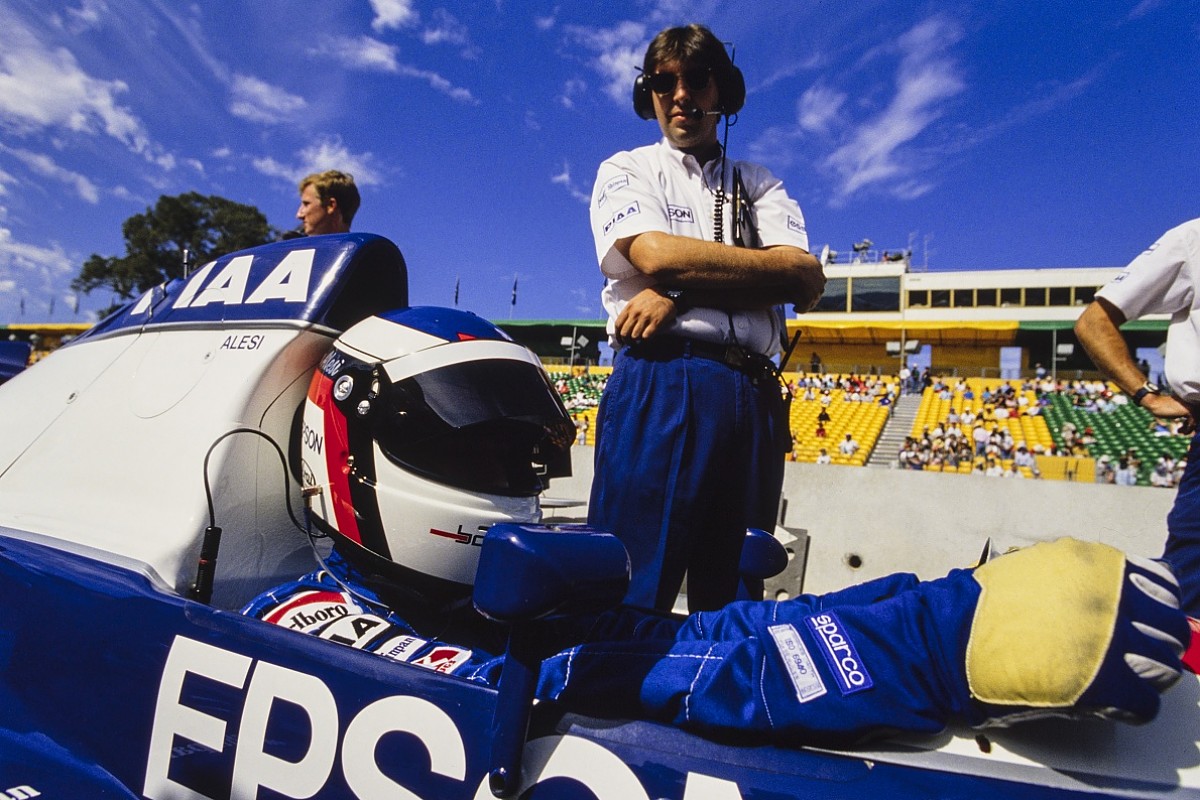 Indeed, he classes the Jean-Claude Migeot-designed 019 - which Alesi took to the podium at Monaco - as one of the two bests car he worked on in his career, along with the 1993 Penske PC22.
PLUS: The "completely mad" nose job that transformed F1 design
"In those days, you spent your autumn and winter designing your car and the summer racing it, not like nowadays," he says. "You were in a small group of engineers designing and racing the car, there wasn't a design office and a separate bunch of guys for the race team, it was all the same people. The 018 and 019 - basically an 018 with a different front-end - were really lovely cars."
Money was always tight at Tyrrell - "there were years where, literally, our team gear came from Marks & Spencers" - but Beresford thoroughly enjoyed his time at Ockham until he was approached at the end of 1991 "out of the blue" by Nick Goozee of Penske Cars to join IndyCar's gold standard team. The chance to work for the "extraordinary" Roger Penske under vice-president Teddy Mayer, an ex-McLaren man Beresford knew from his childhood, was too good to pass up.
"If they handed out PhDs in common sense, then he would be Dr Rick Mears. I was learning by working with the master as it were" Nigel Beresford
"Roger loves a challenge, so if you tell him something can't be done then he will prove you wrong," says Beresford. "Everybody at Penske Racing is basically there to work for Roger because you know there is nobody working harder for you than him."
Four-time Indianapolis 500 winner Rick Mears, "the Ayrton Senna of oval racing", was the ideal driver to give Beresford an education in the nuances of this most specialised form of racing.
"If you were a Formula 1 engineer at that time in the '80s, early '90s, you knew nothing about dampers, roll-centres and Formula 1 cars were almost purely aerodynamic devices," he says. "All the suspension work you did with a Formula 1 car was to get the best out of the aerodynamics.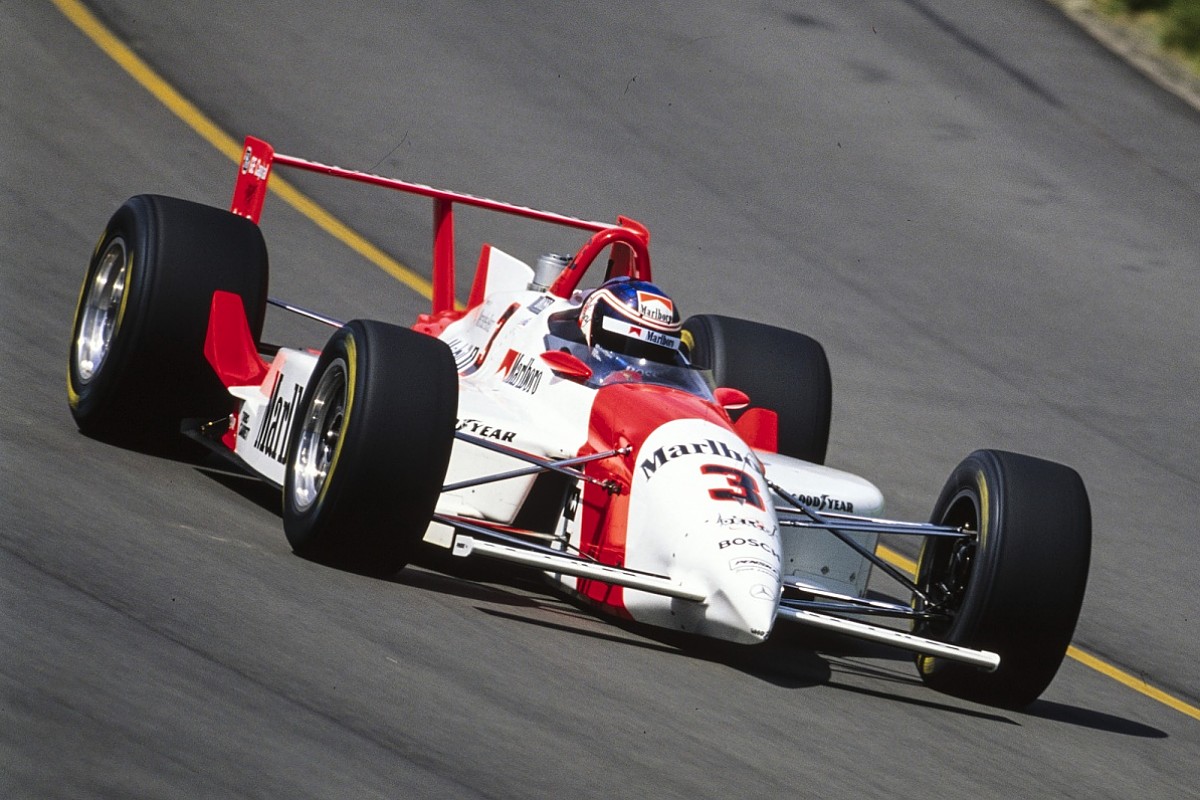 "You go to an Indycar and I had to learn everything that I now know about dampers, roll-centres, camber change, toe change, all sorts of things. Rick had this whole patois that he used for talking about things, and if they handed out PhDs in common sense, then he would be Dr Rick Mears. I was learning by working with the master, as it were."
Autosport 70: The Captain's Indy legend calls it a day
When Mears retired at the end of 1992, Beresford was charged with running Paul Tracy. The pair gelled quickly, but the mercurial Canadian - who Beresford says "would have six months where he could walk on water" - struggled to put together consistent seasons and didn't fulfil his potential at the team, being usurped by the arrival of Al Unser Jr in 1994.
Beresford briefly returned to Tyrrell in 1995 to oversee a rigorous programme of reliability improvement as Tracy departed Penske for Newman-Haas, but they were reunited at Penske for '96 (pictured above at Michigan) - by which time Firestone had taken a decisive leap beyond Penske's Goodyears in the tyre war. Only when it ditched Goodyear tyres, Mercedes engines, an underperforming Unser Jr and swapped its own chassis for a spec Reynard did success return in 2000 with Gil de Ferran.
PLUS: How Penske ended its longest drought, 20 years on
In his second spell with the team, Beresford cycled through various roles trackside and at Penske Cars' UK base in Poole overseeing car development, eventually rising to the role of technical director before it's closure when Penske centralised its assets in North Carolina.
Beresford was then tasked with overseeing its return to sportscars in the American Le Mans Series and from humble beginnings in 2005 - "the RS Spyder was in many ways very old-fashioned, the initial aerodynamics on the 2005-06 car were terrible!" - won three consecutive LMP2 class titles and the Sebring 12 Hours outright in 2008.
"It had a fantastic engine, Porsche were very clever about understanding the process of going sportscar racing, then Roger and Tim Cindric were very good strategically," says Beresford. "There were many occasions where we basically wrong-footed Audi.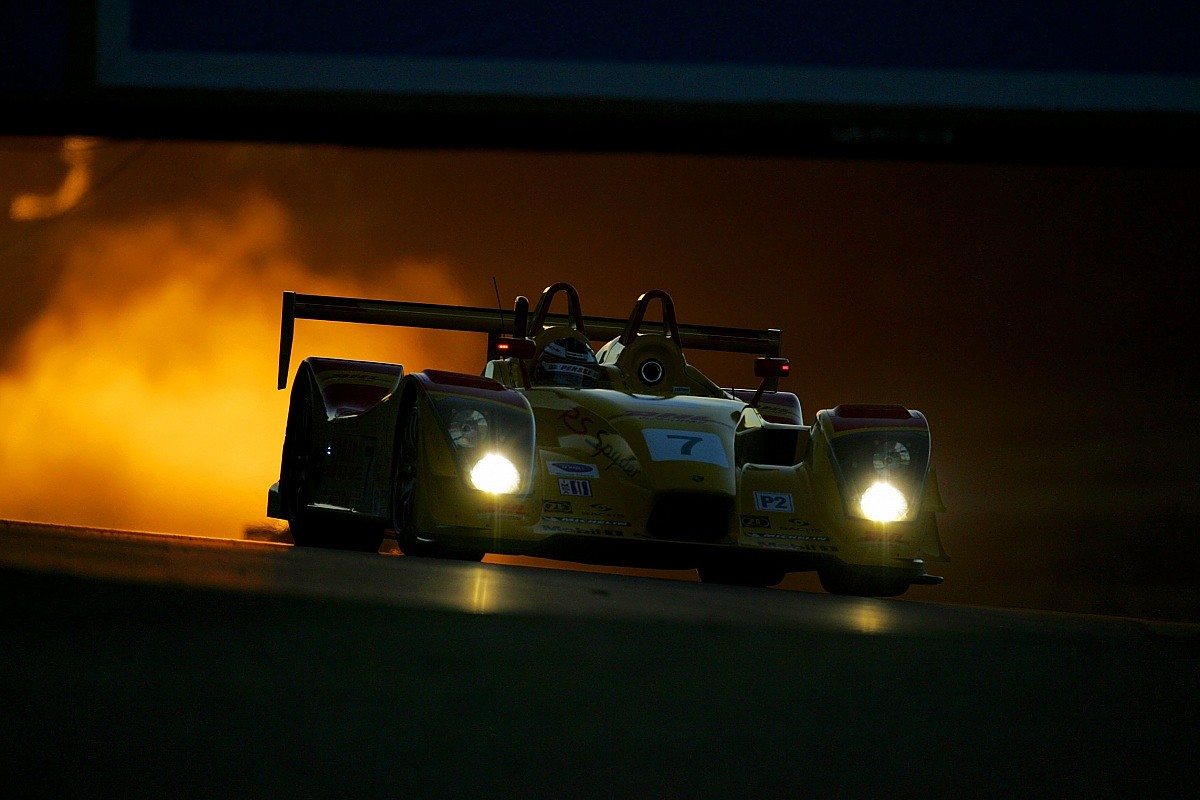 "It was a very difficult car for the drivers to reach the limit of, because the limit was so high. If you weren't coming from Formula 1 or from an IndyCar or a really ballsy, high-downforce, very fast car, it was difficult to get the best out of it. We also did a lot of work on the dampers on our own seven-post rig, that was all Penske. It was a fantastic project to be involved with."
After running a third Penske Indycar for Will Power in 2009, Beresford then had a spell working freelance in GT racing - among his customers the Von Ryan Racing team headed up by former McLaren staffer Dave Ryan, who was given his big break by Beresford's father - before the call came from Jay Penske to set up the Dragon FE team from scratch in 2014.
The first generation cars were like "an electric-powered Tonka toy", with simplicity a key criteria "because you've got to be able to service the things in a car-park in a city somewhere, you don't want lots of fragile stuff that's going to need lots of crack-testing". And that was just as well given Beresford - who fulfilled technical director and race engineer roles for Jerome d'Ambrosio - arrived at an empty workshop at Donington Park with one rolling chassis, a second in a box and no staff.
"We showed up and put Indycar-style set-ups on the car with softish springs and allowing the car to move so the driver could attack the kerbs" Nigel Beresford
"We started about six weeks behind everybody else," says Beresford, "and we won a race and ended up second in the 2014-15 teams' championship. We'd come from absolutely nothing and we'd beaten everybody except a big factory team [in Renault e.dams]."
Beresford says Dragon applied an IndyCar-style philosophy to car set-up in those early days, using knowledge honed from running cars on bumpy US street tracks to outfox European teams preoccupied with optimising what limited downforce the Gen-1 car could unleash.
"In America, you learn how important the dampers are, whereas if you're working in European racing all the time, you get transfixed on aerodynamics and the car has got to be really stiff," he says. "We showed up and put Indycar-style set-ups on the car with softish springs and allowing the car to move so the driver could attack the kerbs."
D'Ambrosio inherited the team's first victory in Berlin when Lucas di Grassi was disqualified, but it was Dragon's second and third place on the Battersea Park course in London - Loic Duval joining d'Ambrosio - which Beresford cherishes most.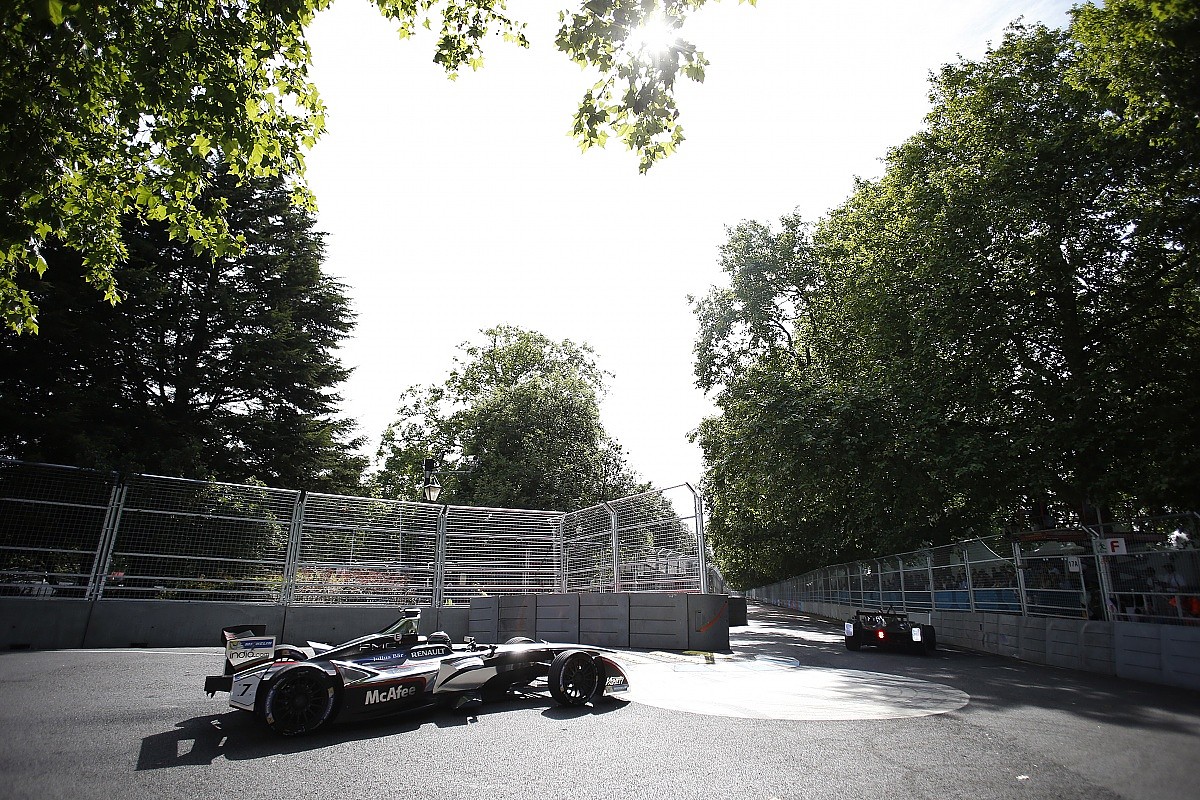 "That was really special," he says. "I was born in Isleworth, about nine miles from Battersea, so that was about the closest I'm ever going to get to a home race.
"We packed up and I found myself sitting at a deserted Battersea railway station a couple of hours later in my team gear waiting for a train to Woking. It was surreal."
Beresford left in early 2018 and joined Techeetah last year. The team's success has naturally helped with job satisfaction, but it also reminds him of teams he's worked with before.
More engineering stories from Autosport
"I'm really enjoying it because you want to be in a team with a really strong engineering culture that Tyrrell was, and Penske is, and to have an atmosphere where you've got everybody working well for each other," he says.
Working in Formula E is "such a different animal from any other kind of racing" he has experienced, with "so much more subtlety" involved in making changes.
"It's so specialised now, it's not about springs and rollbars and wing-angles anymore, it's all about the software and the control systems," he says. "I'm not directly involved in that, I'm much more interested in getting the best out of people and having a really good organisation."
His efforts certainly appear to be having the desired effect...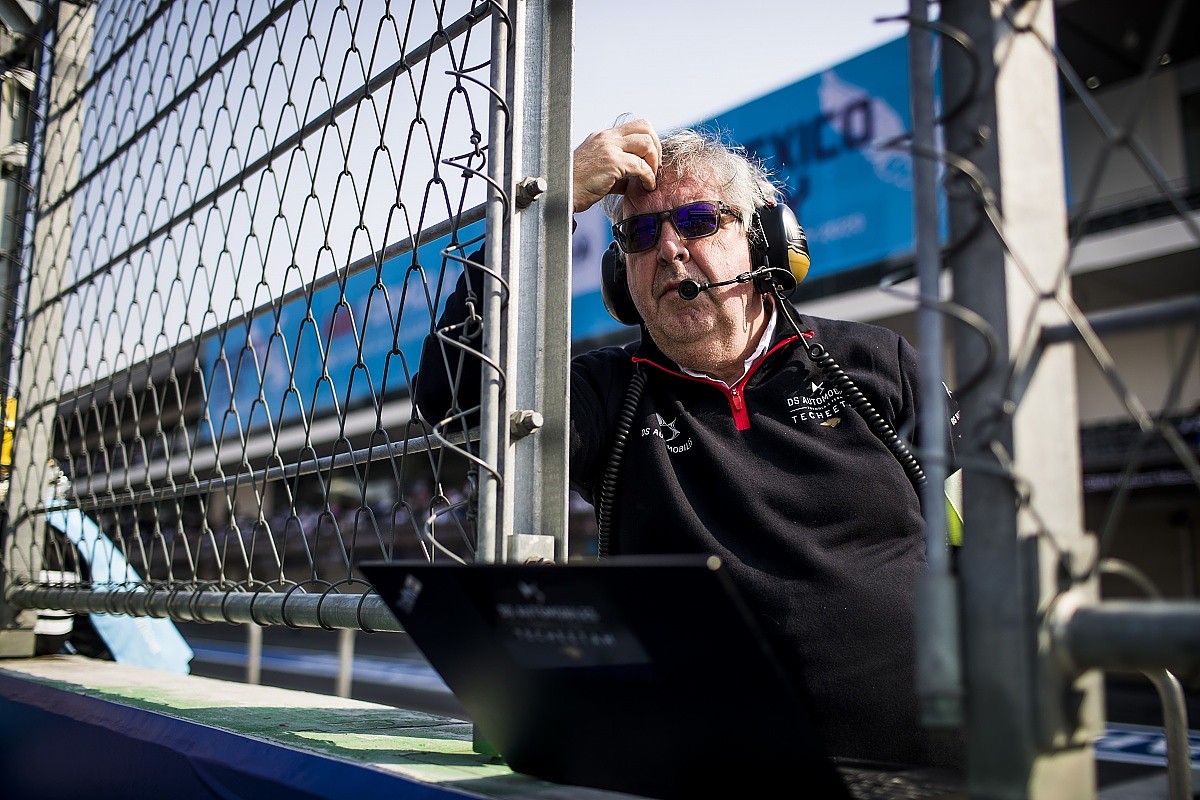 Advice to engineers from Nigel Beresford
1. Make sure that the people handing out the jobs know you're ambitious and enthusiastic and what you want to do going forwards. They might not be able to give you the job you want straight away, but it's nearly always better to promote from within where possible - when you advertise, you end up getting every student in the world applying!
2. You're in a team with other people, all of whom are trying to achieve the same things, so you've got to be able to get along with people. It's far, far easier to travel in parallel with somebody and just nudge them from the side than it is to meet them head-on.
3. Make sure you know a lot about one thing so you're a contributor, but surround yourself with the best possible people from whom you can learn, because when you add what you've learned from those people to the thing that you're really good at, you come out ahead.