A long career with just two teams, both staples of Formula 1 and IndyCar, make Brian Lisles a rare breed within motorsport. Speaking with Autosport, he shares his top tips and lessons for aspiring engineers
Loyalty is an exceptionally rare trait in the cut-throat world of motorsport. Pressure to score results is considerable, which means staff have to deliver results week in, week out. But in a professional motorsport career that started in 1977 and only finished when the lights at Newman/Haas Racing were finally turned off for good in 2015, Brian Lisles worked for just two teams, both run by no-nonsense titans of the sport - Ken Tyrrell and Carl Haas.
Having become involved in Clubmans racing while a student at Loughborough in the 1960s, he continued to design and construct his own series of cars, six in all, while working in the design analysis department at Chrysler UK - "we were the number crunchers and had to sign everything off as being safe and fit for purpose" - and then in the newly formed Terotechnology department at British Steel, before landing at Tyrrell.
It was the start of the post-Derek Gardner era under Maurice Philippe, and Lisles quickly "got stuck into everything", fulfilling varied roles from race engineer, design engineer and team minibus driver. In the early days, he had input into every part of the car - around 3000 components in all - which, combined with testing commitments, meant he was always busy.
"I used to regularly be out of the country for 120 days of the year," says Lisles (pictured below, with clipboard second left). "Very often we would go straight from South America to Kyalami for a week's tyre testing, have a week off, Goodyear would send a whole bunch more tyres out, and we would test for another week. Then it was home and off again somewhere else. I used to handle all the money as well, pay all the hotel bills, buy all the food, and so on.
"There were six mechanics, two truck drivers, one of whom also did the tyres, a chief mechanic and then two engineers, one for each car, which would usually be Maurice and myself, or sometimes just Ken and myself."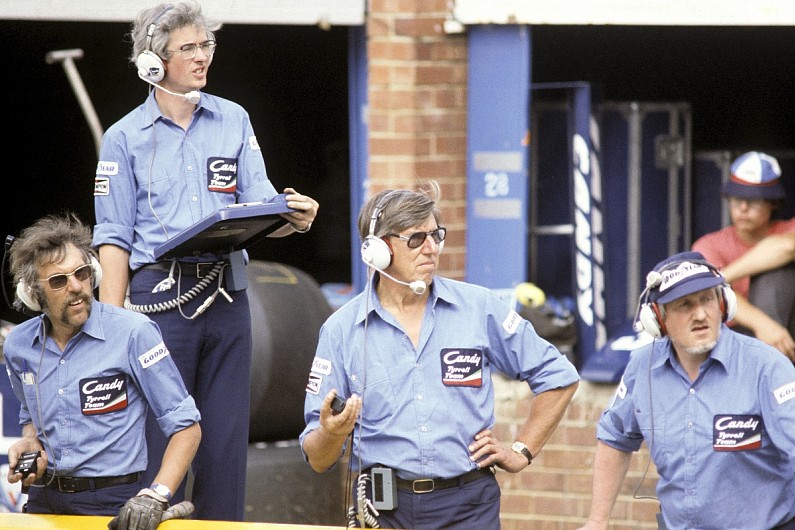 He soon won the trust of team patriarch Tyrrell, whose honesty and integrity won loyalty from his employees despite the lure of a better wage at nearby McLaren, and Lisles gradually earned more responsibility until he was appointed chief designer in 1987.
"Ken was a good guy to be with and was a very good team manager, very honest, which is important," says Lisles. "He always paid his bills at the end of the month regardless of his circumstances, he never hung anyone out to dry that he owed money to.
"It was that notion of what goes around comes around - so you could call someone up and say 'we've got a panic, we need to re-make this' and you get a good reception because they know they're going to get paid.
"You want a driver to get angry and to pull a little more out of their back pocket, but not to the point that they go off the road. If you have that characteristic and you get a bit of maturity and a bit of spirit, then you become the complete racing driver" Brian Lisles
"It was the same with Carl. He was honest, always paid on the dot, his word was his bond. I was lucky to work for men with such integrity."
Many of the drivers in Lisles' time at Tyrrell would later go on to achieve more success elsewhere, including Didier Pironi and Martin Brundle, while Lisles also worked with the precociously talented Stefan Bellof (pictured below), whose tendency to drive flat out at all times actually made him a useful test driver even though he was "not particularly technically interested".
But it was Michele Alboreto, who scored the team's last two wins with the 011, that Lisles enjoyed the closest relationship with.
"He had tremendous talent, and was willing to do whatever it took to make the car better," Lisles recalls.
Alboreto's victory at the final round of 1982 in Las Vegas - fondly remembered by Lisles because 'Uncle Ken' had arranged a whip-around after spotting odds of 100/1 on Alboreto at the Caesars Palace Casino "and we all went home at the end of the season with a lot more cash than we had when we arrived" - was the team's first since Patrick Depailler at Monaco in 1978, and Alboreto repeated the feat in Detroit one year later.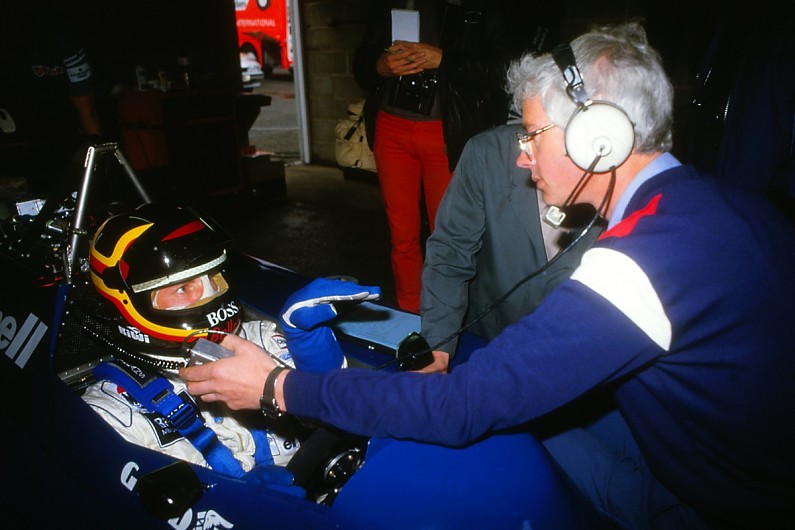 "For whatever reason we just spoke the same language and always seemed to make the car go better when we worked together," continues Lisles. "He became very good at choosing tyres for the race, that was quite an art with no pitstops so once you committed to something you were stuck with it for the race.
"Often we would have a hard tyre on the most heavily loaded corner of the car or a soft tyre on the lightest loaded corner, and sometimes a different compound on every corner."
However, Alboreto was not without his faults, Lisles recalling a tendency to "get a bit emotional sometimes - he would push the boat out too far and get himself in trouble" as the team increasingly struggled to extract every last ounce of performance from its outdated and often unreliable Ford DFV engines. Even so, Lisles found Alboreto's passion an admirable trait.
"That shows a lot - what you want from a driver is for them to get angry and say to themselves 'I need to show who's boss here' and to pull a little more out of their back pocket, but not to the point that they go off the road," he says. "If you have that characteristic and you get a bit of maturity and a bit of spirit, then you become the complete racing driver. Michael Andretti and Sebastien Bourdais had the same ability."
Following Alboreto's departure to Ferrari for 1984, the pickings were slim. Jonathan Palmer won the Jim Clark Trophy for normally-aspirated cars in 1987, but the team hadn't scored any podiums since 1983 and with no windtunnel programme to aid development, by 1988 Palmer and Julian Bailey were sometimes non-qualifiers.
"I was pretty happy at Tyrrell, but it was getting more and more difficult because the team was becoming less and less competitive," Lisles recalls. "They had very little money and I think to a degree it was existing on some help from Bernie Ecclestone.
"In late 1987 or early '88 - I cannot remember the exact time - I wrote a long screed to Ken Tyrrell saying our lack of funding meant we were so far behind technically that the only way to move up the order in a reasonable timeframe would be to bring in some significant outside technical knowledge. To his credit, Ken secured the services of Harvey Postlethwaite and Jean-Claude Migeot, and allowed me to secure time at the 40% Southampton Wind Tunnel."
At the request of his homesick American wife, Lisles then departed for the USA and joined Newman Haas Racing in early 1989.
NHR would be Lisles' home for the next 26 years until his retirement, first working as race engineer to the likes of Mario and Michael Andretti, Paul Tracy and Christian Fittipaldi, then being promoted to senior engineer and to general manager from 2000 until the team's closure.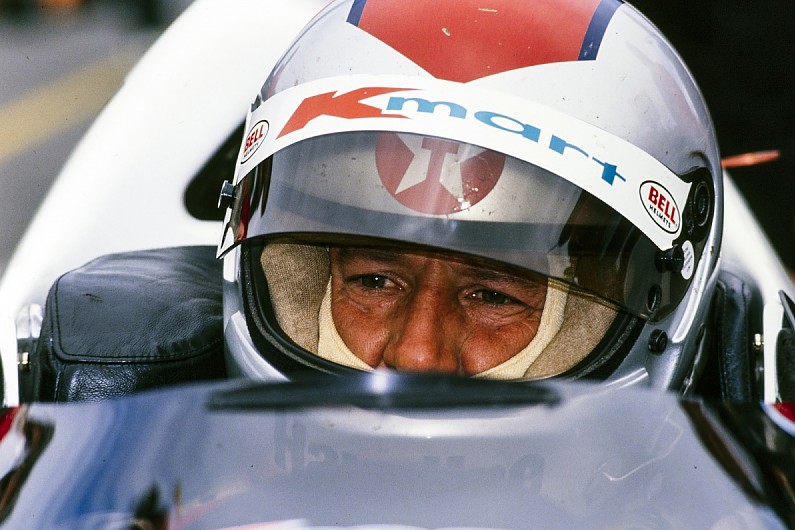 Having no oval experience, his first IndyCar race on the timing stand for 1978 world champion Andretti Sr at Phoenix in 1989 was an eye-opener - "all I did was carry the stop-watch!" - Lisles soon gleaned all the tricks in the book from the three-time USAC champion and 1984 IndyCar title-winner.
"He knew what he wanted and could help you get there," says Lisles. "But probably what I learned most from Mario in the first year was actually how to conduct the race and the strategy, he was very good at that and we would have some interesting conversations in the middle of the race.
"To Mario the smallest thing on the car that was new and interesting, he'd be all over it, so he was always good to test with because he always wanted to try different dampers, a different way of setting up the car, different diffs, different way of doing the rollbars and so on. That was the basis of his career, he experimented more and thought more about the car than most of his competitors at the time."
NHR had been a one-car show since it was established in 1983, but it expanded to run a second Lola for Mario's son Michael for '89. Lisles switched over to run the younger Andretti's car in 1990 and they won the title together in '91, and narrowly missed out to Bobby Rahal in '92 after a disastrous start to his title defence.
"You have to learn as a manager that the person working for you may not always look at things the same way you do and be open-minded" Brian Lisles
"Mario's talent is very well acknowledged, but Michael was a huge talent, an unstoppable force in a race," says Lisles, who reckons Michael would have made a success of his F1 move had he been willing to move to Europe. "In the race, he never went backwards, ever.
"If he started the race back in the field, you were sure he would move forwards. He was very focused, and every lap was driven flat out. He's probably one of the most under-appreciated of the lot."
When Andretti left for F1 in '93 and was replaced by Nigel Mansell, Lisles reverted back to Mario's car and saw the veteran into retirement at the end of '94 before running the quick but inconsistent Tracy for a single season and then Fittipaldi (below), whose time with the team was disrupted by several big accidents.

Bidding farewell to a motorsport survivor
Following the split with Tony George's Indy Racing League, NHR continued in the CART series and Lisles was appointed general manager, building on the experience of trackside management he had enjoyed at Tyrrell.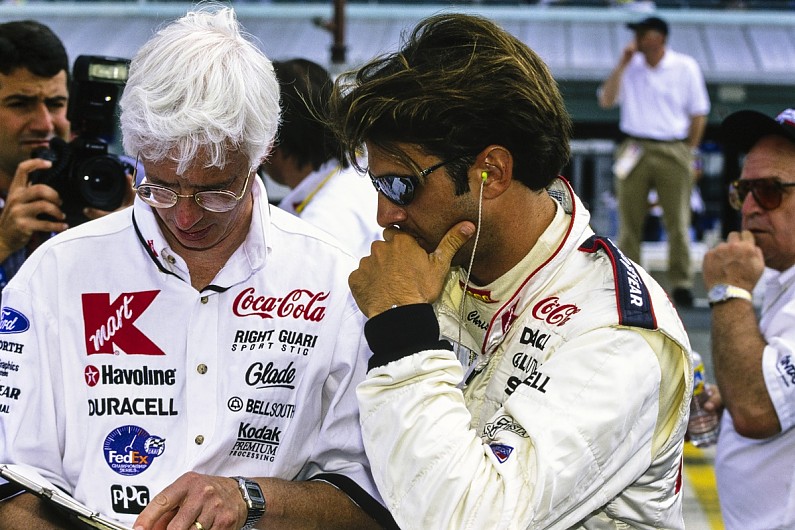 But having spent over a decade at the coalface, he found it difficult at first to relinquish responsibility for day-to-day engineering decisions, with Todd Bowland - now the director of engineering at NASCAR giant Joe Gibbs Racing - stepping into his shoes after serving his apprenticeship with the team.
"I could be accused a couple of times in the first year or two of sticking my nose too far into the engineering camp," Lisles admits. "You have to learn as a manager that the person working for you may not always look at things the same way you do and they have a different solution.
"I always tried to be fair that unless there was an absolute obvious reason that their solution wouldn't work, you have to let them have at it. Sometimes it doesn't work, but very often it does. You have to be open-minded and learn to only intervene when it's patently obvious that they're going to do something wrong.
"I'm sure everybody's done it, you have your own idea and you get yourself totally convinced that this is the way to the eternal light and you shut out all other questions and you can end up in big trouble."
But it didn't take long for success to return after several lean years, as Cristiano da Matta swept to the title in 2002. With Reynard's collapse prompting all teams to switch to Lola, Lisles was responsible for implementing the increasingly systematic event preparations and post-race summaries that helped NHR stay one step ahead of its competition with equal machinery.
"We always prided ourselves that if we needed to put the driver in the spare car, then he wouldn't know it was the spare," he says. "It would feel exactly the same as his race car and we got to that situation, there were never any surprises. This is not as easy as it may seem - our cars were production race cars and there was always some variation in the parts, so we spent a lot of time making sure all the parts were the same."
Lisles also took pride in the team generating its own engineering talent - the chief exception being Guillaume Rocquelin, a Lisles hire from PacWest who later went on to engineer Sebastian Vettel to all four of his F1 titles at Red Bull - and Craig Hampson's rise through the organisation from data engineer to race engineering Sebastien Bourdais to four Champ Car titles between 2004 and 2007 reinforced his mantra that everybody is crucial.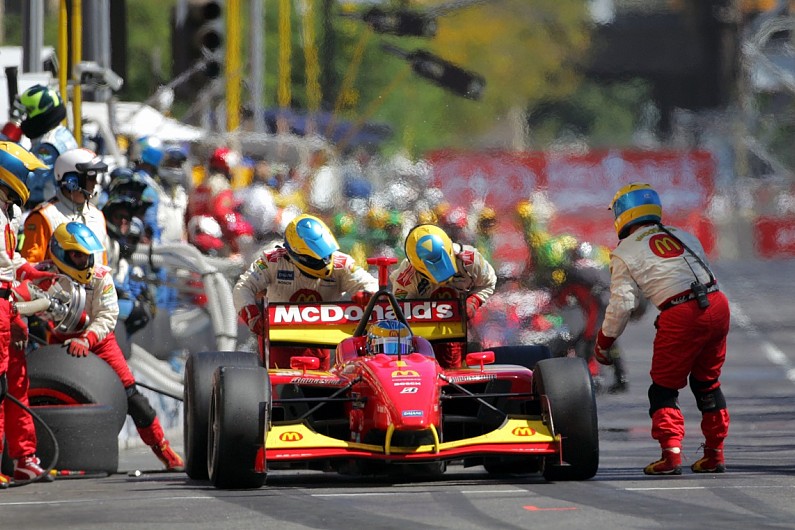 "If they do their job well, everybody can in some way make the car and therefore the team better," Lisles says. "Not necessarily in terms of points of downforce, but in the smooth running of the team so you don't have any failures, everybody gets to bed on time and is in better shape the next day.
"Everybody, if they do their job really well, can in some way make the performance of the team better" Brian Lisles
"It starts with the van driver, if he goofs off and fails to pick up a part and get it back to you in time to go on the car before it goes in the transporter, he's messed it up for you. The data engineer who puts the wrong calibration in and then you spend all of one session chasing your tail because what you thought was going on, isn't going on, he can make a difference, or the mechanic who is slap-dash and doesn't put something together correctly which loses you track time.
"Everybody in a racing team can have a negative impact on the outcome if they don't do their job properly. Equally everybody, if they do their job really well, can in some way make the performance of the team better. In a successful team, everybody deserves credit."
Following the Champ Car-IndyCar merger in 2008, NHR won at St. Petersburg with Graham Rahal and Justin Wilson added a second victory that year in Detroit. But when team co-owner Paul Newman lost his fight with cancer one month later, it was the beginning of the end.
The team would not win another race, although Oriol Servia qualified on the front row of the Indianapolis 500 and would have won at New Hampshire in 2011 had the race not been red-flagged. At the end of that season, Servia had finished fourth in the championship and James Hinchcliffe won the Rookie of the Year but, without the sponsorship coming in for the team to run competitively, Haas pulled the plug.
"Carl didn't have a partner to help with raising revenue, he was getting older and in the end he decided he just couldn't do it anymore," says Lisles.
"We could have hung on until the following March trying to get sponsors, but he didn't want to do that and then have to lay off people who wouldn't be able to get good positions so close to the start of the season, so he decided in December to end it."
Lisles stayed behind at NHR's Chicago workshop with a skeleton crew renovating Haas' impressive fleet and, the true company man, only retired after completing his work.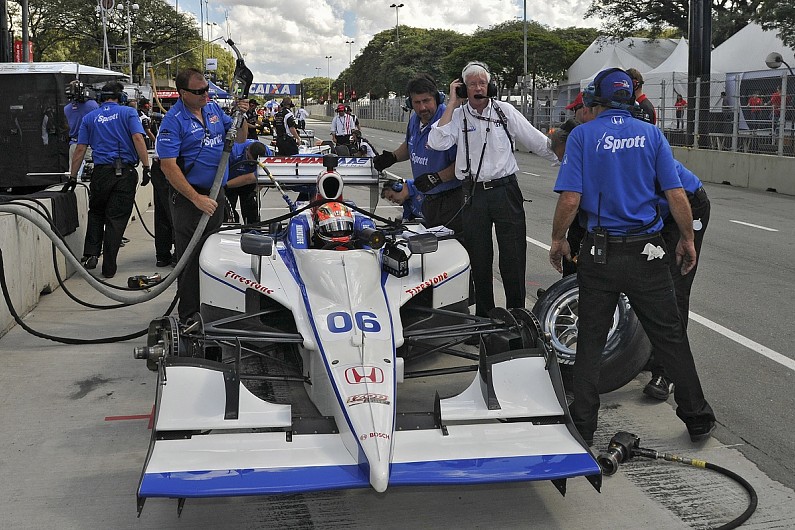 "I used to say to the guys, 'I know I've done my job well when you don't need me'," he says. "When everything is properly organised and runs smoothly, the manager can step away and it wouldn't make any difference."
Perhaps there is something to be said for loyalty after all.
Top tips for engineers from Brian Lisles
Nearly all our hires out of college at NHR had Formula Student or Formula SAE, as it is in the US, on their CV - it gave them practical experience and demonstrated their initiative, so I'd recommend anybody looking to build a career engineering in motorsport to get involved in whatever way they can.
Trackside engineering isn't for everyone - some people don't like being away that much, but you need to find that out for yourself.
Sometimes a valid criticism comes from a source that's unexpected, because they're looking at it in a totally different way - so be open-minded. But once you make a decision, you have to go full tilt at it. It's better to do one thing well, rather than three badly.