What have BTCC Volvos, badly funded F1 cars, Audi LMP1 machines and the Olympics got in common? All have featured in the chequered career of Graham Taylor, as MARCUS SIMMONS explains
"OK, this sounds a bit madcap..."
That was Graham Taylor's original response when, in 2005, he heard about the Super Aguri Formula 1 plan.
Already a title-winning engineer in Formula Vauxhall Lotus, the British Touring Car Championship and the American Le Mans Series, and a refugee from the disintegration of the Arrows F1 team, he would go on to play a pivotal role in one of F1's favourite underdog stories.
"Kevin Lee [a former colleague of Taylor's at Arrows] phones me up and says, 'What are you doing, because there's this crazy thing that might just happen,'" recalls Taylor. "Him and Mark Preston said, 'We're doing this thing, and Honda have fired Takuma Sato, and Japan are mad about it. They're going to fund this other F1 team, and Aguri Suzuki's going to run it, and Daniel Audetto's going to be CEO, and they're going to do it out of the [old Arrows] factory at Leafield.'"
Taylor rose to become sporting director of Super Aguri, his most-prominent role at the pinnacle of the sport. But that certainly doesn't define him. Instead, his is a story that encompasses everything from club racing to Jackie Stewart and the Olympics, via military intelligence, self-driving cars and the death of Princess Diana.
The first exposure to motorsport came via his father, who competed in a self-constructed car in the 750 Motor Club's Formula 1200 (later F1300) category.
Taylor Jr began competing in the Castle Combe Formula Ford Championship in a second-hand PRS RH01: "As soon as I was old enough to drive I tried Formula Ford. I tried to beg, borrow, steal bits and pieces to do stuff on a shoestring, and it just wasn't anything like enough budget, so I decided that maybe engineering or the other side of the pitwall might be an activity to pursue."
By then Taylor was on an apprenticeship at GCHQ. "I was there when the Falklands war started, so we were tapping into communication across the globe," he reveals. "That was quite interesting because it was one-offs and prototypes and you had to design things from first principles, so that was a good grounding."
But Taylor - "I was quite a driven, arrogant, forceful young man" - was getting itchy feet.
Frustrated at being passed over for promotion due to his young age, he read about a new Marlboro-backed team - Dragon Motorsport - that was to compete in the inaugural season of the Vauxhall/Opel Lotus category in the UK and Europe, with Mika Hakkinen and Allan McNish chosen as drivers for that 1988 season.
Taylor became mechanic for Hakkinen, who won the European Opel Lotus title and then went to Formula 3 with Dragon in 1989, but that season was disappointing and the Finn transferred to the top-dog West Surrey Racing squad for the end-of-season Cellnet Superprix at Brands Hatch. Here, Taylor got his first taste of "what you'd properly classify as race engineering" when he ran the Dragon Reynard of Jordi Gene.
Taylor went briefly to Bowman Racing, where he was supposed to engineer Peter Kox. But then he was encouraged to an interview with Paul Stewart Racing (PSR), which was completing its Vauxhall Lotus-F3-F3000 'staircase of talent'.
"I remember driving up the drive at Leafield, saying to myself, 'This is big-time motorsport now GT, you'd better pull your socks up here son, you'll get found out if you're not really capable'" Graham Taylor
Taken on to mechanic Gil de Ferran in Vauxhall Lotus for 1990, Taylor rose to become PSR's team manager in the category, and titles fell to Dario Franchitti in 1993, Owen McAuley in 1994, and Jonny Kane in 1995, while Ralph Firman and Juan Pablo Montoya also passed through the squad.
"It was run by Jackie Stewart," he says. "It was slick, and there were sophisticated activities going on that probably outside of F1 very few people were doing. You had good people right the way through. It was a pretty good place to be and really my motorsport apprenticeship was served there."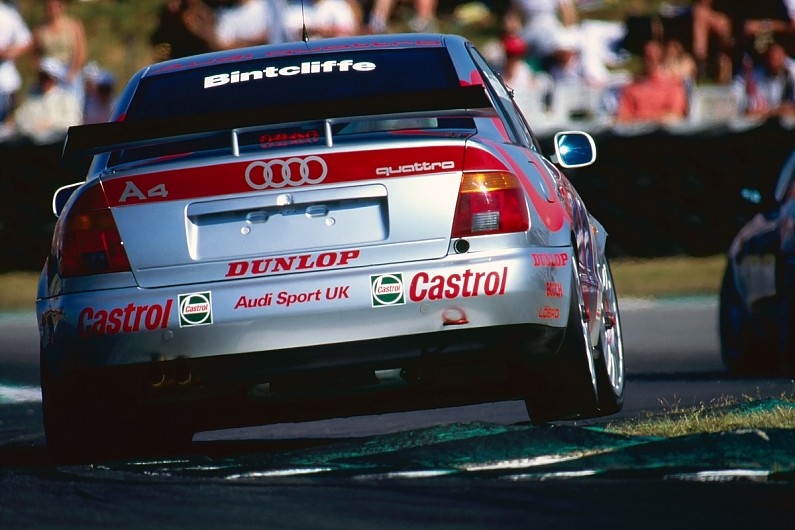 PSR dropped its F3000 team, in which Taylor says he'd been promised a role, for 1996 in a bid to gear up for the Stewart Grand Prix F1 project for 1997. At the same time, Audi was entering the British Touring Car Championship, and the new Audi Sport UK team in nearby Buckingham needed a young engineer to work with its surprise signing John Bintcliffe, who had been plucked as reigning Ford Fiesta champion to partner superstar Frank Biela.
After engineering Bintcliffe in 1996, Taylor realised that "I didn't feel John had the capabilities to win the championship, and I wanted to win races". Meanwhile, the rival BTCC Volvo team, run by Tom Walkinshaw's motorsport giant TWR, was in disarray after losing some of its technical leadership to the new Triple Eight squad, which had been put together to run Vauxhall's programme.
Taylor met Brendan Gribben, who'd been promoted to replace Triple Eight defector John Gentry as technical director/designer, and was brought in during 1997, initially on Kelvin Burt's car.
But he was soon switched to the sister machine of Volvo talisman Rickard Rydell: "I remember driving up the drive at Leafield, saying to myself, 'This is big-time motorsport now GT, you'd better pull your socks up here son, you'll get found out if you're not really capable.'"
More engineering stories from Autosport
This was the year of the new S40, but by late August it still hadn't won a race. Then came the death of Princess Diana. The UK was plunged into mourning, and the following weekend's BTCC round at Brands Hatch was truncated to a one-day event in respect of Diana's Saturday funeral. A new format was introduced, with 15 minutes of qualifying for race one, and the fastest laps set in that race forming the grid for the sequel.
"The S40 wasn't very good, and we were struggling with it," says Taylor. "There was a lot of pressure on Roger Silman [team director] from Tom Walkinshaw, because Tom had promised the board at Volvo that this was the way to go.
"There was a strange circumstance for that weekend, where the second-race grid was from the fastest lap from the first race. We hadn't qualified very well [Rydell was eighth], and we said if we're not on for a podium by half-distance, we're going to come in, bolt a qualifying set-up on it, put a brand-new set of boots on, throw away the result from the first race to get a better result from the second race."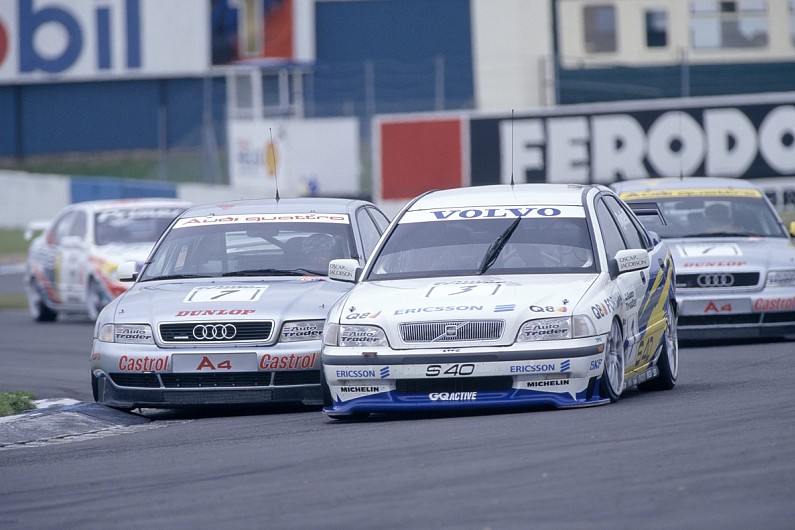 Volvo wasn't the only team to come up with that ploy. Honda did it with James Thompson, and Nissan with Anthony Reid, who'd not set a lap in qualifying due to technical dramas. But Taylor took the biggest gamble of the lot, because Rydell was making good progress up the field and was on for a top-four result when he was pulled in.
"Of course when it comes down to actually doing that, it's a whole different ballgame," sighs Taylor. "Rickard was always good at Brands and the car was relatively good through Surtees into Clearways, and we made up a lot of time there. I said, 'If he hasn't got another place, I'm going to call him on the next lap', and Silman looked at me and said, 'But he's making really good progress', and I said, 'Roger, that's what we decided, right?' And he said, 'If you're sure, Graham...'
"We didn't really have anyone dedicated to R&D, and so in this quite heated meeting you were asked for your suggestions. I brought my suggestions out and I'd done a kind of chart of where people should move to and from" Graham Taylor
"So I did it, pulled him in, put the qualifying set-up on and we got the third fastest lap."
Rydell got up to second at the start of the second race, soon passed Reid for the lead, and the S40 became a winner. It cemented the bond and trust between Taylor, Rydell and, crucially, the TWR management.
"Roger went back to Leafield very pleased that he could say that now the S40 has won a race," relates Taylor. "Tom had given Roger a hard time even though we'd got that circumstantial win. He still got a bit of a grilling and he bore down on me, Brendan, Charlie Bamber who was making the engines, and said, 'What's going to be our approach?' I'd seen some things where I thought if there was a little bit of change it might help. We didn't really have anyone dedicated to R&D, and so in this quite heated meeting you were asked for your suggestions. I brought my suggestions out and I'd done a kind of chart of where people should move to and from. I said, 'Why don't we look at doing this?'
"Anyway, we did most of it, and we started to organise it properly, like a pukka team. Brendan concentrated a lot on the aero of the car and did a fabulous job, Charlie rotated the engine, we changed the gearbox, and we did a lot of testing behind closed doors at a little circuit in France."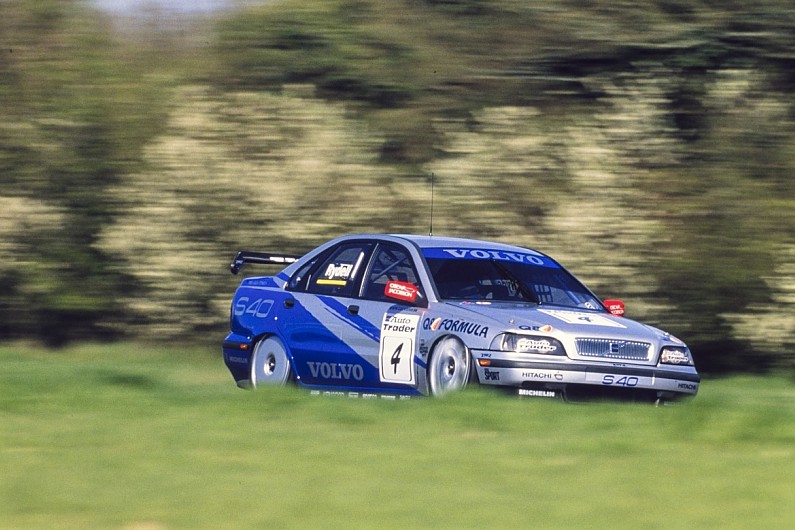 Rydell blitzed qualifying for the opening 1998 round at Thruxton, and the early momentum was enough to earn him the championship in the face of a late-season surge from Reid and Nissan. Rydell also drove the S40 to victory in the Bathurst 1000 with Jim Richards, but Nissan's Primera - with star new signing Laurent Aiello - would be unbeatable in 1999, and Volvo pulled out of Super Touring at the end of that season.
Taylor was transferred onto Walkinshaw's Arrows F1 team, initially engineering Pedro de la Rosa: "I got on well with Mike Coughlan [Arrows designer] and Chris Dyer, who went on to engineer Michael Schumacher to championships at Ferrari and was with Jos Verstappen.
"We were able to outqualify Jos, but Jos's first laps were always astonishing, and Pedro was more of a sophisticate - he was a technical driver, he had good feeling for the car whereas Jos was an earthy, drag-it-round-by-the-knuckles kind of bloke who was up for anything in the race."
Taylor moved into a chief race engineer role, but 2001 with Enrique Bernoldi replacing de la Rosa was a letdown with the Asiatech engine: "That was the old Peugeot and that was never any good at the height of its capabilities let alone in the twilight of its years."
For 2002, Arrows got the Cosworth powerplant, with Heinz-Harald Frentzen ousting Verstappen. "At times with the A23 we were super-competitive," says Taylor. "Mike had done a good job with the monocoque, had given us a lot of space around the car to get the aero, had hired an Italian aerodynamicist who was coming up in his career.
"We were using the windtunnel in Bedford that Red Bull have now got; we were on a kind of a pathway. We were stepping forward in sophistication, we had a lot of trackside tools, we'd hired a couple of young French software writers, so our capability was increasing all the time.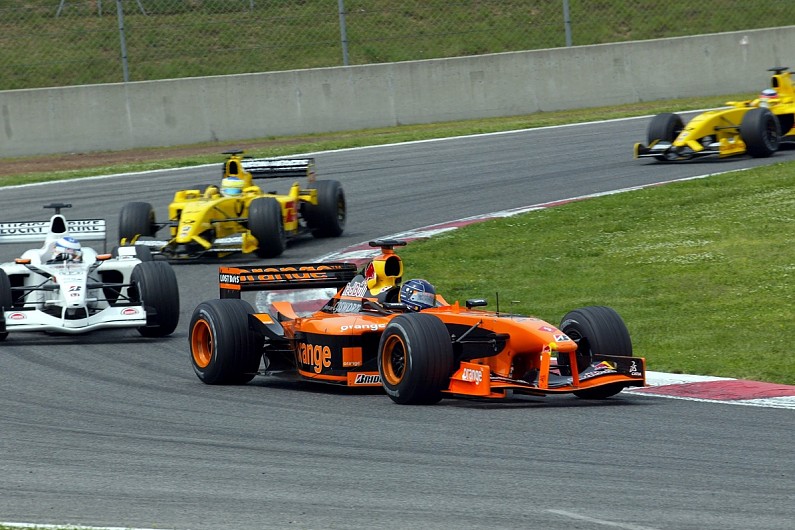 "But the money ran out, and the team folded. It was a kick in the guts for everyone. There's nothing more soulless than driving out of an F1 paddock in a minibus having deliberately not qualified [at the French Grand Prix], when you've blood, sweat and teared your way there," muses Taylor. "That was difficult."
Taylor's old Audi Sport UK chief John Wickham put him in touch with Stefan Johansson, who was moving into Champ Car for 2003 with the becoming-unfashionable Reynard, and would run 1996 champion Jimmy Vasser and rookie Ryan Hunter-Reay. Taylor was supposed to engineer Hunter-Reay, but was soon put in charge of the whole team - which, just like Arrows, was running out of money.
Hunter-Reay took a win on strategy on the team's swansong at Surfers Paradise.
"We boxed well above our weight for what we had, and the level we were going about things," says Taylor.
"Dave Maraj [Champion boss] put his arm around me to start with to bring me up to speed from a strategy perspective, and we went and won the bloody championship" Graham Taylor
Chris Gorne, who had been working at Reynard, told Taylor that he was joining Veloqx Motorsport, which had ambitious plans to run a pair of Audi R8s in the 2004 Le Mans Series and the Le Mans 24 Hours. Gorne would engineer Johnny Herbert and Jamie Davies, and Taylor went along for a chat and was put on the sister car of his old Dragon cohort McNish and Pierre Kaffer, with Biela in for the Sebring 12 Hours and Le Mans.
Straight away, McNish, Biela and Kaffer triumphed at Sebring, but McNish's big shunt restricted them to fifth at Le Mans. Nevertheless, McNish and Kaffer were on course for the LMS crown in the finale, the Spa 1000Km, when Kaffer hit a GT Ferrari at the Bus Stop, sidelining the Audi. Herbert and Davies won the race, and the title.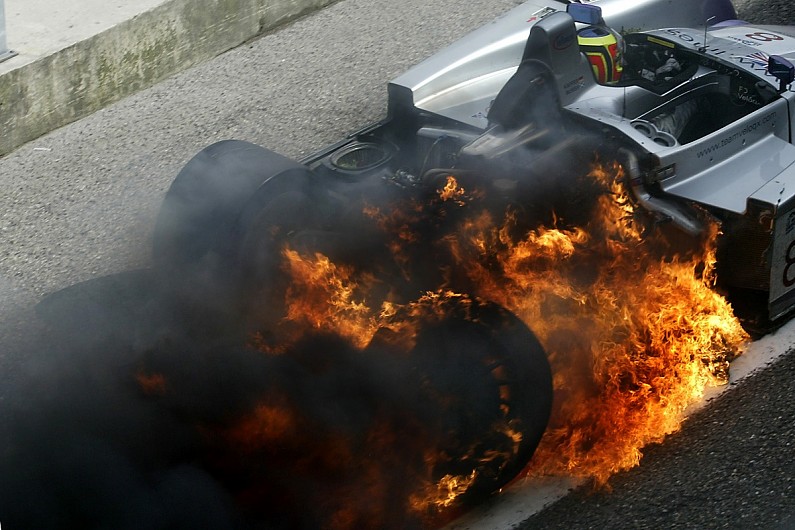 Taylor transferred to Audi's ALMS effort in 2005 with Champion Racing, where he would run veterans Biela and Emanuele Pirro alongside the team's lead car of JJ Lehto and Marco Werner: "We slowly but surely started to get things together, and I learned how to run yellows properly at ALMS. Dave Maraj [Champion boss] put his arm around me to start with to bring me up to speed from a strategy perspective, and we went and won the bloody championship!"
Taylor had dovetailed this with the early days of A1GP, engineering Verstappen for Team Netherlands, and running Rydell in the SEAT World Touring Car Championship squad. It was while working with Rydell in Macau that the Super Aguri project really developed.
"I saw Daniel Audetto in Macau and he said, 'What are you doing after Macau? I'm going to Tokyo to meet Honda. Why don't you come with me?' I'd got massively burned with Tom and Daniel in the Arrows days so I was massively sceptical, but I thought I'd come along for the ride.
"We went to Tokyo, saw the Honda people, and it was all happening, and I said, 'I'm in, but I'm only in if I can do my own engineering team.' And Kevin Lee said, 'Hire who you can.' So I had a blank sheet of paper and I hired Gerry Hughes, who had fallen out with Red Bull - he was the only one with F1 experience - to engineer Takuma's car. I then hired Toni Cuquerella, who was my boss at SEAT, to engineer Yuji Ide. And then the whole craziness that was Super Aguri started."
Super Aguri was supposed to use the 2005 Honda, but that was revised to using the engine and gearbox.
"We were like, 'OK, shit, what are we going to do?' says Taylor. "'Let's phone 'Stoddy' [Paul Stoddart] and see where the Arrows A23s are.' So we did. We went and bought them back. We cut the back out of the chassis, started to put the V8 in it, and then Honda said, 'You know we said you could have the gearbox? Well you can - in May.'
"So we literally had to raise the engine an inch and a half because the Arrows gearbox had the driveline for the V10, so it had the input shaft at a certain height. The F1 car had a block underneath the engine as a spacer, until we could get the Honda gearbox in May and lower it all back down, and that's when we took a big step forward.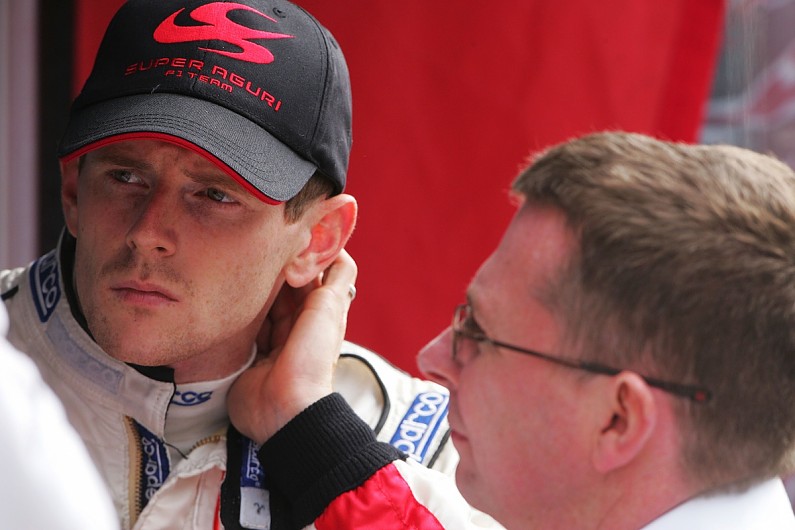 "And then they did give us the 2006 Honda for the next year, and we got Anthony Davidson. Him and Takuma were a much better pairing. We found out a couple of things about the '06 car that they hadn't exploited, so we found a bit of speed and qualified in the top 10 in 2007 at the first race in Australia with Takuma."
The most famous giant-killing exploit was Sato's sixth in Canada, where he was on the right tyre to pass Fernando Alonso's McLaren. But perhaps the better performance had already come in Spain, where Sato scored a point for eighth after a strategic battle with the Honda of Rubens Barrichello.
"We didn't play the politics right at all with Honda. They had a disastrous year with that 'Earth Dream' car, and then we were taking the piss in the old car" Graham Taylor
Embarrassingly for Honda, it still hadn't scored a point, wouldn't do so for another two months, and only overhauled Super Aguri's total at the penultimate race. That didn't help the team long-term, and it folded a few races into 2008.
"Anthony was very fast when he had his head on, totally quick," says Taylor. "Takuma was extremely quick but erratic. Midway through 2007 we made Gerry chief race engineer and made me sporting director. We hoped to influence the sporting regulations a bit more, and I was seen as a bit more of a forceful type of character to put forward our perspective as a small team.
"But of course we didn't play the politics right at all with Honda. They had a disastrous year with that 'Earth Dream' car, and then we were taking the piss in the old car. [The fans in] Japan loved it, because Takuma was outracing Barrichello, and they'd fired Takuma to hire Barrichello. But that was a big learning for me - the politics side of things."
Chris Gorne's brother Rick was managing GP2 racer Clivio Piccione, who was trying to put together a Team Monaco squad for the 2008-09 A1GP season with backing from Monaco-domiciled Swiss biscuit magnate and Historic F1 racer Hubertus Bahlsen. Taylor was hired to run it: "All the kit from Super Aguri was for sale, so I went and bought some kit, put some gypsies together - half-Super Aguri, half-previous life, half-brand new - got a car, put Clivio in it, went to Zandvoort and did the first race.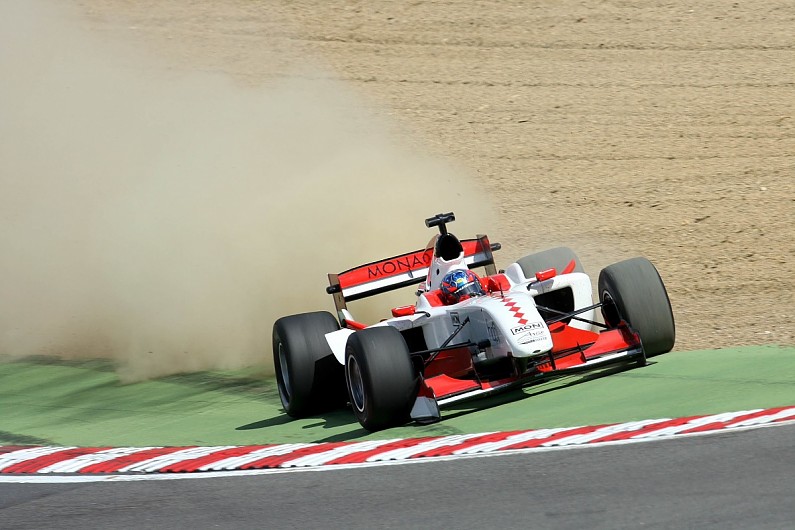 "I was besotted with Piccione - he's just a great bloke and bloody fast. He'd done well in GP2 but not outstanding, and he just needed his head put on properly. We got on like an absolute house on fire."
Then A1GP folded, and Taylor found himself heading in a completely new direction.
"In November 2006 McNish phoned me up and said he'd been doing some stuff with this group called UK Sport," he says. "They had this big conference in November and they needed a keynote speaker. He said, 'Why don't you tell your story about Super Aguri?'
"I called it, 'What would you do with 100 days and $48million?'. The 100 days was how long it took us to put Super Aguri together and get it to Bahrain, and the $48m was the bond that Aguri had to register with Bernie Ecclestone to compete in F1.
"From that a couple of relationships started to develop. They asked me to mentor a couple of young people in leadership and communications."
Taylor was eventually appointed as head of coaching at UK Sport, bringing motorsport engineering principles to the Olympic programme: "The key benefit of doing that was I had my weekends, because my daughter was seven-years-old. I literally halved my income but I was there to spend weekends with my daughter."
After seven years at UK Sport, Taylor was tempted back to motorsport for "one more big scratch of the motor racing itch", with the Multimatic-run Ford GT programme, which was looking for a new engineer for the 2018-19 World Endurance Championship season.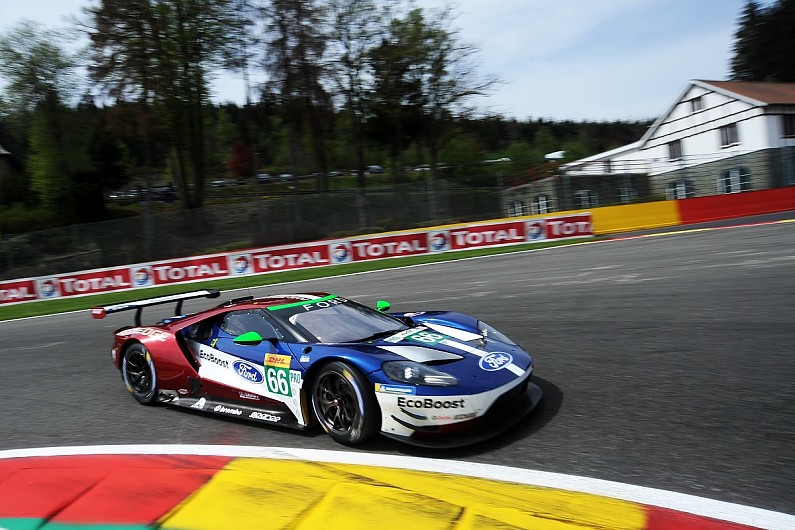 "There was this superseason, and that meant that you raced at Le Mans twice, and I went, 'Right, I'm in,'" he says.
"The draw was the #66 car. It had Olivier Pla in it, and I thought that's good enough to pique my interest, and it had Stefan Mucke as his team-mate.
"I'd never won at Spa before, and here we are, I've been back four months and we're leading the world championship" Graham Taylor
"The #66 car had never won a race, and the drivers were a bit down in the mouth, and they didn't know why, and their race engineer had gone to Haas. So I kind of picked it up by its bootstraps.
"And lo and behold we win the first race, at Spa. I'd never won at Spa before, and here we are, I've been back four months and we're leading the world championship. Unfortunately it went downhill from there, but that was a grandchild-on-the-knee type moment."
Taylor is now working at autonomous-vehicle research company Oxbotica - "I still feel the desire of the human being is to drive, but there is some monotony from a journey perspective that we could get a robot to do for us" - and he is pessimistic about the sportscar scene he was recently part of post-COVID-19.
Whether his gloom is justified and this is the end for Taylor in motorsport, or whether he's just on another sabbatical, he has a great career to look back on. And yes, at times it has been madcap.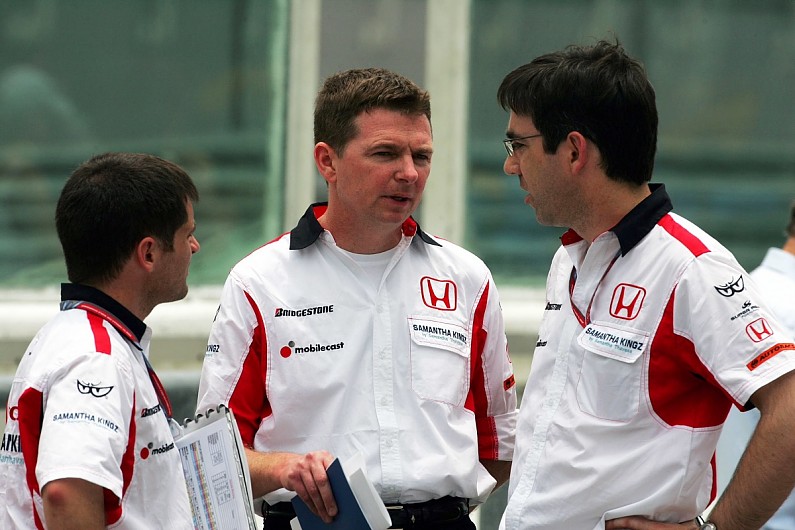 Top tips from Graham Taylor
"You've got to get involved. We had a young Canadian kid that turned up at Leafield in the Super Aguri days. Myth has him sleeping on the steps asking to come in, and in the end we said, 'All right, we don't know your capabilities so we'll put you on the R&D side of things.' He became a designer at McLaren and did the front suspension on the F1 car. Don't expect the door to open or the phone to ring.
"Don't underestimate communication - not just issuing orders, but saying the right thing at the right time to the right person. It's very difficult for the type of engineer that might be reading this article, because they are intrinsically introvert, they are data-driven, they rely on that data to make decisions, and their communication isn't always to the fore. Understand the psychology and the culture behind the background of the team that you're going to.
"Ask for forgiveness, not permission. If you're convinced of your plan and it's too early for some people, or been done before and thrown away, and you're convinced of it, go forth and do it. Make sure you're successful and then say sorry afterwards. If I'd waited for permission, I'd still be in GCHQ waiting for that promotion."