Audi's Jamie Green says he was concerned that his appendicitis surgery could have impacted his DTM momentum before he returned to seal a podium finish at the Norisring last weekend.
Green endured a difficult 2018 season, but has bounced back this year and ended a 19-month podium drought by taking third in the second Zolder race.
But he missed the following round at Misano due to appendicitis and withdrew from the Nurburgring 24 Hours to focus on being fully-fit for the Norisring round.
He finished 11th in the opener, then went on to take second behind Bruno Spengler in Sunday's second race.
Green told Autosport at the DTM's Brands Hatch media day that he felt no pain during the Norisring weekend, but that the scarring from his operation required bandaging and careful application of the seatbelts.
Asked if he was concerned his surgery could affect his momentum, Green said: "I felt like mentally I was starting to get my old self back, and when you get that happen and you're in hospital - it's, 'Oh shit, I was just getting going and now I'm missing a bloody race weekend'.
"I was kind of determined to do everything right to recover as well as possible to give me the chance to get back into the car, and then try to maintain that momentum that started with the podium at Zolder.
"I felt like it was key to just get the physical thing sorted to then get back to business.
"I was confident that I could maintain form, especially as it's a track [Norisring] I know.
"Zolder, on paper, was a bad one for me as I'd never been there. A lot of people in this championship have been to Zolder in other categories like GT3 or whatever.
"I was expecting that to be tougher, so I thought if I could get a podium at Zolder, I should be good everywhere else."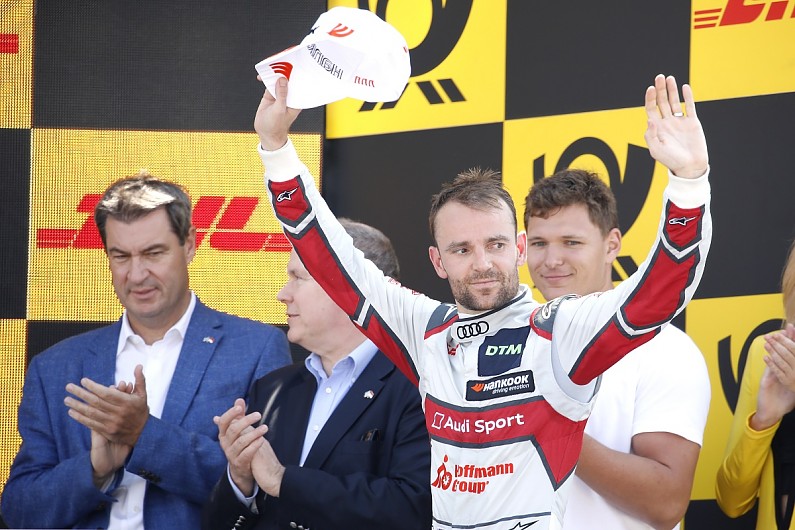 Green added it was important not to take "silly" risks - such as racing at the Nurburgring - that could have compromised his Norisring return.
The Audi DTM driver was replaced by Jeroen Bleekemolen for the Nurburgring 24 Hours in the #5 Phoenix Racing Audi R8 LMS that went on to finish seventh.
"I had a question mark over whether to try to do the Nurburgring 24-hour race because I was scheduled to do that, but it was only two weeks since the operation and I knew there was a gap to the Norisring, and DTM's my main job. It's my main priority," said Green.
"I thought it would be silly to go to the Nurburgring, maybe have some pain, and it was a question mark over whether I was ready.
"If that sets me back and I can't be ready for Norisring, I'd feel like it was a silly risk to take."