Audi's Jamie Green says it would have been "cowardly" not to make his risky Zolder pass on Sheldon van der Linde that secured his first DTM podium in 19 months.
Green endured a "shocking" 2018 season as he spent the early stages of the season struggling to find a comfortable set-up, before being consigned to a rear-gunner role in Rene Rast's title bid.
The current season's new Class One engine package meant a refresh for the DTM field and Green has progressively improved his results since the season opener.
In the second Zolder race, Green rose through the field by virtue of an opportunistic two-stop strategy.
Green threw his car down the inside of van der Linde on the final lap on entry to the Villeneuve chicane to take third, as Audi team-mate Mike Rockenfeller took evasive action to move out of Green's way.
Asked by Autosport if his podium drought had played on his mind ahead of the overtake, Green said: "I was in two minds.
"In one mind I'm thinking, 'Fourth is decent points and there's a lot of races left' and on the other hand, I was so much quicker [on new tyres] than the guys in front, it was kind of a cowardly thing not to have a go.
"I think it depends on your character, I'm always someone who wants to go for it and some guys may have settled for fourth.
"Sometimes, you go more with your heart than your head! "I think of Norisring 2012, I overtook [Martin Tomczyk in the wet] on the last corner of the last lap to win.
"It's more instinctive than it is calculated so that's something I seem to have in my armoury."
Audi motorsport boss Dieter Gass told Autosport pre-weekend that he did not need to put pressure on Green to encourage him to turnaround his form.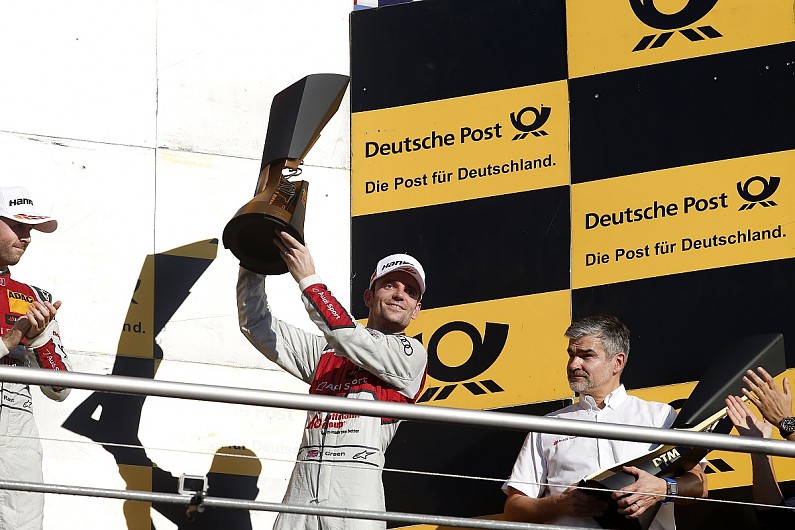 Prior to Zolder, Green's last podium was a victory at Hockenheim in October 2017.
When Gass's comments were put to him, Green said: "This is the really important thing for me.
"I used to drive for Mercedes [between 2005 and '12] and I moved to Audi. One of the most pleasant things - the thing that makes me think Audi is the right place for me - is what you explained.
"I had a difficult first year with Audi and they didn't put me under pressure at any time, because they signed me because they thought I was a good driver.
"My character doesn't necessarily respond well to finger pointing and they know that and understand that.
"I've proven to them what I can do and they are patient and they are understanding and have faith in me.
"There's a hell of a positive outlook so that's why I'm able to come back from the difficult times, people don't keep kicking you when you're down and they seem to know how to get the best out of me.
"Today's result shows it was the right way to treat the situation.
"They know I'm an analytical person and I need to understand things and I can make it work."