Ralf Schumacher's DTM statistics after two years in the category do not portray what he had in mind when he chose the German series after leaving Formula 1 at the end of 2007. 21 starts, 12 points. No wins, no podiums, one top five finish.
The initial fanfare surrounding Schumacher's move to the DTM quickly died down outside of Germany as he struggled in year-old machinery in his first season, and it didn't really pick up as he continued to do so in a top Mercedes in 2009. But the attention from fans and media in Germany hasn't waned over that time, so from a promotional point of view his presence on the grid has been invaluable to the series.
But with all that attention comes expectation, and while those in his home country were initially patient while he learned the ropes, even they grew tired of his lack of results as his second campaign wore on. Regardless of that mounting pressure, Schumacher has always kept a smile on his face throughout the two years, at least while appearing in public.
That created the impression that he wasn't particularly bothered about his performances, and that as long as the Mercedes cheques kept clearing he'd happily carry on. There were also stories of team debriefs where he lacked any interest, which just added fuel to the flames.
But there were signs of promise this year. Schumacher raced his way into the points from 15th on the grid at the Nurburgring - a race that was all-round considered a disaster for Mercedes. Prior to that he'd scored points at the Norisring, but despite finishing just 3.2 seconds behind the winner it was only a sixth place.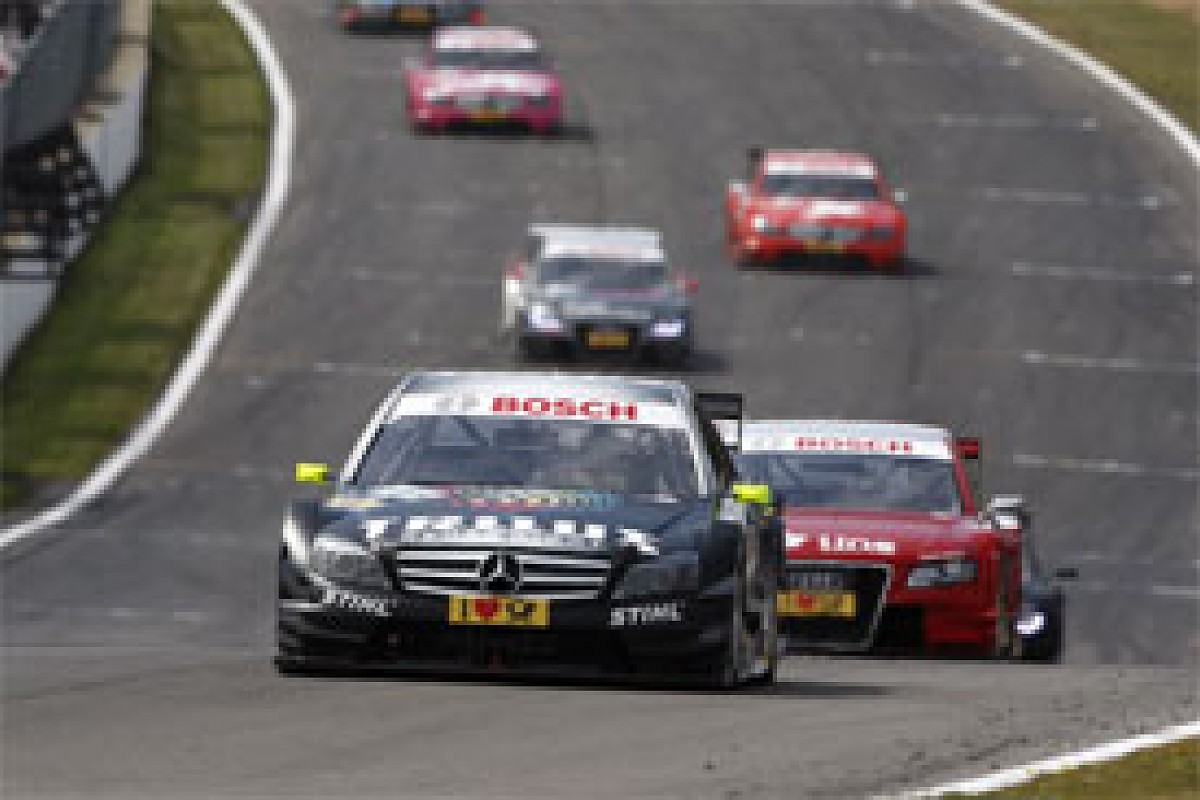 Ralf Schumacher at Brands Hatch © LAT
The other highlight was Dijon, where Schumacher qualified sixth and finished fifth in a chaotic race, which included several Audis picking up punctures. The closing stages of that race also marked a rare contribution to Merc's title hopes from its big name signing - as he held off Gary Paffett's title rival Timo Scheider for several laps, limiting the Audi man to a sixth place finish.
Those moments don't give Schumacher much ammunition to fight off the critics with though, and now at the end of his second DTM season, he's not trying to dispute them any more.
"Yes, I'm behind where I wanted to be by now," he admits. "Certainly this year I wanted to be on the podium. That was my target and I haven't done it. I expected the DTM to be difficult, but not as difficult as I have found it.
"But on the other hand, this is what the DTM is about. I was always told how tough it was. Maybe I believed it partly, but I expected it to be a little easier.
"There are no excuses - this year it has taken me too long to adapt. At the end of the day we had a winning package - two of my team-mates won races and I didn't, so it's pretty simple, the progress hasn't been good enough."
That's not to say that Schumacher has been caught out by the standard of the drivers in the series, but more the difference in driving style required to get the best out of the cars. While they are often described as being closer to a single-seater than a touring car, that doesn't mean that one drives it just like a light, nimble formula car.
Schumacher is often a topic of conversation over a DTM weekend, and mid-season one of Audi's more senior drivers offered his thoughts privately to a couple of journalists on what the German was probably struggling with. The good news for the former grand prix winner is that when pushed on the same subject at the end of the season, he gives essentially the same answer.
"It's becoming more obvious to me how to get more time out of the car," says Schumacher. "It's taken longer than I wanted it to, but I'm starting to feel at home in it.
"You can't over-drive these cars, which is something I usually did. It's a habit coming from Formula 1, but the driving style here is completely different. In F1 you have more grip from the aero performance. Even if you brake five metres too late, you'll still make the corner, but in DTM you're going to lose so much time.
"You can't throw a DTM car into the corner like you can with F1. You have to carry it in, sometimes be a bit slower on entry, because then you are a lot faster on the apex and the exit."
It's clear from Schumacher's tone throughout the interview that he was a little frustrated to see the 2009 season come to an end just as he started to make the progress he'd been looking for. Surely, then, that means a third season is on the cards?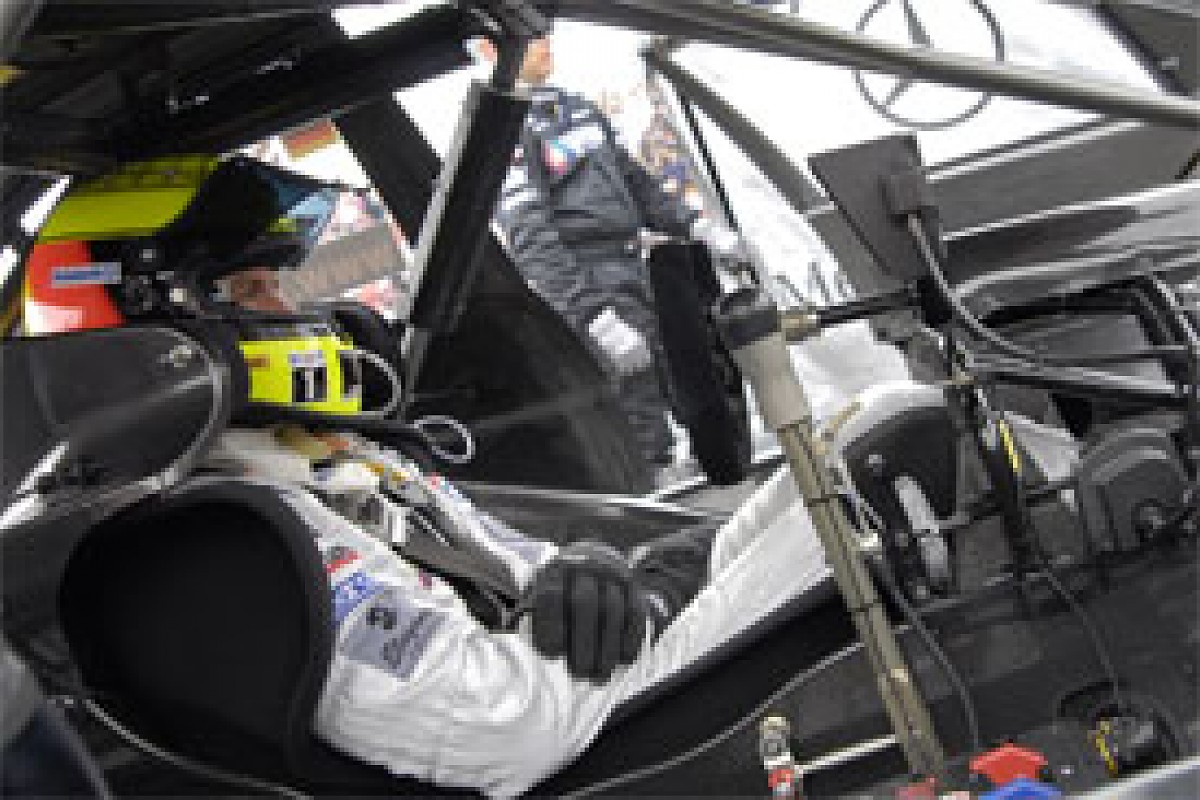 Ralf Schumacher in the Mucke Mercedes-Benz © XPB
"I think both sides have made it pretty clear that we would like to continue to work together," he says. "But on the other hand there is no rush to make a decision. Last winter we took the final decision in January, so whenever we know something we will announce it."
And as for that supposed pressure that is heaped on him by the German media, he doesn't let it get to him.
"No way, these times are over," he says referring to putting pressure on himself. "If you think about the pressure you are under you're going to fuck it up. You lose focus, you make mistakes.
"You just need to work hard, be open to learning, changing your style and listening to other people. That's how you gradually improve, and I've been doing that so I'm quite happy."
Even those on the inside at Mercedes don't know what the future holds for Schumacher, but the signs seem to suggest that a third year is likely. If a deal is worked out for 2010, then his comments at the end of 2009 will be put under the microscope every weekend, especially if he's struggling.