Since the relaunch of the DTM in 2000, no manufacturer has ever won the title three years in a row. That could all change this season, as Audi attempts to keep the crown away from Mercedes yet again, and Bernd Schneider's 2006 championship becomes a distant memory.
But Mercedes has not taken the past two defeats lightly. The pace of Audi's new A4 straight out of the box last year left Merc with a lot of work to do to catch up, but its development over the season was impressive, and there was little between the cars by the end of the year.
Add to that development work the return of a former champion to a frontrunning C-class, and Mercedes is in good shape to take the fight to Audi from the word go.
The challengers
Timo Scheider was untouchable on his day last year. That was partly down to him raising his game for his second year in a new Audi, and partly down to the spectacular performance of the brand new A4 last year - which also suited his style more than his team-mates'.
So while Scheider is deserving of the number one on his car, he is likely to have a much tougher time retaining it than he did winning it. He has three team-mates who are determined to bounce back after mixed fortunes in 2008, and there are drivers from Mercedes with scores to settle as well.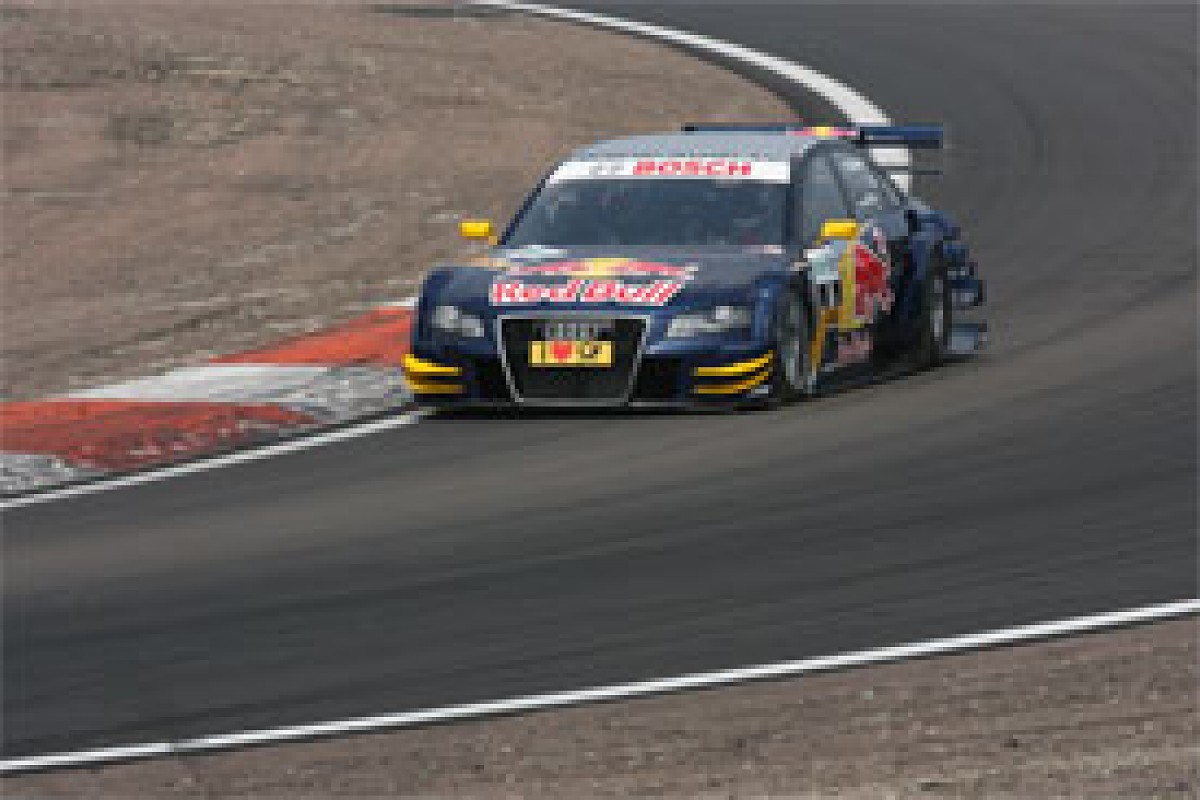 Mattias Ekstrom, ABT Audi A4 © XPB
From inside Audi, Mattias Ekstrom should be Scheider's main concern. The double champion proved last season that he could beat the German in a straight fight, but he didn't steer clear of trouble enough to wrap up a third crown. If the battles at the front get physical though, the Swede will be in the best shape to come out on top.
As far as Mercedes goes, Scheider knows all about Paul di Resta. The two had some good scraps last year as they led their teams, and when racing between themselves it was all very clean. It was only when team-mates got involved that things got complicated, and often messy.
But there is an unknown quantity for Scheider this year in a Mercedes, and it's 2005 champion Gary Paffett. Finally, after two years of driving older machinery, the McLaren F1 test driver is back in a top car. He only had one run-in with Scheider last year - in the wet at the Nurburgring - but he came off best, and the Audi man was clearly rattled by what he considered overly aggressive driving. He can expect plenty more of that this year, so he'll need to get his elbows out.
Aside from that, there are former title contenders that need to rediscover their form in both camps. Martin Tomczyk and Tom Kristensen are both race winners for Audi, but neither came particularly close last year. The same can be said for Bruno Spengler, who looked the part in 2006 and 2007, but rarely featured at the sharp end last season.
If those that should return to form do so, and last year's frontrunners keep up their pace, then this season should be far more entertaining than 2008. While a head-to-head title battle is fascinating, a multi-driver scrap, where team orders have no place, will be far more interesting.
Rule tweaks
The regulations side of the DTM is pretty stable at the moment, as the organisers work towards the next generation of the series, in the hope of attracting a third manufacturer. But there are a couple of changes this year that could be more significant than they first appear.
Qualifying has been given a few changes, taking it slightly away from the Formula 1 format that has been copied in recent years. While the knockout method remains, it now boils down to a four-driver shootout for pole, with each car only getting one flying lap.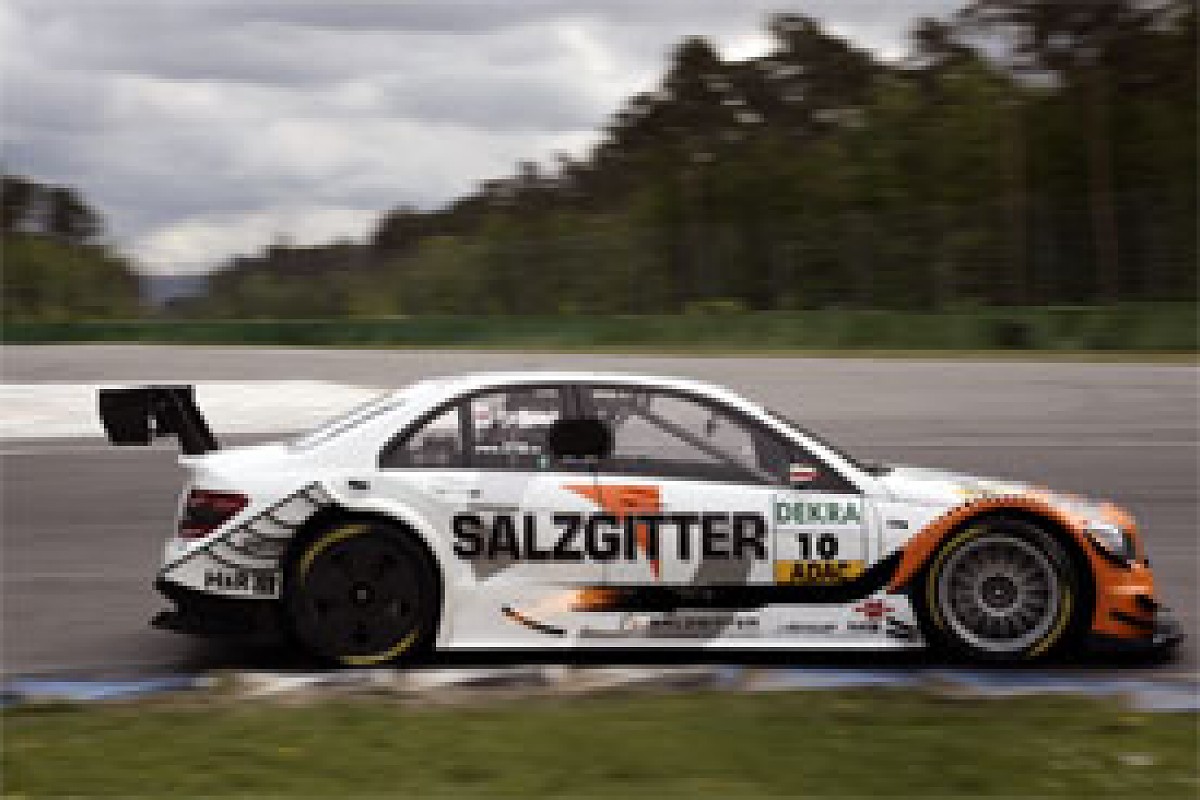 Gary Paffett, HWA Mercedes-Benz C-Class © XPB
This should be a good change, as it will spice the grid up more than when eight cars (often just the new-spec machines), would get two shots at pole in 'Q3'. The hope is clearly that the fastest driver will not always start on the front row, so the fans should get to see a bit more on-track action.
Another subtle tweak that could have an important impact on races is a reduction in weight for the older cars. Only one 2007-spec car made it onto the podium last year, as the development race with the new cars put them out of reach. But with 10 kilograms less in the older cars this year, the likes of Jamie Green, Alexandre Premat and Oliver Jarvis could be embarrassing the drivers of 2009 equipment on a regular basis, which will keep everyone on their toes.
Starting well
Making a good start to the year is more than a cliche in the DTM. With just 10 rounds, any ground lost early on in the title race is incredibly difficult to make up. It was something that bothered Mika Hakkinen during his time in the series, as he felt it eliminated too many drivers from the title hunt too quickly.
If anyone can steal a march in just the first two rounds - such as Paffett in 2005, Schneider in 2006, or Scheider in 2008 - then expect them to be out front for most of the year, and even if they get caught, they will still be a factor right to the end.
Prior to 2007, Audi had a pretty horrific record at Hockenheim, the scene of the season opener and finale each year. Having lost the previous two championships to Mercedes, something needed to be done, and Audi prioritised making a good start to the campaign.
It worked hard at getting on the pace at the German track, and since the start of 2007, Mercedes has only won once in four races at the circuit. Points that used to be a guarantee twice a year no longer exist, and it has given Audi a crucial edge.
So expect this weekend's season opener to give more clues than first rounds do in most other series. If, after all of Mercedes' hard work to get back on terms with its rival, Audi does it again, then it will be a real sucker punch. Those sort of early blows can have a huge impact on the destiny of the DTM title.