It's safe to say rolling his Toyota Hilux, breaking its windscreen and hitting a bird was not the perfect way for ex-McLaren Formula 1 driver Fernando Alonso to begin his cross-country career.
But that was last month and South Africa. Last weekend he undertook his biggest challenge in the discipline yet in the Rally of Morocco.
Morocco is the event teams use to prepare for Dakar and Alonso said it would be an experience vital to him deciding if he will undertake the prestigious event in January.
Alonso's team-mate Giniel de Villiers - who conducted Alonso's first ever cross country test as his co-driver - won the event as a driver, ahead of Carlos Sainz Sr.
Alonso finished 77 hours behind after 70 hours of penalties, but had been running in the top 10 before crashing into a ditch which damaged his suspension.
Here, Alonso gives his take on his first proper, multi-day cross country rally experience.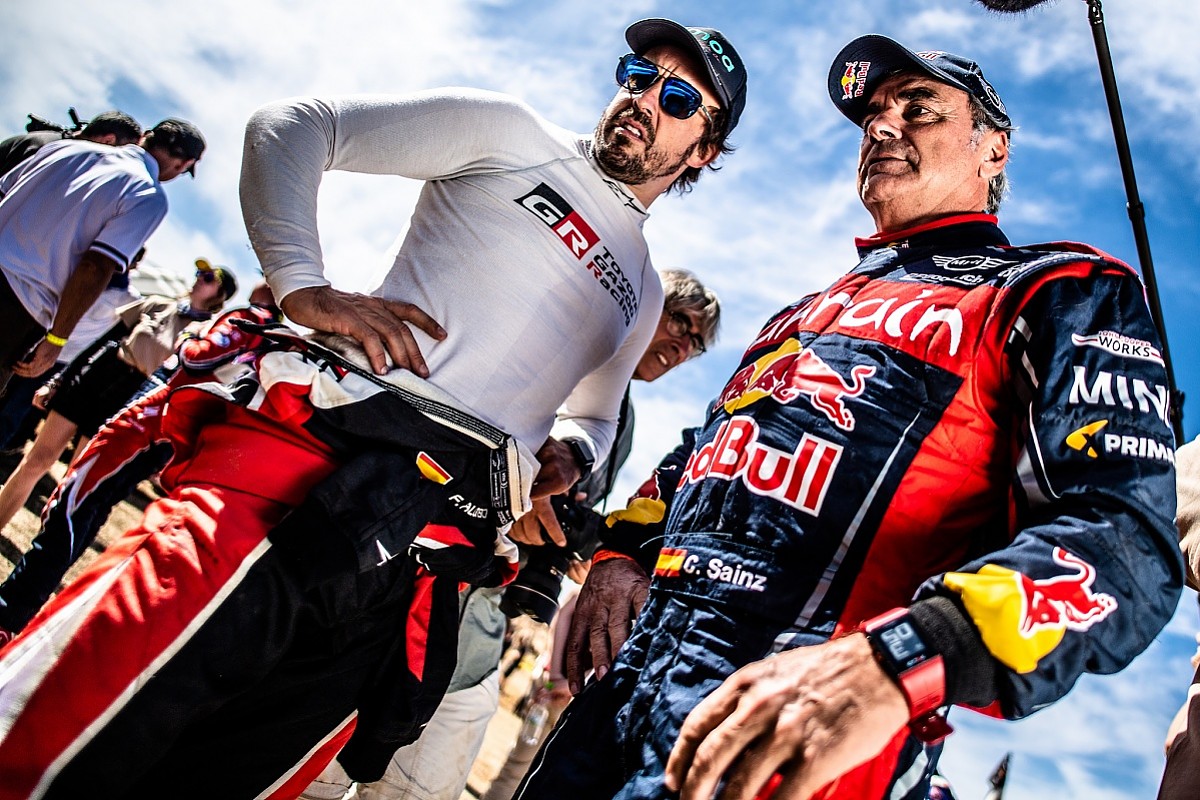 What are your initial thoughts on the event?
"I am glad to have finished, it is surely one of the toughest rallies on the calendar and we have come here as rookies.
"Glad to have finished it, surely there is much room for improvement on my part yet and trying to learn every day. I enjoyed it, especially [the last day]. The stage was very beautiful, with very good roads, with many complicated driving sites and I liked it."
"It has been a very busy year so far, and I am enjoying these challenges of trying to conquer some of the most important races in motorsport. We will now see what the plan is for next month and especially for next year."
What does this mean for Dakar in 2020?
"I do not know. Now when the rally passes and after a few days I will think about it and talk to the team and we will make the best decision.
"Let's also see what the next months are like, what preparation should be done to arrive 100% prepared and be as competitive as possible in the case of going to Dakar. There are two and a half months, there is a car [available]."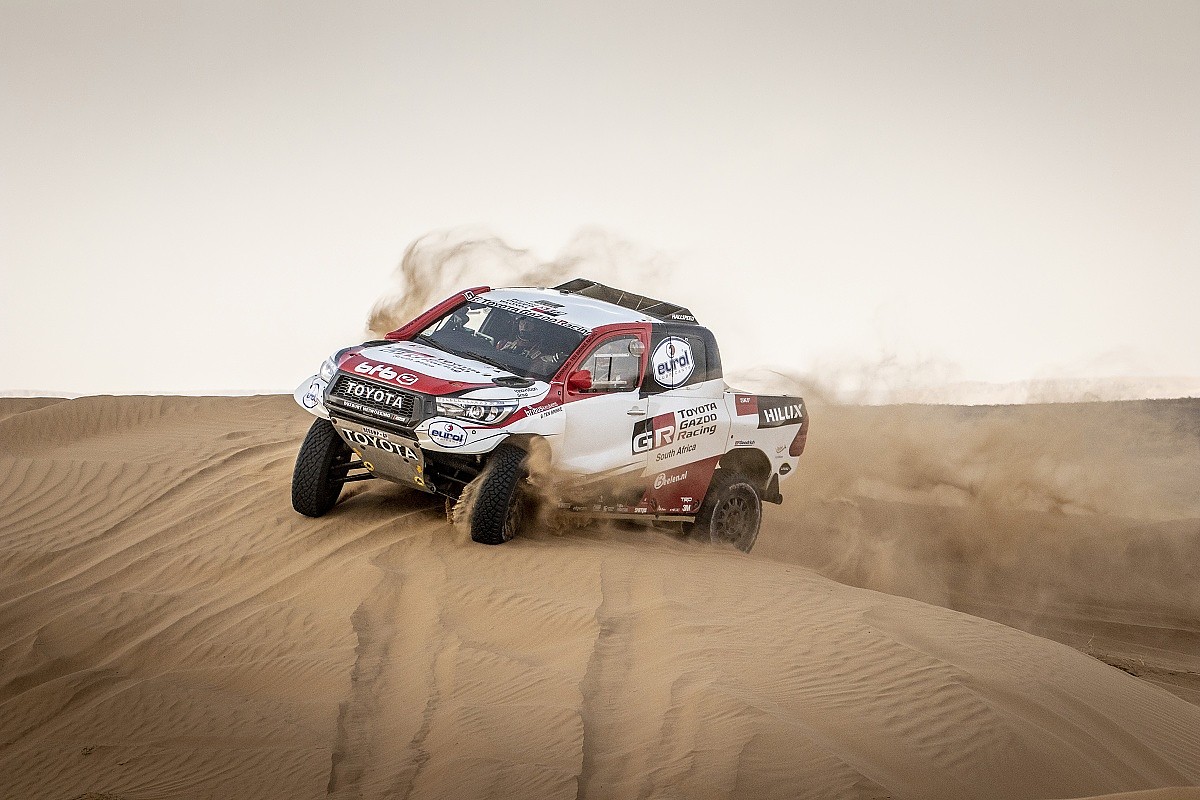 What do you need to improve on?
"Many things. Reading the terrain, the obstacles, where to pass them sometimes. Because we cross many rivers, at least here in Morocco, and sometimes my instinct tells me to go through one side and all tracks go to another. So logically they [the more experienced drivers] know a lot more and I [should] follow the tracks, so I have to get many of the things that everyone does.
"The dunes too, I need to have more rhythm, more speed and never get stuck. I haven't done it here, but in the future I have to improve a lot more there. Also inside the car. With Marc, the more kilometres we do, the better we'll find ourselves, because it's also new for him. It's not that he is a co-driver who has years and years of experience, so step by step we both get better.
"This rally has been complicated in every way, because of the difficulties we have encountered every day, because of the little things that were coming out and were surprising us and we had to go through them. But no more complicated than I thought. I know the challenge, it is one of the most extreme things.
"Sometimes I have taken a bit of bittersweet taste in the stages, because you see that you have wasted time here and there and we have not been able to do any of the normal five days, clean of shocks, not even today.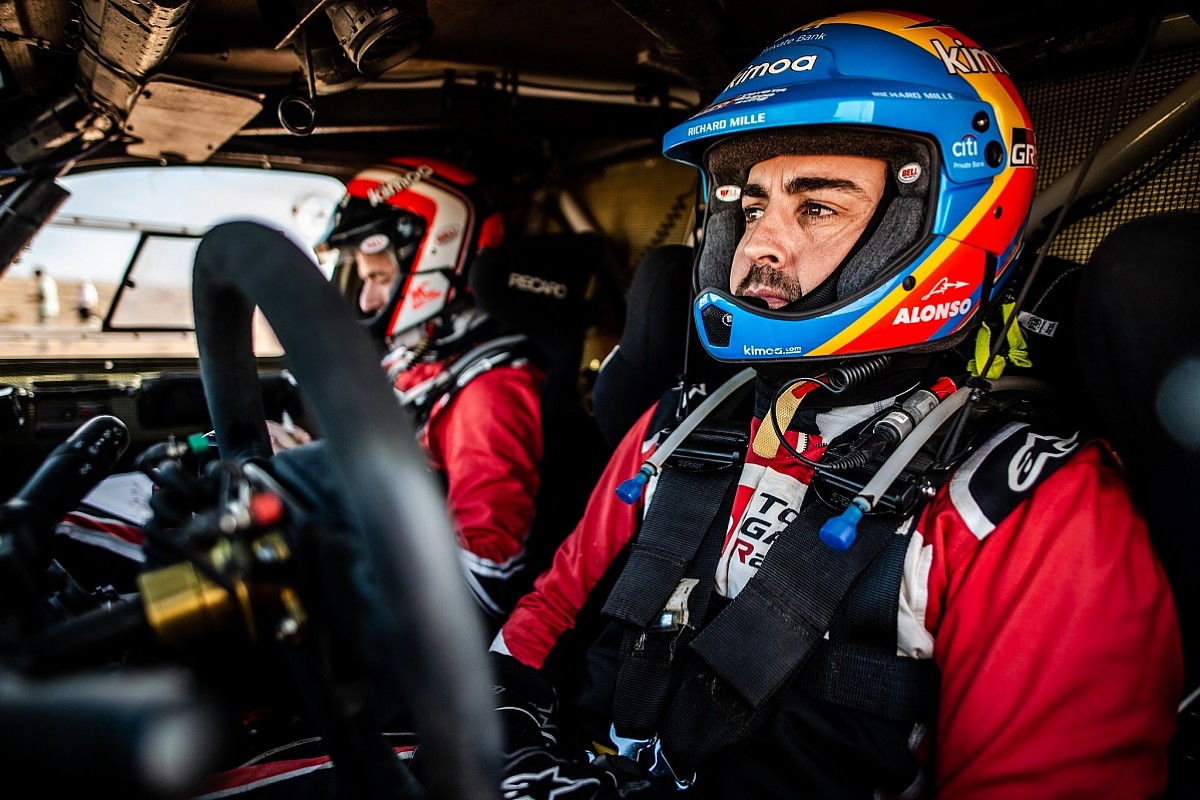 "But these are things that happen to you and to everyone else and I also have to learn from it and always be [consistent]. To do these type of rallies is more to do 90% every day and not 100% and 50% peaks. So little by little, much to improve, but [I am] happy."
Alonso is the "bravest pilot you can imagine"
Alonso's team boss Glyn Hall has masterminded Alonso's cross-country switch from the Toyota team's base in South Africa. He has been impressed by how quickly Alonso has adapted to his new surroundings.
"He is the bravest pilot you can imagine for trying this," says Hall.
"It is an unknown discipline and it is the most complicated, even more than rallies, because it takes years to get used to it. Kimi [Raikkonen] tried it in rallies, but look at Loeb, the best driver in the world and he could not win here [in Morocco].
"But the attraction of the adventure, the great challenge of the Dakar is what attracts so many drivers. I remember when Giniel [De Villiers] went to the raids, I asked Ari Vatanen if he could win the Dakar and he told me: 'If you want to do it, you will. If not, it is better not to enter this sport because it is very hard.'
"During the process, the plan has been going better than we expected, but there is no manual that tells you how to guide drivers from one discipline to another completely different. We had no experience beyond that of Giniel, who was a four-time [South African] touring car champion and came to the ground and finished fifth in his first Dakar, which could have been third, so we know it is possible.
"Fernando arrived with zero experience on gravel and we have exposed him, especially since August, to all the different types of terrain that we can find. In addition, we limit the training to a maximum of four days at a time, because more of this might be too much.
"I invited him [Alonso] to my house when he came to South Africa, we had dinner and my children were around. He is a great human being.
"We are a small team and this is perfect for us. He is already one of us. And we are on top of the best driver of his generation, probably, as many people tell me, and we have checked it. He is one of the team. Everything is normal."
Alonso will now undergo a testing programme spread across two weeks, before he and the Toyota team head to Saudi Arabia to compete in a national event in the dunes where the next Dakar will be held, having moved from South America.
The Ula Rally or the Baja Sharqiya are both options for the squad. A decision on whether Alonso will contest the Dakar is expected before the end of October.