The last 12 months have represented something of a rollercoaster ride for Jason Plato. The bad boy of the British Touring Car Championship didn't even have a drive this time last year and caused a shockwave through the paddock when he agreed a one-off deal to race an RML Chevrolet Lacetti just three days before the season-opener at Brands Hatch.
Anyone still standing was swept off his or her feet when Plato promptly took a victory in the final race of the day and, with new-found backing from Silverline tools, made his deal permanent for the rest of the season.
Despite it being RML's first foray into the BTCC as an independent squad since 1993, it took Ray Mallock's men only half a season to turn the Lacetti into the class of the field, which allowed Plato to slash Colin Turkington's championship lead from a season-high 55 points to just five by the year's end.
This time around, things look even better for Plato to finally add to his 2001 title, and to add the eight race victories he needs to break Andy Rouse's all-time wins record. The reasons? A new Cruze to replace the Lacetti, works status again for RML and a pace-setting time at the official Brands Hatch pre-season test, after which AUTOSPORT caught up with him for a chat.
Q. So how have you settled into the new Chevrolet Cruze?
Jason Plato: I've done one day so far - half a day at Oulton Park and half a day at Brands Hatch on the media day, so it's quite early to say. The car has great potential, that's for sure, but I'm still not really 'in' it at the minute. It feels like I'm wearing a new pair of shoes that fit, but because I haven't broken them in yet, they're not there in the comfort stakes.
I got to that stage through luck with the Lacetti last year in getting the seat just right, but the Cruze has a totally different seating position which I still have to get to grips with.
Q. How quick is the Cruze?
JP: It looks like it ought to be right there, but it's a new car and I have to learn it. It's not just the shell that's different, it's all the internals too; the engine installation, the gearbox, the diff, the suspension. We had a test at Rockingham last summer in which we focused on tyres and ran PPMS and infa-red stuff for a whole day. By the end, we'd totally got a handle on what the tyres like and what they don't.
Although this year's tyre is a new compound, the construction is the same and so a lot of that information we gained is carry over. At the Oulton and Brands Hatch tests we duplicated some of the exercises we did just to validate our findings. We got the right answer twice, so we're on the right track.
At least we know that what we learnt last year with the Lacetti also applies to the Cruze in some respects, so we therefore know which avenues to drive the car up in order to get performance in specific areas.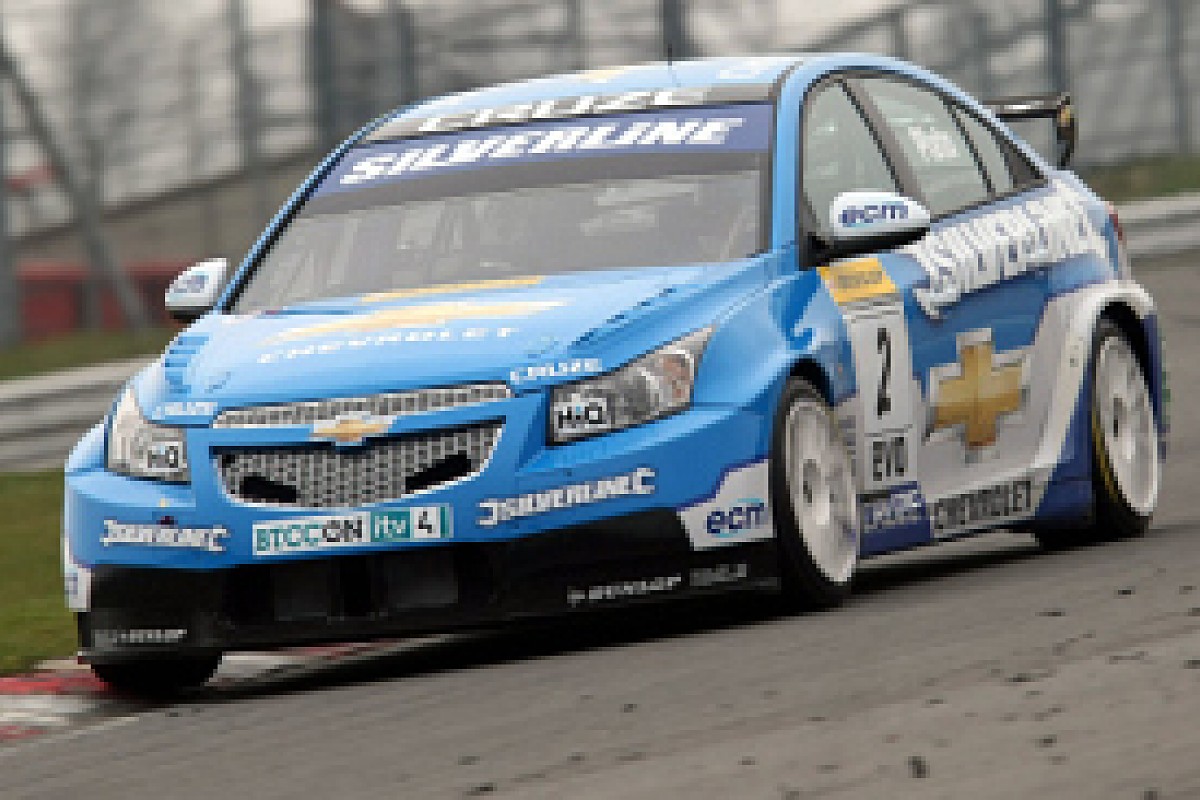 Plato's 2010 Chevrolet Cruze © LAT
Q. In what areas is the Cruze an improvement on the Lacetti?
JP: Well it is better mid-corner and has better traction. Those are all areas where we felt last year that if we'd have developed more on the Lacetti if we'd had the chance to test. It's a progressive chassis in as far as saying that we had the same problems that the World Touring Car Championship team had with the Lacetti, even though they were using Yokohama tyres and we were on Dunlops, That's good news for a start.
Q. Will that lend itself to the specific demands of UK circuits particularly?
JP: During the second half of last year, the Lacetti was very well-suited to the tracks. It was a formidable piece of kit and we got the thing working ridiculously well. The areas in which we wanted to improve the Lacetti were areas that were not specific to UK tracks.
Where the Lacetti was very good was that it was slippery through the air and had good top speed. That kind of car is going to work well in the WTCC because of the big long straights they have on the Formula 1 circuits, whereas in the UK we don't really have those sorts of circuits. We saw how well the car went at Snetterton, but then it was outstanding at Knockhill too. That weekend was a great example of the work we did through the year to make it work on the Dunlop [tyre] and on the damping, because you need a well-damped car to cope with the aggressive use of the kerbs.
That's one of the benefits of running with a team such as RML. To get the damping right you need the access to the right personnel and technology to understand it, or you can spend months achieving nothing. A BTCC car nowadays is a heavy old bus. Because of the way we use kerbs and because of the aggressive style you need to use to get time out of them, damping is crucial and it's often overlooked because its very easy to get yourself in a tangle if you've got four way adjustable dampers, and you have high and low speed bump and high and low speed rebound, you can get yourself in a right pickle with it.
Both the BTCC and WTCC teams worked hard on that and it's continued with the Cruze, which is an improvement on the Lacetti straight out of the box. It isn't as aerodynamically efficient as the Lacetti because of its bigger frontal area, but that should help it handle better.
Q. How does RML rate against Williams and Triple 8, the other top BTCC teams you've driven for?
JP: RML are world class. I think they're the best team in the business.
Q. Could we see you in a WTCC Cruze later this year if one of Chevrolet's drivers needs a hand winning the title?
JP: That's been mooted. Any chance to race is a good opportunity. I'd love to go and do the odd event.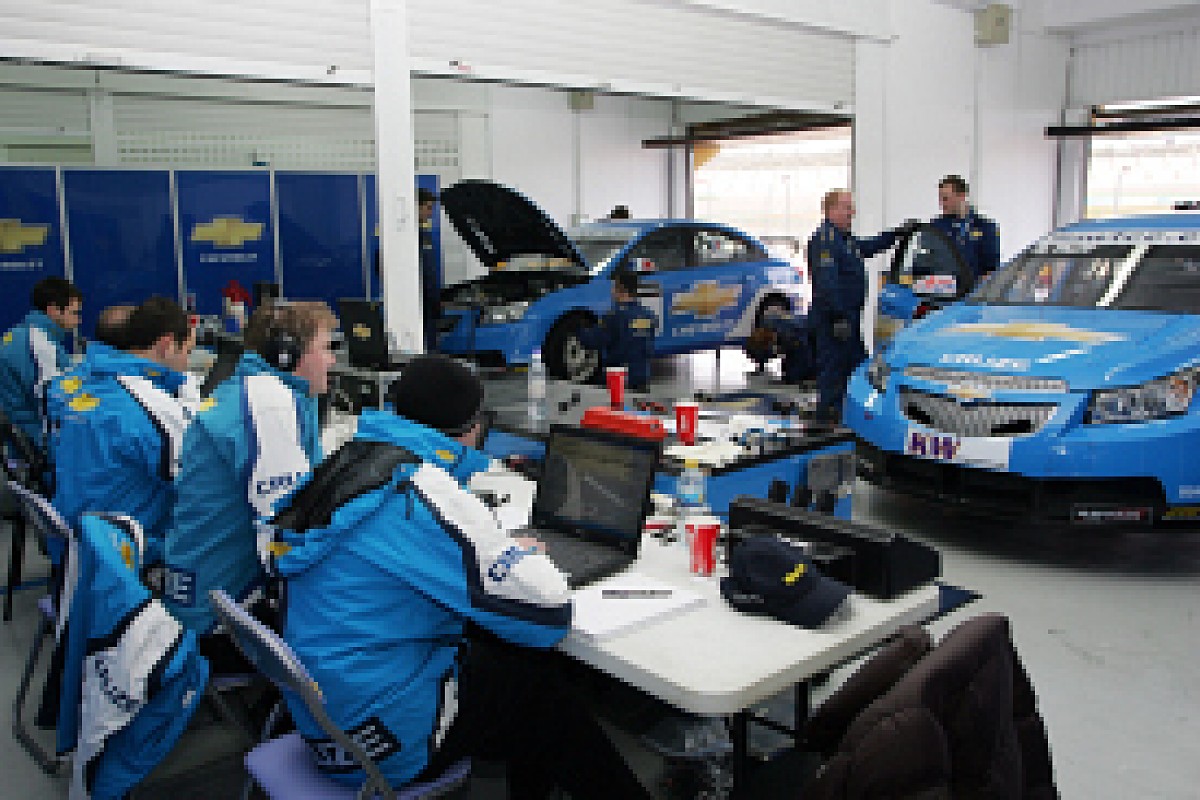 Plato rates RML as the best touring car team in the world © LAT
Q. Coming back to a works team after a year with RML as an independent entry, does it create more pressure on you to win, or change your mindset?
JP: Yes, but that's how I want it. Last year was interesting because it was the first time in my touring car career that I drove for a non-manufacturer team. It was a very good thing for me because it enabled me to focus completely on my motorsport and not get sidetracked with all the non-driving tasks that go with being a works driver during a race weekend.
It meant that I had more time to myself, and I think that I actually improved my driving by being able to put more thought and analysis into it, rather than rushing from one sponsor function to another via five minutes with your engineer, then racing, then doing it all again... I'm certainly going to apply some of the lessons learnt in 2009 this season. That said, with a works team is where I want to be because its where I can deliver the best value both in and out of a car.
Q. What do you know about your new team-mate Alex MacDowall?
JP: Not a lot, and I feel bad about that. I guess it's just that with the way touring car racing is nowadays, with three races in a day, you have so much stuff to do and you never have an opportunity to go out and watch any of the support races - I've had 10 years of that remember. Because I don't really read the magazines either, I lose touch of what's going on.
So other than saying I know the name Alex MacDowall and I know he did well in the Renault Clio Cup last year, I don't know anything. I've certainly never seen him race. I have to say though, that for a rookie touring car driver, he's in the absolute best team to learn all he needs this year.
Q. Will you share data with him?
JP: Absolutely. I always run an open book policy. There's no point in being any other way. When you drive for a manufacturer, you have to employ that tactic because it always makes more sense to have two of your guys at the sharp end than just one.
Q. Do you like having another top driver alongside you in a team, or prefer to be the undisputed number one?
JP: If I think back to day one, when I joined Renault in 1997, I was a number two driver to Alain Menu. It wasn't until he left at the end of '98 and I was teamed with Jean-Christophe Boullion that I got equal status, after which natural selection did its business. Don't forget that it was written into my contract with Vauxhall too that in my first year with Yvan Muller, I was his number two as well, although all bets were off for the following season and we had a big fight.
Ever since then I've always had equal status to my team-mate at the start of the year and natural selection has usually come out in my favour over the course of a year. Of course everyone is out for themselves, but you have to do your job first and foremost for the good of the team.
Most people reckon that I had number one status at SEAT, but that's not true. I never had it in my contract and I've never asked for it either, as I've always believed that the only way to deserve number one status is by consistently out-performing the other guy. And if you do that, you don't need a contract that says it.
However, I firmly believe that SEAT made a mistake by not imposing team orders to help me midway through '07 and '08. They did it because they had a motor racing ethos that the best man should win, but I think it cost us two championships. I didn't have number one status last year because me and Mat [Jackson] were privateers together and although everyone thinks I'll be the number one this year, Alex and I start equal too.
He has the same kit as me and that's how I want it to be because if there comes a time when I'm not good enough to be number one, it's time for me to think about whether I've had my day. I don't think that'll happen for a couple of years, but I don't want to ask officially. I have to earn it.
Plato's opposition for 2010 © LAT
Q. You start as the favourite to add to your 2001 BTCC title. Where do you think your closest challenge will come from?
JP: It could come from anyone; this is the BTCC, remember. I think the Honda threat is large, with Team Dynamics having full Honda support this year. Matt Neal is a formidable opponent and every year he's quick and in with a shout, and Gordon Shedden, as we saw at the Brands Hatch test [where he was second quickest behind Plato] is no slouch either.
There's Rob Collard, who is fast on his day, and with WSR he has a package that is going to be fast on a more consistent basis than his Motorbase car was last year. I don't know much about Andy Neate, but if the car is there for Rob to be winning races, then he'll have a competitive package too.
Q. What about your 2009 team-mate Mat Jackson, back in a BMW like the one in which he beat you to second place in the '08 championship at the final round?
JP: I rate Mat very highly. He drives the car exceptionally well, his feedback is good and he's a professional operator. If he can get that BMW working underneath him, he'll certainly be a man to be reckoned with. He's very good. Steven Kane was on the button at the Brands test, too. And as Motorbase proved last year, when they get the car right, they can do some times.
Don't forget Andrew Jordan in that turbo Vauxhall Vectra either. Okay, so Andrew's not really produced the goods to date, but he has been very quick on occasions. Listening to him at Brands though, it sounds like last year he learnt a lot, and he's in his own environment this year. And then there are the Arena Fords...
Q. What do you make of the threat of Arena then, with the new LPG engine in its pair of Ford Focus STs?
JP: Who knows what that'll produce. It's a very strange package to say the least. I'm not sure how the engine has been allowed in actually, because it's Mountune's own turbo engine and that's very strange. Looking at the speed traps, they're too quick in a straight line - way too quick. I hope the engine is properly monitored [by TOCA] because if Focus's performance is artificially enhanced by having a massively powerful engine with pressurised fuel, a lot of people will be unhappy.
Q. How is the situation any different to SEAT running turbodiesel Leons for yourself and Darren Turner in 2008?
JP: That engine was built to Super 2000 regulations and was part of the SEAT product range. It was a technology that every manufacturer could go and employ. Knowing TOCA as I do, I'll trust that they're going to get this right. The problem is that we have a phenomenal car, and if by some artificial means, a Ford Focus is quicker because they've just bolted a bigger engine in the car - something anyone could do if they were allowed - then that's just plain wrong.
You'd have to say that if he's 3mph quicker than me on the main straight at Brands, and is still slower around the lap, then the car is crap in the corners. Bearing in mind that the corner onto the straight at Brands [Clearways] is a really crucial, chassis-style corner, then if the laptime is slower, it means that Tom Chilton is definitely slower than me out of that corner, but is 3mph quicker by the end of the straight. Plus the Focus is a hatchback, so it's not as effective on the straights as my Cruze.
That all adds up to some serious performance in a straight line and if they have the ability to qualify high up the grid, we simply won't be able to pass them on the straights. It's not just me that's concerned about this either. There are a lot of deep, heavy-weighted conversations going on about this at the moment.
Q. What do you think of Arena drivers Tom Chilton and Tom Onslow-Cole?
JP: They are competition for sure. Tom on his day is quick and Tom Onslow-Cole is a quick guy and I've had some good races with him. Three years ago at Snetterton I had a good battle. I had a phenomenal race with him and couldn't get past him. I think it was his first win. He's pretty good.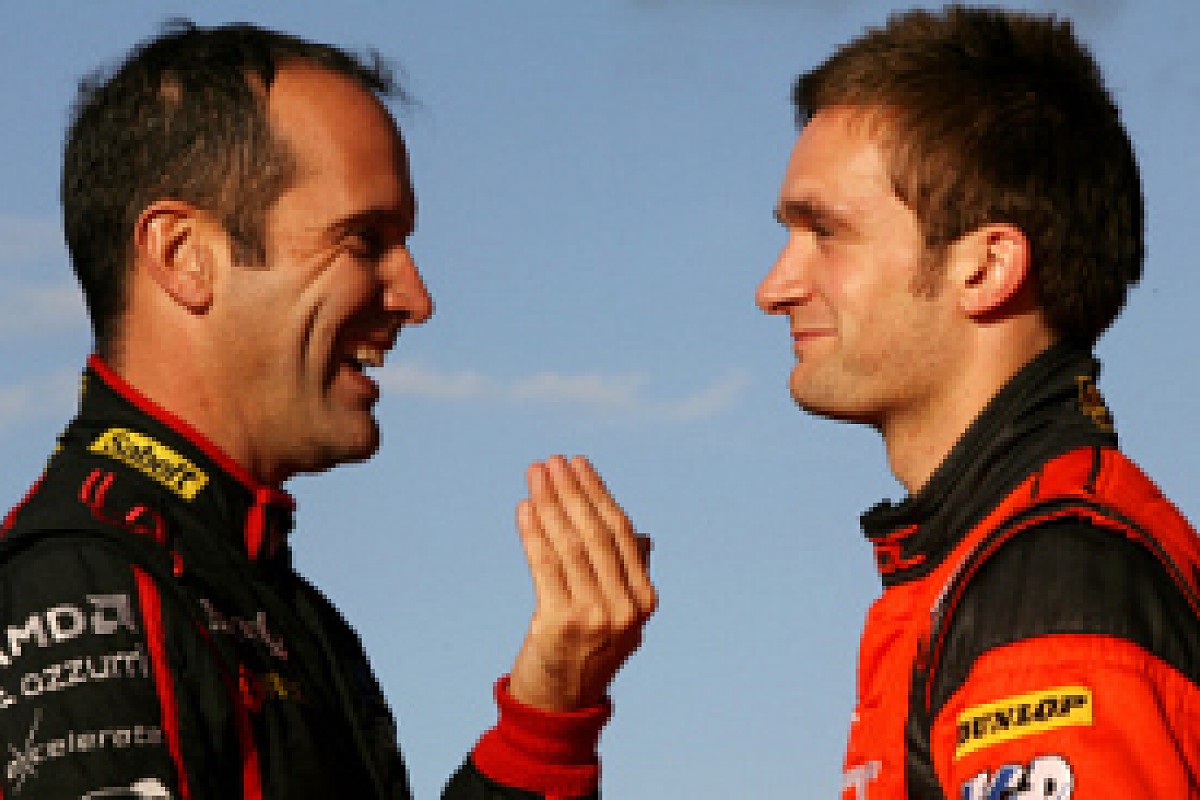 The BTCC looks as though it will be without Colin Turkington and Fabrizio Giovanardi in 2010 © LAT
Q. Are you disappointed that some of last year's top-line drivers like Colin Turkington and Fabrizio Giovanardi are not returning to the BTCC?
JP: Of course. It's a shame that Colin's not around to defend his title and likewise it's a shame we don't have the Italian flair that is Fabrizio. And likewise my old drinking buddy Jimmy T [James Thompson]. But remember, we didn't have me this time last year, or Thompson, or Johnny Herbert... It's a long year and you never know what might happen.
This is the tough year for motorsport, though. Motorsport is a year behind the real world. It takes a year for bad news to filter into motorsport because contracts are normally written six to eight months ahead. I think this is the tough year and if the BTCC can ride it out, it will only go on to better things. It would be nice to have some more well-known drivers with success on their CVs in the championship though.
Q. Will the works entries from Chevrolet and Honda signal a widescale return to the BTCC by manufacturers?
JP: I hope so. As a marketing platform, the BTCC works superbly. It does sell cars, it does increase brand visibility, it does give sponsors and manufacturers opportunities that other sports and marketing platforms don't - and for a reasonable investment level too. Plus the motoring industry is coming out of recession.
I was looking at cars yesterday and there's one manufacturer that has a nine-month waiting list on a regular car. It's picking up again. Having two manufacturers is great and I think there are talks at Vauxhall about maybe coming back in the future. I also hear that SEAT is missing what the BTCC brought it, and let's keep our fingers crossed that with the new low-cost NGTC regulations coming in for 2011, that the manufacturers will come back.
Read the full preview to this season's British Touring Car Championship in this week's AUTOSPORT magazine, or in the digital edition.