Yann Ehrlacher scored his second victory of the World Touring Car Cup season at a wet Nurburgring Nordschleife to extend his lead in the points standings.
Ehrlacher's main rival Nestor Girolami was handed a time penalty that has severely dented his title hopes.
Cyan Racing's Ehrlacher started race two on Saturday morning second on the grid behind polesitter Girolami, who passed through the pitlane twice during his reconnaissance laps before the safety car start. That cost him a 30-second time penalty, which would drop him to 11th place at the end of the three-lap race.
Ehrlacher's Lynk and Co passed Girolami's Munnich Motorsport Honda Civic Type R on the Dottinger Hohe straight at the end of lap one, with Thed Björk completing a Cyan Racing one-two. Girolami's team-mate Attila Tassi inherited third place.
"It's such an amazing feeling to win a race on the greatest track in the world," said an overjoyed Ehrlacher. "I can't believe we won on the Nordschleife in those conditions. It's the best win of my career, absolutely insane. It's good for the team and for the drivers' championship."
In the reverse-grid Race 1 on Friday, Munnich Motorsport's Esteban Guerrieri pulled off a fantastic pass to beat pole position starter Yvan Muller. The Argentine pressured the four-time World Touring Car Champion on the Grand Prix loop, before out-braking the Lynk & Co around the outside at Aremberg. The pair rubbed doors, but Muller admitted he was powerless to stop his Honda rival.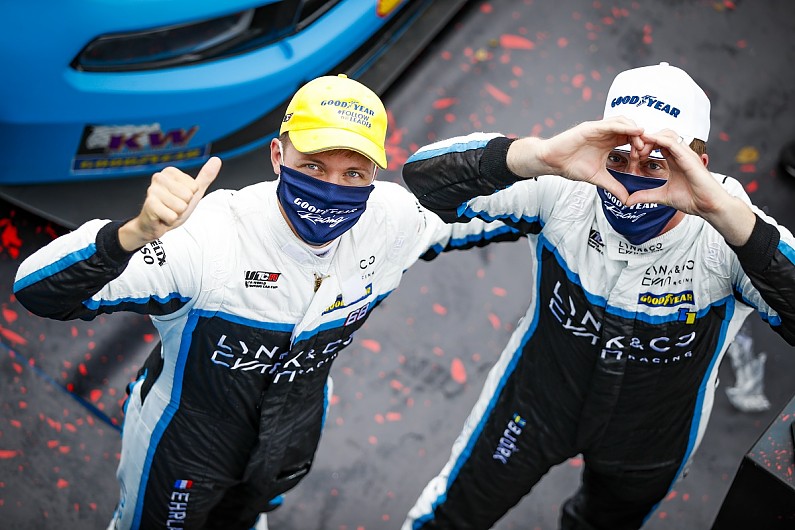 "I had an idea from last year where the grip might be and the part where I could attack a bit more," said Guerrieri. "I saw Yvan braking on the inside a bit early so I tried around the outside, I didn't know what was going to happen. Then we went side by side out of that corner and it was very fair going down the hill, then Yvan lifted."
Björk allowed his team-mate Ehrlacher through on the last lap to gift the Frenchman a podium finish.
The weekend on the Nordschleife was overshadowed by a Balance of Performance row that led Hyundai to withdraw its four cars from the meeting before the first practice session began on Thursday, the South Korean manufacturer stating that "neither the company nor our customer teams are given equal treatment in the series to other competitors and are not made to feel welcome."
The decision left reigning champion Norbert Michelisz and 2018 title winner Gabriele Tarquini on the sidelines, although all four Hyundai i30 N TCRs are expected to be back on the grid for the next round on the Slovakiaring on 10-11 October.
Ehrlacher now leads the standings on 92 points, 31 ahead of both Björk and Girolami, with Muller one point further back in fourth.
Race 1 result - 3 laps
| Pos | Driver | Team | Car | Gap |
| --- | --- | --- | --- | --- |
| 1 | Esteban Guerrieri | Munnich Motorsport | Honda | 31m14.425s |
| 2 | Yvan Muller | Cyan Racing | Lynk & Co | 3.385s |
| 3 | Yann Ehrlacher | Cyan Racing | Lynk & Co | 3.999s |
| 4 | Thed Bjork | Cyan Performance | Lynk & Co | 4.903s |
| 5 | Tom Coronel | Comtoyou Audi | Audi | 12.298s |
| 6 | Nestor Girolami | Munnich Motorsport | Honda | 15.674s |
| 7 | Gilles Magnus | Comtoyou Racing | Audi | 21.451s |
| 8 | Tiago Monteiro | Munnich Motorsport | Honda | 23.256s |
| 9 | Jean-Karl Vernay | Team Mulsanne | Alfa Romeo | 39.521s |
| 10 | Bence Boldizs | Zengo Motorsport | Cupra | 1m54.117s |
| 11 | Gabor Kismarty-Lechner | Zengo Motorsport | Cupra | 3m24.679s |
| 12 | Nathanael Berthon | Comtoyou Audi | Audi | 6m51.360s |
| - | Attila Tassi | Munnich Motorsport | Honda | Retirement |
| - | Santiago Urrutia | Cyan Performance | Lynk & Co | Retirement |
| - | Jack Young | Vukovic Motorsport | Renault | Retirement |
| - | Mikel Azcona | Zengo Motorsport | Cupra | Retirement |
Race 2 result - 3 laps
| Pos | Driver | Team | Car | Gap |
| --- | --- | --- | --- | --- |
| 1 | Yann Ehrlacher | Cyan Racing | Lynk & Co | 31m00.926s |
| 2 | Thed Bjork | Cyan Performance | Lynk & Co | 5.835s |
| 3 | Attila Tassi | Munnich Motorsport | Honda | 11.971s |
| 4 | Mikel Azcona | Zengo Motorsport | Cupra | 16.563s |
| 5 | Esteban Guerrieri | Munnich Motorsport | Honda | 16.776s |
| 6 | Jean-Karl Vernay | Team Mulsanne | Alfa Romeo | 22.454s |
| 7 | Yvan Muller | Cyan Racing | Lynk & Co | 23.106s |
| 8 | Tom Coronel | Comtoyou Audi | Audi | 31.253s |
| 9 | Tiago Monteiro | Munnich Motorsport | Honda | 33.075s |
| 10 | Santiago Urrutia | Cyan Performance | Lynk & Co | 34.708s |
| 11 | Nestor Girolami | Munnich Motorsport | Honda | 40.644s |
| 12 | Nathanael Berthon | Comtoyou Audi | Audi | 45.914s |
| 13 | Bence Boldizs | Zengo Motorsport | Cupra | 2m27.932s |
| 14 | Gabor Kismarty-Lechner | Zengo Motorsport | Cupra | 4m14.557s |
| - | Gilles Magnus | Comtoyou Racing | Audi | Retirement |
| - | Jack Young | Vukovic Motorsport | Renault | Withdrawn |