KCMG's Tiago Monteiro claimed a home victory in the final World Touring Car Cup race at Vila Real, his first win since his comeback from a serious injury.
Monteiro took his Honda Civic Type R to victory by over two seconds from Yvan Muller to become the 11th different winner in 2019, and it was his first win since his testing crash at Barcelona almost two years ago.

A world champion in waiting's tortuous path to recovery
He crucially took the lead from his pole-sitting team-mate Attila Tassi on the fourth lap of 14.
Muller held off the attention of his Lynk & Co stablemate and nephew, Yann Ehrlacher, with race two winner Mikel Azcona fourth.
Esteban Guerrieri suffered another disappointing race, retiring after contact on the opening lap with the BRC Racing Squadra Corse Hyundai i30 N of Nicky Catsburg.
Catstburg, who started seventh, made a great start and threatened to go all the way round Jean-Karl Vernay (Audi), Rob Huff (Volkswagen) and Guerrieri as the pack filed into Turn 4 for the first time.
The move nearly paid off but Catsburg, squeezed by both Guerrieri and the Team Mulsanne Alfa Romeo of Ma Qing Hua, hit the back of Guerrieri and put both out on the spot.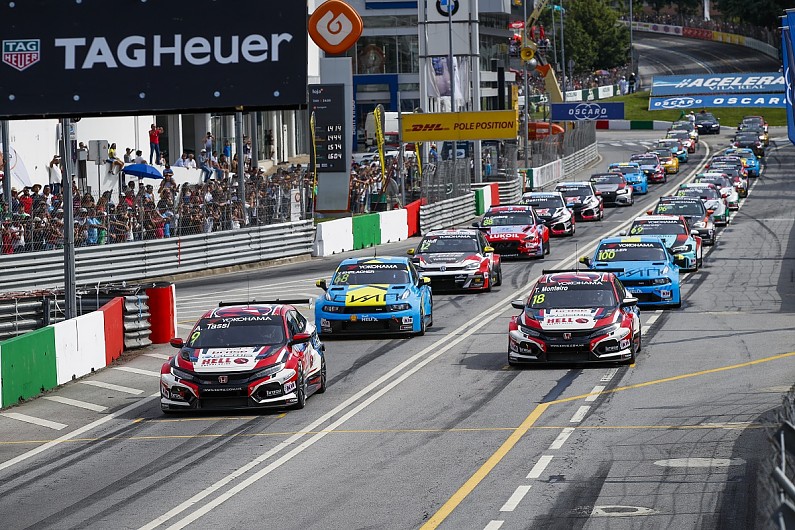 Guerreri's title rivals Thed Bjork of Cyan Racing Lynk & Co and BRC Racing Hyundai Norbert Michelisz both scored points, with the Michelisz now just 25 points behind.
"God knows how much we worked for that," said Monteiro. "We made the comeback after two years, and it was such a tough season so far. Of course, I always dreamt of making a huge comeback here, but to do it [this way] is unbelievable.
"Someone was watching out for me today."
Tassi had led from his maiden pole position but quickly fell into the grasps off the chasing Monteiro and Muller.
Under pressure from behind, Monteiro seized the lead on the entry to Turn 14 with Muller grabbing second on exit.
Tassi dropped as far down as 11th and eventually retired. Monteiro got his foot down in clear air and managed to take his joker lap and re-join in front of Muller at the start of lap seven.
The remaining laps were an ebb and flow between the two out front, with Muller the quicker driver in the two laps after Monteiro's joker.
But Monteiro found his rhythm and gapped Muller by nearly three seconds to run out a comfortable winner as Muller defended from team-mate Ehrlacher and Azcona.
Ehrlacher appeared the faster of the two Lynk & Cos heading into the closing stages and he radioed the team asking if Muller could go any quicker.
But Azcona did not have enough pace to mount a serious challenge and the positions remained the same at the flag.
Bjork claimed eighth, just ahead of Ma while Michelisz made amends for his race two non-score with 10th.
Johan Kristoffersson and Aurelien Panis profited from a late-race suspension failure for the Comtoyou Audi of Frederic Vervisch to finish 11th and 12th respectively.
Defending WTCR champion Gabriele Tarquini finished a miserable weekend for Hyundai with the final point in 15th.
Race result
| Pos | Driver | Team | Car | Laps | Gap |
| --- | --- | --- | --- | --- | --- |
| 1 | Tiago Monteiro | KCMG | Honda | 14 | 29m49.833s |
| 2 | Yvan Muller | Cyan Racing | Lynk & Co | 14 | 2.295s |
| 3 | Yann Ehrlacher | Cyan Performance | Lynk & Co | 14 | 2.647s |
| 4 | Mikel Azcona | PWR Racing | Cupra | 14 | 2.959s |
| 5 | Jean-Karl Vernay | WRT | Audi | 14 | 6.816s |
| 6 | Rob Huff | SLR VW Motorsport | Volkswagen | 14 | 6.999s |
| 7 | Nestor Girolami | Munnich Motorsport | Honda | 14 | 10.041s |
| 8 | Thed Bjork | Cyan Racing | Lynk & Co | 14 | 12.507s |
| 9 | Ma Qinghua | Team Mulsanne | Alfa Romeo | 14 | 22.317s |
| 10 | Norbert Michelisz | BRC Squadra Corse | Hyundai | 14 | 22.596s |
| 11 | Johan Kristoffersson | SLR Volkswagen | Volkswagen | 14 | 23.570s |
| 12 | Aurelien Panis | Comtoyou Cupra | Cupra | 14 | 24.108s |
| 13 | Kevin Ceccon | Team Mulsanne | Alfa Romeo | 14 | 24.900s |
| 14 | Mehdi Bennani | SLR VW Motorsport | Volkswagen | 14 | 24.916s |
| 15 | Gabriele Tarquini | BRC Squadra Corse | Hyundai | 14 | 25.258s |
| 16 | Niels Langeveld | Comtoyou Audi | Audi | 14 | 26.028s |
| 17 | Tom Coronel | Comtoyou Cupra | Cupra | 14 | 26.602s |
| 18 | Benjamin Leuchter | SLR Volkswagen | Volkswagen | 14 | 37.092s |
| 19 | Andy Priaulx | Cyan Performance | Lynk & Co | 14 | 1m44.342s |
| - | Frederic Vervisch | Comtoyou Audi | Audi | 12 | Retirement |
| - | Daniel Haglof | PWR Racing | Cupra | 7 | Retirement |
| - | Attila Tassi | KCMG | Honda | 7 | Retirement |
| - | Augusto Farfus | BRC Racing Team | Hyundai | 6 | Retirement |
| - | Gordon Shedden | WRT | Audi | 1 | Retirement |
| - | Esteban Guerrieri | Munnich Motorsport | Honda | 0 | Retirement |
| - | Nicky Catsburg | BRC Racing Team | Hyundai | 0 | Retirement |
Drivers' championship
| Pos | Driver | Points |
| --- | --- | --- |
| 1 | Esteban Guerrieri | 231 |
| 2 | Norbert Michelisz | 206 |
| 3 | Thed Bjork | 180 |
| 4 | Nestor Girolami | 175 |
| 5 | Mikel Azcona | 168 |
| 6 | Yvan Muller | 154 |
| 7 | Yann Ehrlacher | 148 |
| 8 | Jean-Karl Vernay | 140 |
| 9 | Frederic Vervisch | 136 |
| 10 | Gabriele Tarquini | 119 |
| 11 | Augusto Farfus | 119 |
| 12 | Nicky Catsburg | 117 |
| 13 | Rob Huff | 107 |
| 14 | Ma Qinghua | 102 |
| 15 | Johan Kristoffersson | 94 |
| 16 | Benjamin Leuchter | 86 |
| 17 | Aurelien Panis | 69 |
| 18 | Tiago Monteiro | 58 |
| 19 | Kevin Ceccon | 47 |
| 20 | Tom Coronel | 43 |
| 21 | Andy Priaulx | 42 |
| 22 | Attila Tassi | 39 |
| 23 | Daniel Haglof | 35 |
| 24 | Niels Langeveld | 30 |
| 25 | Gordon Shedden | 29 |
| 26 | Mehdi Bennani | 25 |
Teams' championship
| Pos | Team | Points |
| --- | --- | --- |
| 1 | All-Inkl.com Munnich Motorsport | 406 |
| 2 | Cyan Racing Lynk & Co | 334 |
| 3 | BRC Hyundai N Squadra Corse | 325 |
| 4 | BRC Hyundai N LUKOIL Racing Team | 236 |
| 5 | PWR Racing | 203 |
| 6 | Cyan Performance Lynk & Co | 190 |
| 7 | SLR Volkswagen | 180 |
| 8 | Leopard Racing Team Audi Sport | 169 |
| 9 | Comtoyou Team Audi Sport | 166 |
| 10 | Team Mulsanne | 149 |
| 11 | SLR VW Motorsport | 132 |
| 12 | Comtoyou DHL Team CUPRA Racing | 112 |
| 13 | KCMG | 97 |