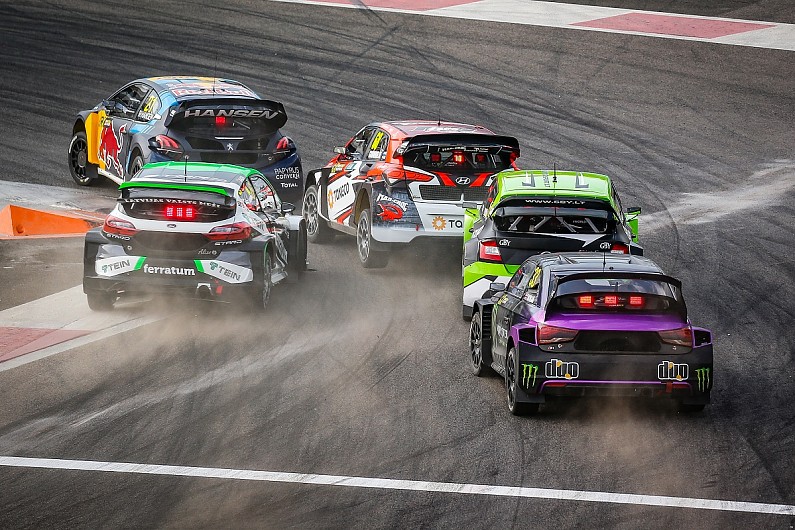 Plans to switch the World Rallycross Championship to electric cars have been reignited at the FIA World Motor Sport Council meeting in Paris.
An FIA statement explained that a "revised roadmap for the electrification of the FIA World Rallycross Championship in 2021" has been approved by the WMSC.
This follows initial plans to switch the series to electric cars being extinguished in March.
The previous intention for WRX electrification had included manufacturer-built and developed single-make carbon monocoque chassis machines.
But the new initiative is aims for private teams to retrofit current four-wheel drive Supercars with an electric kit in place of conventional running gear.
Following a successful amalgamation of internal combustion engine cars and electric machines in last winter's Andros Trophy ice racing series, WRX will also run both types of propulsion from 2021.
"A gradual introduction will see a mix of EVs and current ICEs for a minimum of one year," the FIA statement continued.
"An identical specification powertrain and battery kit is to be introduced for a four-year cycle, comprising two motors developing between 400 and 500kW."
A single-make FIA Junior eRX series will also be introduced for 2021, for four-wheel drive cars producing around 250kW.
Tender invitations for the supply of the electric kits for existing Supercars, a Junior eRX car, and operation and charging infrastructure for both series has also been launched by the FIA.
Each of the tenders are for a four-year term, with potential applicants being able to bid for one or more of the those released.
Manfred Stohl's Austrian firm STARD has already announced that it is developing a four-wheel drive electric kit, initially aimed at WRX's proposed Projekt E initiative.
According to technical details released this week, an evolution of STARD's original electric rallycross Supercar prototype - HIPER - falls in line for the new technical outline for electric WRX Supercars.
Autosport has produced a standalone special magazine to celebrate our 70th birthday. All current print subscribers will receive a copy for free. To order your copy of the 196-page Autosport 70th Anniversary issue, please go to: autosport.com/autosport70th