Mattias Ekstrom's EKS Audi Sport team was fastest in both wet and dry conditions at the second and final official World Rallycross Championship pre-season test at Silverstone this week.
Running its 2018-spec S1 Supercar in public for the second time, having revealed the car at the Loheac World RX test earlier this month, Ekstrom was joined by new team-mate Andreas Bakkerud - the pair alternating in a car.
With the test split into four sessions over Monday and Tuesday, only once did the EKS squad not top the order.
Newcomer GCK set the pace on Monday morning with the brand new Prodrive-built Renault Megane RS RX, in the hands of European Championship event-winner Jerome Grosset-Janin, with a time of 42.792 seconds.
But as the loose surface sections of the new Silverstone circuit cleaned in the afternoon, it was Ekstrom who set a new benchmark - 1.191s faster than Grosset-Janin's time.
Having raced in the British Rallycross Championship opener at the same circuit a week earlier alongside team-mate Sebastien Loeb, Peugeot driver Timmy Hansen was second fastest at the end of day one, just 0.266s shy of Ekstrom's time, with Bakkerud third (+0.458s), Kevin Eriksson in an Olsbergs MSE Ford Fiesta fourth (+0.621s) and reigning World RX champion Johan Kristofferson fifth (+0,622) driving Volkswagen Motorsport's 2018 Polo R Supercar.
Wet conditions greeted the teams on Tuesday and Ekstrom was again fastest in the morning session, but with a time almost 1.5s slower than his previous best.
Petter Solberg posted the second best lap, 0.419s adrift, while Guerlain Chicherit was third in a strong debut public outing for the Megane.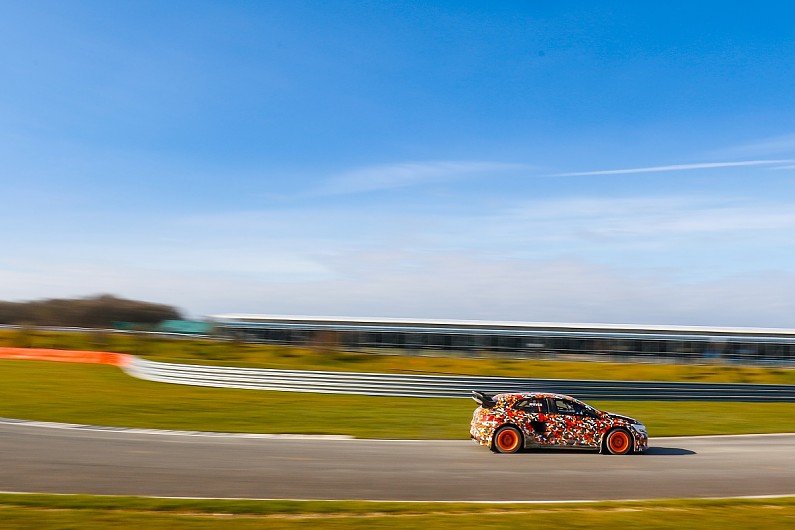 Although the conditions dried for the afternoon running, the Northamptonshire circuit remained slippery, with Bakkerud topping the table on a 44.807s, some way short of the best times set on Monday.
Double DTM champion Ekstrom was pleased by more than just the performance of EKS's new car.
"Testing is testing but I always believe that feeling is feeling," he told Autosport.
"If you feel great in the car, you feel great in the team, you see some good work and good progress, you see that each individual in the team does a good job and you bring a lot of ideas to a test and execute them according to plan, then it is good.
"We have some new individuals in the team so for us it's not only the times that make me most happy, it's that we have a new group of people starting to work well together."
Ekstrom and Bakkerud completed a total of 136 laps at Silverstone.
"We've been trying everything, but everybody had the same chance [with the changeable track conditions]," Ekstrom added.
"We ran on slicks and wets, we've been trying everything we can to learn more, to adapt the car more.
"The biggest gain for us is just to drive the car because we've had so few days driving with our new car. We need every kilometre we can get."
Asked how much of a step his Audi-backed squad has taken with its new 2018 car, Ekstrom replied: "I'm 1000% sure [the car is quicker], the question is just by how much."
A notable absentee from the test was Marcus Gronholm's GRX squad, but the team has begun testing its new WRC-derived Hyundai i20 Supercars behind closed doors.
SPEEDMACHINE - The British round of the WRX comes to Silverstone on May 25-27. To book your tickets visit www.speedmachine.com. For a limited time only get discounts on adult tickets using the codes SMW10 for weekends, SSMSAT10 for Saturday and SMSUN for Sunday