Mattias Ekstrom's EKS Audi Sport squad revealed its 2018 World Rallycross challenger at Loheac in France on Wednesday, before completing the first full day of running with the new car.
The latest iteration of the S1, the model EKS has used in World RX since 2014, has been developed with increased support from Audi and features significant aerodynamic changes at the rear.
Those differences include a revised rear spoiler and the introduction of vents in the roof and rear quarter windows, instead of the more traditional inlets in the rear quarter panels, used to feed air into the rear-mounted radiator.
Ekstrom's new team-mate Andreas Bakkerud undertook the majority of the running in the new car on Wednesday in mixed conditions at the French circuit.
"I just did two or three runs today, but it's nice to start off and just to try [the new car] and I'm happy to see Andreas enjoys it," Ekstrom told Autosport.
"We did a private shakedown before this and it feels good. But, what is good? Good is when you're fast and you can fight for race wins.
"We have done quite some work but in the end it will depend what the competitors have done as well."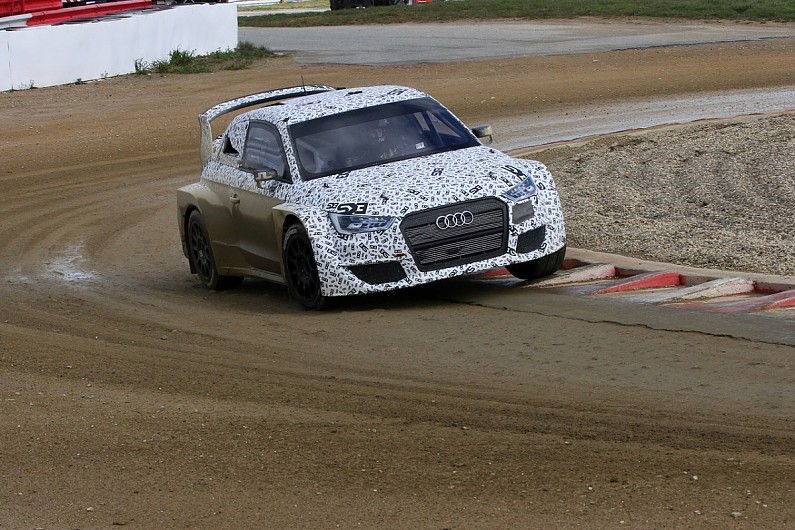 Ekstrom says Audi's increased involvement has been significant in the development process and the rear aerodynamic changes in particular.
"For sure Audi Sport is really good on many things but one thing that is specific is aerodynamics, so when they come up with something we should listen carefully," he said.
Asked how close the new S1 is to the version that will be used in the opening World RX round in Spain next month, the double DTM champion replied: "There will be some new things, maybe not to be seen from outside but from inside there are some updates still to come.
"You would like to have more time, an even bigger budget and more experience, but we try as much as we can with what we have."
The official test continues at Loheac on Thursday, when EKS plans back-to-back test against the new car's 2016 title-winning predecessor if conditions are dry.
Volkswagen Motorsport also ran its 2018-spec Polo Supercar at Loheac, driven by Petter Solberg on Wednesday, while Timmy Hansen drove Peugeot Sport's new 208 Supercar that was revealed on Monday.
SPEEDMACHINE - The British round of the WRX comes to Silverstone on May 25-27. To book your tickets visit www.speedmachine.com. For a limited time only get discounts on adult tickets using the codes SMW10 for weekends, SSMSAT10 for Saturday and SMSUN for Sunday