The Prodrive-built Renault Megane World Rallycross Championship Supercar has broken cover at the second official pre-season test at Silverstone.
Prodrive's tie-up with the GCK team on the Megane project was announced in early 2017, but its launch date was postponed from September 2017 until early this year.
Following its build completion at Prodrive's Banbury base, the new car has been involved in test sessions behind closed doors recently, including at Pembrey in South Wales, with Timo Scheider driving.
GCK will reveal its car at a launch in Paris next week, but is running the new two-litre turbocharged four-wheel drive machine at Silverstone in a testing livery.
"This is really an important day for me, the team has been working really hard for the last two years," team owner and driver Guerlain Chicherit told Autosport.
"Finally we are here driving on track with the other cars for the first time, so we can have a better idea to see where we are.
"When you drive alone by yourself for sure you are fast, but when you're the only one on track for sure you're the fastest."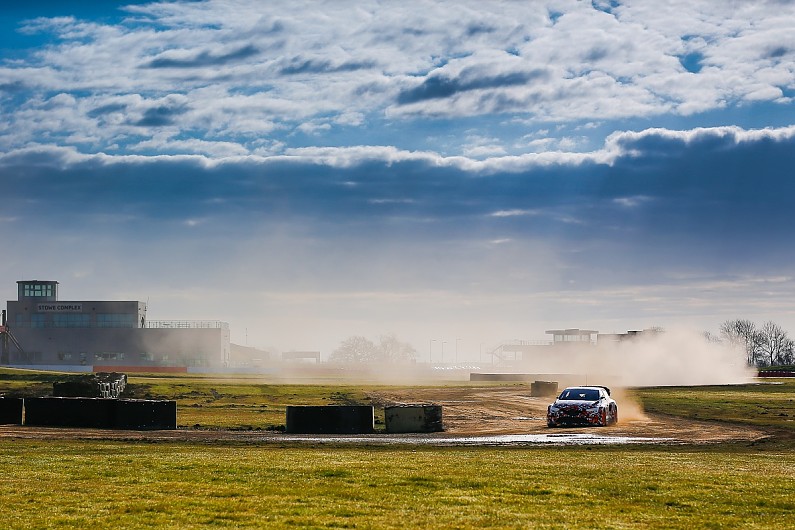 Technical details about the Megane are being kept under wraps at Silverstone, with the car returning to a closed garage between each run, but driving duties are being undertaken by Chicherit and team-mate Jerome Grosset-Janin.
At the conclusion of the first morning of testing, Grosset-Janin has posted the fastest time aboard the new Megane, 0.399 seconds ahead of double World RX champion Petter Solberg's Volkswagen Motorsport-built Polo.
"There's plenty of stuff that's trick in the development, innovation that we don't want to show too early," said Chicherit, speaking about the secrecy surrounding the technical specification of the new car.
"It's not going to change anything anyway because the season is starting soon and nobody can really change anything on the other cars.
"If they want to take some ideas that we have on the Megane they would have to build a whole new car.
"We are not really stressed about it, it's just the fact we have our own partners and people who have been supporting us and we want to give them the privilege to see the car for the first time and explain what we've done with the project in Paris next week."
Team Manager Karl O'Sullivan said initial testing of the Megane has been positive.
"There's no question about the pedigree of Prodrive, certainly in off-road motorsport and more lately with their success in GT racing," he said.
"The depth of expertise and experience that these guys bring as a unit is just fantastic.
"So far testing has been going well. We have more miles to do, we want to give the drivers as much seat time as possible.
"We'll look at the times [from Monday] and examine where we're at, but as long as the guys are happy and comfortable I don't think it's massively representative of what people will be doing in Barcelona."
SPEEDMACHINE - The British round of the WRX comes to Silverstone on May 25-27. To book your tickets visit www.speedmachine.com. For a limited time only get discounts on adult tickets using the codes SMW10 for weekends, SSMSAT10 for Saturday and SMSUN for Sunday