Reigning champion Mattias Ekstrom has secured factory Audi Sport backing for his World Rallycross title defence.
Ekstrom and his own EKS team won last year's World RX titles using privately-run Audi machinery, fitting the campaign in alongside his works Audi DTM programme.
Now Audi will increase its support of Ekstrom's RX efforts.
"We realise that it's going to be increasingly difficult for EKS to hold its own against the factory teams, so we chose to intensify our World RX commitment," said Dieter Gass, head of Audi Motorsport.
Ekstrom suggested last year that he might not be able to continue in World RX without works support.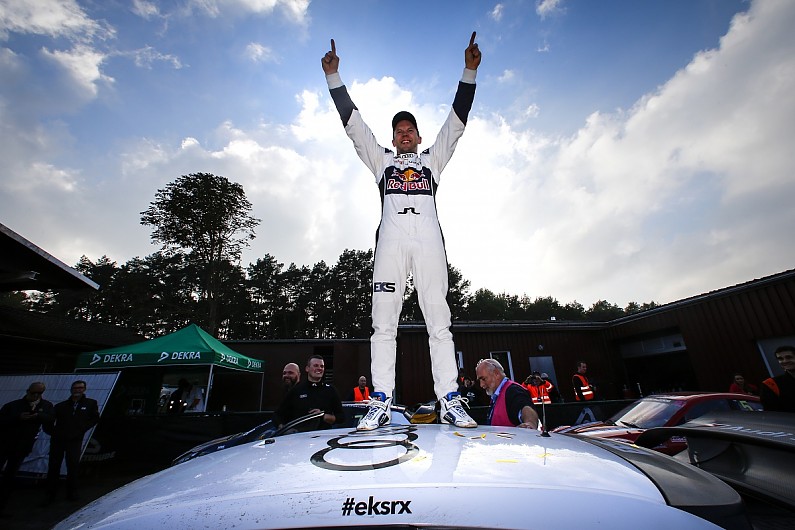 Since EKS's inception in 2014, it has had access to Audi Sport's suppliers and partners, but 2017 will be the first time Audi has had an official presence in World RX.
"We laid a lot of groundwork as a team in the first three years, gathered important experiences and set new standards with EKS," said Ekstrom.
"But it was also clear to us that we'd need support for the future in order to be able to continue on this level.
"That EKS is now receiving factory backing by Audi makes me very happy.
"I'm convinced that rallycross has a great future, also with respect to potential electrification."
Audi's announcement follows news that Petter Solberg's PSRX team will be backed by Volkswagen Motorsport, with Ford and Peugeot also supporting teams in the series.
It is yet to be confirmed whether EKS's other 2016 driver Toomas Heikkinen will be retained, or whether Ekstrom will compete in every round.
He will also stay on in the DTM with Audi, and has previously had to skip rounds of each series due to date clashes.
Last year he prioritised his successful RX title chase and missed the DTM finale.