Nick Tandy is in illustrious company. He has joined a list of British Porsche factory drivers that includes Vic Elford, Brian Redman, Derek Bell and Allan McNish. And that's mission accomplished as far as the 28-year-old is concerned.
Getting on the books at Porsche had been Tandy's ambition almost since he took his first steps in the world of Porsche racing at the end of 2009. There was success pretty much straight away on his arrival in the Carrera Cup in Germany and the Formula 1-supporting Supercup, but he concluded pretty early that his career lay beyond these one-make series.
"I had such a good year in my first full season, winning most races and finishing second in the Carrera Cup - which is just as tough and has more strength in depth than the Supercup - and then ending up second in the Supercup," he says. "I was pushing for both titles in 2011, but I knew that I needed to do other things to continue my upward progression.
"You can become a professional driver and earn a good living doing the cups, but your timeframe is limited," continues Tandy, who ended up winning the Carrera Cup in his second season. "I wanted to broaden my experience, because I was looking 10 or 12 years down the line. You know that being with Porsche is a good place to be for a long time to come."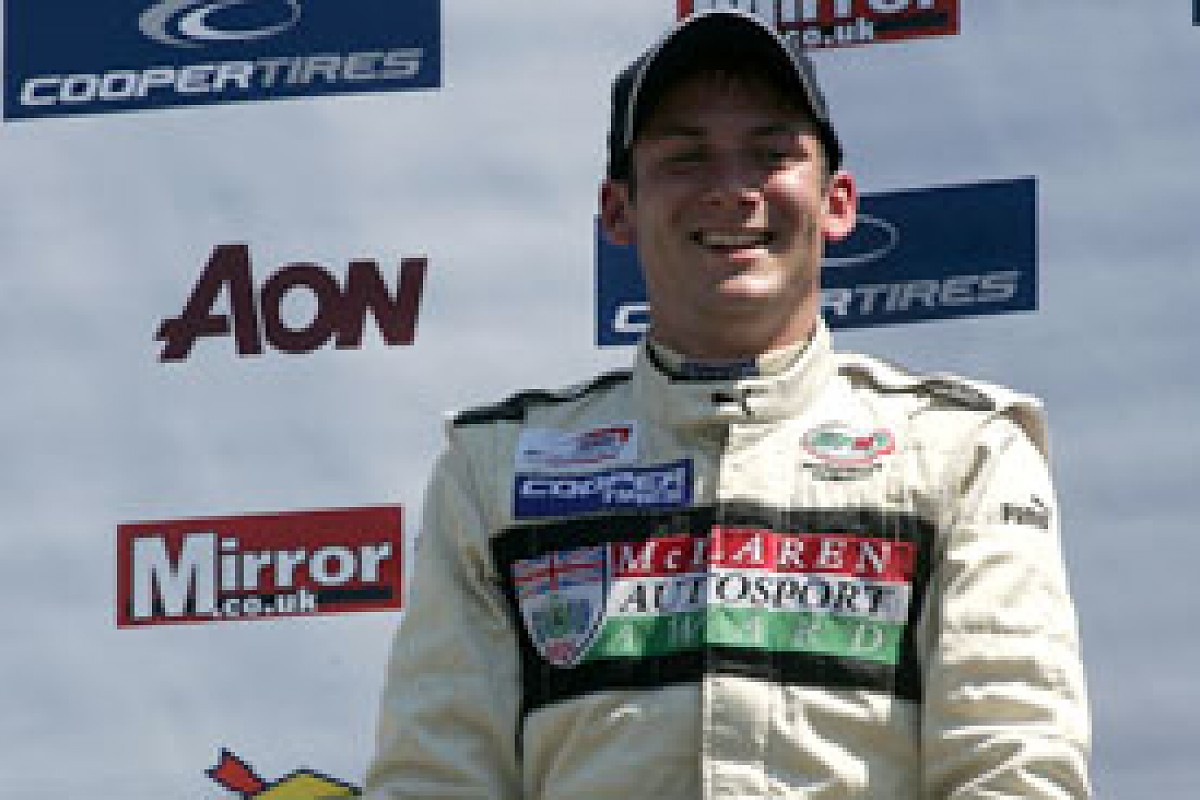 Tandy took an emotional first F3 win at Rockingham © LAT
The road to a factory deal started with the realisation that his single-seater career was as good as over in the wake of the tragic death in a car accident of brother Joe, who ran Nick in the family JTR team in Formula 3.
"Joe was the mastermind behind my career," explains Tandy. "He was the one who sold the package of him as team owner and me as driver to our backers. He was amazing at that. When Joe died, the whole F3 thing finished because the sponsor pulled out."
Tandy went on to score an emotional first British F3 victory at Rockingham, just days after his brother's death, and was then picked up by the Kolles team in the F3 Euro Series for what he now calls a "disastrous programme". Some good did come out of it, courtesy of a chance meeting with Supercup and Carrera Cup team owner Franz Konrad.
"I was in the bar of my hotel after the Zandvoort race and was introduced by a mutual friend to Franz," remembers Tandy. "He told Franz how I'd won a race in the Porsche Carrera Cup GB."
Tandy, as a McLaren AUTOSPORT BRDC Award finalist from the previous year, had been given an outing in the guest car at Silverstone and ended up winning the first of the two races.
"I didn't think much about it at the time because I was so focused on F3, but it was a damn good achievement," he says. "Maybe that impressed Franz.
"In passing, he said that maybe I could do a test for him. I called him the following day and three or so times a week for the next four months before he finally gave in."
A test at Dijon, after the Kolles deal had come to an end, led to a race at the same track in the penultimate round of the German Carrera Cup.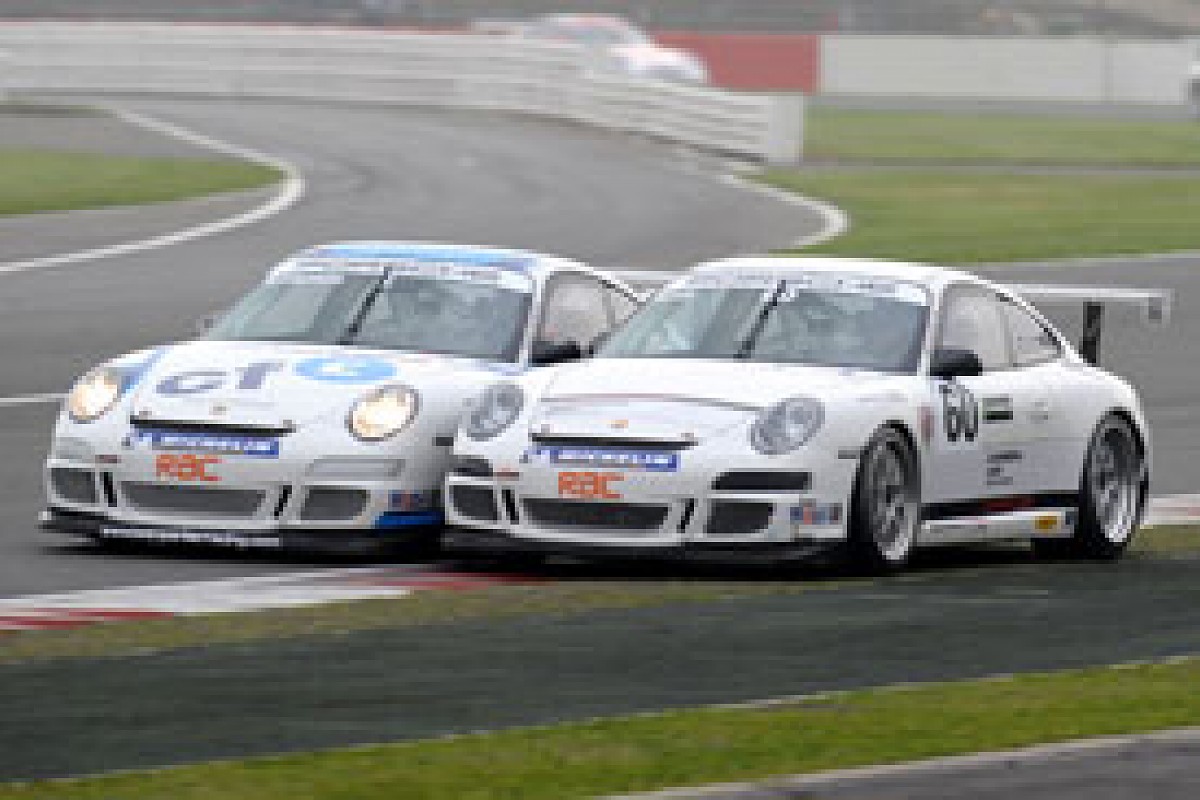 Tandy (right) clashes with Tim Bridgman en route to victory at Silverstone on his Carrera Cup GB debut © LAT
Tandy finished second, but reckons he might well have won on his debut had he been more forceful and the driver he was behind, Jeroen Bleekemolen, not racing for Konrad Motorsport in the Supercup that year.
"I had the chance to overtake, but I was too easy on Jeroen," he recalls. "Franz, partly in jest, had said to me before the race, 'Don't crash into him; he's my driver in the Supercup'. I obviously didn't want to upset Franz."
Tandy managed to avoid Konrad's wrath and impressed him. So much so that he was invited back to contest the end-of-season Supercup event in Abu Dhabi. Another second place, again behind champion Bleekemolen, helped secure the teams' title for Konrad. No surprise, then, that he was invited back for full-season campaigns in both series the following year.
"I knew the first step towards a factory drive was winning one of the cups, which I did in Germany in my second year in 2011," explains Tandy, "but I knew I had to do more GT racing."
That opportunity came when he was asked to race in the International GT Open with Manthey Racing aboard a GTE-spec 911 GT3-RSR last year.
"I jumped at the chance," he says. "It was going to be in a 2012 RSR, one of the few in the world, with one of the top Porsche teams and sharing with a factory driver - Marco Holzer."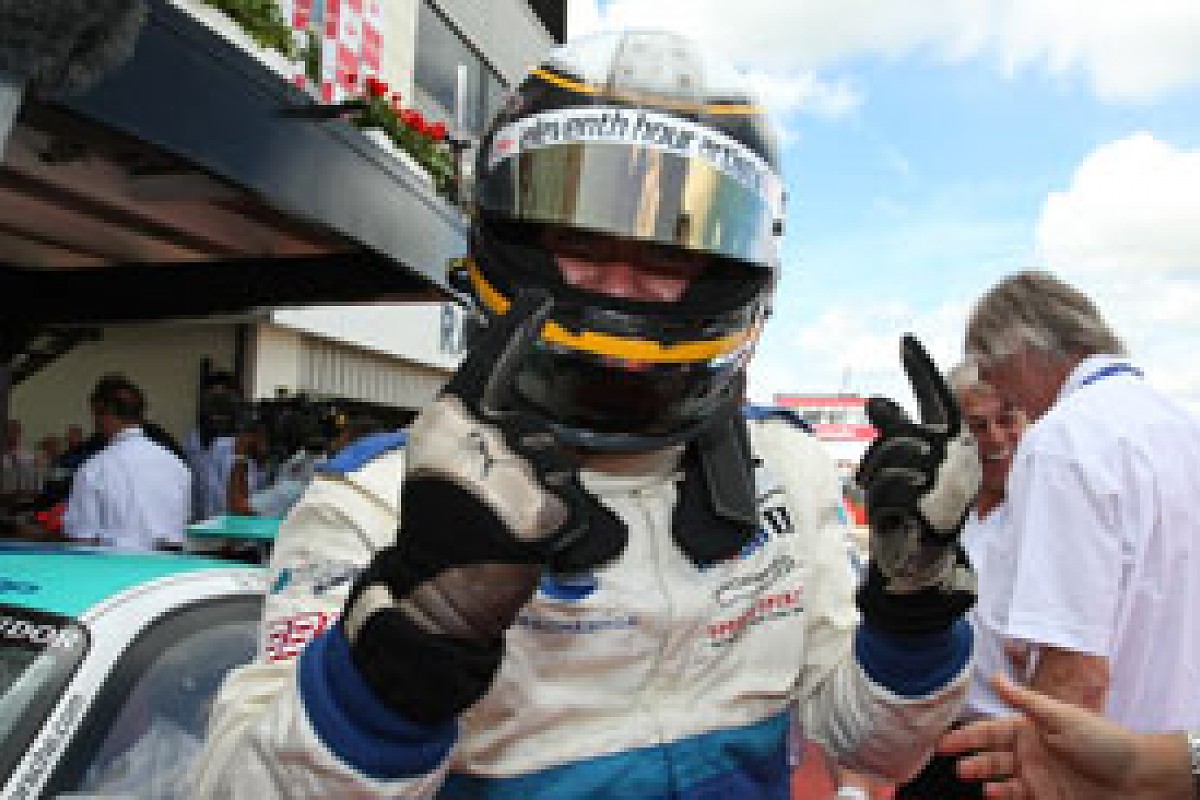 Success continued after full-time switch to Porsche racing © LAT
Again, Tandy came within an ace of winning the title. In fact, when he crossed the line to win the second race at the Barcelona finale, he and Holzer looked like being champions. Yet some last-lap manipulation of the order by the Ferrari camp wrenched the title from their hands.
The season with Manthey was nevertheless instrumental in his promotion to a factory deal, reckons Tandy. "Someone of [team boss] Olaf Manthey's stature in the sport was able to witness me as a driver and a person first hand over a full season of international racing," he says. "That has to be important."
Exactly why Tandy wasn't announced as a factory driver when he was confirmed as the winner of the Porsche Cup, which is awarded annually to the most successful non-factory driver racing the marque's products in international sportscar racing, isn't clear. Tandy bats that question away.
The deal was announced a couple of weeks later — and came "out of the blue", according to him. Whether it had anything to do with another sportscar marque, in the form of Aston Martin, casting its net far and wide for new drivers will have to remain a matter for conjecture.
Tandy kicked off his Porsche factory deal in style at last month's Daytona 24 Hours, claiming class pole position with, fittingly, a Konrad-run 911 GT3 Cup. The race didn't go so well: an early shunt resulting from a cut tyre put the car down the order and then a broken tyre valve, the result of a brush with another competitor, caused more damage that forced the team into retiring the Porsche.
The rest of Tandy's programme for 2013 has yet to be announced, apart from a first appearance in the Sebring 12 Hours with the Walker-run Falken Tires Porsche squad. He expects to be racing a GTE-class 911 GT3-RSR somewhere and there's also the prospect of getting behind the wheel of something substantially quicker.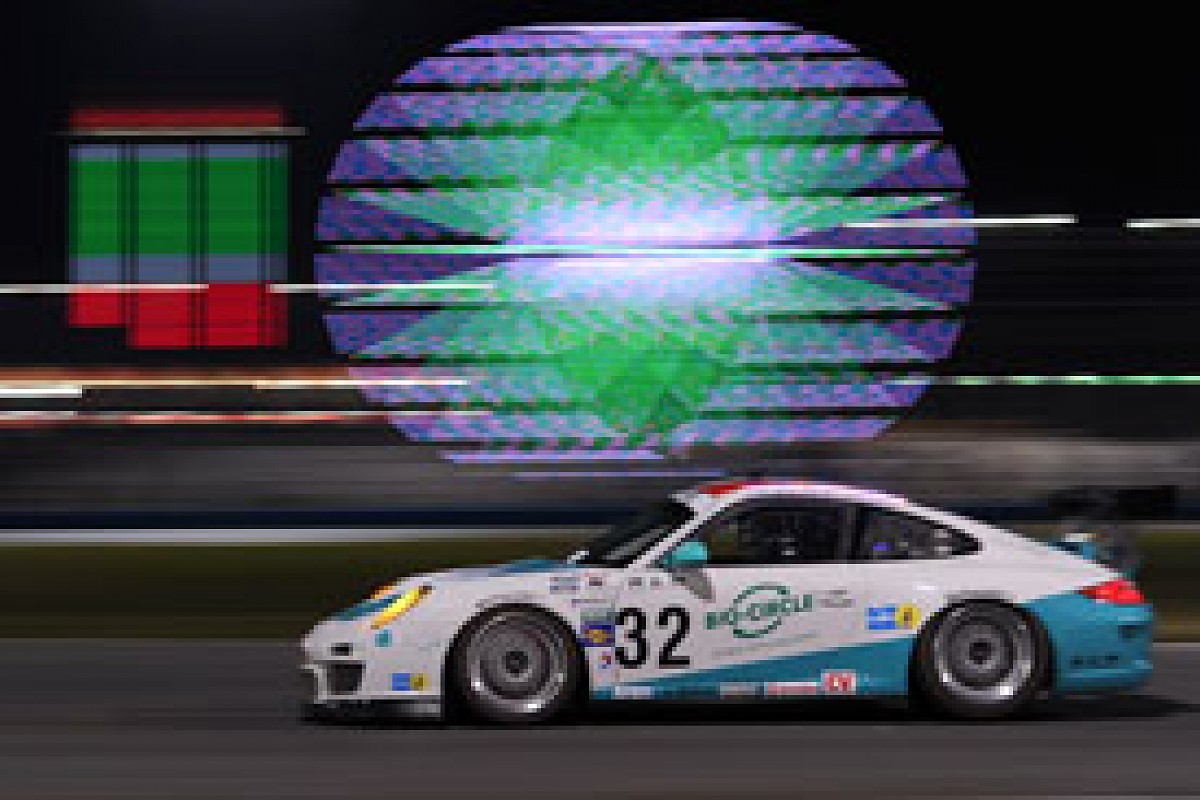 On his debut as a Porsche factory driver, Tandy claimed Daytona 24 Hours class pole © LAT
Tandy isn't sure about his chances of driving Porsche's forthcoming LMP1 petrol-electric hybrid, but he reckons he's got the right mix of skills.
"I have the right background and experience of lots of different kinds of cars," he says.
"Does that mean that Porsche will prefer me to someone straight out of Formula 1? I don't know. All I know is that my chances of driving the P1 are better now that I am a Porsche factory driver.
"If I don't get the chance and I end up racing Porsche GT cars for the next 15 years, I'll still be over the moon."
What it means to be a Porsche factory driver
Derek Bell 1971, 1981-88
It's the drive of your life, although I didn't realise it when I joined JW Automotive to race a factory Porsche 917 in 1971. When I was invited back in 1981, it made my career and changed my life. And I'm not the only one who can say that.
One piece of advice: learn German. The relationship between you and the mechanics is invaluable. If they believe in you, they will do anything for you, so he should do anything that helps that.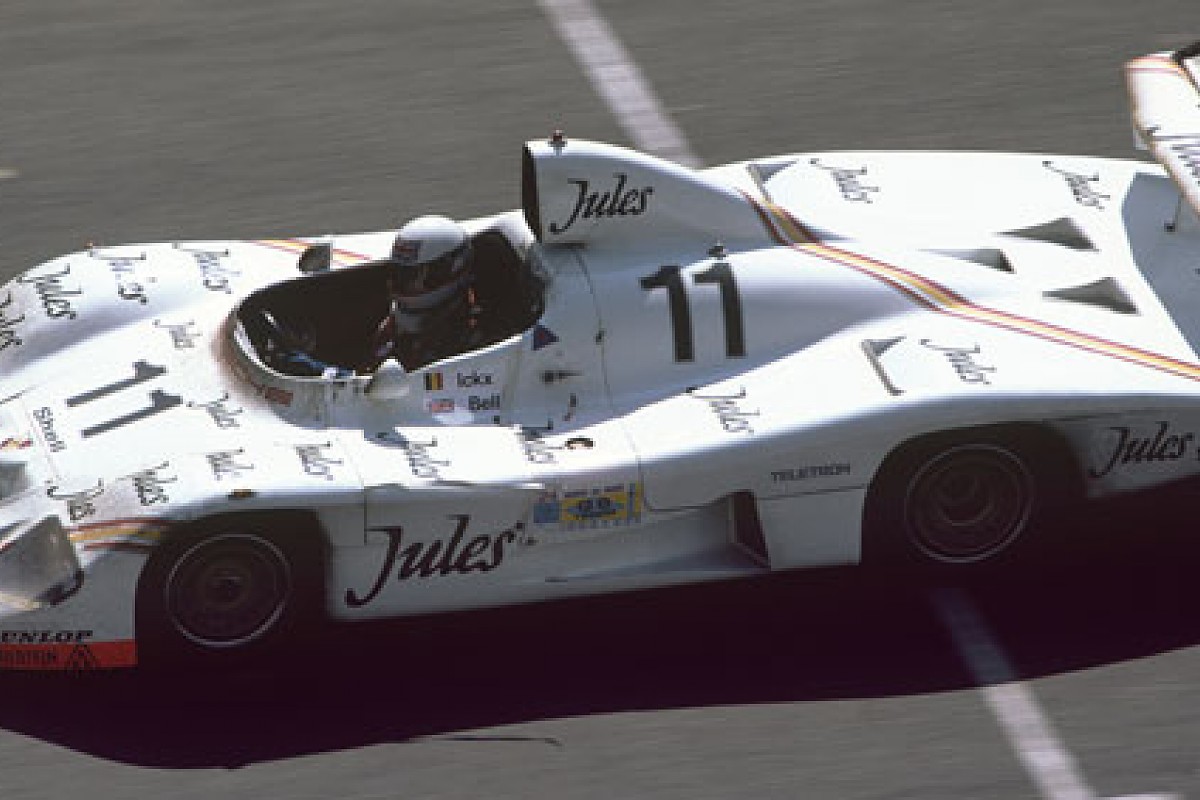 Allan McNish 1997-98
It was a big step for me, as it will be for Nick, because it was my first factory contract. That meant even more because Porsche is so steeped in history in motorsport in general and sportscar racing in particular. Going there gives you a heck of a lot of confidence because you know they've signed you because of a deep knowledge and understanding of what you can do. Being a Brit abroad means he has really stood out from the crowd.
One piece of advice: listen. You can learn so much at Porsche. I was fortunate that I had Norbert Singer [technical boss], Bob Wollek, Hans Stuck, Thierry Boutsen and Yannick Dalmas to learn from. There was so much experience around in my day, but Nick has got Romain Dumas, Timo Bernhard and others around him.