When second means more than first:
1983 Le Mans 24 Hours
I'm always being asked to name the most memorable of my five Le Mans victories, and I don't have an answer.
The 24 Hours I remember is one I didn't win. Le Mans '83 is probably the most memorable because it was so close - and dramatic - at the finish. The other one, for the record, is '95 when I got to stand on the podium together with my son Justin after finishing third in the Harrods McLaren.
Bell says 1983, a race he didn't win, is his most memorable Le Mans © LAT
Jacky Ickx and I missed out on a hat-trick at Le Mans in 1983 and we ended up second to one of our sister cars from the Rothmans Porsche squad. I unlapped myself in the final stint and was gaining on the winning Porsche 956 - with Al Holbert driving - by 20s or something a lap despite my brakes being shot. Porsche didn't tell me what was going on and I only realised that something drastic was wrong with the car Al shared with Vern Schuppan and Hurley Haywood when I heard on the radio someone say the temperature had gone off the clock. The next thing I heard was that the temperature was going back the other way, which meant there was no water left in the thing. Al wouldn't have done another lap in that car.
The record books show I was 65s back, but it was actually closer than that. My late step-father, the dear old Colonel, was in the grandstands at the final chicane, and he told me we only lost by 26s.
A true champion is crowned:
1982 Brands Hatch 1000Km
Jacky Ickx drove so well to come back at that little Lancia Group 6 car over the final stint of the Brands Hatch 1000Km in '82. It was a fantastic drive: he pulled a minute back on Teo Fabi to win the race on aggregate and become world champion, which he deserved immensely.
It was great for me personally to win on home soil, because earlier in the year at Silverstone we'd had to drive around conserving fuel.
Flat through Eau Rouge:
Spa-Francorchamps 1982-88 & 1990
Two laps out of 10 you'd get through there flat in a Porsche 956 or 962, though for some reason you couldn't do it every lap. It wasn't about not having the balls to do it every lap; it was that suddenly in the middle of the corner the car would move on you and wasn't going where you wanted it to. In the early days, it was a bastard because everyone in the pitlane would be listening to see if you were lifting.
Jaguar pounces on Porsche's glory:
1988 Le Mans 24 Hours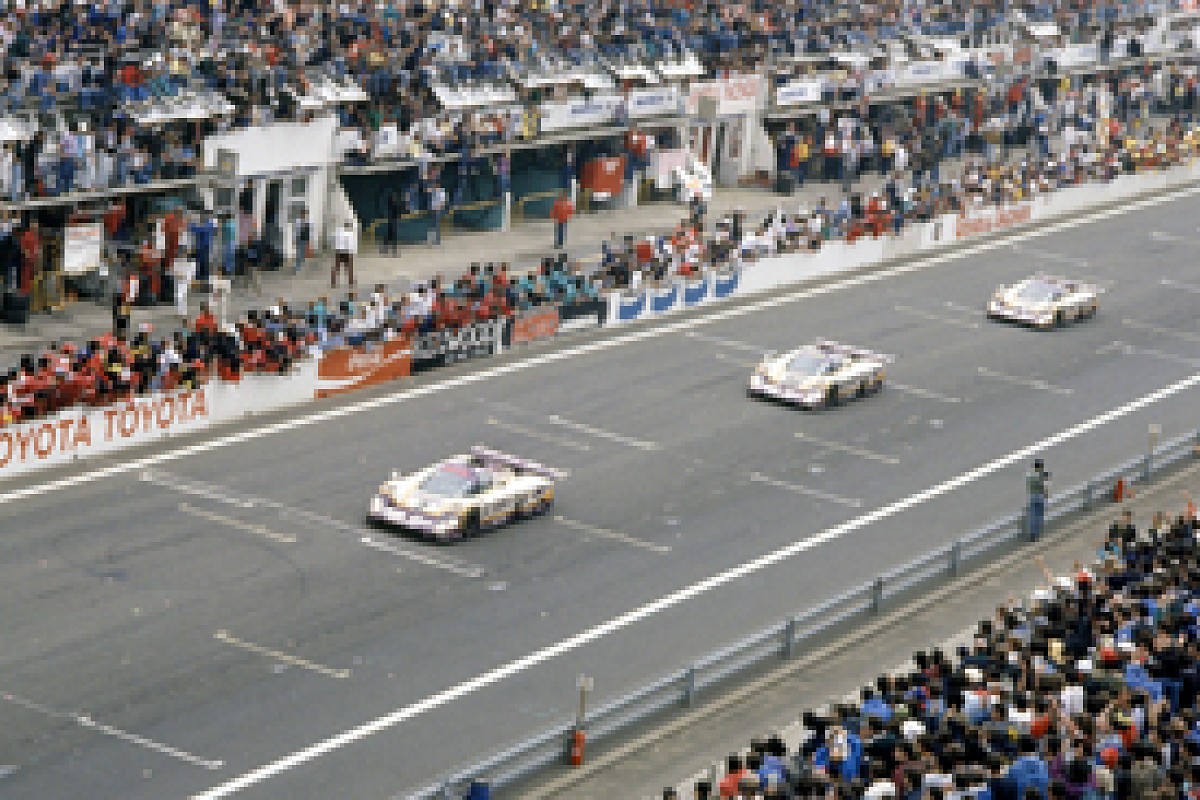 Bell enjoyed Jaguar's Le Mans victory in 1988, even though he was in a Porsche © LAT
The first Le Mans 24 Hours victory for the TWR Jaguar team has to be a pretty special moment in the history of Group C. It was good for Jaguar to win again after all those years, but it was also good for Le Mans and good for sportscar racing. It was just bloody brilliant, actually. Sure, I was in a Porsche and we might have won that year had one of my co-drivers, Klaus Ludwig, not ran out of fuel early in the race, but I am British after all.
Bellof shows his 'Ring-craft:
1983 Nurburgring 24 Hours
That record-breaking time of 6m11.13s Stefan did around the Nurburgring Nordschleife in qualifying for the 1983 Nurburgring 1000Km was out of this world. It is something everyone remembers, but I also remember the fact that he crashed out of the race. The reason for that is that it meant that I never got to win the Nurburgring 1000Km.
Stefan was going faster and faster and I remember going over to Professor Helmuth Bott [Porsche's research and development boss] and saying: 'It would probably be a good idea to put the 'HOLD' board out.' His reply was: 'Isn't he wonderful?' They didn't do it and, of course, he crashed at the Pflantzgarten. I was disappointed at that. Stefan was Porsche's goldenboy and driving like the superstar he was, but I always wanted to win at the 'Ring and we were substantially in the lead at the time. It should have been our race.
Stefan was a fantastic driver and a lovely guy, but for me, the people around him, Porsche and Ken Tyrrell [his boss in Formula 1], didn't control him. The kid was brilliant, but no one instilled in him the discipline he needed.
Street-fighting man:
1985 Miami Grand Prix
I know we are really talking about Group C here, but for me it and IMSA GTP are one and the same. They were part of a classic era of sportscar racing that was made by Porsche and its ethos of selling cars to customers.
I won a lot of races driving with Al Holbert, but this one stands out, partly because of where it was in downtown Miami and partly because I think I drove particularly well. No-one had quite got a handle on the mapping of those early single-turbo IMSA 962 engines and, at the last restart with 15 minutes to go, I lost the lead as the thing coughed and spluttered for the first couple of hundred yards.
I had to pass Hurley Haywood, who had unlapped himself in the Group 44 Jaguar, and the leader Darin Brassfield in the Budweiser March-Chevrolet. I could see the win going away, but I managed to pull it back. It was dramatic stuff.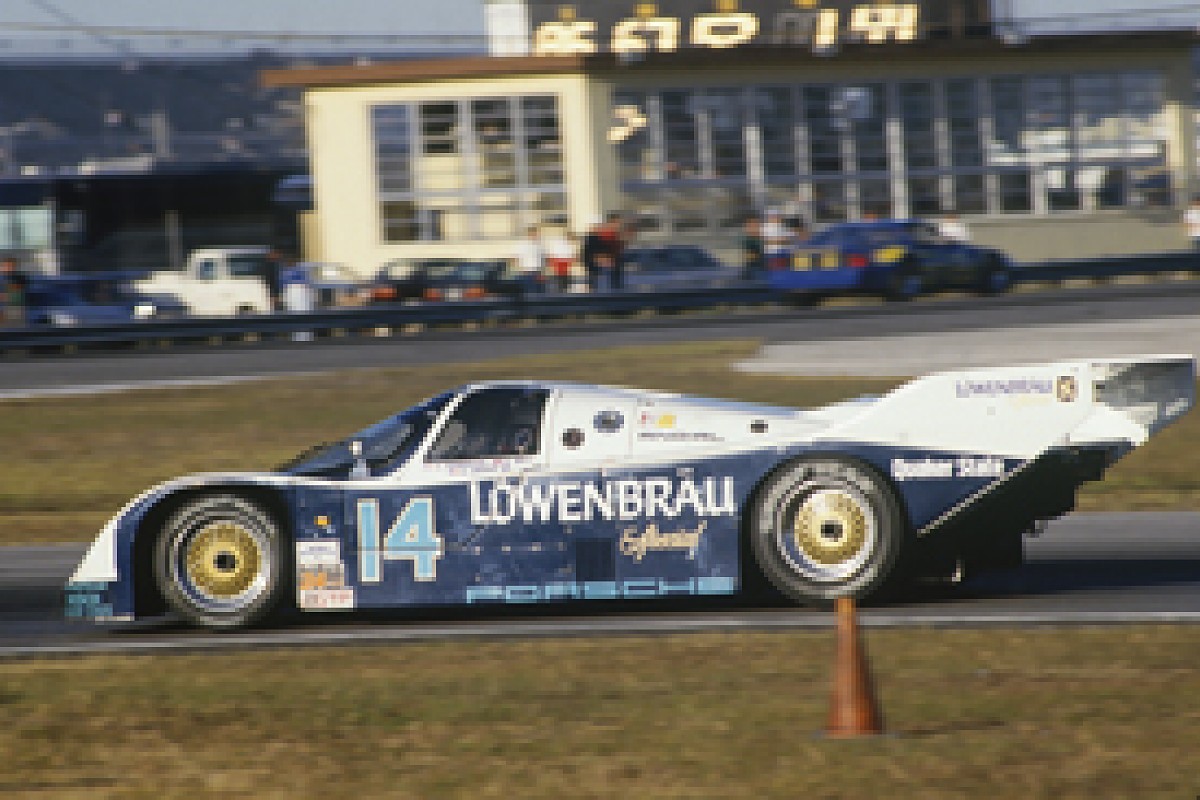 Bell was 'almost dead on my feet' after his '87 Daytona win © LAT
'Old man' completes gruelling victory drive:
1987 Daytona 24 Hours
The Daytona 24 Hours I always remember is my victory with the Holbert team's Lowenbrau-sponsored Porsche 962 in 1987, and the reason is that I was almost dead on my feet when I got out of the car with a few hours to go.
When I got back to the motorhome, I asked how the other two drivers were doing. I was told that Chip Robinson was finished and Al Unser Jr would only be able to do one more stint. So I asked about Al [Holbert]. He wasn't meant to drive, but darling IMSA [the sanctioning body] said, 'No problem'. The message came back that he would do an hour, but I would still have to finish the race. And I was the old man of the team.
I was struggling to get my kit on, when there was a knock on the door and I was told Al was coming in in two laps. Adrenalin kicked in, I threw my overalls on, ran to the pits and completed the victory.
Derek Bell was talking to Gary Watkins.