Darren Turner has been a Prodrive mainstay at Le Mans, making his debut with the team when it raced GT1 Ferraris and then enjoying considerable success in the Aston Martin DB7.
This year he is at the forefront of Aston's efforts to develop the new AMR-One prototype, and he talked to AUTOSPORT about the challenges involved in growing up in public.
Q. What do you hope to achieve this weekend?
Darren Turner: Between the Le Mans test and now we've moved it on. The times are quicker, we've got a bit closer to the competition, but we're still looking for a big jump and most of that is in a straight line. Some of it will come from drag efficiency, but the majority will come from engine performance - and that needs time. More time on the dyno, more time in the car. The positives are that the handling of the car has been brilliant so far and I've really enjoyed driving it.
Q. Have you done any work on drag reduction this week?
DT: We've gone to low downforce as the week went on and it took a bit of time to dial it in, as well as getting the drivers used to it. When you run high downforce you get used to its capabilities and then when you go to low downforce it's a different kettle of fish through the corners. You just have to adapt to it, and I think in our car - #007 - we've all done that now. We're all happy and confident with where we are, and I have to say that in some places on the track, compared with our competition, we're very strong. The bits we're not strong on are the bits where we, as drivers, can't make any difference - on the straight.
Q. How satisfied are you with the qualifying performance?
DT: We're making progress. The last qualifying session, Thursday from 10 until midnight, was very good. Our car ran pretty much like clockwork. It was a good omen that we're going to get some good hours under our belts. Whether we can make 24 of those hours I don't know, but we've got to aim for that, push as hard as we can and see how far we get.
Q. You've got quite a bit more Le Mans experience than some of your team-mates. Has that been a benefit this weekend?
DT: What comes with experience is that you get to be a bit more relaxed. This is probably the most relaxed I've been because there isn't the pressure there has been in other years. My first two years were in the Ferrari, we had a good driver line-up and a chance of winning in GT1. There was a lot of pressure to get the win.
When we came back in the Lola Aston Martin, overall race success wasn't going to be down to sheer performance - it was all about being out there at the end, and that informed the driver mentality. This year, we're at the bottom of the development curve, we're not in direct competition with anyone at the moment, so we've just got to go round and round. That lack of pressure means you can concentrate more on helping team-mates and on making improvements to the car.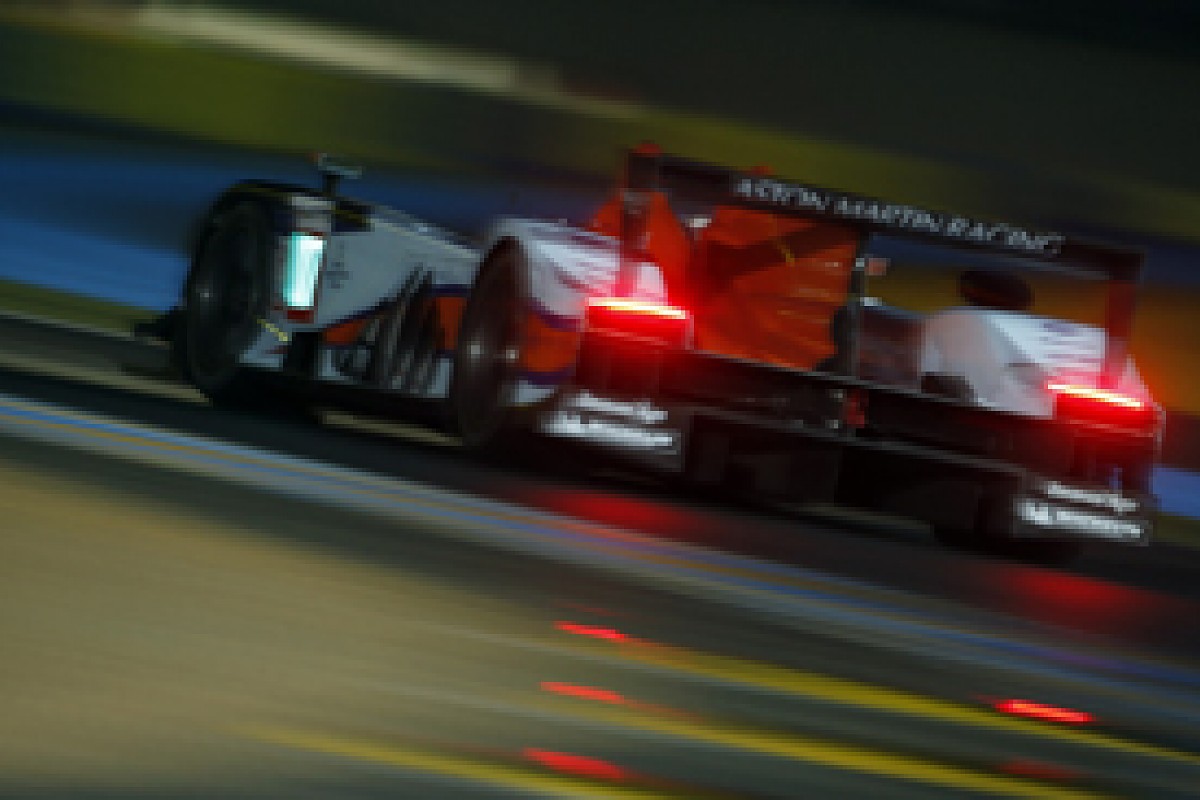 © LAT
The other thing that comes with experience is that you don't get too wrapped up in what you'd do on a normal-size circuit, which is to try to find a perfect set-up. Here you're never going to get a set-up that's perfect over the whole lap. There's too many variants - different surfaces, different corner types. You don't want a set-up that's great over one lap but will catch you out. If someone does something strange, you need to be able to react without the car biting you. And a lot of strange things happen out there...
Q. What's the fuel range of the AMR-One like in comparison to the other petrol-powered cars?
DT: I don't know. I haven't even asked the question! I just come in when they tell me to come in. We haven't done a long run yet. Although they'll certainly know what the fuel economy is like from lap to lap, I don't know what that'll be for a stint, or how many laps we're going to do.
Q. So in effect, it's going to be a 24-hour test - or however long the car lasts?
DT: As drivers we're going to be pushing, and the guys in the pitstops aren't going to be on a go-slow - if we can make up positions then we'll have those. But it's sort of a test race. It's the first chance to test our performance against other cars. A lot of the feedback from where we are in relation to the others will come from the drivers. So the mentality is that we're going racing, even though we're unproven for the distance - so it's sort of a test of how far we can get.