Since 2000, Audi has held an unprecedented position in terms of the Le Mans 24 Hours. Nine wins in 11 years for a succession of the manufacturer's LMP1 machines has made an indelible mark on the history of the race. This week it is aiming to make it a round 10; something few people would have expected when it first appeared at Le Mans.
While many of the drivers, engineers and other staff at Le Mans this week were present when Emanuele Pirro, Frank Biela and Tom Kristensen took a dominant victory in 2000, one man has been more central to the sustained success than any other, head of Audi Sport, Dr Wolfgang Ullrich.
So how did the engineering graduate come to mastermind the most dominant Le Mans programme since Porsche managed 10 wins in 12 years during the seventies and eighties?
It all started with a decision by the FIA in 1997 to outlaw four-wheel drive and - any vehicle using it - from its circuit racing championships. With Ullrich, who had joined Audi as its motorsport chief four years earlier, now pondering the best arena in which to flag-up Audi's technological innovation, an opportunity to go sportscar racing came along.
"When the FIA said no to four-wheel drive, we were having a very successful time in touring cars with the Quattro," he recalls. "We won championship in many countries under the Super Touring regulations and showed what the Quattro could do.
"There was no point for us to race a front-wheel drive car because every Audi in the road car range at a high end is a Quattro. Front-wheel drive could not promote what we wanted to through racing.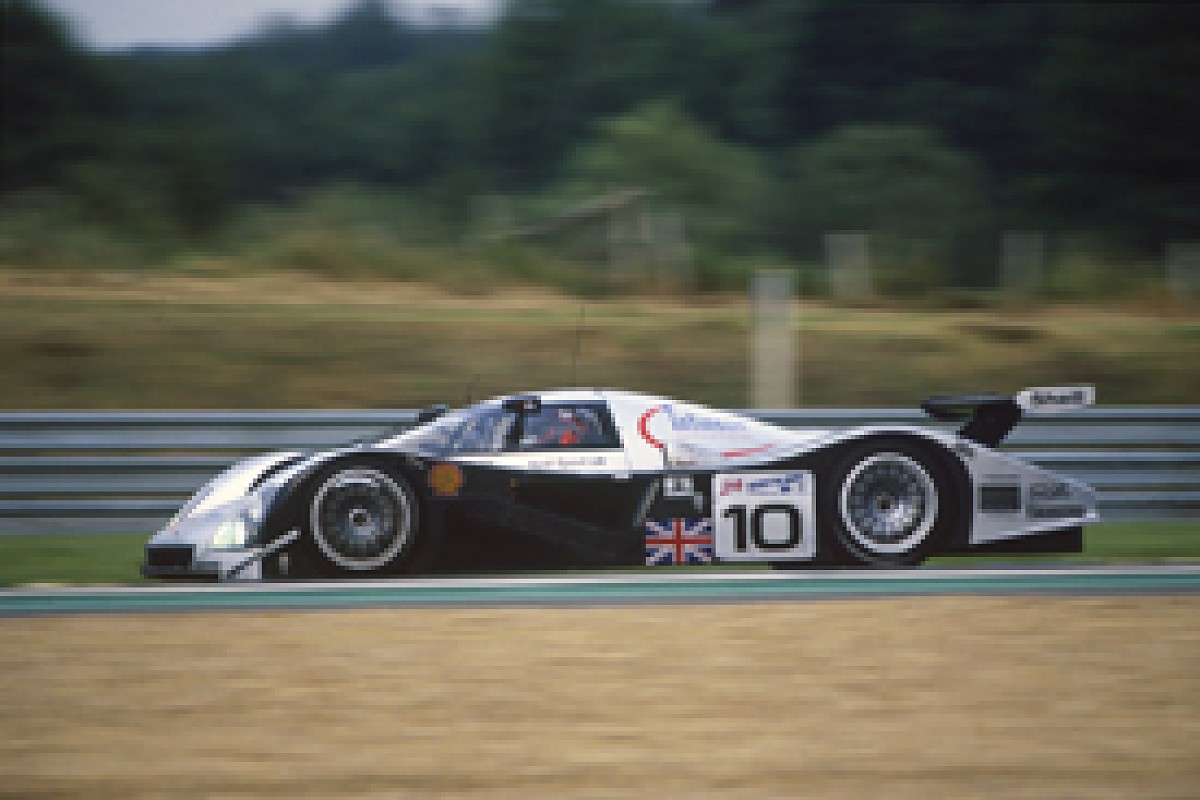 Audi ran both closed and open-top cars in its exploratory 1999 programme © LAT
"So the Audi board made a decision to go to Le Mans instead. With an LMP car you are not promoting a car; you are promoting the technology that the car has, which the board thought could be very positive for Audi. It took two years of preparation and not such a good performance in 1999, but that participation was very important for us."
Important indeed. For although the machinery fielded - a pair of closed-top R8Cs (developed in Britain) and two roofless R8Rs (masterminded at Ingolstadt) - were not on frontrunning pace, the lessons learned from the exercise that did at least net third and fourth places for the 'Rs', would pay dividends when the German manufacturer returned a year later with the definitive R8 that rendered the rest of the field totally obsolete - so obsolete that the rest of the field did not catch up during its six year lifespan.
Audi's Le Mans philosophy is all about doing things the easy way. If you build a car that is seconds a lap faster than anything else, then you don't need to drive it as hard as your rivals, so goes the logic. If you build a car that breaks down less, you spend less time in the pits having it repaired, and on, and on...
One of the strengths of Audi's approach - aside from the fact that it has thrown its vast resources behind LMP machinery - has been its ability to extract as much useful information as possible from every race, every test, even every lap that its machines complete.
The R8, although carrying over none of the components from either the R or the C, did incorporate the best ideas from both of them, including famously the detachable rear section, which allowed gearboxes to be changed in just six minutes.
"There was one big reason for that," says Ullrich. "We studied the data and found out that the most likely cause of retirement at Le Mans is gearbox failure, so we needed to be able to repair or change it quickly.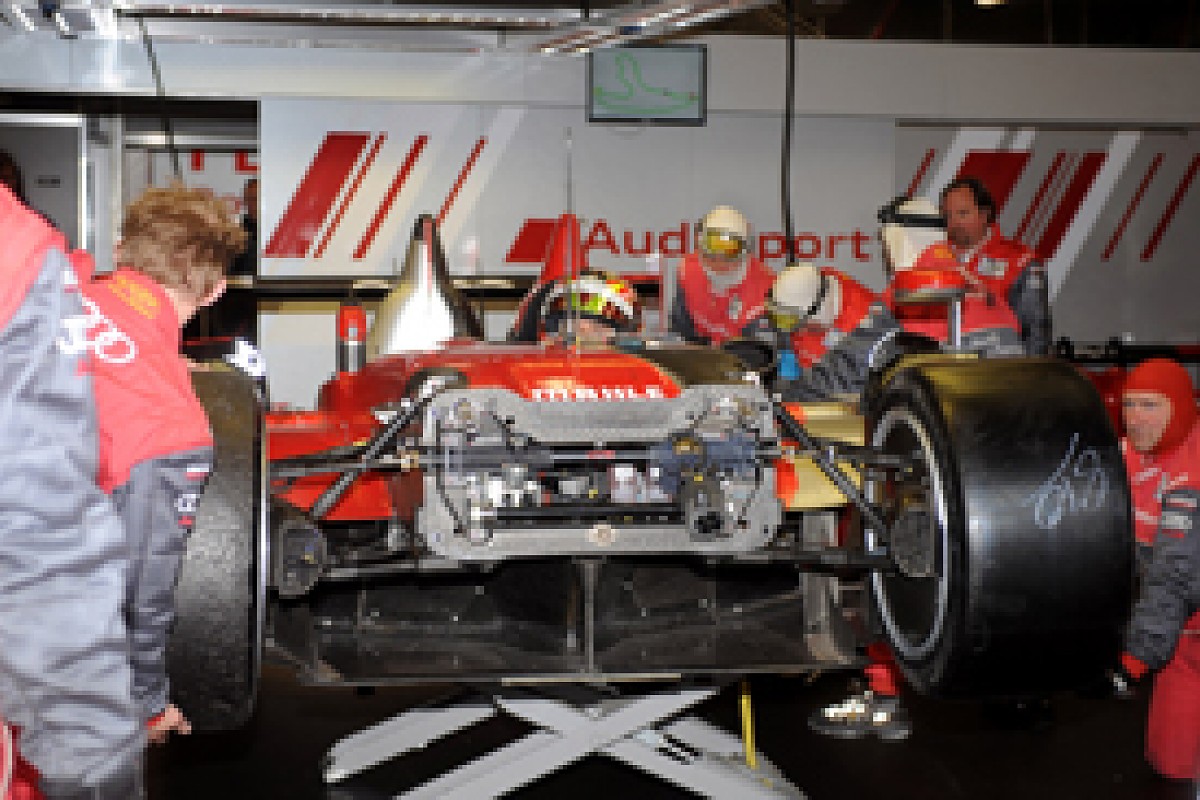 Audi's LMP cars have been designed with ease of service and repair in mind © LAT
"As it happened, it wasn't the gearboxes that needed changing. The thing that made it most useful was with the rear suspension. If we had contact with another car, it would take longer to check if the suspension was bent than it did to remove the gearbox - which was attached to the suspension unit. So we just did that instead. Then we were able to examine the suspension and see if we could re-use it if we needed to."
Devising such concepts and ensuring that each specialist department follows through on them is a large part of Ullrich's role away from the racetrack, but what about during Le Mans week? Just how hands-on does he get?
"I'm involved in every important decision. Strategies don't get changed unless I approve them, for example. It's so important for me to manage the exchanges of information between all the teams, and I have to be ready to report to the press too, so I have to always make sure I know exactly what's going on with everything. Of course I don't do every little thing; you can't do it all on your own and we have a fantastic team of people who are experts in their own departments, but I need to be kept informed so that I can make sure things are done in the best way possible."
"With this system, we have had some lows, but also many, many highs," recalls Ullrich, who is quick to answer when pushed on what specifically were his personal peaks and troughs at La Sarthe: "The worst moment was when Dindo Capello had a big lead he crashed when the [right rear] wheel came off after three quarters of the race. That's easy.
"The highs? There are two really. Doing the first treble was very special, and so was the first win with the diesel [R10 TDI] in 2006."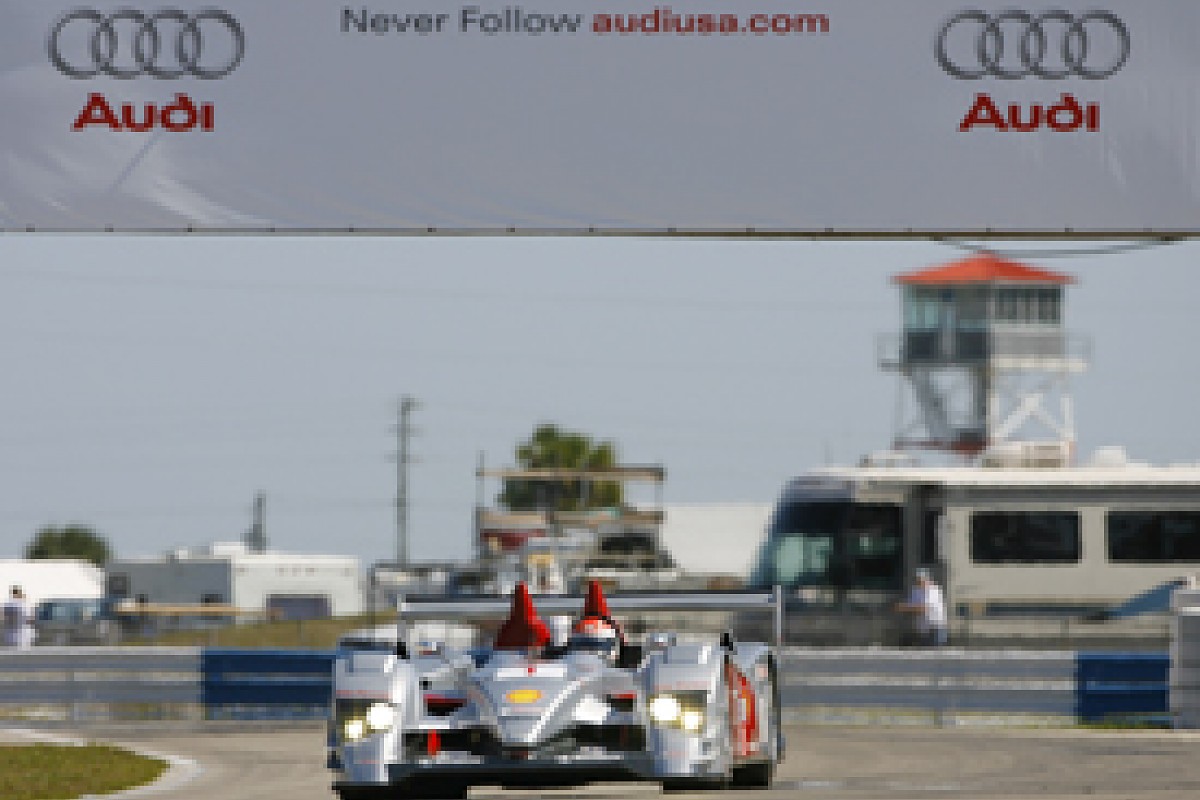 The R10 TDI won on its debut at Sebring in 2006 © LAT
Ah yes, diesels. With that particular propulsion method now being the weapon of choice for anybody who seriously wants to win at Le Mans, it's difficult to imagine the kind of comments that were made when Audi announced its plan to pension off the R8 in favour of its new machine.
Four diesel wins in total have proven the concept to be the right one, and even now, the only other Le Mans winner since Audi introduced the TDI - Peugeot - triumphed with a diesel.
Intrinsic in Ullrich's plan from the very start was a goal of improving efficiency and performance within the powerplant - engines are, after all, his speciality. This has been achieved, to some degree with the gradual downsizing of units from 5.5-litre V10 twin-turbo of the R10 to the 3.6-litre V6, without any performance deficit.
"That's the main way that the motorsport division and the Le Mans programme can influence Audi's road cars," says Ullrich. "If we can make smaller engines deliver the same power and economy as a bigger one, then it can save a company like Audi millions."
Not only that, but Audi's prestige saloons are now seen as setting the standard for diesels in exactly the manner that the Quattros used to in the handling department. Ullrich's influence on this cannot be underestimated.
The most visible faces of the Audi onslaught during the last decade have been those of the drivers, with Tom Kristensen taking six of his record eight Le Mans wins for the Ingolstadt marquee and his current co-drivers Dindo Capello and Allan McNish also having achieved notable victories.
Making sure that the right drivers are not only selected, but also retained, has been a crucial part of Audi's success, and something Ullrich is quite proud of.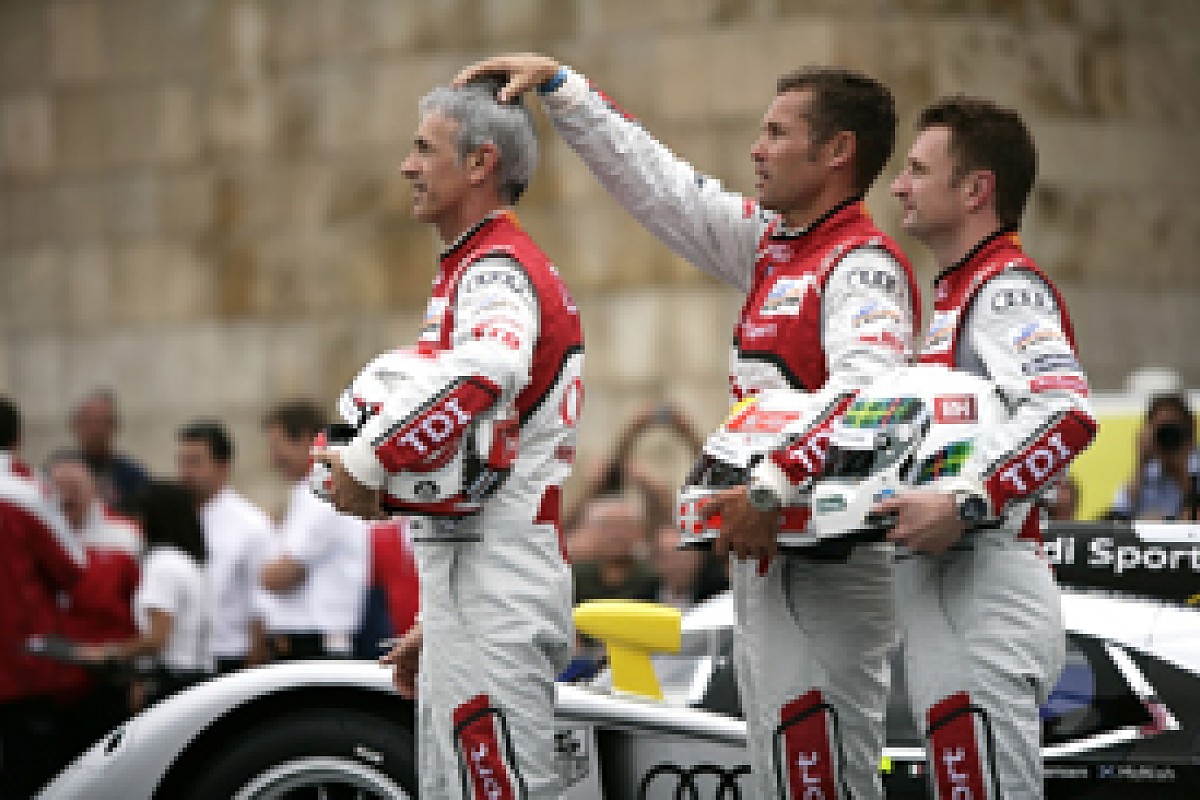 Dindo Capello, Tom Kristensen and Allan McNish are an ultra-successful and very congenial trio © LAT
"The thing with drivers is that first you have to find the right ones; guys that are ready to have their egos taken back and to work for the whole group. This is not something that happens overnight, and once you have a good group together - a family - you should keep them together, because you need good drivers to achieve anything, but if you have really good ones for a long period of time, it can work fantastically well.
"Even when it comes to the way we put the drivers together in each car, there is some thought behind it. We consider the physical size of the driver, the driving style and the personalities when we combine drivers. I believe the car should perform to its optimum capability and that means having the optimum driver combination too."
With such a philosophy must come a lot of patience. It's been a feature of Audi's DTM programme as well as its Joest-run sportscar squad as drivers have often been kept on even if they have failed to hit top form for two or more years. It has paid dividends in both categories of racing, but has, at times, called for an immense amount of understanding on the part of Ullrich. Consider, for example, his decision to retain the trio of Mike Rockenfeller, Timo Bernhard and Romain Dumas after the former had ignored calls to back off and crashed out of the 2007 Le Mans race inside the first four hours.
"If you are patient with people, you can be rewarded," he says. "The young drivers need to know that they can make a mistake and that there's no problem with that as long as they learn from it. I was convinced that those three drivers could do something great if they stayed together, and last year they won Le Mans. It's proof that the system still works."
Few could argue with that statement. Audi machinery has triumphed in all but two of the last 11 years and even in 2003, when Bentley took the spoils at Le Mans, it did so with two Audi factory drivers in its winning car, a legacy of the brand's position within the Volkswagen Audi Group, so it is arguable that Peugeot's 2009 success is the only running of the classic enduro in the past 11 years that has had no involvement from Ullrich whatsoever.
So what about this year? Audi has eschewed its own convention by opting for a closed-top for its new R18 TDI - the car on which its hopes are pinned this week. After being beaten by Peugeot's new (although identically-monikered) 908 on its race debut at Spa last month, Ullrich could be forgiven for thinking that Audi will rock up in central France on the back foot. But not so...
"I think we have seen at Spa that the speed of Audi and Peugeot is closer than ever before, and this is going to be one tough, tough fight. Who will win? I just don't know."