Marta Garcia beat Williams Formula 1 development driver Jamie Chadwick to claim her first W Series pole in qualifying at the Norisring.
Garcia, who is the youngest driver on the W Series grid, claimed pole with a time of 50.712s and was the first driver in the field to set a lap time within the 50-second mark.
Chadwick spent much of the session in the lower half of the top 10 and was in the middle of a run of flying laps in the closing minutes of qualifying.
But her pole attempt was ultimately curtailed when Shea Holbrook went off at the hairpin and bought out the yellow flags.
Chadwick, who leads the championship standings with a margin of 13 points over Beitske Visser, will start from second and has yet to qualify outside the front row this season.
Fabienne Wohlwend will start the race from third and was the first driver to set a benchmark lap time of 53.896s in the first few moments of qualifying.
Friday pacesetter Gosia Rdest and Visser both set laps within the 50s margin not long after Garcia set her pole time, but both returned to the pitlane shortly after and will now start the race from fourth and fifth respectively.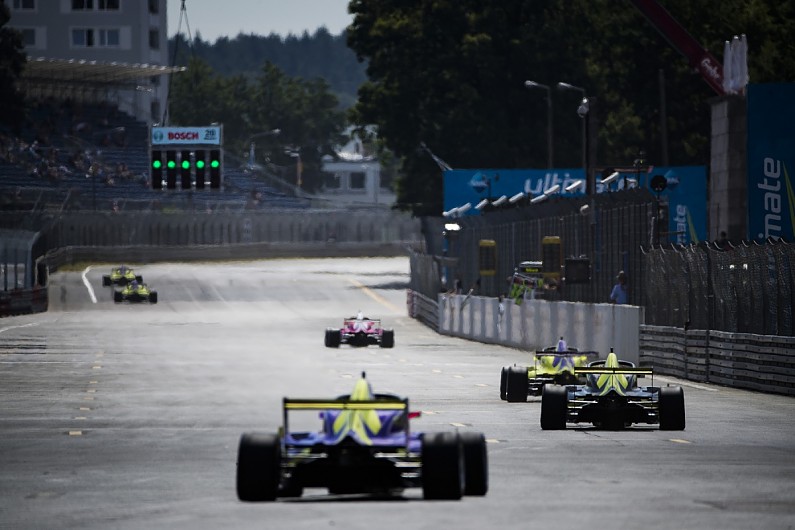 Jessica Hawkins qualified sixth but had occupied the top slot for a period during the middle of the 30-minute session, setting a lap time of 51.063s shortly after a brief red flag period.
That red flag was caused by former GP3 racer Alice Powell, who continued a miserable weekend so far - after suffering a bad sprain to her wrist in a clash with Esmee Hawkey in the first free practice session on Friday - when she pulled off circuit with a gearbox problem.
Vicky Piria set a lap fast enough for seventh, just ahead of Emma Kimilainen who returns to the grid this weekend having missed two rounds due to injury.
Miki Koyama and Sabre Cook were ninth and 10th, while 2009 Ginetta Junior champion Sarah Moore qualified outside the top 10 for the first time so far this season and will begin from 12th.
Qualifying result
| Pos | Driver | Team | Gap | Laps |
| --- | --- | --- | --- | --- |
| 1 | Marta Garcia | | 50.712s | 27 |
| 2 | Jamie Chadwick | | 0.081s | 26 |
| 3 | Fabienne Wohlwend | | 0.209s | 26 |
| 4 | Gosia Rdest | | 0.212s | 23 |
| 5 | Beitske Visser | | 0.223s | 22 |
| 6 | Jessica Hawkins | | 0.233s | 25 |
| 7 | Vicky Piria | | 0.312s | 28 |
| 8 | Emma Kimilainen | | 0.432s | 23 |
| 9 | Miki Koyama | | 0.450s | 23 |
| 10 | Sabre Cook | | 0.491s | 28 |
| 11 | Tasmin Pepper | | 0.737s | 21 |
| 12 | Sarah Moore | | 0.777s | 26 |
| 13 | Caitlin Wood | | 0.788s | 26 |
| 14 | Shea Holbrook | | 0.804s | 22 |
| 15 | Esmee Hawkey | | 0.826s | 23 |
| 16 | Naomi Schiff | | 0.878s | 23 |
| 17 | Vivien Keszthelyi | | 0.942s | 25 |
| 18 | Alice Powell | | 4.355s | 6 |