Gosia Rdest topped Friday running for the fourth round of the inaugural W Series season at the Norisring.
Rdest set a time of 50.983s in the closing minutes of the second free practice session to claim the top spot, fractionally faster than Beitske Visser - who ended the session in second with a time of 50.994s. They were the only drivers in the field to set a lap faster within the 50s mark.
The session had been briefly interrupted by a red flag period when Miki Koyama stopped on track on the exit of the sharp right-hand corner.
Rdest and Visser's late times demoted Misano polesitter and Norisring practice one leader Fabienne Wohlwend to third, though she had been fastest in the final quarter of the session and had looked set to take a clean sweep of Friday running.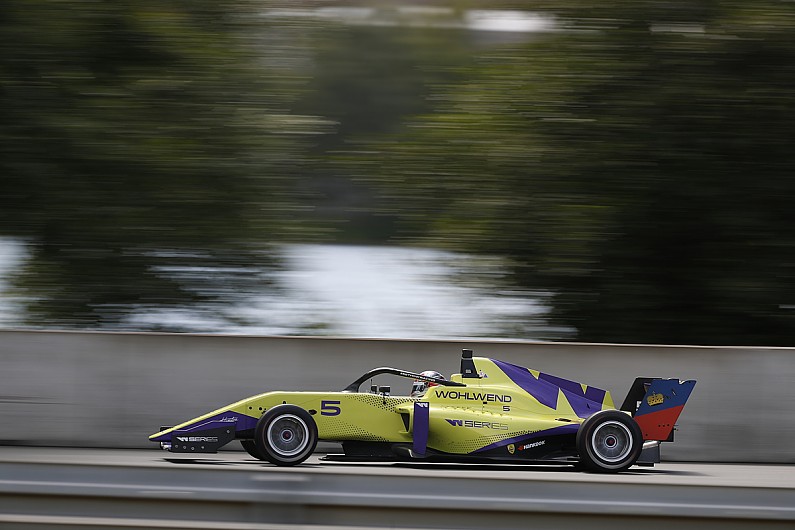 Jessica Hawkins ended the session in fourth, ahead of Emma Kimilainen - who makes her W Series return this weekend after having missed both the Zolder and Misano rounds due to an injury from her opening-lap Hockenheim clash with Megan Gilkes.
Championship leader Jamie Chadwick and Williams Formula 1 development driver ended second practice in sixth but had been just behind Wohlwend in second during the morning session.
Reserve driver Vivien Keszthelyi was seventh, just ahead of Gilkes and Marta Garcia.
Alice Powell completed the top 10, despite having been taken to hospital on Friday morning after a crash with Esmee Hawkey in first practice.
Powell had been assessed in a local hospital for an injury to her wrist but was nonetheless cleared to continue participating in the weekend, while Hawkey was forced to sit out of the session due to the chassis damage she sustained.
Practice one times
| Pos | Driver | Time | Gap |
| --- | --- | --- | --- |
| 1 | Fabienne Wohlwend | 51.728s | - |
| 2 | Jamie Chadwick | 51.857s | 0.129s |
| 3 | Sabre Cook | 51.869s | 0.141s |
| 4 | Tasmin Pepper | 51.870s | 0.142s |
| 5 | Jessica Hawkins | 51.960s | 0.232s |
| 6 | Beitske Visser | 51.961s | 0.233s |
| 7 | Gosia Rdest | 51.981s | 0.253s |
| 8 | Emma Kimilainen | 52.026s | 0.298s |
| 9 | Sarah Moore | 52.138s | 0.410s |
| 10 | Vicky Piria | 52.146s | 0.418s |
| 11 | Alice Powell | 52.237s | 0.509s |
| 12 | Esmee Hawkey | 52.253s | 0.525s |
| 13 | Marta Garcia | 52.484s | 0.756s |
| 14 | Miki Koyama | 52.485s | 0.757s |
| 15 | Vivien Keszthelyi | 52.520s | 0.792s |
| 16 | Sarah Bovy | 52.694s | 0.966s |
| 17 | Megan Gilkes | 52.927s | 1.199s |
| 18 | Shea Holbrook | 53.041s | 1.313s |
| 19 | Caitlin Wood | 53.544s | 1.816s |
| 20 | Naomi Schiff | 53.769s | 2.041s |
Practice two times
| Pos | Driver | Time | Gap |
| --- | --- | --- | --- |
| 1 | Gosia Rdest | 50.983s | - |
| 2 | Beitske Visser | 50.994s | 0.011s |
| 3 | Fabienne Wohlwend | 51.073s | 0.090s |
| 4 | Jessica Hawkins | 51.107s | 0.124s |
| 5 | Emma Kimilainen | 51.182s | 0.199s |
| 6 | Jamie Chadwick | 51.198s | 0.215s |
| 7 | Vivien Keszthelyi | 51.278s | 0.295s |
| 8 | Megan Gilkes | 51.294s | 0.311s |
| 9 | Marta Garcia | 51.362s | 0.379s |
| 10 | Alice Powell | 51.396s | 0.413s |
| 11 | Sarah Bovy | 51.431s | 0.448s |
| 12 | Tasmin Pepper | 51.495s | 0.512s |
| 13 | Shea Holbrook | 51.701s | 0.718s |
| 14 | Sarah Moore | 51.712s | 0.729s |
| 15 | Caitlin Wood | 51.720s | 0.737s |
| 16 | Miki Koyama | 51.737s | 0.754s |
| 17 | Sabre Cook | 51.794s | 0.811s |
| 18 | Vicky Piria | 51.827s | 0.844s |
| 19 | Naomi Schiff | 51.932s | 0.949s |