Fabian Coulthard believes DJR Team Penske's one-two finish in the Symmons Plains opener is proof that his Supercars squad is "doing a better job" after the recent parity adjustments.
Ford's new Mustang had won every race of the Supercars season and Scott McLaughlin's win in the first of two races at Symmons Plains meant its record stretched to seven victories from seven races, before Shane van Gisbergen gave Holden its first win in the finale.
Ahead of the latest round, Ford was hit hardest by mandated centre of gravity changes with 28kg worth of ballast shifted to the roofline of the car after concerns the Mustang had an aerodynamic advantage, with comparatively minor changes for Holden and Nissan.
Coulthard said it was wrong to play down the impact of the changes despite Penske's one-two finish because only one of the four Tickford Mustangs made it into the top 10 in the opener.
"I wouldn't say it hasn't affected us," said Coulthard. "If you look at where Tickford are, they were right on our bumpers at the [Australian] Grand Prix] and they're a little bit further back here.
"I think you see from both organisations it definitely has affected us, but we're just doing a better job and have got a handle on it."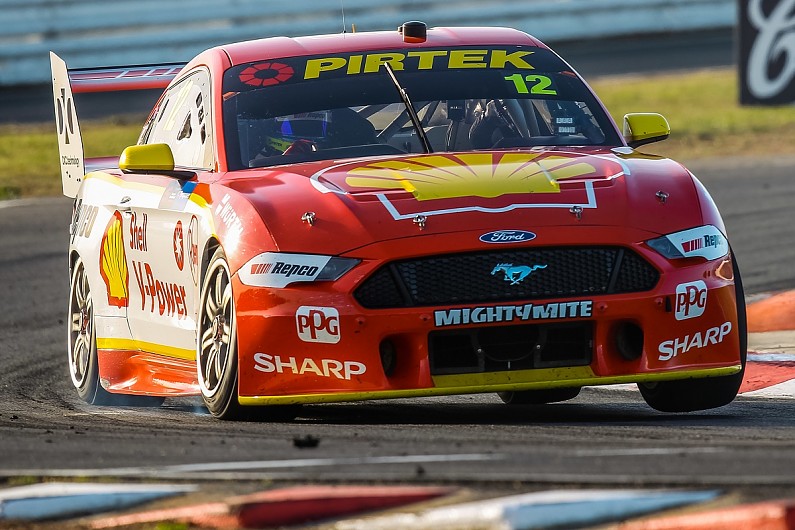 But Tickford boss Tim Edwards does not think the ballast change is responsible for the quiet showing from the team's four Mustangs.
He says he always expected the Tickford cars to struggle on the unique Symmons Plains layout, thanks to the first-gear Turn 4 hairpin.
"If you asked us before the start of the 2019 championship what was going to be a tough round for us or one I was a bit nervous about, I would have said Tasmania," said Edwards.
"We've, historically, had a bit of a tough time here, our car just doesn't seem to get around Turn 4 very well.
"It's quite a unique corner that you don't really find on the rest of the calendar. Do you re-engineer your car for it or do you try and deal with it? And that's what we're trying to do.
"The fact is our car's really good through [Turns] 6 and 7, so it's got strengths and weaknesses, and unfortunately Turn 4 is a big weakness for us. It has been for a few years.
"As I say, if you'd asked me before the season began, I would have said this would be a tough round for us."