Jamie Whincup leads the Supercar points after victory at Symmons Plains while his team-mate and three-time champion Craig Lowndes ended a two-year victory drought.
The third Triple Eight Holden of Shane Van Gisbergen had a disastrous weekend, which helped team-mate Whincup begin his move to the top of the points.
Saturday's single-stop race was all about tyre degradation and Triple Eight got it all wrong with polesitter and early leader van Gisbergen.
The team opted to pit the Kiwi just five laps into the race, and it ultimately proved too early when he lost the lead to team-mate and fellow front row starter Whincup, who pitted six laps later than van Gisbergen.
Van Gisbergen then sunk like a stone through the field over the second half of the race as his Dunlops struggled to hold on.
Whincup was then able to cruise to a 2.3s win over Lowndes, while van Gisbergen slipped all the way back to sixth.
James Courtney kept his strong start to the season going by finishing third, right on Lowndes's rear wing, with David Reynolds not far back in fourth.
But van Gisbergen's weekend only worsened on Sunday, as popular veteran Lowndes ended a 623-day win drought that stretched all the way back to Queensland Raceway in 2016.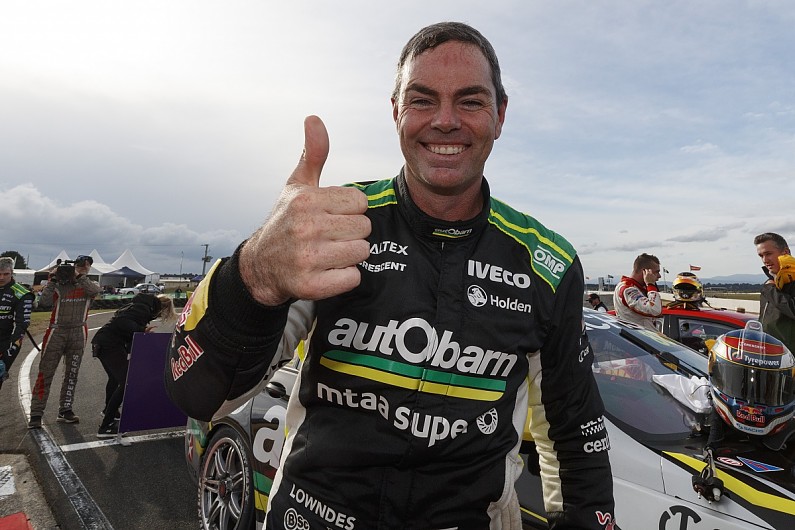 After competing for the lead early in the second race, van Gisbergen fell away with a pedal box problem - meaning he was catching the throttle with the brake - that relegated him to 25th, and fifth in the points.
With one less challenge, and having already ended a pole position drought that stretched back to 2015, Lowndes instead contended with Whincup and McLaughlin in the first stint.
Lowndes waited until lap 22 of 84 before surrendering the lead for his first stop having run longer than his rivals. He emerged from his first stop well clear of struggling van Gisbergen, but marginally behind the short-filled Scott McLaughlin DJR Penske Ford.
Seven laps after his stop Lowndes re-took the lead, expertly charging down the inside of McLaughlin at the hairpin.
Whincup then went the complete other way in terms of strategy, pitting on lap 26 to take on a big gulp of fuel, which dropped him back behind James Courtney in fourth.
When the second pitwindow opened, it was McLaughlin who dived in first as he took a longer stop which prevented him getting back ahead of Lowndes.
McLaughlin very nearly lost second place to Whincup as well, the pair staging a drag race to the hairpin as Whincup appeared from his second stop on the same lap as Lowndes.
In the end, McLaughlin held on to second but was powerless to stop Lowndes taking his first win of the season.
Whincup came home third, which, along with his Saturday win, means he now leads the points by 11 over McLaughlin and David Reynolds. Courtney took fourth to add to his podium in the first race.
Further down the points table, it was Tekno Autosports's Jack Le Brocq who starred. The rookie made Q3 on both Saturday and Sunday and finished up with a 10th from the opener and fifth in the second race.
There was less success for Tickford Racing as the team failed to get a single car into a Q3 session all weekend, Chaz Mostert's 10th on Sunday a small highlight from a tough pair of races.
Race one result
| Pos | Driver | Team | Car | Laps | Gap |
| --- | --- | --- | --- | --- | --- |
| 1 | Jamie Whincup | Triple Eight | Holden | 50 | 44m04.7354s |
| 2 | Craig Lowndes | Triple Eight | Holden | 50 | 2.3457s |
| 3 | James Courtney | Walkinshaw | Holden | 50 | 3.5874s |
| 4 | David Reynolds | Erebus | Holden | 50 | 4.7927s |
| 5 | Fabian Coulthard | DJR Penske | Ford | 50 | 8.7263s |
| 6 | Shane van Gisbergen | Triple Eight | Holden | 50 | 14.3481s |
| 7 | Tim Slade | Brad Jones | Holden | 50 | 14.6397s |
| 8 | Scott Pye | Walkinshaw | Holden | 50 | 15.0225s |
| 9 | Scott McLaughlin | DJR Penske | Ford | 50 | 15.8197s |
| 10 | Jack Le Brocq | Tekno | Holden | 50 | 16.3784s |
| 11 | Lee Holdsworth | Team 18 | Holden | 50 | 16.5533s |
| 12 | Nick Percat | Brad Jones | Holden | 50 | 19.6312s |
| 13 | Garth Tander | GRM | Holden | 50 | 23.8659s |
| 14 | Mark Winterbottom | Tickford | Ford | 50 | 24.0998s |
| 15 | Rick Kelly | Nissan Motorsport | Nissan | 50 | 25.7530s |
| 16 | Michael Caruso | Nissan Motorsport | Nissan | 50 | 26.0549s |
| 17 | Andre Heimgartner | Nissan Motorsport | Nissan | 50 | 33.4381s |
| 18 | Will Davison | 23Red Racing | Ford | 50 | 34.4240s |
| 19 | Anton De Pasquale | Erebus | Holden | 50 | 34.9266s |
| 20 | Tim Blanchard | Blanchard/BJR | Holden | 50 | 40.2498s |
| 21 | Todd Hazelwood | Matt Stone | Ford | 50 | 42.7756s |
| 22 | Simona de Silvestro | Nissan Motorsport | Nissan | 50 | 47.0689s |
| 23 | James Golding | GRM | Holden | 50 | 48.6915s |
| 24 | Cameron Waters | Tickford | Ford | 50 | 54.7353s |
| 25 | Richie Stanaway | Tickford | Ford | 43 | 7 Laps |
| - | Chaz Mostert | Tickford | Ford | 22 | Retirement |
Race two result
| Pos | Driver | Team | Car | Laps | Gap |
| --- | --- | --- | --- | --- | --- |
| 1 | Craig Lowndes | Triple Eight | Holden | 84 | 1h14m41.1457s |
| 2 | Scott McLaughlin | DJR Penske | Ford | 84 | 2.3571s |
| 3 | Jamie Whincup | Triple Eight | Holden | 84 | 3.6001s |
| 4 | James Courtney | Walkinshaw | Holden | 84 | 5.5989s |
| 5 | Jack Le Brocq | Tekno | Holden | 84 | 15.7860s |
| 6 | Scott Pye | Walkinshaw | Holden | 84 | 16.5097s |
| 7 | Garth Tander | GRM | Holden | 84 | 23.4884s |
| 8 | David Reynolds | Erebus | Holden | 84 | 24.2924s |
| 9 | Nick Percat | Brad Jones | Holden | 84 | 24.7777s |
| 10 | Chaz Mostert | Tickford | Ford | 84 | 39.3819s |
| 11 | Rick Kelly | Nissan Motorsport | Nissan | 84 | 39.4913s |
| 12 | Mark Winterbottom | Tickford | Ford | 84 | 39.9954s |
| 13 | Cameron Waters | Tickford | Ford | 84 | 40.2848s |
| 14 | Tim Slade | Brad Jones | Holden | 83 | 1 Lap |
| 15 | Anton De Pasquale | Erebus | Holden | 83 | 1 Lap |
| 16 | Tim Blanchard | Blanchard/BJR | Holden | 83 | 1 Lap |
| 17 | Fabian Coulthard | DJR Penske | Ford | 83 | 1 Lap |
| 18 | James Golding | GRM | Holden | 83 | 1 Lap |
| 19 | Andre Heimgartner | Nissan Motorsport | Nissan | 83 | 1 Lap |
| 20 | Todd Hazelwood | Matt Stone | Ford | 83 | 1 Lap |
| 21 | Simona de Silvestro | Nissan Motorsport | Nissan | 83 | 1 Lap |
| 22 | Will Davison | 23Red Racing | Ford | 83 | 1 Lap |
| 23 | Lee Holdsworth | Team 18 | Holden | 83 | 1 Lap |
| 24 | Michael Caruso | Nissan Motorsport | Nissan | 83 | 1 Lap |
| 25 | Shane van Gisbergen | Triple Eight | Holden | 83 | 1 Lap |
| - | Richie Stanaway | Tickford | Ford | 0 | Retirement |