At its launch last autumn, W Series set out its mission statement to enable women to one day race at the highest level of motorsport again, breaking a glass ceiling imposed on female drivers by decades of male dominance, and ultimately act as a driving force for gender equality and representation across all levels.
But W Series has also been "rethinking racing", to quote its tagline, in a multitude of other ways not seen in other junior single-seater formulas - and central to all of that is the emphasis that it places on driver performance development.
The series has been clear that its role is to promote the pure skill of each driver in order to showcase the hitherto unnoticed talent that can be found on the grid, with each car completely standardised and rotated between drivers at the end of every round.
All the on-track data from each driver is also available to everyone in the field, creating an environment of constant evaluation.
W Series' commitment to getting the best out of its drivers is also evident in the appointment of Hintsa Performance, a leading light in human high-performance training most famous for its work in Formula 1 - with 13 F1 world championship successes for drivers it has worked with since 1998.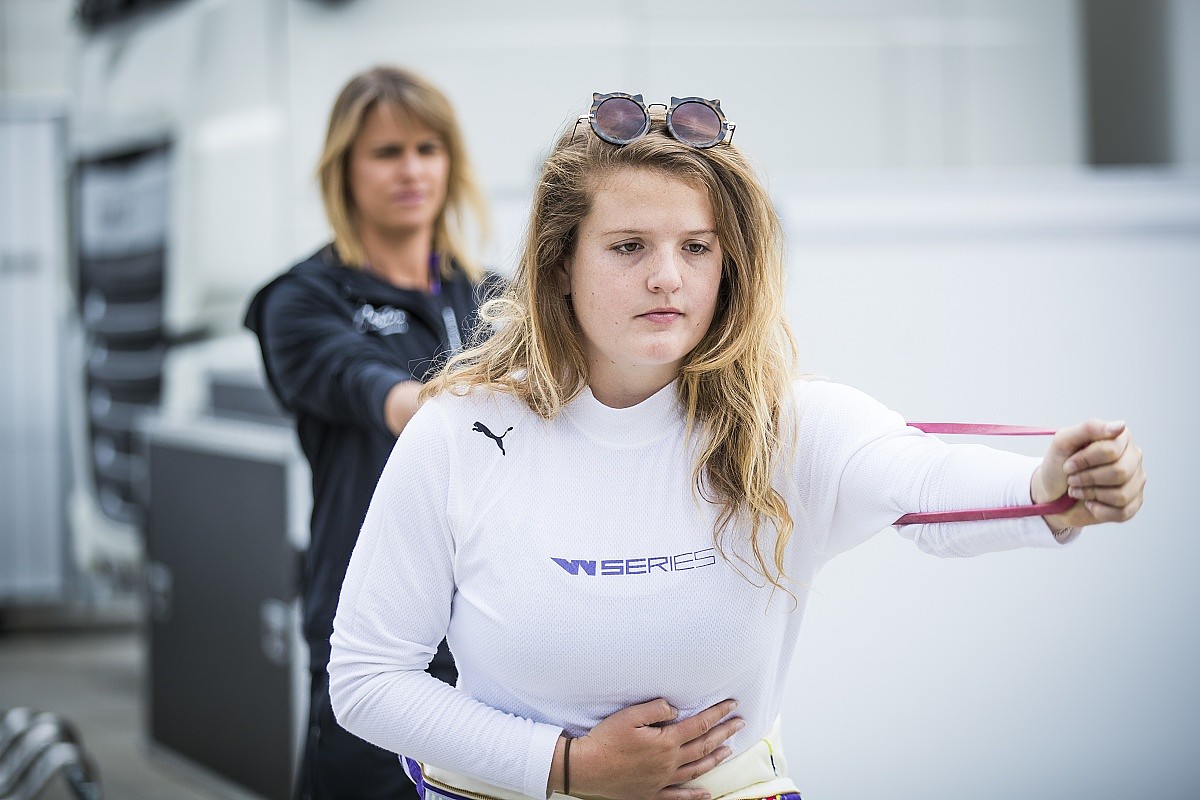 It is available for coaching at every W Series round and has been working with the 2019 grid since the initial stages of the driver selection process.
Hintsa Performance trainers are also made available to each driver away from the track via an app, which also allows them to tailor their coaching needs as the season progresses.
For Emma Kimilainen, who at 30 is the oldest driver on the grid, this centralised approach to coaching is a particularly important part of the W Series experience - during a year in which she has both returned to single-seater competition and suffered a neck injury after her clash with Megan Gilkes at the Hockenheim season opener, which forced her to miss the subsequent Zolder and Misano rounds.
"Coming back from laying in bed for two months, obviously I can feel it in my neck and that's not fully recovered" Emma Kimilainen
"I was a long time away from single-seaters," says Kimilainen, who has a six-year-old daughter. Her previous single-seater experience came in Formula Palmer Audi in 2009.
"I was on hiatus from 2010-14, then when I came back to racing I was driving touring cars. Single-seaters are obviously more physical because there are aerodynamics and you can really feel it in the car.
"[Hintsa] personalise it by condition tests, so we know what my maximum heart rate level is, how fast I reach it and how long I'm able to sustain it. You do the first tests so you know your base level and what we need to improve, and there are plenty of things I want to improve as well.
"Mobility is one of them - I'm a little older than the other drivers and I can feel that with my mobility. I need to take really good care of my body, so all the muscular care is really important so that I can do the same level of training as the younger drivers. I use maybe double the time they use to maintain and keep my body healthy."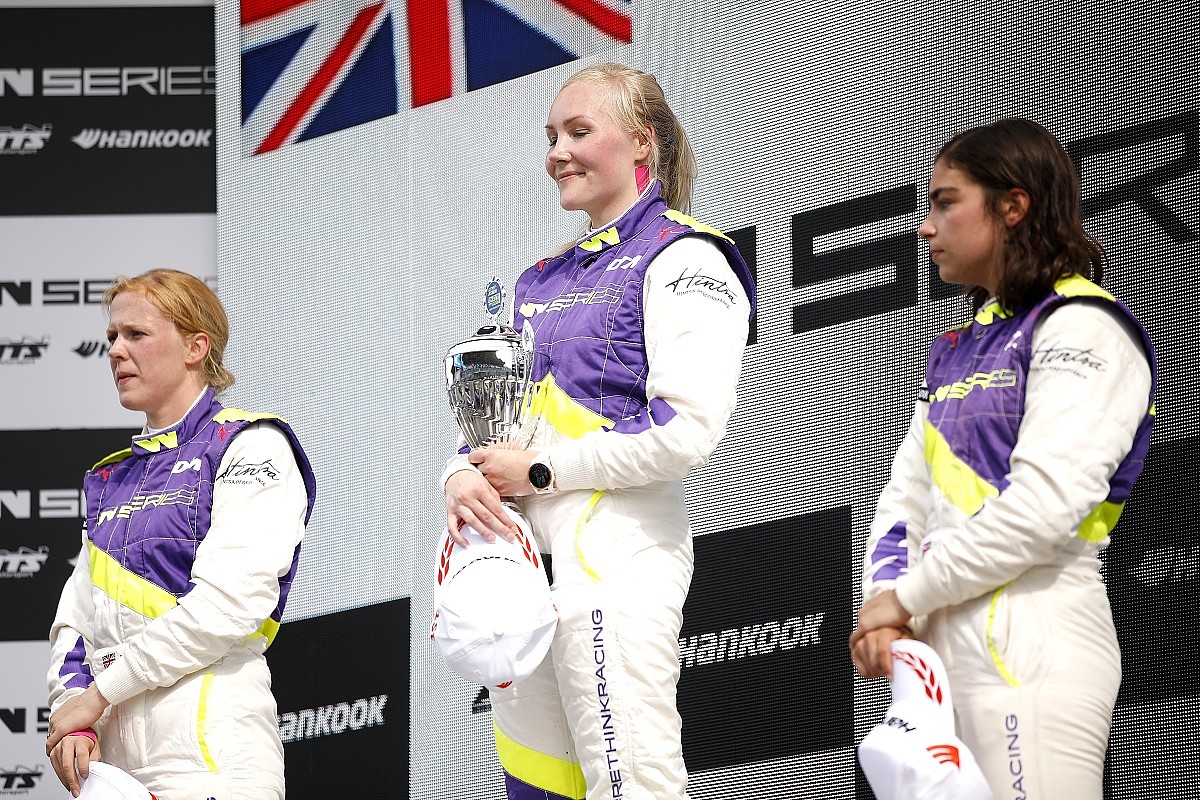 For Assen winner Kimilainen, it's the first time she's used a heart rate monitor as part of her racing set-up - which provides her with more useful data to work from.
"In my race at the Norisring, my heart rate was at 176bpm and usually in the race because of the adrenaline that's happening all the time," she says.
"It's really interesting to see what it is in the race and when I drive so that I can improve those things outside the track."
The Norisring marked Kimilainen's return after two months out and she admits that the time lost has had an effect that she'll only be able to recover from properly during the break between the Brands Hatch finale and the as-yet-unannounced 2020 season opener.
"Coming back from laying in bed for two months, obviously I can feel it in my neck and that's not fully recovered but they have been taping it really well and I have no symptoms now," she says.
"But still, my neck and the strength is not on the same level as it had been, and being in bed for two months meant I lost a little condition there as well, which I can feel and see.
"It's just about maintaining the condition I have now so that I can do Brands Hatch. Then after that I'm fully on training with my back and neck because there's no risk that anything can go wrong that means I can't race for a while."
Former GP3 competitor Alice Powell is another driver for whom W Series represents a return to regular racing, after five years in which she made only fleeting appearances due to a lack of funding.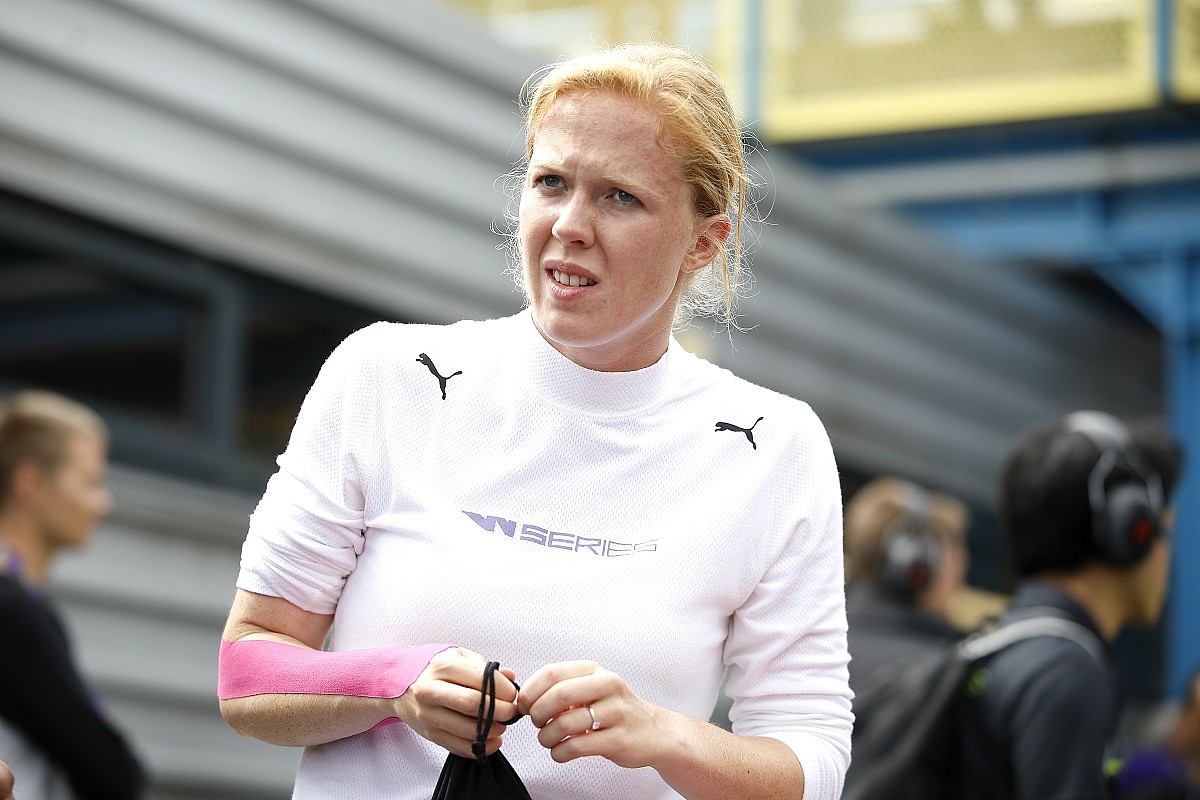 The 26-year-old is clear that she has never underestimated the importance of performance training and maintaining her condition away from the track, which has paid dividends with a podium in every race she has finished.
"Luckily I love sport so you'll always find me playing hockey or football in the winter," says Powell, whose title hopes were effectively ended with a startline crash at Misano and mechanical problems at the Norisring. "I've never given up trying to keep fit or stopped training.
Equipping its drivers with the ability to deal with pressure is of the utmost importance to the series
"Coming back, I was expecting to struggle more physically. But I kept the training up because I actually enjoy it. While some people might think it's a bit of a chore, it's so important."
From the beginning, W Series has faced criticism for segregating female drivers. This, coupled with high-profile television coverage on Channel 4 in the UK - as well as being available free-to- air internationally - means that W Series and its drivers have been placed under an almost microscopic level of scrutiny compared to any other junior formula at the same level.
Undoubtedly, this creates a high-pressure environment for the drivers, with current championship leader and Williams Formula 1 development driver Jamie Chadwick admitting that she could feel the extra pressure of media interest at the Hockenheim opener.
Equipping its drivers with the ability to deal with this pressure - and the spotlight that comes with advancing further up the motorsport ladder - is of the utmost importance to the series and ties in with Hintsa's 'holistic' approach to unlocking performance.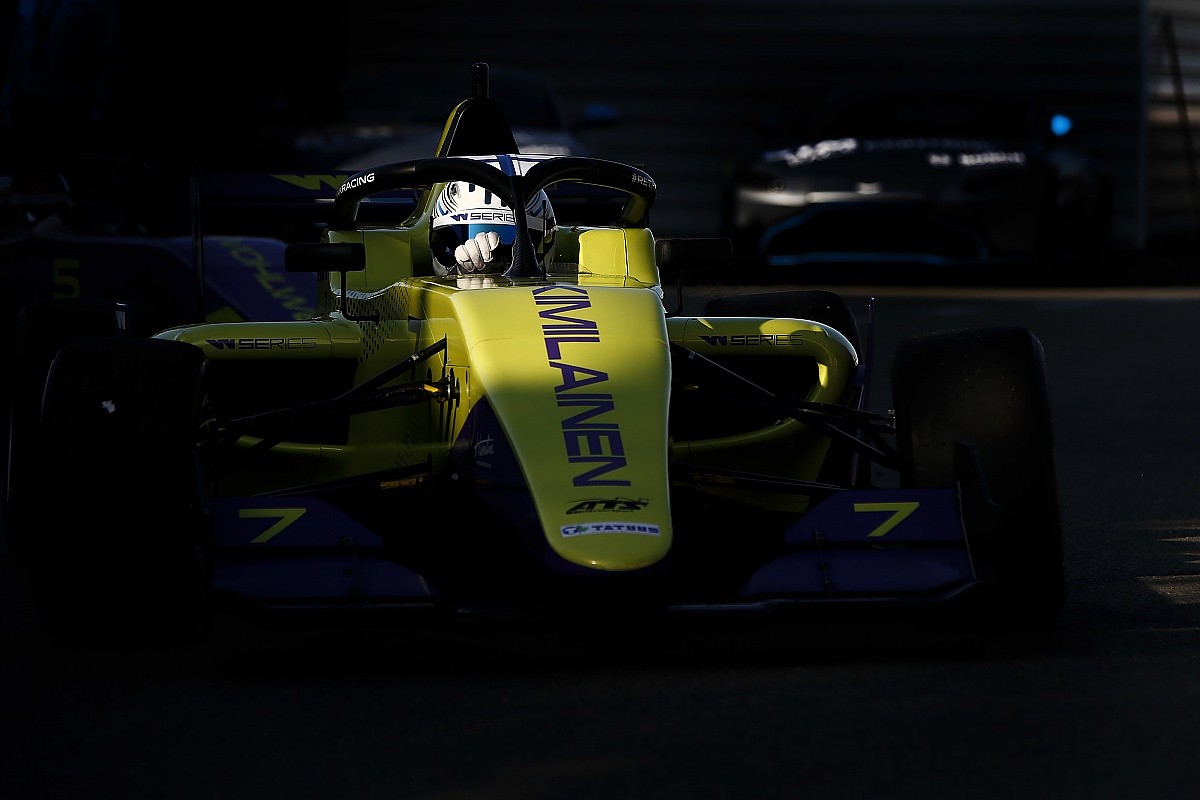 "The mental side is just huge," says Kimilainen. "For me to be a little older and more experienced, as well as having a family, has bought me a lot of things that I didn't have before.
"Ten years ago, mentally I wanted everything really fast and I wasn't patient enough.
"Now I'm really patient, because you know - kids! And you really do have to be patient with kids. But also, it's just knowing myself better and not fully putting my identity into being a driver.
"Even though I love racing, it's my huge passion and I've done a lot of work for it, it's still not all of who I am. That's the biggest thing that I've realised in the past four years.
"Psychology is the thing that really separates us. There are plenty of drivers who are really talented and are on the same level physically, or someone can be on a better or worse level, but it's the mental level that really separates you in the end."
Powell is also quick to draw attention to the importance of mental resilience, and it's a message she passes on to the younger drivers she coaches herself, notably 12-year-old karter Ella Stevens.
"I've learned a lot and I just try to pass that on, not to make the same mistakes that I did," she says.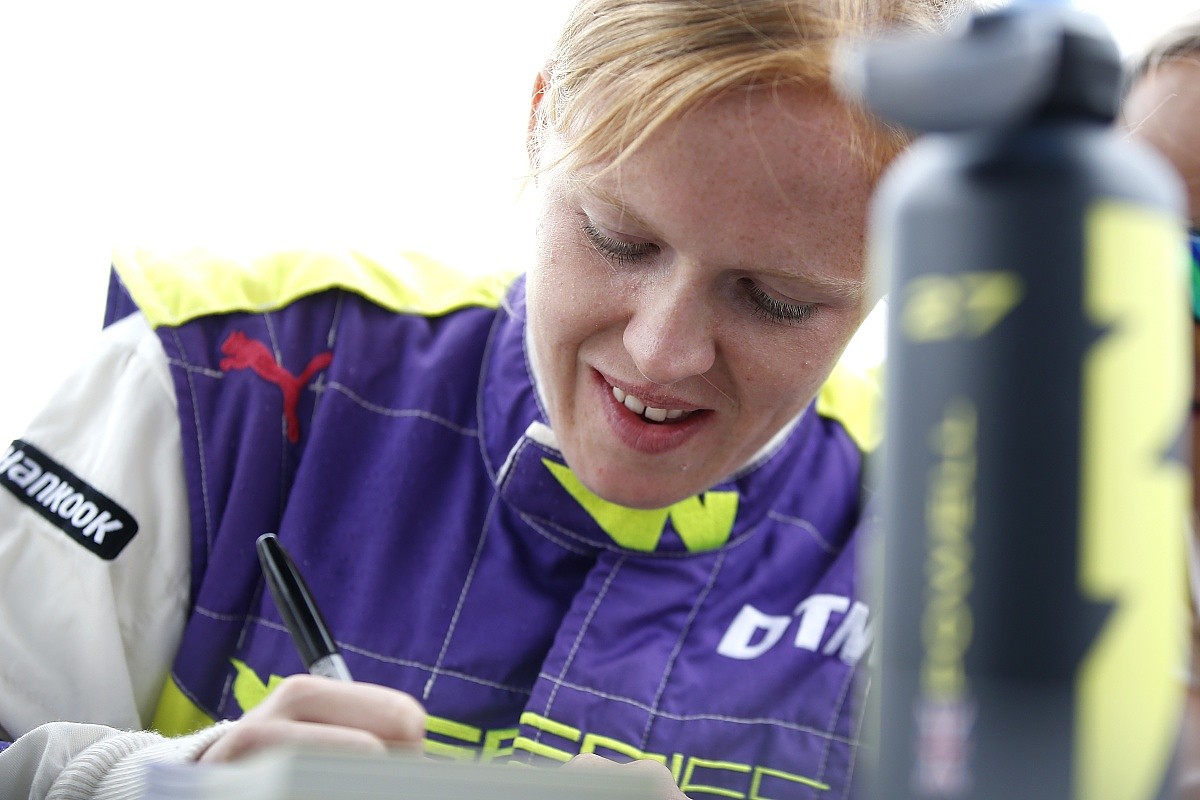 "Now all us drivers realise how important the psychological side is. It's really good to teach them, especially at a young age so that they're already in that way of thinking.
"W Series is here to teach us and guide us in so many different ways and there are so many elements to driving that are really important.
"The support we have here is fantastic. Hintsa do an awesome job at a race weekend aiding us, making sure we're drinking the right amount of fluids and warming up before we get in the car."
Kimilainen agrees that W Series' links with Hintsa Performance are a "huge privilege" and encourages the younger drivers to make full use of its support.
"It's going to help them for the rest of their lives," she says. "If they take everything that Hintsa says into them, put it into action and start living like that nutrition-wise, training-wise and mentally, they will be better people, not just drivers."
It remains to be seen whether W Series will succeed in its mission to bring a female driver to F1, but it's clear that by centralising the importance of holistic driver performance development in its very ethos, W Series is setting a solid foundation for its drivers in whatever they might do next.
It's an example that other championships might do well to adopt too.
This article appears in the latest edition of Autosport Performance, our bi-monthly magazine supplement and regular online series that gives racers the knowledge, skills and tools they need to improve themselves