Nestled in a nondescript industrial estate between the Ligurian Sea and the Apuan Alps is a building that has had a transformative effect on the motorsport world. The location of Formula Medicine is ideal for athletes - specifically racing drivers - to conduct year-long physical training, but it's the mental element of the centre that has made it a focal point for numerous drivers and teams.
Founded by the gregarious Dr Riccardo Ceccarelli in 1989, Formula Medicine has used technological developments to pioneer mental advancement for drivers, complementing their physical training, and the Tuscany-based organisation has taken another step through a collaborative programme with Formula 1 tyre supplier Pirelli.
Pirelli returned to F1 in 2011 and was supported by Formula Medicine and its staff, ensuring that its team remained physically and mentally fit across a gruelling schedule of races, tests and private development sessions. The relationship kicked up a notch last year, as an off-the-cuff remark spiralled into a serious concept, which was turned into reality.
"Riccardo was explaining to us this idea of the mental gym," recalls Pirelli head of car racing Mario Isola (below, left). "I remember he said, 'We have the degradation of the mind', and I said, 'Yeah, like the tyre', so we started to think about something that was a connection between the mental gym, the wear and the degradation of the tyres."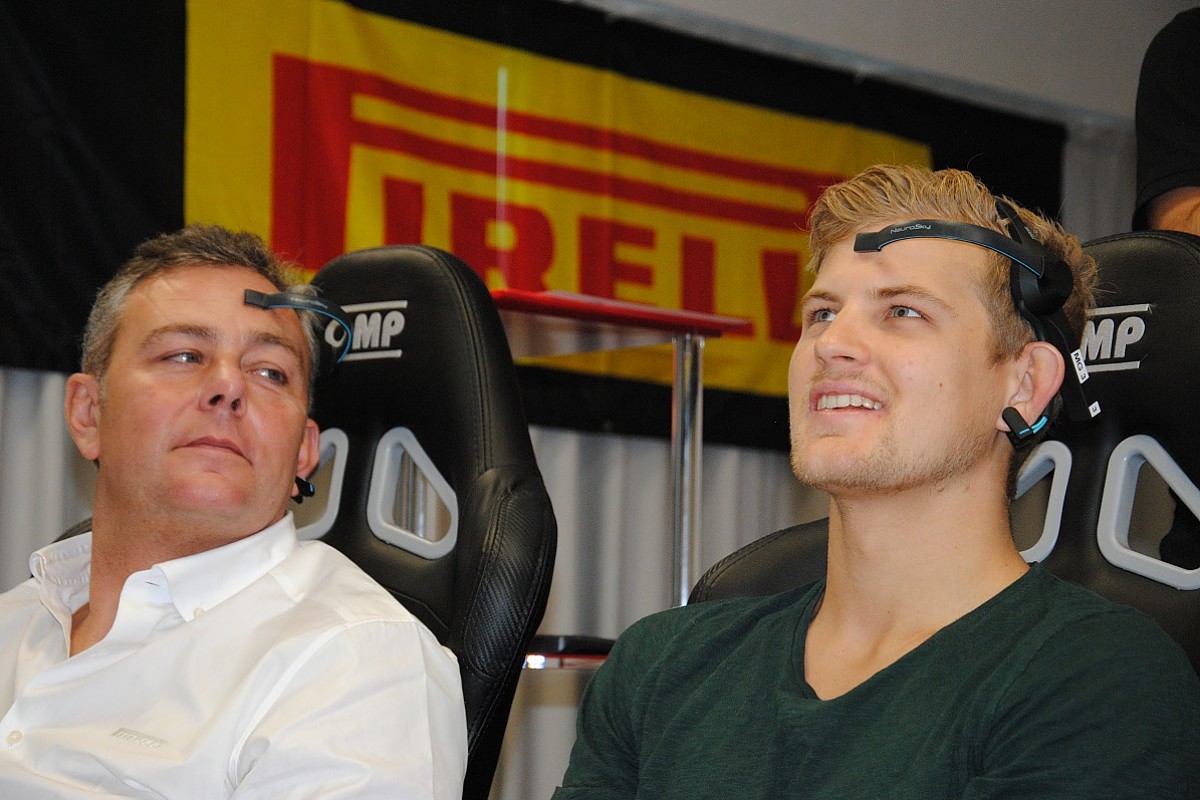 The first version of the mental assessments followed shortly afterwards, but Isola recognised that further improvements were required and in the final months of 2017 they were refined, before debuting in early '18.
The outcome is that Formula Medicine's mental challenges have been enhanced, with a series of multi-layered tasks enabling the brain to be analysed, the data picked apart, while new concepts are continually produced to ensure constant improvement for drivers that can be carried across to the track.
When guinea pigs were required for testing, Autosport was only too happy to oblige - especially with an F1 driver in the form of Sauber's Marcus Ericsson on hand as a reference. For an afternoon's worth of activities, under the 'Inside the Mind of a Driver' banner, Formula Medicine and Pirelli devised five challenges in its Mental Economy Gym.
Time to see how an ostensibly normal person compares to a professional sportsman...
Concentration Test
The opening test initially appears relatively straightforward, although the inclusion of deviously tricky elements is soon obvious. Seated on racing-style seats - to maximise accuracy of brain economy, training is performed while seated, ensuring data is not distorted - you stare at a screen, and are equipped with a controller in each hand.
Across three minutes, you have to distinguish between colours and words - for example, the capitalised word 'RED' may appear in red, in which case you press 'true'. But if the word 'RED' appears in blue, you press 'false'.
To complicate matters, it's not simply a case of pressing one corresponding button - 'true' and 'false' also frequently switch between the left and right controls.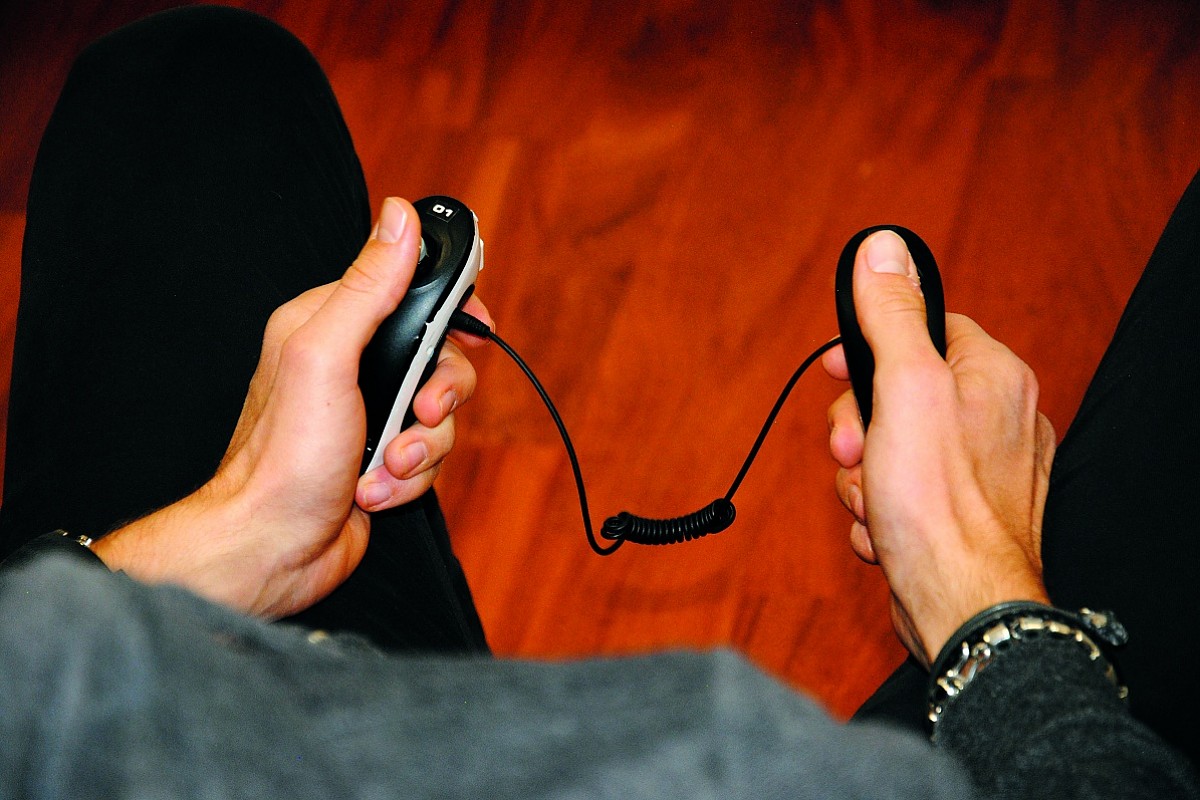 The input of Pirelli provides a game-changing influence, with three levels of difficulty posed by supersoft, soft and medium tyres. On supersofts, the words appear at gunfire speed and there are far greater points on offer, but the degradation is higher, meaning the word set fades after around 20 seconds. On mediums, the words appear slowly and points on offer are fewer, but degradation is lower, meaning words fade only after around 90 seconds. On softs, there is a middle ground.
As a consequence, you must execute the optimum strategy and 'pit' (selecting the correct button) to change your tyres (again, hitting the right button), which costs around 10 seconds. True to life, you must use two compounds across a three-minute race. Do you go SS-M-M? SS-S-S-SS? Therein lies the challenge, and how a seemingly simple task can soon be turned into a multi-faceted brain-mashing prospect.
In a warm-up, Ericsson scores 188.51 with a reaction time of 0.7s, while I score a not-too-shabby 176.37 with a reaction time of 0.73s, earning a pat on the shoulder from Ceccarelli for my efforts. Encouragingly, Ericsson also expresses surprise at my score.
Both of us improve, having fully grasped the nuances of the task and formed pre-race strategies
Warm-up complete, we get serious. We both start on supersofts, and I edge in front of Ericsson during the first stint, where our strategies diverge. The Sauber man adopts a more aggressive three-stop approach (SS-S-S-SS), while I choose a conservative two-stopper (SS-M-S) to minimise the pit loss time.
But it's Ericsson who triumphs on a 207.91, as I score 184.93. Both of us improve, having fully grasped the nuances of the task and formed pre-race strategies. Remarkably, we face almost the same number of words (125 to 126) but, whereas I blunder on seven occasions, Ericsson errs just twice. My reaction time improves to 0.72s, his lowers slightly to 0.71s.
"I was keeping an eye on you after that first stint," the Swede concedes. "There's pressure to choose the right strategy."
We also undertake a five-minute version, adding another strategic layer, as well as two extra minutes of concentration. The outcome is similar: I manage 306 points, Ericsson 332.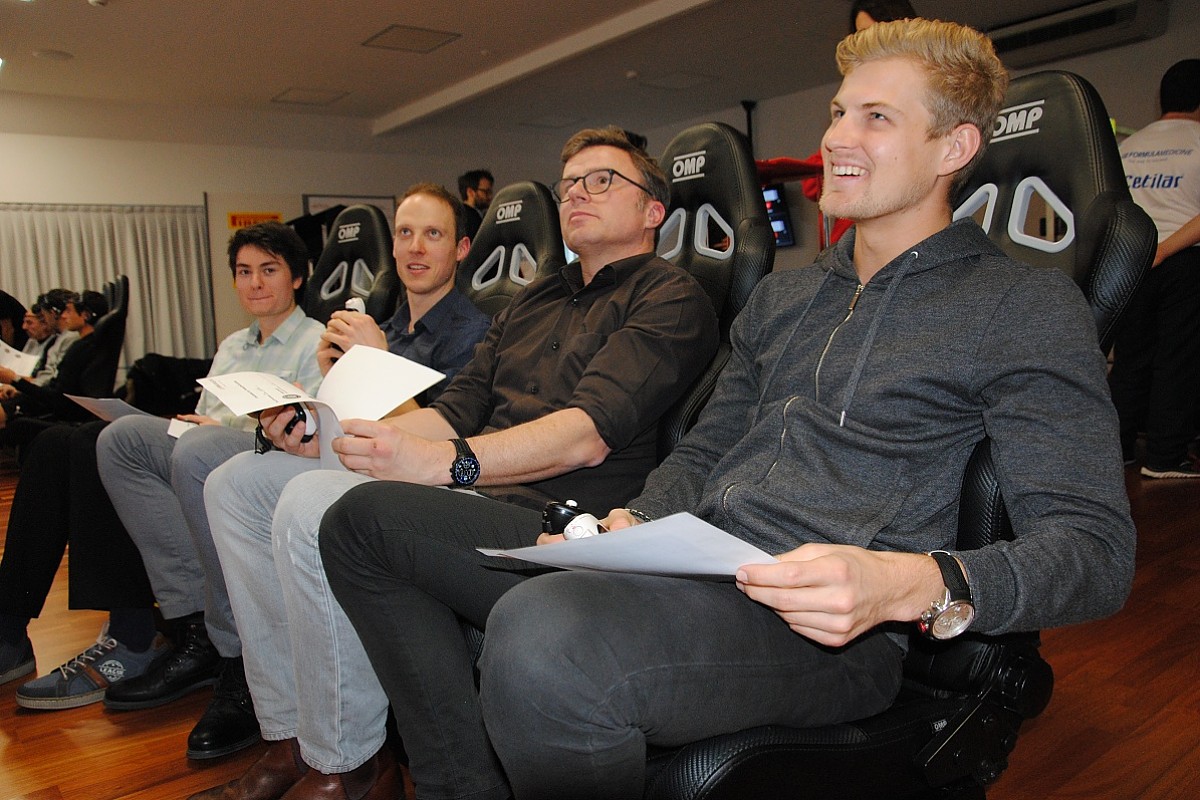 Focalised Attention Race
On first glance, the second task merely involves sitting and screen-watching. Alas, it's not so simple.
A headset, including an ear clip, is attached to measure focalised attention as we contest a 25-lap race, where animated cars lap a circuit.
On screen is assorted information - tyre compound (again, three are available, meaning a strategy is mandatory), wear and degradation levels, position and lap chart. Your concentration is measured, which influences car speed, and wear/degradation. It's a complex challenge, as you find yourself second-guessing the machine, which is reflected in the results.
Ericsson completes the task in 7m25.036s; I follow with 7m35.898s. My quickest lap is faster, but overall his average concentration is 55% and mine 62%. Put simply, he is more adept at soaking up information, minimising his focus on unnecessary data, while completing the task in a swifter manner.
Ceccarelli observes that having produced a strong performance in the Concentration Test and a middling display in the Focalised Attention Race, I am someone who "analyses things too much. In this task it is a disadvantage."
After just two short tests, it's a strikingly accurate assessment and demonstrates the manner in which Formula Medicine is able to understand the intricate workings of the mind. While there is room for improvement on both challenges, the results already show that the second is where the greatest gains are possible - and with reams of data, Ceccarelli can grasp the areas to target.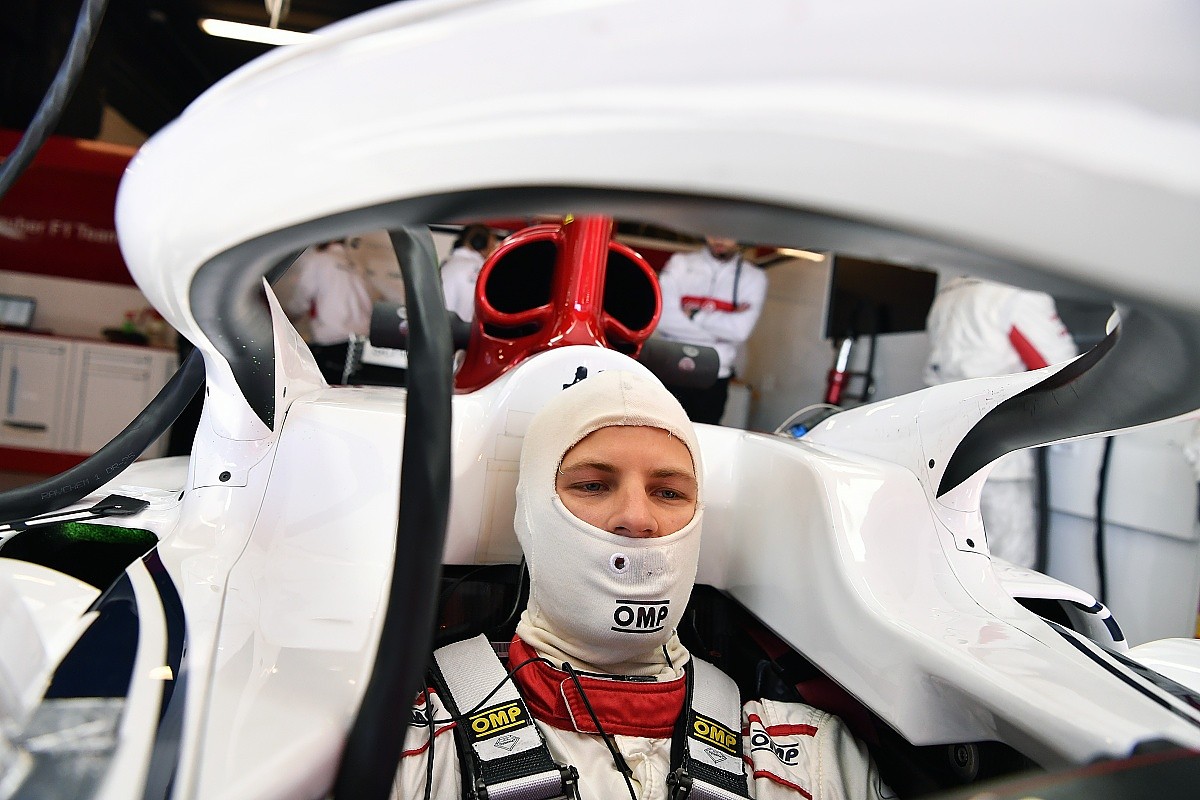 For a driver, it's gold dust - better focalised concentration and better control of the mind improves your chances of grasping the correct information and minimises the risk of making errors or incorrect calculations.
But it's not just the outright score that's important - drivers who are most engaged and interested in how and why they reached such a score tend to be more talkative in debriefs at races, and are able to pick up on more minor set-up changes.
Those more in control can also be more adept at relaxing their muscles; and again, decades of data analysis has determined that a relaxed muscle state enables drivers (and, more prominently, motorcycle riders) to have a greater feel for their machinery.
Better focalised concentration and better control of the mind minimises the risk of making errors
It's why Ceccarelli is so eager for drivers to understand that, while the mechanical element of motorsport is fundamental, a controlled mind is also of huge importance. It's also why Ericsson is a regular visitor to Formula Medicine, attending for bimonthly three or four-day stints during F1's ever-expanding season and more frequently in the winter.
"Everywhere in the world you can find experts on the physical side," says Ericsson, who also receives assistance from Formula Medicine's on-location team at grands prix.
"But what is really interesting, and I think they're world-leading in, is the mental side, specifically for a racing driver.
"These kinds of things which challenge your brain, but also in a combination with your body, it's a big challenge and it's really difficult to get your head around. Then you practise it and get used to it, but you come next time, it's a completely different thing!"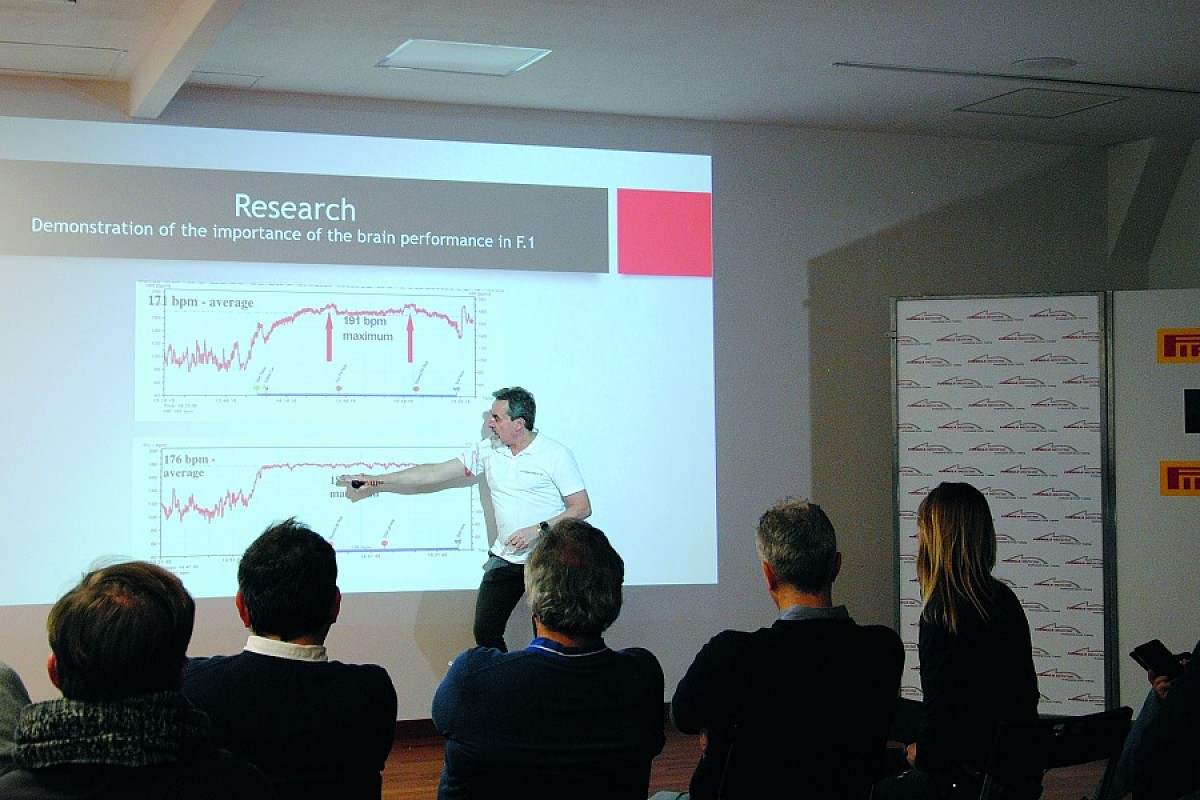 Memory & Coordination Test
Even Ericsson is initially perplexed by the third challenge. On screen appear three rows, each a different colour (red, yellow and white), and varying numbers of bars are illuminated from left to right.
You must memorise this before it disappears, and one of the rows will illuminate, upon which you have to recall how far along the row the bar illuminated and whether the colour corresponds. Points are awarded for accuracy and for proximity, but deducted should you fail to colour-coordinate, determined by whether you use the left ('true') controller, or right ('false').
As for the other tasks, there are three levels of difficulty that determine points, the speed of bar illumination and 'degradation', which influences strategy. The higher the degradation, the less time you have to memorise and select the colours and patterns. To complicate matters further, a heart-rate monitor is fitted, teaching drivers the importance of understanding their heart rate under pressure.
Ericsson's resting heart rate is around 45bpm and is therefore given a threshold of 50bpm - should he exceed that, the degradation will be higher, thus adversely affecting his prospects. My heart rate fluctuates around 85bpm, so I receive a threshold of 90bpm. Clearly, only one of us is an athlete.
An F1 driver's heart rate can average around 170-180bpm across a two-hour race, spiking to over 190bpm during crucial phases. Very few athletes encounter such high rates for a prolonged period. Since race pace is lower than in qualifying, these spikes often occur when quicker pace is required pre-pitstop, which means an increase in psycho-physical stress.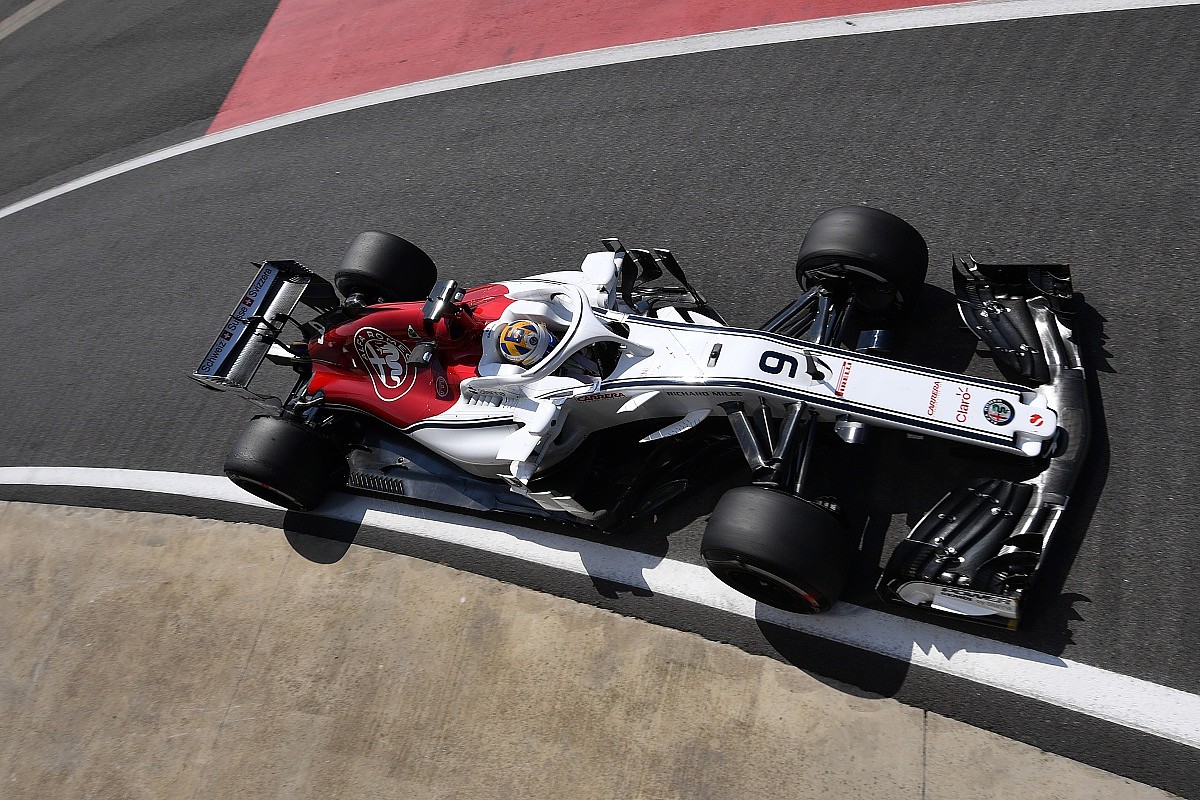 Consequently, a driver is unable to drive an entire race at maximum effort as in qualifying, for he would be liable to premature mental exhaustion. If a driver gets flustered by Ceccarelli's challenging task, then the heart-rate monitor will identify the spikes - and this can be transposed into real-life conditions, risking concentration.
Drivers must have exceptional cardiovascular fitness not only to cope with motorsport's physical demands, but also to be as economical as possible with the mental loads.
"Every time he pumps 180bpm, he can send much more blood, which means more oxygen, more energy for the brain and muscle," says Ceccarelli.
Ericsson storms clear in the warm-up with 68 points, while I score 34, having been regularly caught out by incorrect colours, thus copping minus points. Bizarrely, we both worsen in the actual head-to-head, Ericsson to 31 and me to 30. Clearly, this is a challenge at which we can both improve, but time constraints mean we are rushed straight to the next test.
Neuromuscular Agility Test
This is fundamentally a reaction-time assessment, but also incorporates posture, muscle control and reflexes.
A single blue light is illuminated anywhere on a three-by-three wall - sometimes referred to as a 'batak wall' - and Formula Medicine analyses how many lights a driver can respond to in one minute, and their speed to 20 lights.
Across the one-minute challenge, Ericsson starts with 67, then 66, 67 and 69; I begin with a paltry 53, before upping to 58, 64 then 65. We are both usurped by DTM ace Bruno Spengler (below recieving instruction from Ceccarelli), who reaches 93.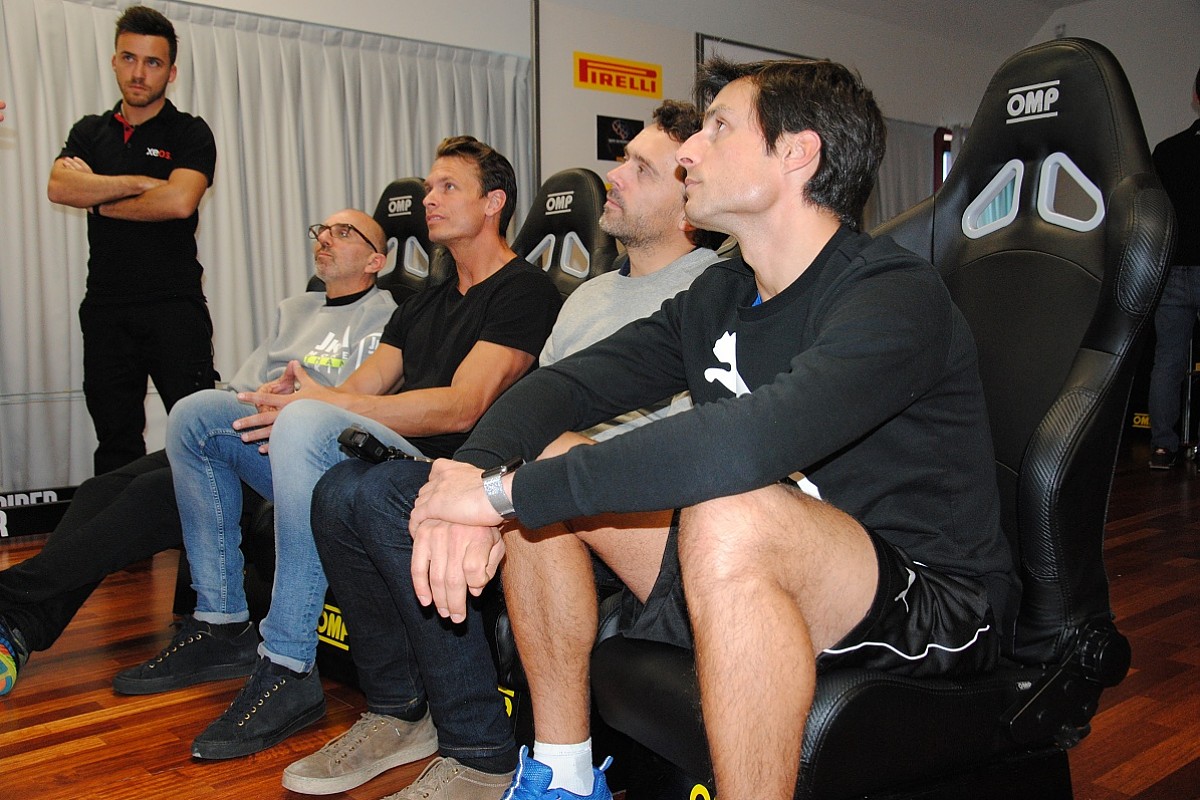 On the first to 20, Ericsson starts with a 16.2s, then 20.0s, 18.8s, and 16.0s. I start with a 20.0s, followed by a 17.6s, 18.0s and 18.9s, later improving to 16.1s, while Ericsson's trainer Alex Elgh scores a barely believable 12.9s.
There is an acceptance that the sequencing of the lights can be pot luck, positively influencing the score, although, as in previous challenges, the focus is more on improving the methods. A better posture will minimise body movement, placing the focus on arm movements as opposed to darting all over the shop, strengthening muscle control, and in turn conserving energy. This means a more consistent display across the one-minute timeframe - and such lessons can be transposed into racing.
Ceccarelli emphasises this point further with an automatic ping-pong-ball dispenser, a tool used to help younger drivers who have been raised to be mechanically savvy but with little focus on mental shrewdness.
Upon increasing the distribution intensity of the balls, the youngsters tend to dart across the width of the table - and beyond - therefore exerting more energy, losing focus, and increasing the chance of mistakes.
Self-confidence is crucial for a driver's mental state, but they must have sufficient humility to recognise areas for progress
Instead, keeping as static as possible and focusing on arm movement not only conserves energy, but teaches greater muscle control. It's an invaluable lesson in the importance of economising energy usage, and also prods the youngsters towards developing the capability to be self-critical.
It's a two-way street; Formula Medicine can only assist a driver if they are willing to make progress. "It's 50-50," says Ceccarelli. "The ideal is a driver who is self-confident, but also humble."
Retaining self-confidence is crucial for a driver's mental state, but they must have sufficient humility to recognise areas for progress. There is also occasionally the tendency for the super-gifted to struggle with self-analysis and assume their talent comes naturally. It's a difficult mixture to perfect, and can be tricky to balance.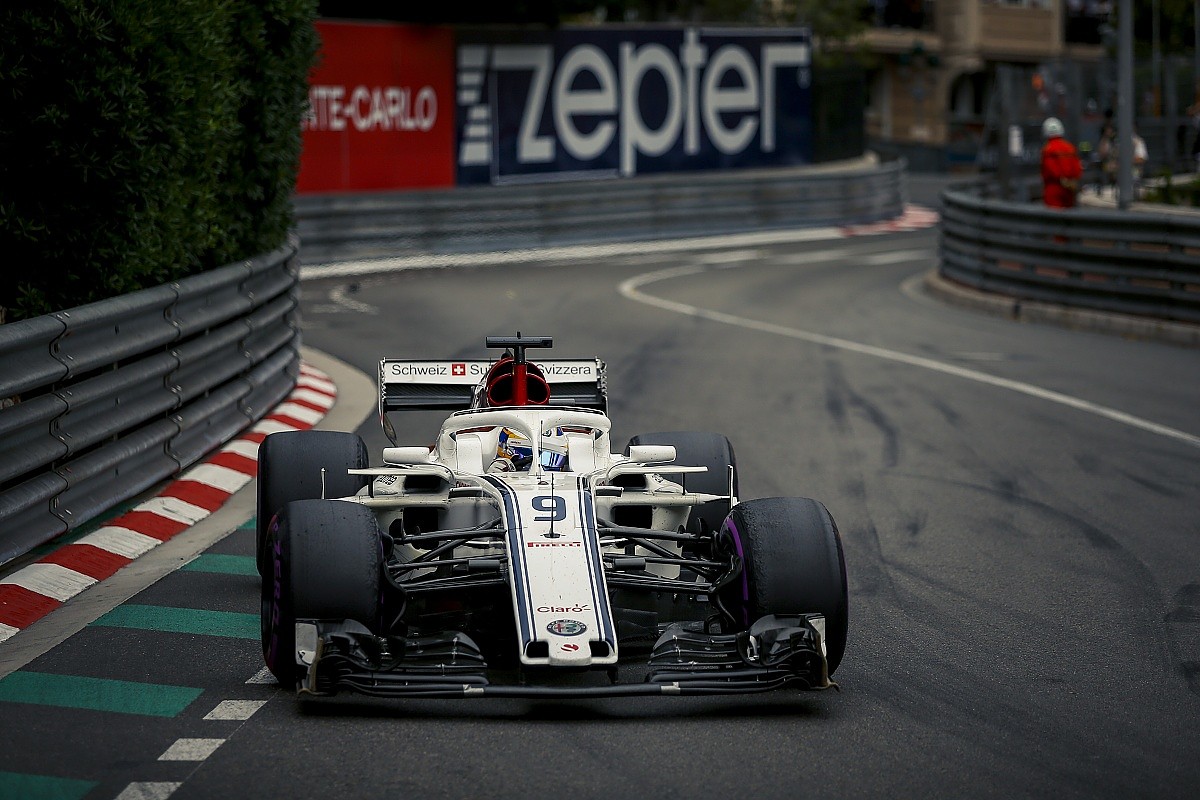 "Last year with Ericsson we found another area where he could improve," Ceccarelli explains. "But he was the first one to say, 'This way I would like to improve a little bit', and we did specific work with the cooperation of a driver."
Optimising the brain comes with age, but Formula Medicine strives to accelerate this process, such that a person aged 22/23 can have the mental approach of a 30-year old.
"Mental-economy training is made to grow up in maturity. Maturity is self-confidence, self-critical, is to know yourself and how to behave," adds Ceccarelli. "People are not waiting for you. The chance, the train, is passing today and you have to catch it."
Simulator
It wouldn't be right to end the day without some actual driving, which comes in the form of a rudimentary 'simulator' - effectively racing seats laid out Hungry Hippos-style in a separate room. rFactor is the application of choice, using a 2015-spec hard-tyre-clad Williams at Monza, equipped with a headset, pedals, and an F1-shaped steering wheel with manual gears.
Ericsson comfortably gets into the 1m28s during a 10-minute practice session while I make minor errors on each lap - running too deep into the Rettifilo chicane, spinning through the second chicane and skating through the gravel into Lesmo - meaning I'm left without a time. Reset. Zone out.
Early in the actual timed session, I get a lap on the board early, gradually getting into the groove and attacking the kerbs more with each passing corner. I'm also getting bolder with downshifts and braking, albeit still hesitant into the tricky Rettifilo with the knowledge that an early mistake will ruin the remainder of the lap.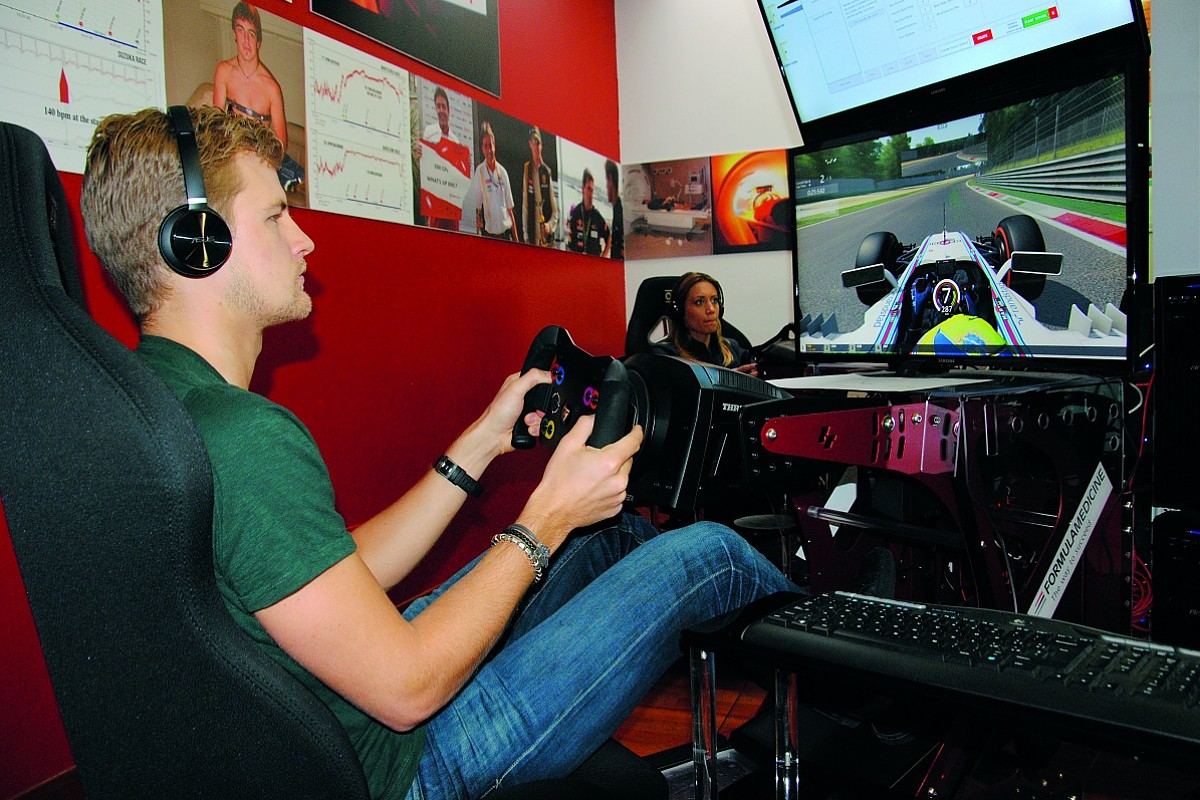 Ericsson sets a 1m27.560s quite early on, and I gradually improve, going from 1m31s to 1m30s, and then end up on a 1m28.753s, just over a second down.
Ultimately, getting into a rhythm proves crucial; Ericsson is quick straight out of the blocks. It means I finish the five challenges having got very close once, quite close a few times, and hopelessly off on others - inconsistent, and not as good. It's why only one of us is an F1 driver, although Ericsson is at least effusive, perhaps in kindness as much as anything.
"I think you did well - it's difficult here as there's so many different things," he says. "It's a challenge, which is good. If it would always be the same exercise you would train and become good at it, like you learn to cycle and then you know how to cycle.
I finish the five challenges having got very close once, quite close a few times, and hopelessly off on others
"There are always new things to try, and you can feel how quickly you can improve when you're practising and learning to understand it."
Racing drivers are not normal people - they are more economical in managing their performance, ensuring it can be sustained for a greater period of time. But the lessons learned from such exercises can still be applied to those in various industries.
"It's important for drivers," comments Isola. "But it's important for everybody. For managers, for example, if you have to use your brain for 12 or 14 hours a day at work and you use all your energy in four hours and are completely exhausted, it's not the right way to put effort in that - you learn obviously, it's a good indication."
The physical side of motorsport cannot be underestimated but, as Formula Medicine and Pirelli have shown, getting a grasp on the mind can have an immense impact.