Billy Monger won the Pau Grand Prix with bent steering after damaging his Euroformula Open car in an incident that had initially left him fearing his race was over.
Monger switched to wet tyres and the end of the formation lap against the advice of his Carlin engineer and climbed through the order to third before his crash occurred.
Moments later the leading Motopark cars collided and caused a safety car period that handed Monger a lead that he would turn into a historic victory.
"I made contact with the wall at Turn 3, and I genuinely thought that was my race over," Monger told Autosport.
"The front-right hit the barrier. It brushed the wall the whole way around, and then I had bent steering after that.
"When the safety car came out I was a bit worried. I thought 'oh no, we're in a bit of trouble here' because I wasn't able to perform at 100%."
Monger had a sizeable gap to the drivers on a similar strategy, including Carlin team-mate Nicolai Kjaergaard, but the safety car eradicated that margin.
"I was leaving a bit on the table because [less room for error], especially over Monument [the Turn 7/8 chicane]," said Monger.
"I wasn't taking the kerbs because I thought: 'if I've got a bit of damage, and I hit the front too hard'.
"Monument's known for breaking suspension when it's fine, let alone when you've had a knock already."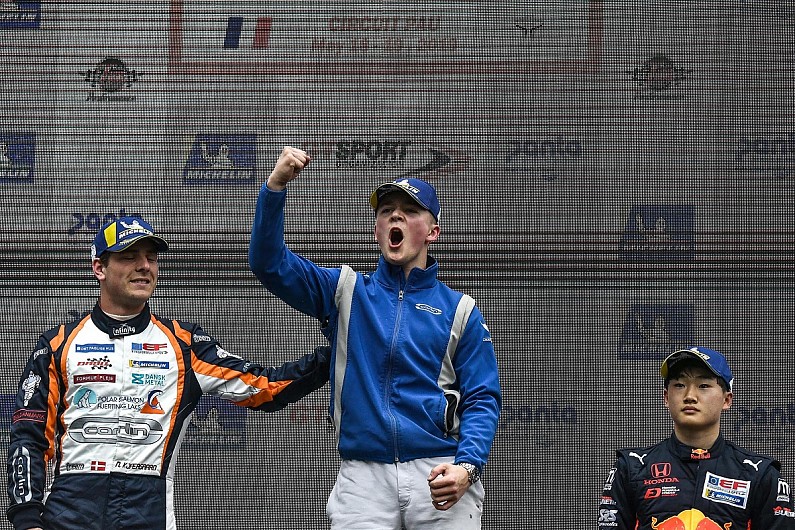 Monger overcame the steering damage to take his first single-seater triumph since having his lower legs amputated as a result of a British Formula 4 crash in 2017.
He finished 10th and 12th respectively in the season-opening races at Paul Ricard where he suffered technical issues, but also with his car controls.
He uses a raised pedal and brakes with his stump - not with a prosthetic limb - and the F3 car he uses this year requires more brake pressure than the British F3 car he drove in 2018.
Monger is now sixth in the championship after four races.