Kyle Busch has blasted "pathetic" backmarkers after the Las Vegas NASCAR Cup Series race, following an incident with Garrett Smithley which led to a 19th place finish.
Busch's race started badly when he hit the wall at the exit of Turn 2 early on, forcing an out of sync pitstop and causing him to plummet down the order and run two laps down.
He had capped an impressive recovery by forging his way into the top five in the closing stages, before hitting Smithley while trying to pass in the closing stages.
Busch is already guaranteed a playoff place so the crash does not affect his season significantly.
"[I] was told he was going to go high, thought he was going to go high, [then] he went middle [lane]," Busch told NBC of Smithley. "[I] thought he was going to go high. It killed our day.
"Should have run fourth probably, but instead [it was] 19th.
"We're at the top echelon of motorsports, and we [have] got guys who have never won late model races running out here on the race track.
"It's pathetic. They don't know where to go, so what else do you do."
Rick Ware Racing Ford driver Smithely finished 35th and 12 laps down.
He and MBM Motorsports Toyota driver Joey Gase - who finished 18 laps down in 38th - responded to Busch's comments via NASCAR's website.
Smithely said: "He's never been in the position we've been in, so he doesn't know how that goes. That's the way I see it."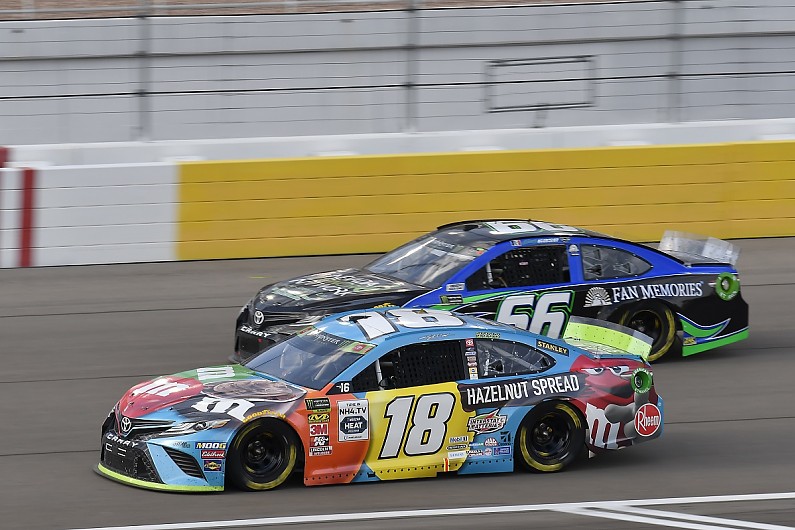 Gase added: "Any day he wants to switch cars, I'd be happy to." Busch replied to a tweet with Smithely and Gase's quotes, saying:
"Top-tier drivers get hired by top-tier teams. Try winning, a lot, and you have a better shot of getting hired."
Eventual race-winner Martin Truex Jr - Busch's Joe Gibbs team-mate - also raised the traffic issue after the race, following his fifth win of the season that reaffirms his grip at the top of the points standings.
"Constantly [in] traffic and they're all in different lanes," Truex told NBC. "You just kind of got to pick and choose, and hope you catch them at the right time.
"At the end of stage two, I caught the #22 [Joey Logano] and I was starting to put some pressure on him, but I kept catching lapped cars in the wrong spot.
"Next thing you know, I'm 20 car lengths back and there's five (laps) to go.
"Then he caught slow cars at the wrong spot and I was able to catch him and put a pass on him. You just hope it works in your favour.
"There's a handful of cars out there that are slow and are getting lapped every 10, 15 laps, and you just hope they're in the right lane when you get to them."