Jimmie Johnson blamed his first-ever failure to qualify for NASCAR's playoffs on '25 bad races' rather than the Indianapolis crash that ended his chance of being a Cup title contender.
The seven-time champion has not won a championship race since Dover in June 2017, and his hopes of making it into the playoffs via his points tally became increasingly remote amid a string of incidents in recent months.
He arrived at the Indianapolis cutoff round 18th in the championship and 18 points away from the 16th place required.
Johnson qualified fifth, his strategy allowed him to briefly lead the race and he was a top 10 contender throughout.
But on a restart on lap 105 of 160, he spun at Turn 2 while three-abreast with Hendrick team-mate William Byron and Chip Ganassi Racing's Kurt Busch - triggering an eight-car crash that ended his race.
"It's really disappointing," said Johnson. "Unfortunately, we had a bad 25 races that led to the position we were in here.
"We needed a stellar day and I think we were having a strong day.
"The #1 car [Kurt Busch] had a little trouble on the restart. I'm on the inside going into the corner, and it was just super tight so unfortunately, that happened.
"I couldn't go any lower. I'm below the white line and around we go."
Johnson is now determined to make sure he at least ends his winless streak this season.
He is adamant that his crew - now under the leadership of Cliff Daniels after Kevin Meendering's short stint as Chad Knaus's successor was ended - is making rapid progress in improving his car's pace.
"I'm just really proud of my team and where we are at and what's been going on," said Johnson. "The goal is to win a race. This team is getting stronger each and every week.
"Cliff Daniels is doing an amazing job leading this group. We are ready to roll, so we will dust ourselves off, go to [Las] Vegas and try to get a trophy.
"I'm sleeping easier. I can't wait to have the results start showing up.
"Months ago it was tough because we couldn't really get anything going our way. "Now we have the optimism of strong qualifying sessions, strong racecars and races. We just need to get to the finish line."
Early error costs Suarez
Stewart-Haas Racing's Daniel Suarez was the other driver on the cusp of the playoffs who was eliminated at the final hurdle.
He entered the race tied with Ryan Newman for the last spot in the field but hit the wall on lap 10 at Indianapolis.
SHR rapidly repaired the car for him to rejoin in 35th and recover to 11th, but Newman's eighth place finish denied Suarez a playoff place.
"I made a little mistake there," Suarez admitted. "I wasn't expecting how aero-loose the car got when I got behind [Byron].
"The car actually was pretty good after that, though. The guys were able to fix it. It was mostly cosmetic."
Making his final pitstop under green just before a caution period cost Suarez further. He received the free pass, preventing him from going a lap down, but Suarez could not make enough progress from the back of the lead lap cars.
"That made us lose all our track position, and it was very difficult to overcome that," Suarez said. "We fought hard. We made it all the way back to 11th and I feel like if we had 15 more laps, I was going to get [Newman] but that is racing. It just wasn't meant to be."
Asked about his emotions on not advancing to the playoffs, Suarez said: "A little disappointed. I feel like our team has been OK this year and we deserved to be in there.
"It is what it is. We have made some mistakes this year.
"We just weren't good enough this weekend. Qualifying was wide-open [full throttle] and we qualified 20th. We just didn't have the straightaway speed this weekend, for whatever reason.
"We have to keep working on it, and try to keep getting better."
Newman makes it but has "a lot of work to do"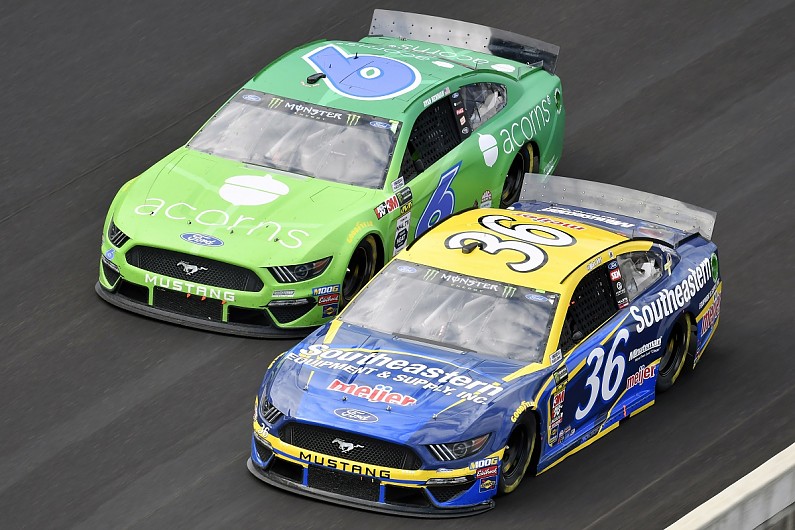 Though clever strategy calls helped Newman secure his playoff place in his first year at Roush Fenway Racing, he admits he and his team need to improve to stay in contention beyond the initial round.
"That was a struggle at a lot of times," said Newman, who only qualified 22nd. "At the end of the first stage, I had a lot of confidence and at the end of the second stage, I didn't have a whole lot of confidence.
"We just stuck our nose to the grindstone and [Suarez] got himself in a pickle there, and we were able to hold him off.
"That was part of the race. The other part of the race was we didn't have a fast enough racecar to be able to go up there and lead, and we need to be able to do that in the next three races."
He believes repeating results like his eighth place at Indy could be enough to get him through to round two, saying "if we can do that three times we will be in good shape", but admits RFR needs to become a frontrunner again to have a realistic title shot.
"I think we have a lot of work to do," he said. "We're by no means dominating or leading laps. "We qualified 22nd, finished eighth. We've shown that we can progress throughout the race.
"But we've got to start qualifying in the top 10 to be able to finish in the top five and then we'll prove that we're made of more than what we're showing."
Newman said the fact he was in his first year at Roush after parting with Richard Childress Racing was the main factor in his 2019 struggles.
"It's been a year of progress, a year of learning, a year of a lot of things," he added. "I'm more rookie this year than I've ever been."
Bowyer survives day of "high anxiety"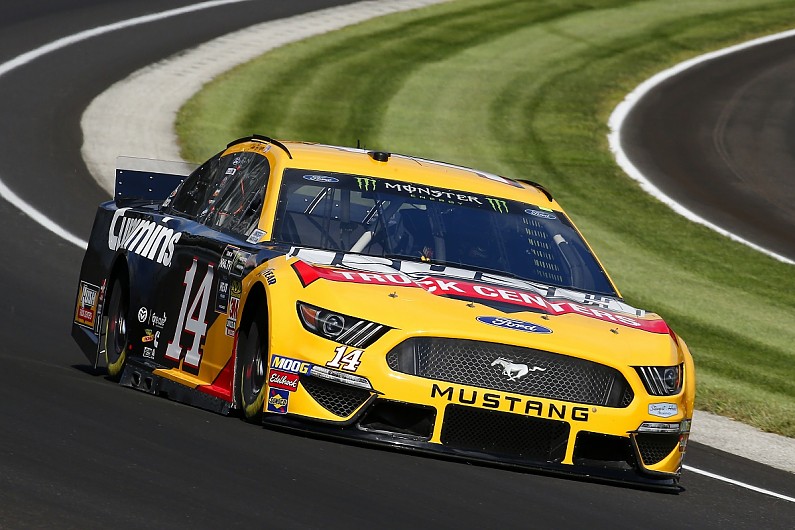 Clint Bowyer always looked the safest of the drivers around the playoff 'bubble' as he arrived at Indianapolis 15th in the standings and eight points ahead of Newman and Suarez.
He qualified third but said he never felt he could relax in the race, which included a major scare when Alex Bowman's spinning car came within inches of spearing into him.
"You knew it was going to be high anxiety and crazy like that. But you just don't know where it is going to be coming from," said Bowyer. "We qualified good, but I was walking away from my car saying: 'The worst is yet to happen.'"
Bowyer ended up finishing fifth and said he spent the race just trying to make sure his crew had team-mate Suarez and Newman covered as strategies varied amid the yellow flags.
He added that he never considered Johnson as a danger.
"I was keeping track," said Bowyer. "I really wasn't worried about the #48 [Johnson] all day long.
"It was going to take something catastrophic for him to be able to catch me.
"The other two we just had to manage. It was a deal where we just managed the day.
"You could see pretty damn early on that it was going to be a war of attrition, and it certainly was."