Martin Truex Jr says attending to "little details" has been the key to turning around his first NASCAR Cup Series season with Joe Gibbs Racing.
The 2017 champion joined JGR this winter when former team Furniture Row closed down.
Though Truex achieved early second places at Atlanta and Phoenix, he led just 14 laps across 2019's first eight races.
But he has won two of the last three events, and led 329 laps across that streak.
"We're getting there. I think it's just been little details we're doing better," Truex said.
"Pit road has been a big deal. We had some trouble earlier in the year. We were still able to get some second place finishes.
"Speed wise, we've been there all year long, we just haven't been able to show it because of some little things here and there.
"We've had some really strong racecars at a lot of racetracks. For a lot of reasons we haven't been able to show it, been having issues that set us back. It's been tough.
"The last couple of weeks I just feel it's been execution. We're doing all the little things right.
"The pit crew is doing an amazing job getting us track position, keeping it when we have it. Our cars are fast."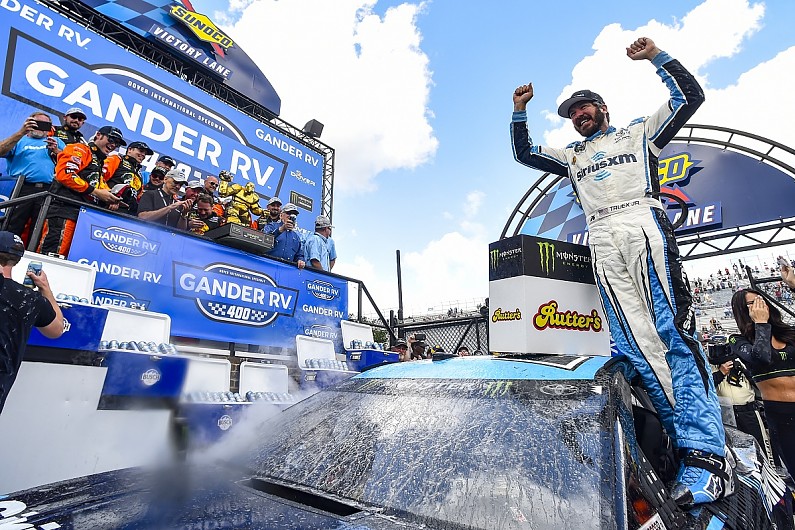 His latest win, in Monday's rain delayed race at Dover, came after Truex and crew chief Cole Pearn tried a new set-up on their Toyota.
"I think we'd kind of been stuck working around the same things for the last four or five years," said Pearn.
"We were fortunate enough to get a [Dover] win a few years ago. After that, we've always been third, fourth. Always been good, but just fought kind of the same terminal issues.
"We kind of had this one circled on the calendar to take a different approach, get off of what we've been doing. It worked awesomely."