So finally, after more than four years, NASCAR's most popular driver has won a points-paying event in Cup, a victory that was celebrated not only by his legion of fans but also by the sport as a whole. When Dale Jr wins, NASCAR wins. It's that simple.
"Seeing him run up front every week, seeing him win a race, seeing him running for the championship, that's going to just build the sport, the TV ratings, fans in the seats," said Earnhardt's team boss Rick Hendrick following his outfit's 203rd Cup victory, courtesy of Dale Jr.

It has taken a while, but it seems that in his fifth season with NASCAR's powerhouse team, Dale Earnhardt Jr is finally gaining momentum towards putting a championship challenge together rather than just being an also-ran in the play-off. His best season finish since joining Hendrick has been his seventh place from last year.
When 'Junior' announced in 2007 he was leaving the team founded by his late father to pursue a future with the reigning champion's organisation, he said he wanted to be back in position to contend for wins and the championship. Unfortunately though, the grass isn't always greener, as he has discovered for the past few years.
Earnhardt has been the first to admit, in his very humble manner, that he hasn't performed on a par with his team-mates. The chemistry that Chad Knaus and Jimmie Johnson translated into five Cup titles and 55 wins has not come as naturally for Earnhardt within the Hendrick organisation and three different crew chiefs have been paired with him since 2008.
After working with Tony Eury Jr, who had been with him at Dale Earnhardt Inc. already, Lance McGrew was drafted in halfway through 2009 to try and bring Junior up to a par with the other three teams. However their relationship didn't draw any better results and they missed the Chase for two consecutive years, with no victories over that period either.
The #88 and the #48 are now run out of the same shop © LAT
For Rick Hendrick, turning Earnhardt into a top contender has proved a major challenge, but he was ready to do everything in his power in order to make it happen. So for 2011, he placed the #88 team under the same roof of the #48 of Johnson and Knaus and named Jeff Gordon's former crew chief Steve Letarte as the man to lead a new chapter for Earnhardt.
"To come to our organisation and then to fail, I mean, I did not want that on my resume because he had faith in me," says Hendrick. "I was going to do everything in my power to give him what he needed to get the job done because I knew it was inside those walls.
"What we were missing was a coach and a quarterback. We finally got the best coach and quarterback with him, then things started to happen."
Being Earnhardt's crew chief is not a job for someone of a nervous disposition, with all the massive added pressure that comes with the name.

Eury Jr knew that all too well but McGrew probably didn't. Letarte, having worked for a superstar like Jeff Gordon before, had a good idea of what he was being handed; yes, a huge career challenge but also a great opportunity to prove his worth as one of the top crew chiefs in Cup.
"I think the most important thing we did, when Mr Hendrick made the changes to the race team, we started with a blank sheet of paper," says Letarte. "We didn't take any preconceived notions of what Dale's strengths or weaknesses were. I personally didn't listen to anybody else's opinions on Dale.
"I learned a lot from Mr Hendrick on how to deal with people and with relationships, and the most important thing is to create your own relationship firsthand. Dale and I did that."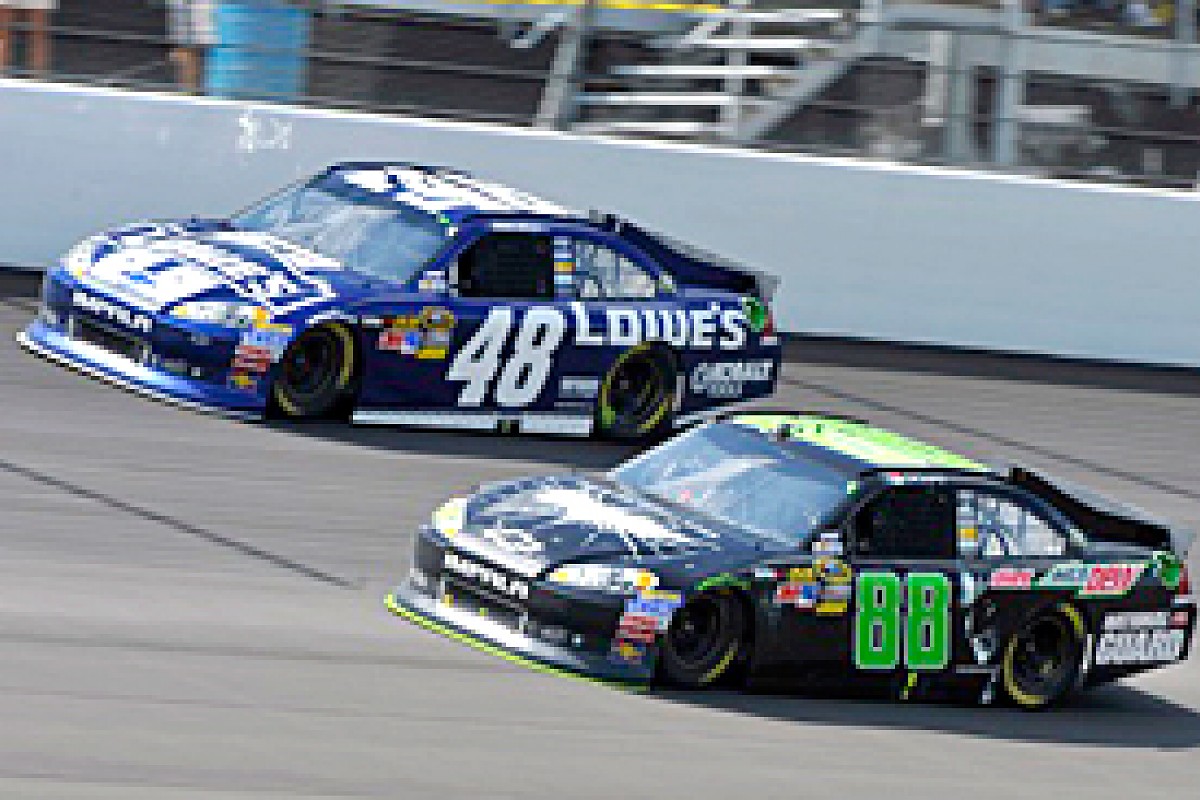 Steve Letarte has been central to Earnhardt's rejuvenation © LAT
Letarte has clearly been key in Earnhardt's upswing since last year, when he was able to get back in the Chase, despite not being in the thick of the title battle. It was, however, a big step forward from 2010 where he finished 21st in points. But more crucially as their mutual trust has evolved, they have been gaining more and more momentum (a key factor in making Chase contention), and have become the most consistent team so far in 2012.
Earnhardt has been the only driver to complete all 4,648 laps run this year and has finished among the top ten in 12 out of 15 races. His impressive numbers have now become a bit more compelling following his Michigan win, which didn't come by chance or a strategy gamble - like his previous one four years ago. Instead it was an emphatic victory.
"We have got faster throughout the year," says Earnhardt. "We started off pretty quick and we have gotten quicker, and quicker, especially these last couple weeks. So that's been a thrill for me.
"I don't know really where we stand in the competition level, where we are, as far as being a threat to win the title. But we just wanted to just kind of keep our noses to the grindstone to try to win a race. We'll just try to keep doing that and win the next race and see what happens."
As he continues to score solid points every week, Earnhardt has been edging closer to the lead in the Cup standings, where he currently ranks second just four points behind Matt Kenseth.
More than seven years have passed since the last time he was first in the points, in October of 2004, his best year in Cup to date when he also won six races en route to fifth overall. The stats don't show he actually only held that lead for a few days, as he was docked 25 points for saying "shit" on his post-race live TV interview at Talladega, following his fifth win of the year.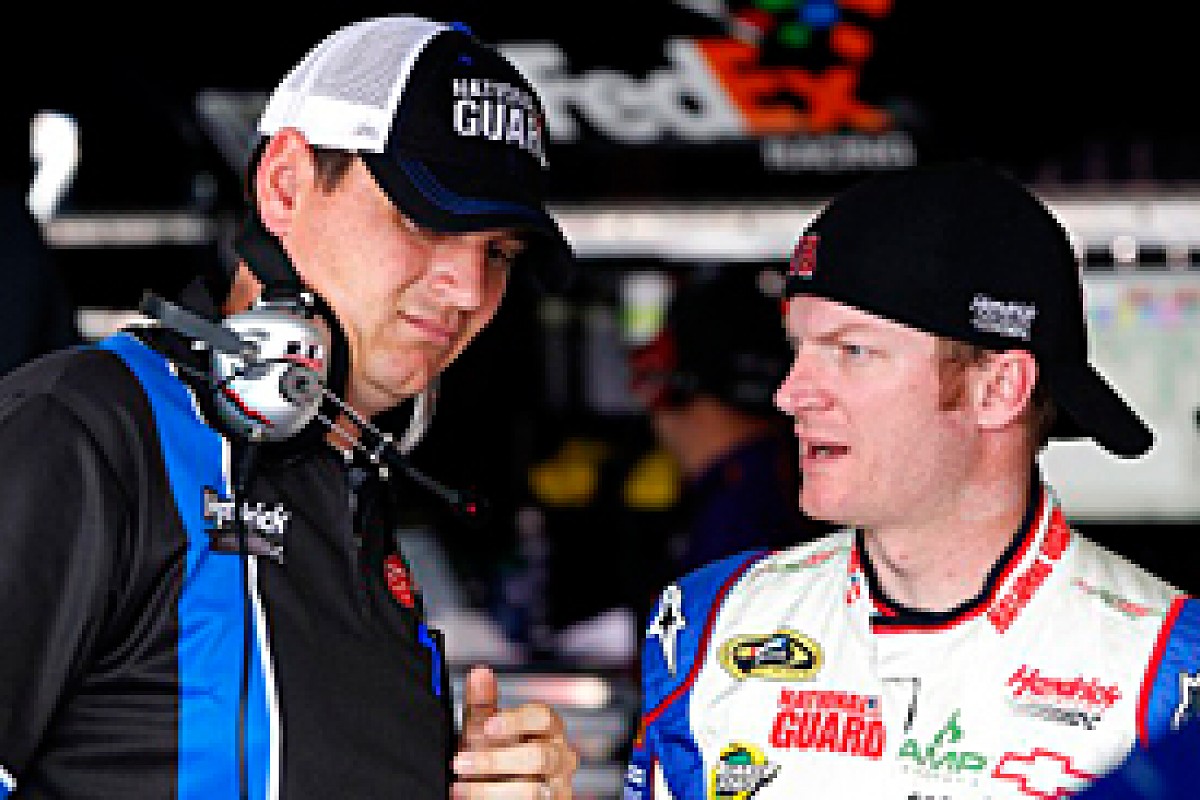 Earnhardt's focusing on one race at a time © LAT
Earnhardt is a happy man these days and that will only help him continue to build the confidence that he seemed to have lost when things didn't turn out as expected in his first few years at Hendrick.
"When he gets that little stride, that little smile, that kind of notch in his step, he's starting having fun with it, and he starts playing with the guys on the radio when he's leading the race, that kind of reminds me of his dad. I love to see that," says Hendrick.
"I think he's happy in his life with his girlfriend. I mean, I think life is good. I think he should be walking around with a 'life is good' hat on right now. He's the happiest I've ever seen him."
Next up in the Cup schedule is Sears Point, not exactly Earnhardt's best track. In 12 outings at the 1.99-mile road course, he has never finished among the top ten and last year he retired with an engine failure. Back in 2004 he suffered minor burns there when he was involved in a fiery accident after crashing his Corvette against the barriers during a one-off American Le Mans outing. Since then, an 11th place finish has been his best result at the track.
His performance this weekend could well be yet another indicator of how much of a breakthrough he is going to have this season. If he really is up for a serious championship challenge later this year during the Chase, he will need to perform at tracks that statistically haven't been his best, the same situation he faces on Sunday at Sears Point.
Earnhardt's focus, for now, remains on the next race.
"I feel like we want to win some more races before the Chase starts, obviously, and you know, we'll think about where we are points-wise when that all happens after Richmond," says Earnhardt.
"But I don't want to get too far ahead of myself. We have to go to Sonoma and figure out how to get around there and how to get my first top-ten at that place. We have a lot to accomplish this year."
Last Tuesday at Hendrick Motorsports' headquarters, Earnhardt was able to finally ring a Victory Bell as a symbolic celebration of his Michigan win, which Junior and Letarte got to share with the organisation's employees.
They rang it hard and loud, so that the buzzing reverberated beyond the team's shop in Concord, North Carolina.