For the first time since he began his record-breaking championship streak in 2006, Jimmie Johnson heads into a NASCAR decider this weekend trailing in the Sprint Cup points.
The Hendrick legend still has a great shot at a fifth title, but it's Denny Hamlin who leads the standings by 15 points and the pressure is on Johnson to respond.
There is a third contender to spice things up too, with Kevin Harvick still very much in contention in what should be NASCAR's finest championship showdown in years at Homestead on Sunday afternoon.
Denny Hamlin
Current points position: 1st, 6462 points
Car: Joe Gibbs Racing Toyota
Career wins: 16
2010 wins: 8 (Martinsville, Texas, Darlington, Pocono, Michigan, Richmond, Martinsville, Texas)
Previous championship best: 3rd, 2006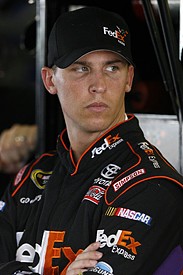 Denny Hamlin © LAT
Last year Denny Hamlin ended the season on a high by winning at Homestead and while celebrating in Victory Lane, he said he would deliver a Sprint Cup title within the next two years. Fast-forward 35 points races later and the Virginia native is in position to fulfill his promise as he enters this year's season finale 15 points ahead of reigning champion Jimmie Johnson, the first time since 2006 that the Hendrick Motorsports driver is not the one in control before everything is set and done.
Even before things got started at Daytona in February, Hamlin's season looked a bit compromised as he injured his left knee while playing basketball. Surgery was necessary and it took place right after he won for the first time this year on a Monday at Martinsville. Two weeks later he came back and showed his true grit by overcoming the pain and driving the whole distance at Phoenix, probably his toughest race of the year so far. A second win came a fortnight later at Texas followed by another six, showing Johnson the way at tracks which used to be the Californian's backyard.
Hamlin is one of the sport's greatest new talents and at 30 he is the 'senior' driver at Joe Gibbs Racing, which he shares with the ultra-fast Kyle Busch and the promising Joey Logano. Having won at almost every kind of track this year, the Toyota racer should have the speed to defend his lead in the season finale, although if it all comes down to fuel mileage, he'll probably find himself handcuffed. History seems to be with him as only twice since the current points system was implemented back in 1975, has a driver has been able to overcome a deficit in the final race to win the title. Doing so against the reigning champion looks set to be no easy task though.
The pressure is on Hamlin now more than ever in his career and he is clearly feeling it. But even if glory doesn't come his way on Sunday, the Virginia native is a champion in the making.
Jimmie Johnson
Current points position: 2nd, 6447 points
Car: Hendrick Motorsports Chevrolet
Career wins: 53
2010 wins: 6 (Fontana, Las Vegas, Bristol, Sears Point, Loudon, Dover)
Championship titles: 4 (2006-09)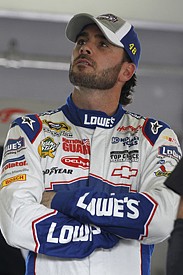 Jimme Johnson © LAT
The reigning Sprint Cup champion finds himself in unfamiliar territory this year heading into Homestead. For the first time since 2006, when he claimed his maiden title, he doesn't have to play defence but instead he has to attack and look for a victory at the Miami track, the only one among those currently in the Chase where he has yet to win. The fact that he hasn't won at Homestead before doesn't mean the mile-and-a-half, progressive-banked oval doesn't suit him, but simply that he usually races the season finale counting his beans and not necessarily looking at closing the year out in style.
Although this season Johnson has not looked as dominant as Hamlin at times and he has six wins to his main rival's eight, looking deeper into the stats, the Californian has more bonus points, has led more races, more laps and more miles than any of the other two title contenders. That's classic Johnson.
However there have been a few patchy performances in between, like his troubled Chase start at Loudon, and also issues with his pit crew that were dealt with in the heat of the moment during the Texas race two weeks ago. Jeff Gordon's crew was called in to service Johnson's car in the middle of that event and then kept for the remainder of the season after delivering some of the best stops of the year for the #48 car last week at Phoenix.
Before winning his first title, Johnson had to lose some. He has seen both sides of the coin and he understandably looks the most comfortable heading into the title decider. He has praised his team many times in the past for its ability at dealing with adversity and as Johnson and Hendrick try to overcome a 15-point deficit in the final race, it's safe to say that they can definitely get it done once again.
Kevin Harvick
Current points position: 3rd, 6416 points
Car: Richard Childress Racing Chevrolet
Career wins: 14
2010 wins: 3 (Talladega, Daytona, Michigan)
Previous championship best: 4th, 2006 and '08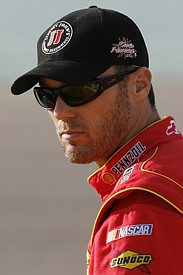 Kevin Harvick © LAT
Back in 2001 Kevin Harvick had to fill some big shoes. He was a 25-year-old when he was drafted in to drive full-time in the Cup Series by Richard Childress following the tragic death of Dale Earnhardt. The iconic #3 was replaced with the #29 on the RCR Chevy and the group that surrounded one of NASCAR's greatest was placed at his disposal.
It took just three weeks for him to win for the first time and his performance under such circumstances showed what he was made of. He finished ninth in the Cup points while claiming the Nationwide Series title.
Following an awful 2009 for RCR, this year Harvick has enjoyed an amazing season by anyone's standards and although his rivals more than double his victory tally during the year, he has undoubtedly remained the most consistent of the three title challengers. He led the standings during 20 of the first 26 weeks of the season based on solid performances, coupled with his impressive displays on the restrictor-plate tracks, where he won twice this year besides a victory in the pre-season Budweiser Shootout at Daytona.
Harvick has never won at Homestead, but his stats show that he is probably the best at the track among the title contenders, showing the highest average finish of the three including second and third place finishes in his last two outings. He will probably need more than his usual solid performance next Sunday, but he's really got nothing to lose and can go for it all out. Having said that, he's always there at the end as his record shows this year and if his rivals hit any kind of drama, expect him to profit from it.