Valentino Rossi.
That got your attention.
If you never had the pleasure of seeing the greatest motorcycle racer ever, then you'd better book a ticket to a MotoGP race some time soon. Rossi really is something else. Hey, MotoGP has even put on another race in Italy just to prove how bonkers it is over there!
There really is an aura around him that seems to connect with people, and that is why he is so massive on a galactic scale, reaching beyond the boundaries of the motorsport arena. The petrol-heads who have seen him and are in the know, are acutely aware that he won the 2004 and 2005 titles on a bike that was probably not the best one out there. That was certainly the case for 2004, anyway.
Celebrations. Well, the bloke re-invented them. Nothing gets close to the landmark ones of the police stopping him for speeding just as he crossed the line at Mugello; or the stop into a toilet halfway around the cooling down lap; or picking up his friend, dressed as a chicken and riding pillion; or the Snow White and the Seven Dwarfs when he wrapped up title number seven. Just what they were smoking when they thought that one up, I'll never know.
The thing that's even better about all this, is that the MotoGP powers let him get on with it. Not because he is bigger than the sport, but because it doesn't really hurt anybody.
After the chicken incident at Catalunya in 1998, Rossi was hauled into Race Control and given a strong word about collecting other people on the back of his bike on the cooling down lap... only for the race directors to add that because it was a chicken he collected, they were going to let him off as there was no rule in the book about chickens. The room then roared with laughter, Rossi being the last one to get the joke...
Rossi has been doing Grand Prix for eleven years and has won world championships seven times. Amazing facts. He only lost during his rookie years in 125, 250 (just lost) and 500. But the telling point for the 2007 season is that last year he lost out with a culmination of bad luck that seemed to unravel itself all in one go throughout the 2006 season.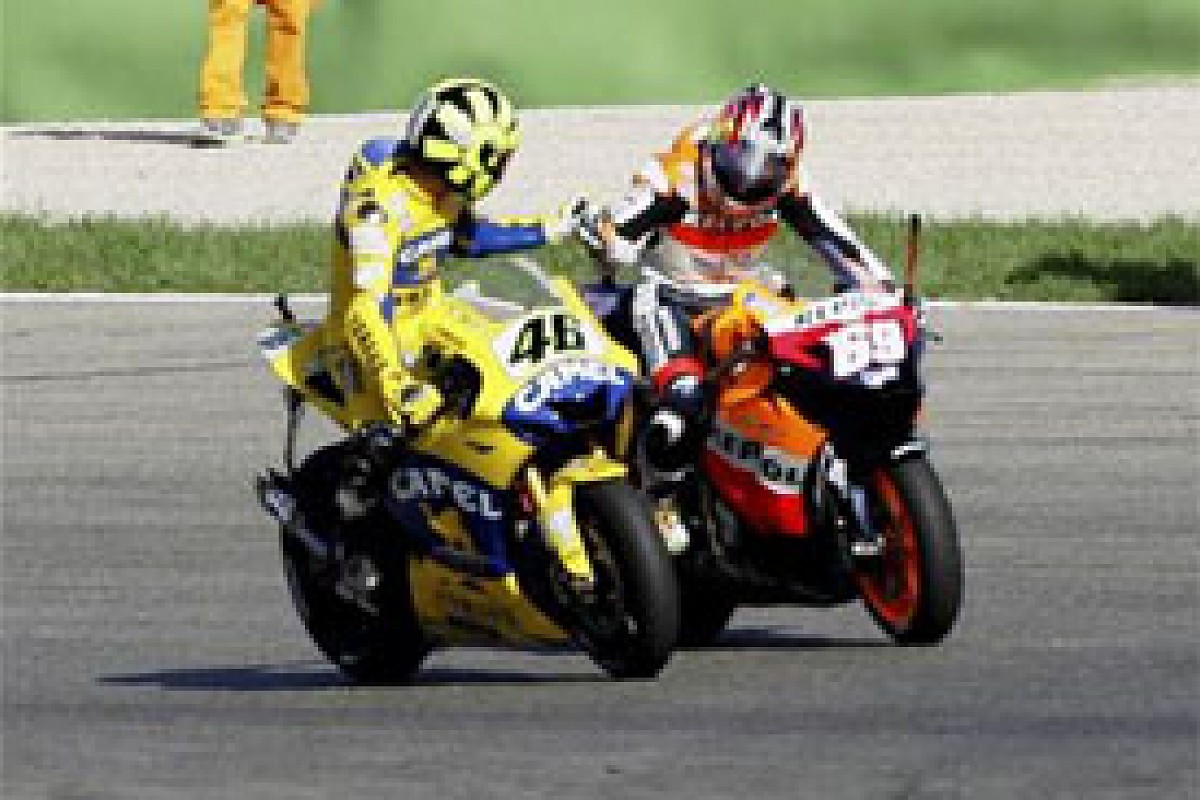 Valentino Rossi (Camel Yamaha) congratulates Nicky Hayden (Repsol Honda) on winning the MotoGP Championship at Valencia © Reuters
Not taking anything away from 2006 title winner Nicky Hayden, but a chunked tyre, two engine blow-ups and then an off-pace M1 come the showdown at Valencia meant Rossi was beaten to the crown.
YAMAHA
So where does this leave Rossi, coming into this season? Well, the Yamaha team have been busy testing, but confident enough not to go to Phillip Island earlier this month. "We know we are strong there, and besides, the weather is warm for testing but freezing for the race. What is there to learn?" Says chief mechanic Jeremy Burgess. One can't argue with him, given that Rossi won at Phillip Island by over 15 seconds in 2003.
The last test before this week's 'Grand Prix Zero' get-together in Jerez was in Qatar, where the Yamahas looked very strong on race pace. Colin Edwards was bold enough to say that, "at the present moment, if Valentino and I don't finish one-two in the championship there's a problem."
Strong words, but if Edwards has got any chance to put those 'Superbike-riders-can't-win-GPs' demons to rest, especially after 2006 World Superbike champion Troy Bayliss rocked up and whooped everyone at Valencia last year, then the Texan has got to do it now. Boy, there'll be a party that night, that's for sure!
Coming back to Valentino, it's an easy thing to write but he's fired up like never before to get the crown back to Tavullia. Yamaha realise this, too, gelled together by Burgess' Ozzie never say die, no bullshit approach. He soon quells the wandering brains of young Japanese engineers' minds that may experiment with risky or unnecessary widgets.
I've always said that whatever they pay Burgess, it isn't enough, after having guided eleven (eleven!) world titles his way over the years. Granted, he had Wayne Gardner, Mick Doohan and then Rossi out there on the bike, but there is a common denominator of a wise head in among tinkering engineers and designers.
That now Honda - the team he left in a huff after the 2003 season - took the title back from him in 2006, means he'll be chomping at the bit to get some wins on the board early on. There really is nothing like getting a championship season going right at the start. It's where many titles are won in all walks of sport.
Having said that, Hayden's championship charge last year was steady, and in the end he scored more points than the next guy. The naysayers out there said he didn't deserve the title, but there was hardly a single person in that Valencian paddock who did not begrudge the American's win. Bar a couple of Yamaha people, that is...
REPSOL HONDA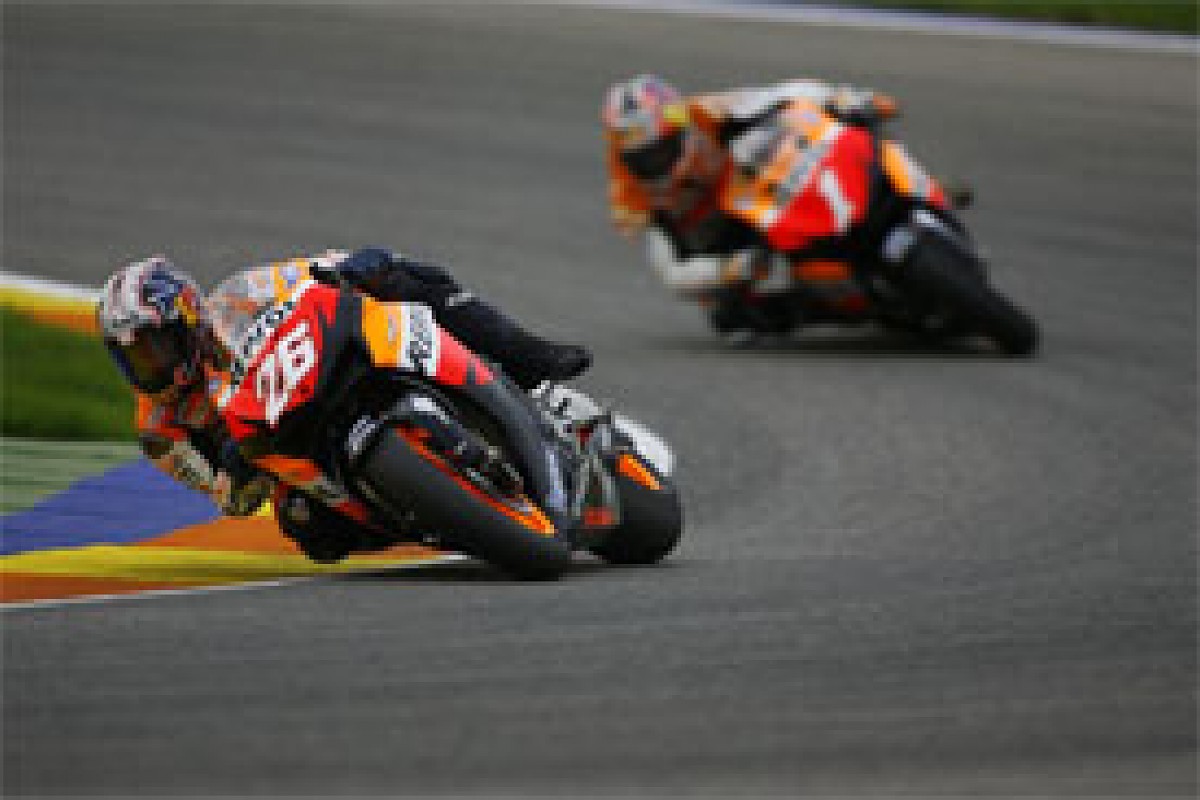 Dani Pedrosa and Nicky Hayden (HRC Honda RC212V) © Honda Pro Images
Hayden may have looked steady and consistent at Repsol Honda throughout 2006, but he pulled out some magnificent rides when he needed to. At Laguna Seca, he may have had the home advantage, but he was deep on the second row for that race - a race he then went on to win. And won it well! A knockout blow in his year.
A 51-point lead that night in America then fizzled away to an 8-point disadvantage, after his own teammate, Dani Pedrosa, kindly knocked him off in Portugal. It was the depths of despair for the works HRC team that day; they had just handed the title to Rossi... But if they got together and fought as a united front, they could do it. They could beat him.
After the 07/08 negotiations for his contract nearly saw him go to Ducati or even Yamaha, you have to believe that when Honda Motor Co president and CEO Takeo Fukui arrived at Motegi to hear that his men had still not done the deal with 'the American leading the championship', he kicked them around. In less than 24 hours the deal was done, and for the terms that Hayden's management was asking for in the first place!
However, I believe that Hayden renewed not just for two seasons with HRC - the holy grail of a contract for a motorcycle racer - but that he signed for the remaining three races of 2006 in order to get support and clutch parts that actually worked.
The press office still felt that there were two sides to that Repsol Honda garage, something of course that was 'proven' after Estoril. Ironically, the barrage of criticism HRC got after Estoril forged them into a closer team for that final race and the title for Nicky.
The right man won the title come the flag. He had forgiven his teammate for the Estoril crash and the world was a happy place as he got back on to the plane to Kentucky.
The trouble is, once the new 800cc Honda V4 was ridden by Hayden at the end of the season, he complained that it was too small for him.
"For me, it's clear the fairing is too small," he said after the Phillip Island test. "On the straights I'm just out in the wind too much, and it doesn't take a rocket scientist to see we got some work to do in the wind tunnel to get things right for a bigger rider like myself."
Spanish journalists have grilled some HRC bigwigs about whether or not they made the Honda 800 V4 specifically for Pedrosa, but of course never really got straight answers. American journalists are more exacerbated over the 'built for Pedrosa' claims than many, but Honda are not stupid in the engineering department and could easily bring something out at the last minute for the 'bigger riders'. They never made a bike that didn't fit Mick Doohan or Valentino Rossi.
One has to feel for Nicky, though, as I really thought that he'd swung Honda his way by winning the title for them.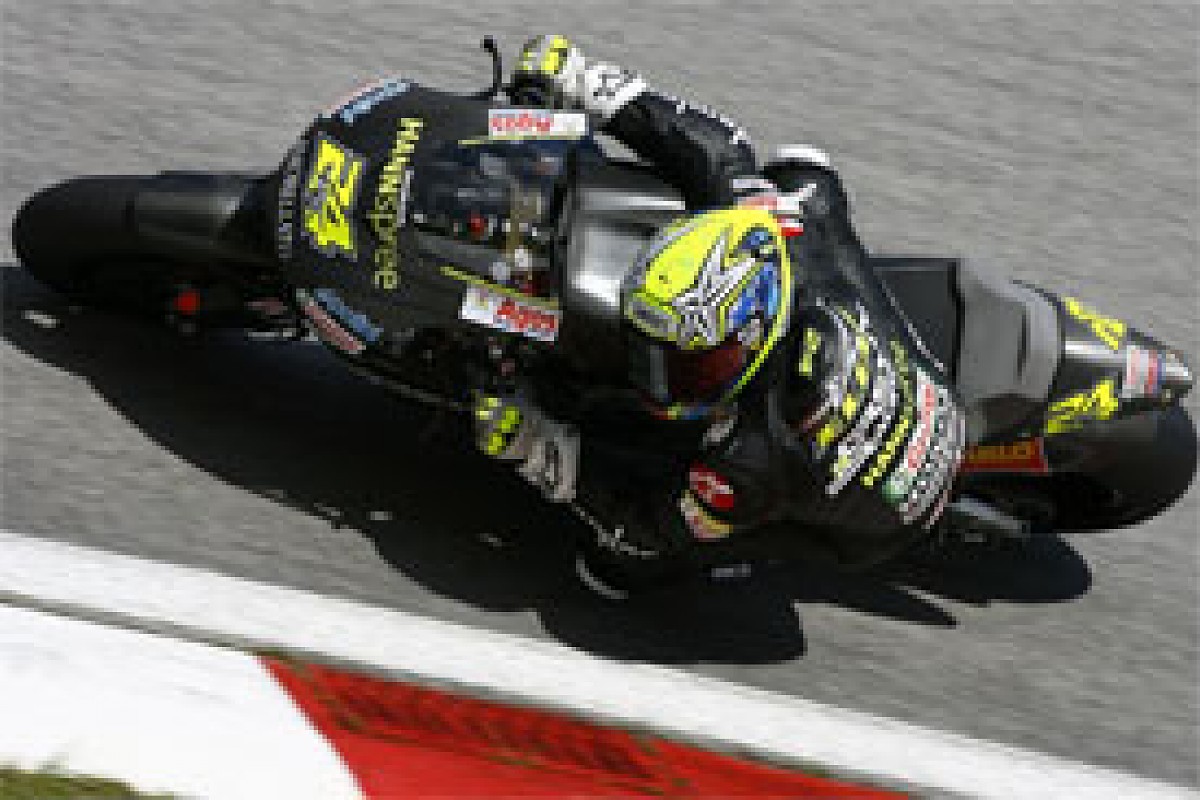 Toni Elias (Gresini Honda RC212V) © Honda Pro Images
Pedrosa, at the same time, goes into his second year on a big bike and must never be underestimated in any shape or form. Incredibly, he only won two races last year, but this year will see him jump up further. Not the most cheery of chappies off the bike, but my God does he block everything out once at the track.
It is an example of concentration I cannot recall seeing anywhere else. Only Doohan was close to being this focused once he got off the plane. The sheer fact that a guy weighing 49kg can muscle a 148kg bike around and win races is just staggering; that's what impresses me. His fitness and devotion to the sport is unnerving.
Rossi took a year to bed into the big class, and then pulverised them. Pedrosa should not be far off.
GRESINI HONDA
Now, Honda's Marco Melandri has got 'it'. He is a massively committed, talented and gutsy rider. He has not had an easy life, but the ever cool, calm and laid back character should never be underestimated.
You have to remind yourself that he won three races last year after finishing only second to Rossi in the 2005 title chase. The bloke's a hero. To even ride in Assen after his crash at Catalunya was probably ethically 'wrong' - and with hindsight it was with a fractured collarbone and concussion - but he got seventh place on race day!
He muttered things about Michelin last year, which was a little rich considering he won Turkey from 14th on the grid, and a rain interrupted Australia one handed out of the last corner, flicking the V for victory at the same time, but Bridgestone will be interesting underneath Hondas again.
In fact, quite how Honda didn't always have a hand on Bridgestone's progress by always having one of their bikes on the Japanese rubber still mystifies me. Instead, Makoto Tamada said he would beat the world on Michelins rather than Bridgestones. Last we ever saw of him...
Teammate Toni Elias just loves riding a motorcycle. If he only ever wins one MotoGP race, thank God he won Estoril last year; the most amazing race in a very long time... He does have bad luck and doesn't bounce very well, leaving him injured for a while, but if he can shake off bad starts, he can do it. He's just 23 years old and has many a year ahead of him. Oh, and he's got the cheesiest, most toothy grin you've ever seen...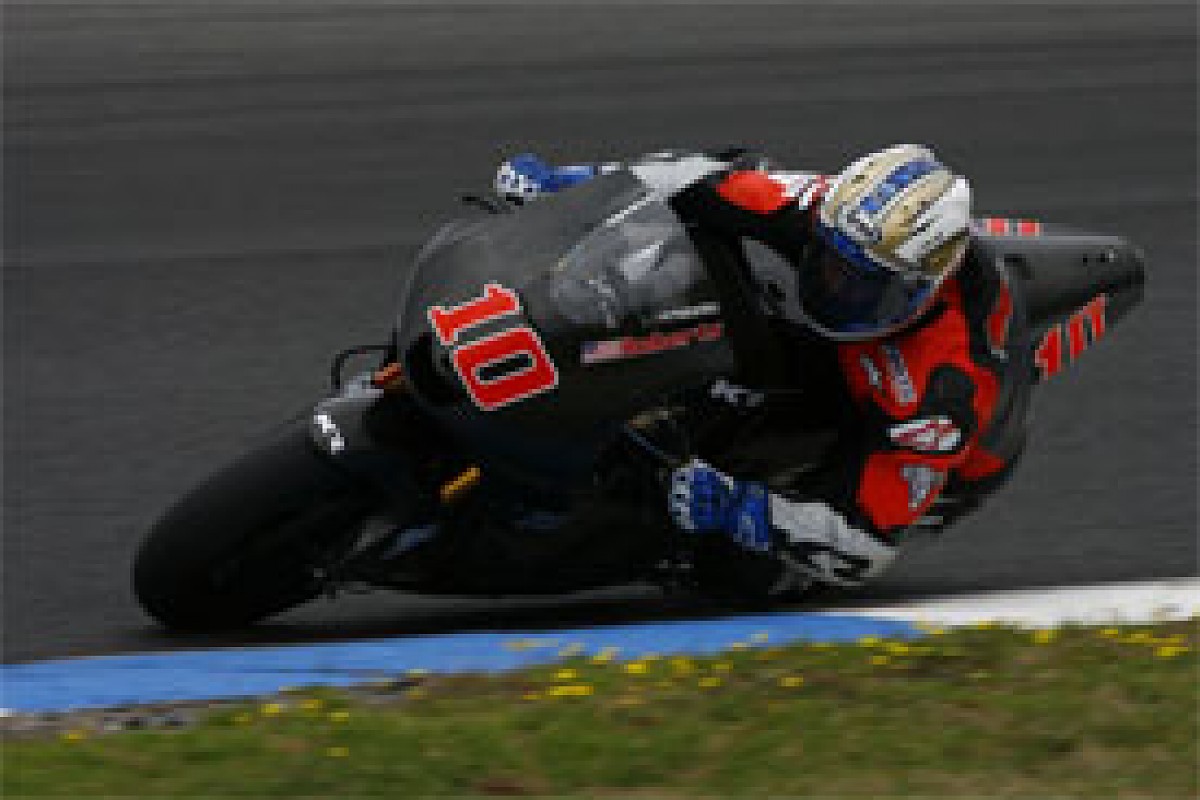 Kenny Roberts Jr (Team Roberts KR212V) © Honda Pro Images
TEAM KR
Oh for one less lap in Estoril last year...! Kenny Roberts Junior miscounted his laps and wondered where the flag was. He had to do another lap and rocked up third. However, it proved that the pace coming from a bike that's made in a small factory in Banbury, Oxfordshire, with a magical Honda V5 engine, was spot on.
When Kenny's got the glint in his eye he'll ride as hard as he did when he won the title in 2000. Crew Chief Tom Jojic says he had that look in his eye after testing at Phillip Island, so they'll be there.
The glory of building their own chassis is they have no log jams with the Japanese factories; the bug bear of Kenny Sr and the reason he set up on his own in 1997. Reaction to the riders' request can be very fast indeed, and this is their key. If only we can see KR Sr and Jr atop of the podium just one more time, I'll be a happy man.
Kenny Sr has bleeted that hasn't got enough money to start the season, but we'll see if this is true, as it is something he has used a few times in the past to lever MotoGP commercial rights holder Dorna or sponsors into reaction.
KONICA HONDA
Shinya Nakano gets on to a Honda and now has no excuse of the past seasons when he was on a Kawasaki.
The immaculately presented team he is now a part of had Tamada last year, but the latter only got into double figure points twice, meaning they ended up as the last Honda team. However, Nakano has enough fight in him to turn that around and show that he still has the speed and grit that so nearly won him the 250 title in 2000.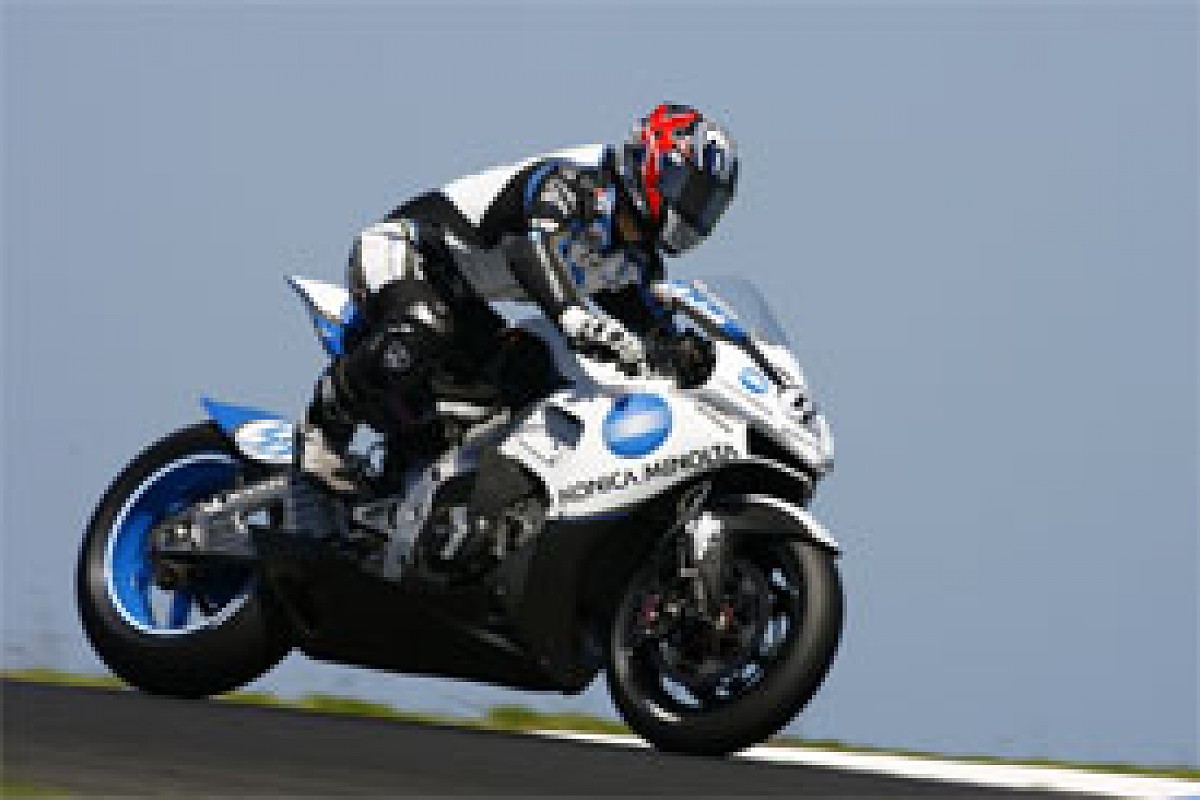 Shinya Nakano (JIR Honda RC212V) © Honda Pro Images
DUCATI
Keke Rosberg used to say, 'If my aunt had balls, she'd be my uncle', but if Ducati's Loris Capirossi had not been caught up in the Catlaunya mess he would have given Hayden a good run last year. He has to keep that form up and battle for another year. This year, though, it's quite funny that on the back of his leathers he's changed 'Capirex' to 'T-Rex', now that he sees himself as the 'old' one out there, at nearly 34.
Teammate Casey Stoner is 21 years old and bursting with speed. He's got the same characteristics as a young Doohan or even Colin McRae in the forests, so it's going to be easier to slow him down a little than speed him up.
Recently married and happy with himself, this could be the time that Stoner changes from a brat 250 rider to a proper MotoGP race winner. The problem is that Loris won't like that, so he'll go even faster. I can actually see this intra-team battle being better than the Hayden/Pedrosa one.
Ducati have been doing the most miles on their GP7 with Capirossi, Sete Gibernau, Alex Hofmann, Shinichi Itoh, Stoner, Vittoriano Guareschi and now Alex Barros all having a go on it. Their pace on race tyres seems good, but do they have the qualifying pace? The D'Antin Ducatis have been going well, but they've been having a balls out thrash for lap times whereas Marlboro Ducati have been concentrating on race simulations.
The reduction of another litre from the fuel tank has been worrying some in Bologna, but winter miles seem to have put paid to that. The whole smoothing out of the corners with 800s has meant that throttle usage is up at Sepang, for example, by about 10%. The grunt factor of a 990, standing it up and using the power to get out, is now long gone on corner exits.
Tyres will again be Ducati's key...and their downfall. For the first time, Bridgestone supplies the majority of the field, with ten bikes to Michelin's nine. Dunlop still supplies Tech 3 Yamaha, but it is hamstrung through only having one team.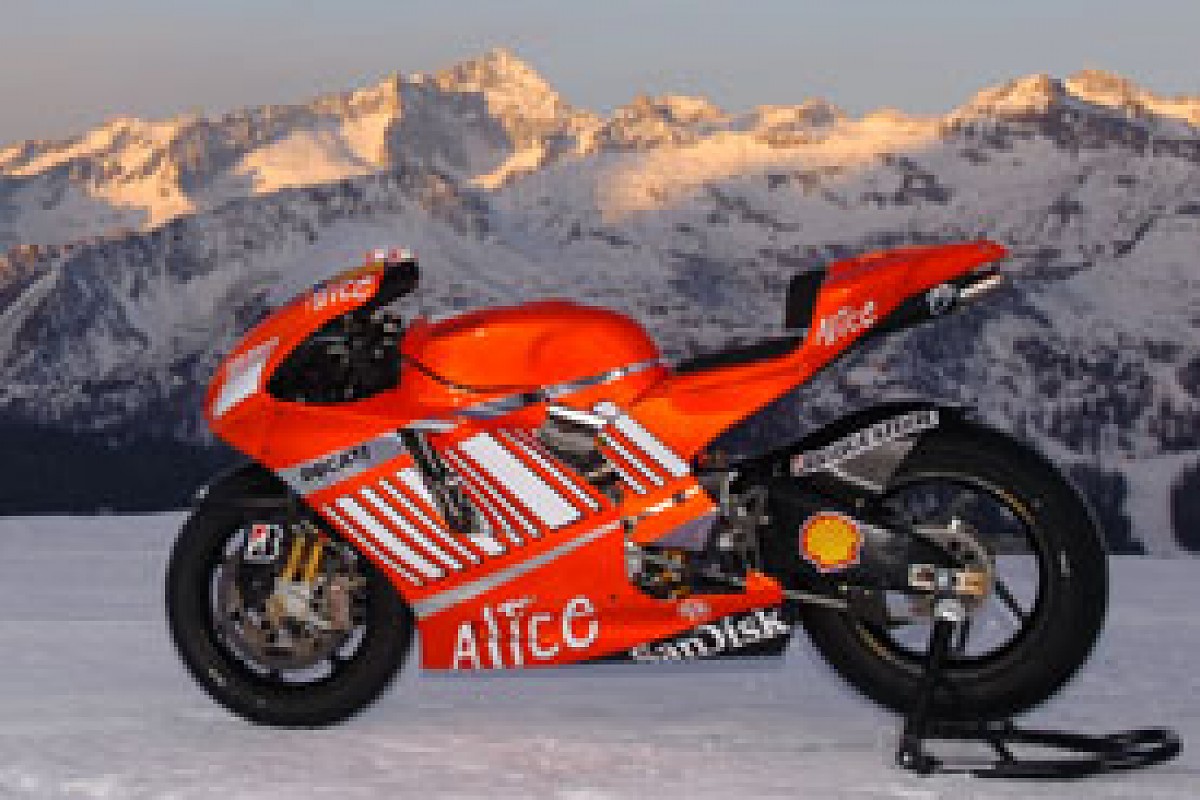 Ducati Desmosedici GP7 © Ducati Corse
Bridgestone's hierachy has changed, with two figureheads from the company's Formula One effort now involved in MotoGP; Hiroshi Yasakawa and Hirohide Hamashima taking a hands-on role to further battle against Michelin's dominance in MotoGP. Both now head up Bridgestone's F1, GP2 and MotoGP programme. Hiroshi Yamada continues to be in charge of two-wheeled sport for the tyre company.
With Michelin now no longer involved in F1, it will be interesting to see how the French company attacks the new tyre rules that state only 14 fronts and 17 rear tyres can be used by each rider over a weekend.
The crux is that those tyres have to be presented and marked by Thursday night, rather than tyres being made overnight and shipped to the circuit on Saturday and Sunday mornings as per data accrued during Friday and Saturday. Michelin had this process perfectly honed, but ultimately it was a victim of its own success, after Bridgestone felt it didn't have a 'geographical advantage' to a European-based championship.
Bridgestone now have F1, GP2, IRL, Champ Car and the majority of MotoGP, whereas Michelin is the MotoGP king, as good as sole supplier in WRC with BFGoodrich, plus a big push on the Le Mans 24 Hours work. It will be interesting to see how this balances out, but the upper hand has to be with the French.
KAWASAKI
Talking of French, double French rider team Kawasaki have had a busy winter, but the hierarchy have been falling out with German team owner Harald Eckl because the Japanese manufacturer said that he had a hand in the Ilmor project. Eckl said the Ilmor project was started as an 800 bike for the green team with their understanding. Metal was cast and engines were run until the Japanese changed their minds. There the fallout began.
Lawyers and letters flew, but in the end Eckl was left out. That meant the Japanese had to find their own infrastructure in Europe, so most of the winter was spent setting up a new workshop in Holland with every spanner, truck and office chair bought from scratch. And Eckl was left with some trucks and an empty workshop.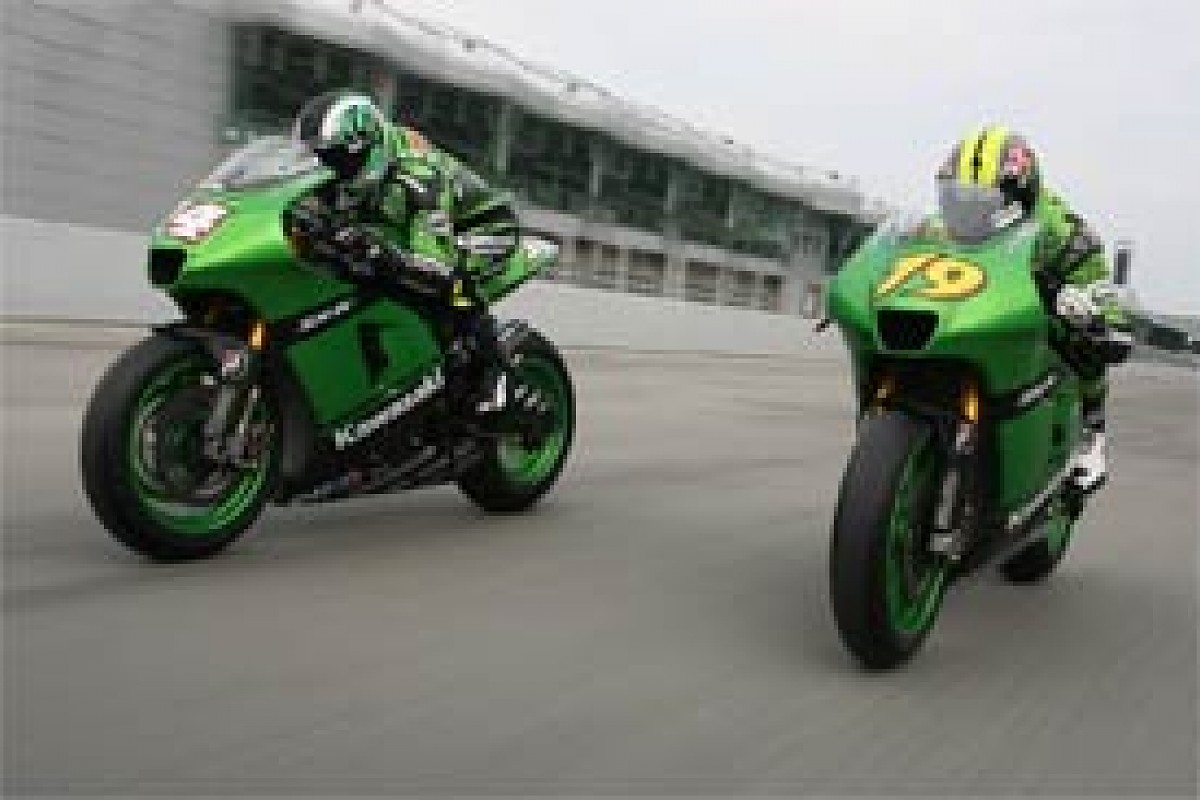 Randy de Puniet and Olivier Jacque (Kawasaki Ninja ZX-RR) © Kawasaki
Kawasaki driver Randy de Puniet is quick while Olivier Jacque may be quick on some days. The latter's experience will shine through, but most of all he is the right man for when it is raining. If only he could win just one in the big class!
RIZLA SUZUKI
Suzuki have had the best winter in years, and then the worst week possible. John Hopkins was flying in testing but got spat off a bike with a tyre he didn't really like the feel of in Qatar. A broken toe means it remains to be seen if he gets to the first race in good health, but the bike is fundamentally right.
The baby blue machine's low point was Qatar last year, but a public 'shoeing' of the thing on international TV was actually the best bit of tuning in recent years, as they never had a breakdown again at a race meeting.
Running on air valves gave it some poke down the long straights last year, something that has been reflected in testing at Sepang and Qatar, but unfortunately Phillip Island left them nowhere. Chris Vermeulen is totally unflappable - already a SuperSport champion, so nearly a World SuperBike Champion, he is a MotoGP champion in the making.
ILMOR
Ilmor have had a bit of an unfair pasting in the press of late. Quantitatively, the lap times have yet to come, but progress is being made after the Qatar test. The problems they are running into are not exclusive to the motorcycle world - power delivery, the 'connection' and feel between the rider's throttle hand, and the engine's response and front-end chatter.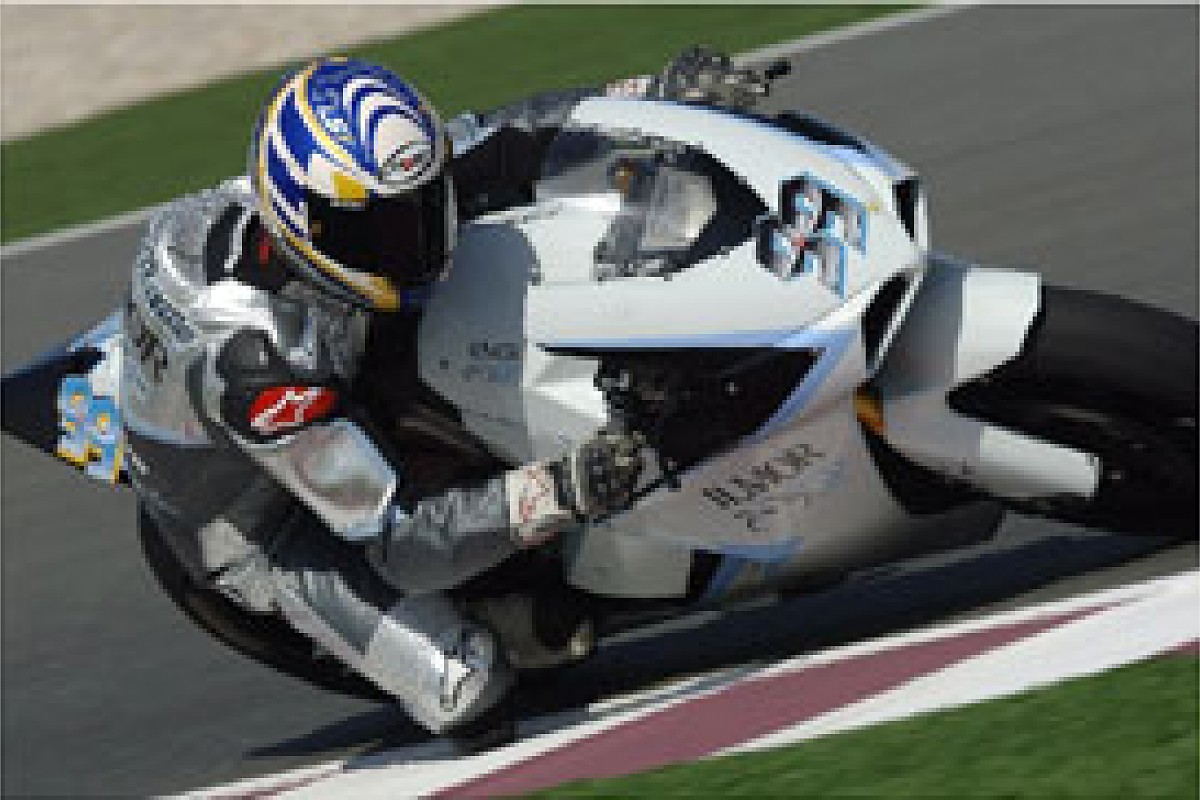 Jeremy McWilliams (Ilmor X3) © Ilmor
"We're waking up fast to these unicycles," said Imor's Steve Miller. "It seems to be that for only 10% of the lap it has both wheels on the ground!"
The Ilmor team do not lose. They never have, but starting a season with two race weekends from last year and 22 days of testing to date, it leaves them by definition on the back foot.
It is of course the last chance for the 'car people' to break into the bike world. Only former F1 designer Alan Jenkins has kept his light under a bushell as to the success he has achieved with Ducati's MotoGP, Desmosedici RR (990cc MotoGP Road going bike), SuperBike and 1098 road bike project.
Jeremy McWilliams is struggling to recover from the hefty whack he took when he fell off the Ilmor in Jerez last year. What with a Spanish doctor appearing not to have put the screws or bolts in the right position on his broken leg, the process of healing has been somewhat long winded. Just getting his leg over the bike in Qatar last week was good for his head, even though he was far from full fitness. He will be much stronger this weekend.
So! Grand Prix Zero, as I call it, is this weekend, with the 40 minutes of 'qualifying' on Sunday to start the ball rolling for the season-long BMW M Award. Someone will win a Z4 M Coupe. That is the best teaser that any championship can do. Everyone in the right colours and ready to fight.
And just two weeks later, the flag drops at Qatar...