Must-See Racing: the 2005 GP2 Season Preview

---
By David Cameron, England
Autosport-Atlas Features Editor
After months of planning, preparation, and hard work, the new GP2 series kicks off this weekend at Imola, in what promises to be one of the closest of fields in any racing series in the world. With the organisers determined to leave the dark days of F3000 behind, they have gone to great lengths to make sure GP2 is a success. David Cameron previews the season and explains why you really should follow the new series closely
When Jonathan Palmer set up Formula Palmer Audi seven years ago, he had a noble cause: a new racing series where everything was equal, a level playing field for all, with the sole objective of having one champion so that everyone in motorsport could look at the results and know that this was the person who was the best racer at his level for the year.
It was a grand but ultimately foolhardy concept; the series ran as intended for a few years before fizzling out as drivers stopped coming to the championship, stopped wanting to be judged on talent alone, and the formula became largely a gentlemen's racer series. When asked later what he thought was the biggest flaw in his idea, Palmer noted that he had simply underestimated the need for drivers to have excuses for not performing.
But what if someone took that idea and pushed it further? What if, instead of being lower on the motorsport ladder, it was the last stop before Formula One? What if, instead of providing excuses, there was a series that you could point to and say that the guy who won there deserves, on merit, to be in Formula One?
One thing Formula Palmer Audi did achieve in racing was diversifying the possibilities for up and coming racers. Before Palmer, there was a ladder of motorsport that everyone had to climb to get to Formula One: Formula Ford, Formula Three, Formula 3000 and then, if you were good and had luck on your side, Formula One.
Now there are so many different championships throughout the world that a driver's manager can steer his client through a variety of grids without having to face the other quick guys, without having to lose. On top of the above mentioned, there are various Formula Renault and BMW championships, national and European F3s, the World Series by Renault, a couple of F3000s in Italy - the sheer number of championships has inevitably watered down the talent coming through the ranks.
Which is where GP2 comes in.
Formula 3000 had been in decline for a few years - the series had played host to the Liuzzis, Wirdheims, Montoyas, Webbers and Alonsos of their day, but the number of quick guys had fallen away with the desire to have an excuse, to not be beaten by the other guy in effectively the same car. They'd gone elsewhere to drive - to Japan, to America, to Spain - or they've managed to jump straight over the field if their manager and/or backing was sufficient.
But this year, in its debut year, the GP2 series has a field full of the best racers from around the world, all competing against each other to prove that they are the best. There are many big names in the field, and all but one of them will take a hit in the curriculum vitae. For that fact alone, the GP2 organisers have done an astonishing job.
Here is the list of drivers that will be competing in GP2 this year:
Car  Driver                 Nat.  Team
 1.  Scott Speed            USA   iSport International
 2.  Can Artam              TUR   iSport International
 3.  Nelson Piquet Jr       BRA   Hitech Piquet Sports
 4.  Alexandre Negrao       BRA   Hitech Piquet Sports
 5.  Ernesto Viso           VEN   BCN Competicion
 6.  Hiroki Yoshimoto       JPN   BCN Competicion
 7.  Giorgio Pantano        ITA   Super Nova International
 8.  Adam Carroll           GBR   Super Nova International
 9.  Nico Rosberg           GER   ART Grand Prix
10.  Alexandre Premat       FRA   ART Grand Prix
11.  Olivier Pla            FRA   DPR
12.  Ryan Sharp             GBR   DPR
14.  Jose Maria Lopez       ARG   DAMS
15.  Fairuz Fauzy           MAL   DAMS
16.  Mathias Lauda          AUT   Coloni Motorsport
17.  Gianmaria Bruni        ITA   Coloni Motorsport
18.  Neel Jani              SUI   Racing Engineering
19.  Borja Garcia           ESP   Racing Engineering
20.  Juan Cruz Alvarez      ARG   Campos Racing
21.  Sergio Hernandez       ESP   Campos Racing
22.  Heikki Kovalainen      FIN   Arden International
23.  Nicolas Lapierre       FRA   Arden International
24.  Clivio Piccione        MC    Durango
25.  Ferdinando Monfardini  ITA   Durango


Pound for pound, that is the most competitive racing grid this year. One example among many: on April 13 all 24 drivers tested at the Circuit de Catalunya near Barcelona, with a large number of them having never been there before, and they were driving on tyres they'd never previously seen. Seventeen of them were within a second of the fastest lap, all bar one were within 1.6 seconds.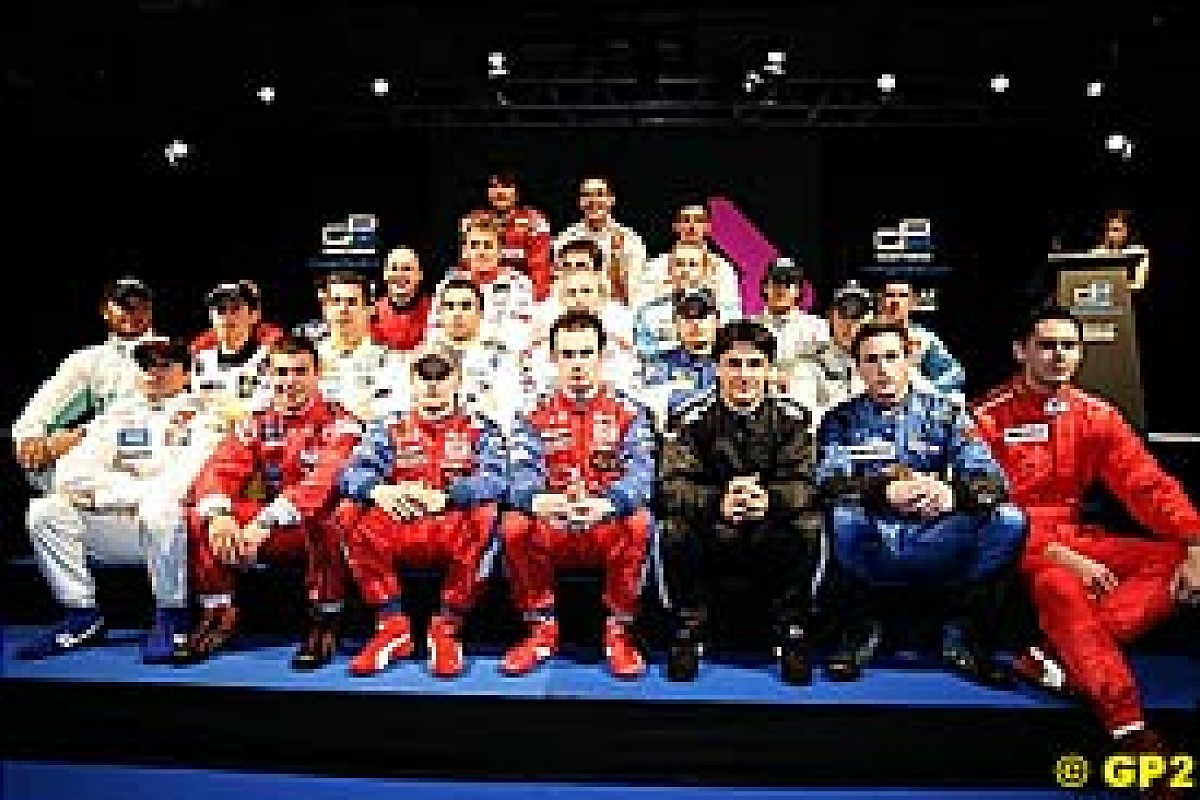 That is not the sort of result you see in other series.
The grid breaks down like this: two ex-Formula One drivers (Pantano and Bruni), the World Series champion (Kovalainen), the British F3 champion (Piquet) and runner up (Carroll), the SudAm F3 champion (Negrao), the F3 Euroseries runners up (Premat and Lapierre, both Macau winners), the Spanish F3 champion (Garcia), the European Formula Renault champion (Speed), plus race winners from all of these and more.
That the grid comes from all over the world is its strength, that they (mostly) haven't raced each other before will answer questions long asked. That it is made up of guys with money behind them and guys without will answer another age old racing question too. That they get to race each other is something unexpected, and something to be seen.
There are guys like Piquet, who has had support from his father and his country all through his career, who will now face the toughest fight yet. Likewise there are the Red Bull guys, Speed and Jani, who have had the support but now have to show why. There are the Renault Driver Development guys, Kovalainen and Lopez, who have to improve year on year as they move through the ranks, who could slip and fall and have no one there to catch them.
Because as much as people disparage drivers with money behind them, that support comes with its own cost - if you don't win, it goes. Kovalainen knows that better than anyone: he is the only original RDD driver left, with around twenty guys flowing through the programme in his time. He knows that, after last year, he has to win in GP2 just to stay with the scheme, just to continue his run.
And there are guys who have made it without much backing, drivers who have done the deals and scraped their way onto the grid, who have somehow found the budget to run for a year with the hope that if win then they can say 'I didn't have the support but I got there anyway', that they can say 'my talent got me through the final stage before the big time.'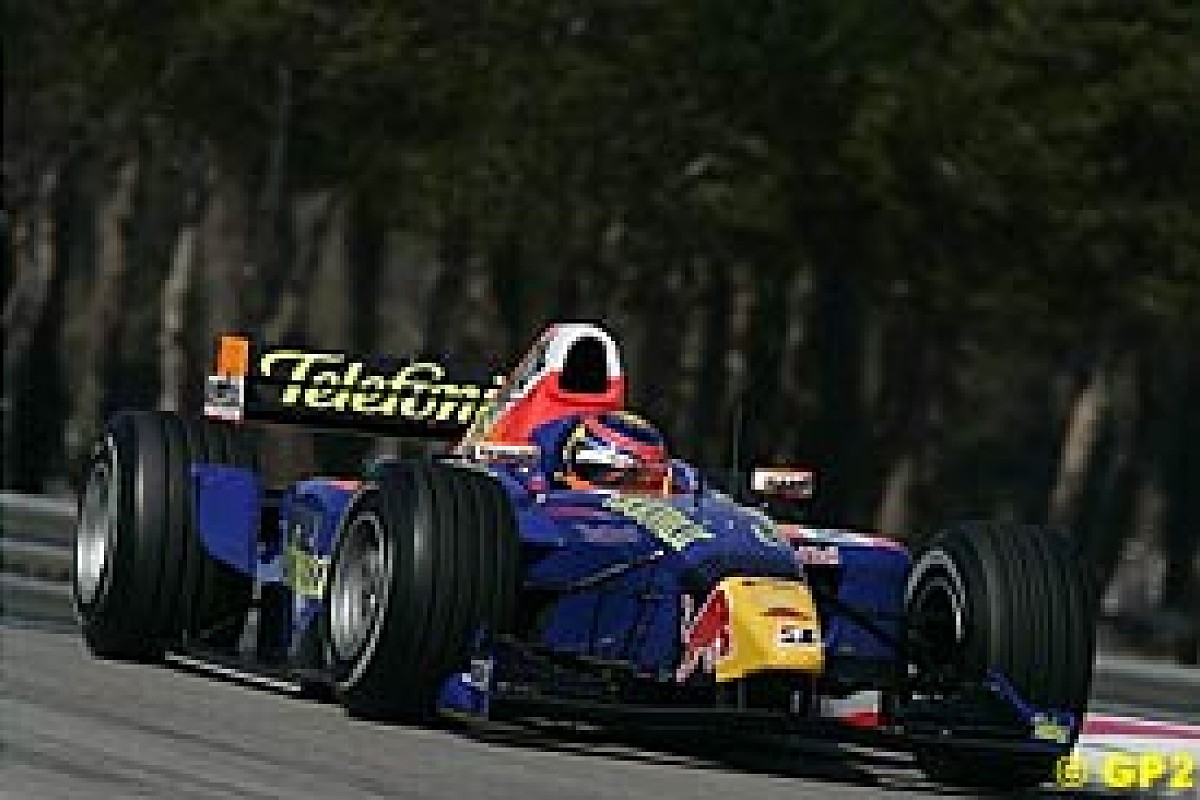 It's the kind of pressure that is lacking in today's Formula One world of multi-year deals and marketing campaigns, where drivers stay in the top flight because they appeal to customers of a sponsor or because the teams have too much to lose if their results dip while they bed in a new driver. Where a driver can have a ten-year Formula One career because he is already in Formula One and is therefore assumed to be one of the few worth considering by another team for a free seat.
To ramp up the pressure a little more, the GP2 drivers will be racing in front of the biggest crowds of their lives, with better television coverage than they've known, and with just thirty minutes of practice to learn a track and sort their car ahead of qualifying for the first of two races.
All of this in the most powerful car they (except for Pantano and Bruni) have ever raced - a 580bhp engine which accelerates from 0-100kph in just 2.95 seconds, which has a lateral acceleration of 3.3g, which has Formula One spec tyres and carbon brakes holding him there.
It's a series in which, unlike most, it's simply impossible to pick a favourite because there are so many drivers that could claim the title. Speed, Kovalainen, Pantano, Piquet and Viso have all topped the timesheets at various tests in the off-season, but with so many of the drivers running almost identical times even that doesn't point to a potential champion.
Because ultimately, the guy who wins will have to perform, every two weeks, under more pressure than he has ever known, with a more powerful car and with far less time than ever to set it up, on tracks that he may or may not have raced on, in front of a Formula One crowd and pitlane. He'll have to perform flawlessly, and he'll have to win.
Consistently.
Because the race weekend programme goes like this: 30 minutes of free practice on Friday, ahead of 30 minutes qualifying for the first race. That race will be on Saturday, will last for 180 kilometres, and provide points for the top eight finishers. Sunday sees an 80-kilometre race, with the grid decided by the race order from Saturday, but with the point scorers in reverse order. And only the top six will score points, with fastest lap and (first) pole position providing bonus points, just to spice it up a little.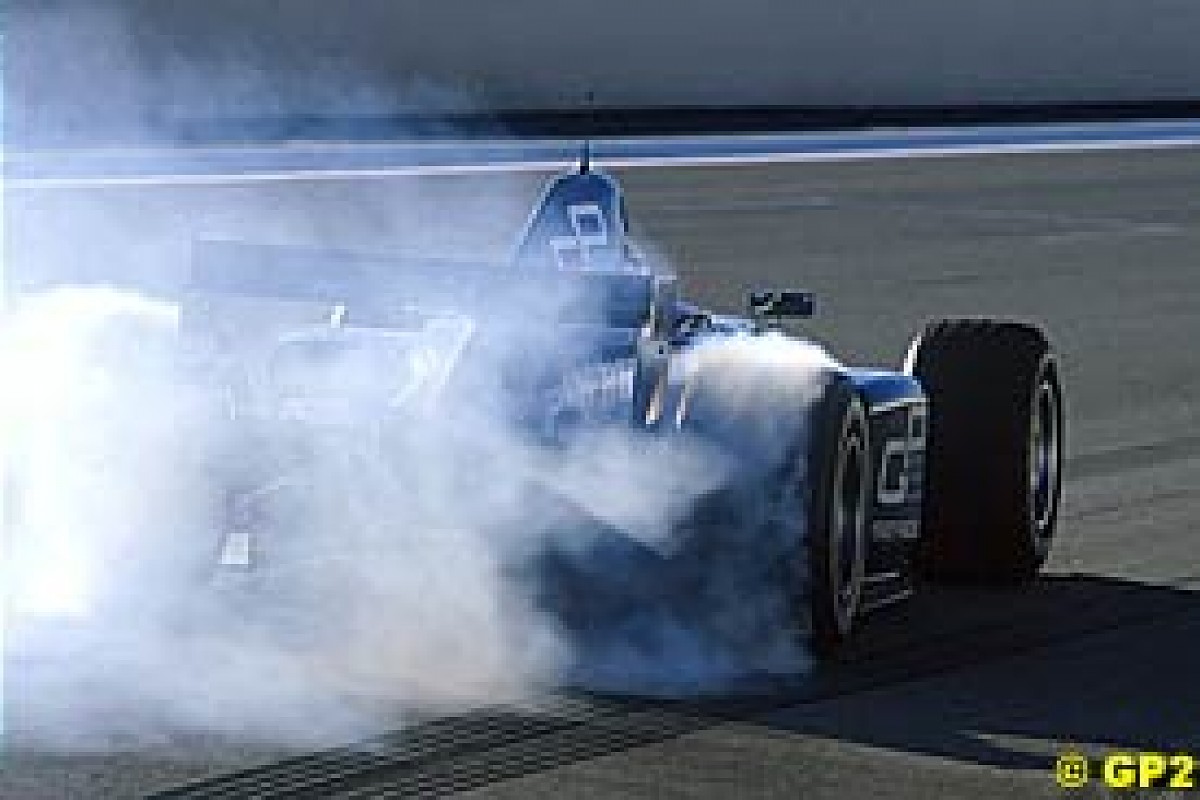 The series organisers have done their job - they've filled the grid with talent, have arranged media and television coverage for the fans, and then put them in front of the Formula One world and said, this is what you should watch for the next great driver. They've done it with a slightly higher budget than Formula 3000, but with far greater potential rewards. They built it, and the drivers came.
Maybe next year it won't be the same; maybe next year the new crop of hopefuls will be told don't go to GP2 - it's too risky. Maybe in the future the series organisers will understand why Palmer became so discouraged with the series he built. But right now, this year, you have the opportunity to watch the best young drivers in the world competing against each other for the right to call himself the best of them all, and what more could any race fan want than that?
Because this is the series that Formula One fans are asking for when they want a powerful car series with no driver aids, when they want a series of equals with nowhere left to hide, when they want racing with no excuses. This is the series that is going to bloody some noses, that is going to kill some careers. This is the series where, when the flag drops, the bullshit stops.