With the 2005 World Drivers' Championship already settled, and the FIA releasing its plans for new 2006 regulations on qualifying Saturday, it seemed that the F1 world's focus was more on the future than on Sunday's Japanese Grand Prix. But nobody told McLaren's Kimi Raikkonen and Renault's Fernando Alonso. Between them, with the help of an able supporting cast, a classic circuit and a Saturday afternoon shower, they produced a modern masterpiece of F1 racing.
It was the prospect that most fans had relished during the second half of the season - Alonso being released from his conservative approach after finally settling the Championship. If anybody believed that the young Spaniard would go off the boil, or fail to shake his 'cruiser' image, Suzuka proved them wrong.
It didn't matter that Alonso's race strategy was hampered by unfortunate timing that saw him pitting at the wrong times, and having to pass the same cars repeatedly. Nor did it matter that a belated call by the stewards forced him to defer to Red Bull's Christian Klien - long after he'd passed the Austrian and opened up a handsome lead over him.
Alonso came to Suzuka to re-establish that he is a racer, not a survivor. In a single belief-defying move around the outside of Michael Schumacher's Ferrari at the flat-out 130R left-hander, he not only put all doubts to rest, but pulled off the best passing move of the new millennium. In recent memory, the only passes that come close are Mika Hakkinen's move on Schumacher (Spa 2000) and Jacques Villeneuve's pass (again on Schumacher) at Estoril 1996.
It will perhaps irk Schumacher that he was the victim in each of the three most memorable passes of the last decade. It shouldn't. Top drivers only attempt such implausible moves if they have complete confidence in the spatial awareness and car control qualities of the driver they are attempting to overtake.
Prior to Suzuka, Alonso had built up a solid yet unspectacular 2005 portfolio of smart but conservative racing. He needed a moment of genius to round off the year and create a lasting snapshot of his maiden Championship season. The Schumacher pass fulfilled that to perfection.
Like Alonso, Kimi Raikkonen came to Japan with a slight shadow hanging over his credentials. Suzuka has never been his favourite circuit, and McLaren teammate Juan Pablo Montoya's late season form threatened to undermine Raikkonen's image as the fastest driver in the field.
From the McLaren pair's lowly grid positions, and given Montoya's recent form and superior record at Suzuka, it initially looked likely that the Colombian would have the upper hand on Sunday. Again, it didn't matter that a first lap incident with Sauber's Jacques Villeneuve took Montoya out of the equation almost immediately. Raikkonen's drive didn't need a teammate comparison for validation. It was an instant classic on its own merits, regardless of what Montoya might have achieved in the sister car.
The most memorable come-from-behind victories are usually based on the driver having the patience, composure and self-belief to keep pushing with the conviction that, no matter how hopeless the situation may seem, they can still make something happen for them.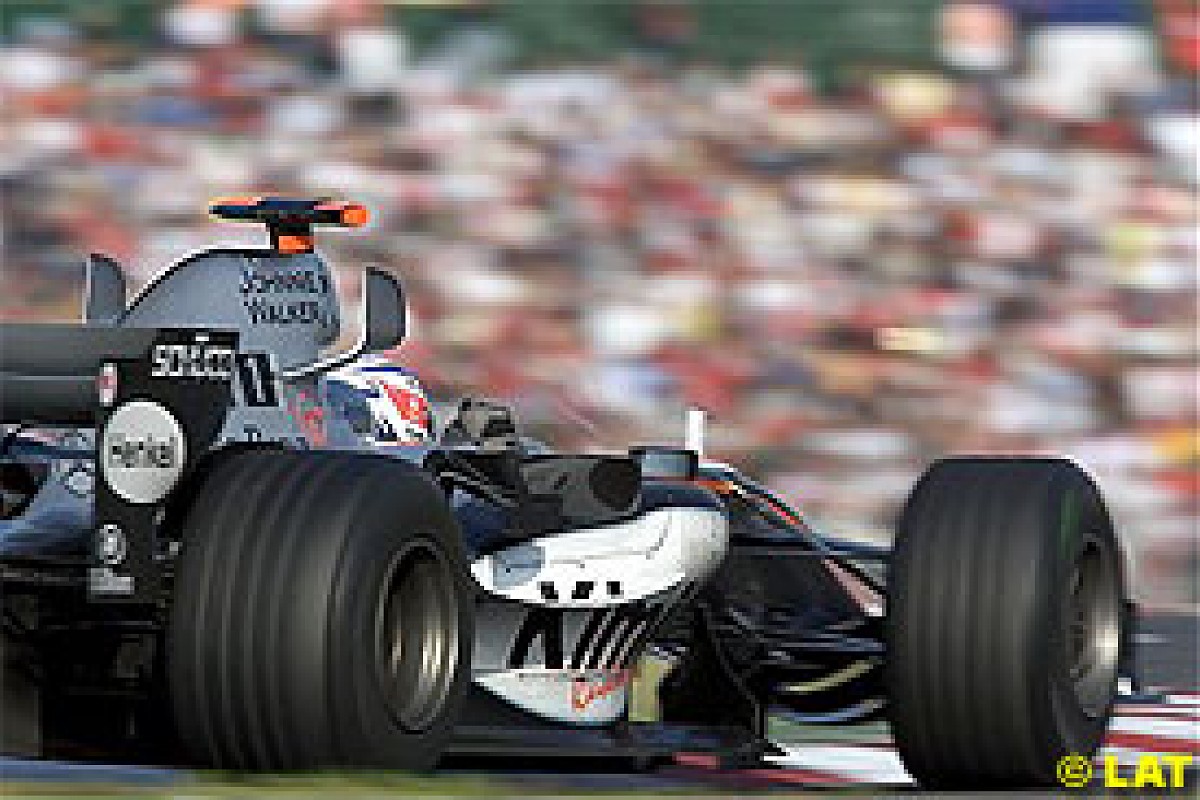 For two-thirds of Sunday's race, Raikkonen was racing for second position. It would have taken extreme optimism to believe that he could overhaul Giancarlo Fisichella's twenty-second advantage and catch, let alone pass, the leading Renault. To add to the problem, Raikkonen complained afterwards that his gearing wasn't optimal for the circuit, robbing him of some top speed and the chance to overtake on the run from Spoon through 130R to the Casio Triangle.
The race's key phase started on lap 36. Stuck behind the slower pair of Jenson Button's BAR and Mark Webber's Williams for several laps, Raikkonen had the twin discomfort of seeing Fisichella's lead stretch to over 20 seconds, while the other Renault of Alonso started to loom large in his mirrors. When Alonso pitted, the strategic assumption (on the part of many) was that McLaren would respond immediately, bringing Raikkonen in a lap later to try and retain track position.
It would have been an admission of defeat, of settling for second position when an improbable win beckoned. Raikkonen and McLaren had other ideas. The Finn had to wait for another four agonising laps before Button and Webber cleared his path. By that stage, he only had five laps of fuel in which to mount a challenge for the lead. It was a five-lap display of focused determination that eradicated eleven seconds from Fisichella's advantage.
Even with a much faster car overall, Raikkonen still wasn't assured of the pass. Alonso had shown at Imola just how effective the Renault's superb traction, combined with careful car positioning, could be in frustrating a faster challenger. Yet, incredibly (for a driver of his experience), Fisichella handed him the passing opportunity he needed.
It is a mystery why Fisichella chose the defensive inside line, not once but twice in succession, under braking for the Casio Triangle. Raikkonen wasn't close enough, on either occasion, to attempt a lunge up the inside. And even if he had been, it's a difficult and slippery spot for an overtaking attempt. It's also one of the easiest spots in F1 to shut the door on an opponent, as Alain Prost proved in 1989.
Earlier in the race, BAR's Takuma Sato had tried it against Jarno Trulli's Toyota, with disastrous results. A similar outcome might have ruined Fisichella's race, but it would certainly have suited the team. With Fisichella and Raikkonen out, Alonso would have secured the win and an eight point Constructors' Championship lead for Renault with just one race to run.
It is symptomatic of Fisichella's innate integrity and lack of cynicism that he didn't leave the door open and tempt Raikkonen into the disastrously ambitious. Instead, he chose to defend, compromising his speed through the chicane and his momentum coming onto the pit straight. Raikkonen couldn't capitalise on the first opportunity. Handing him another, on the very next lap, was too generous on Fisichella's part.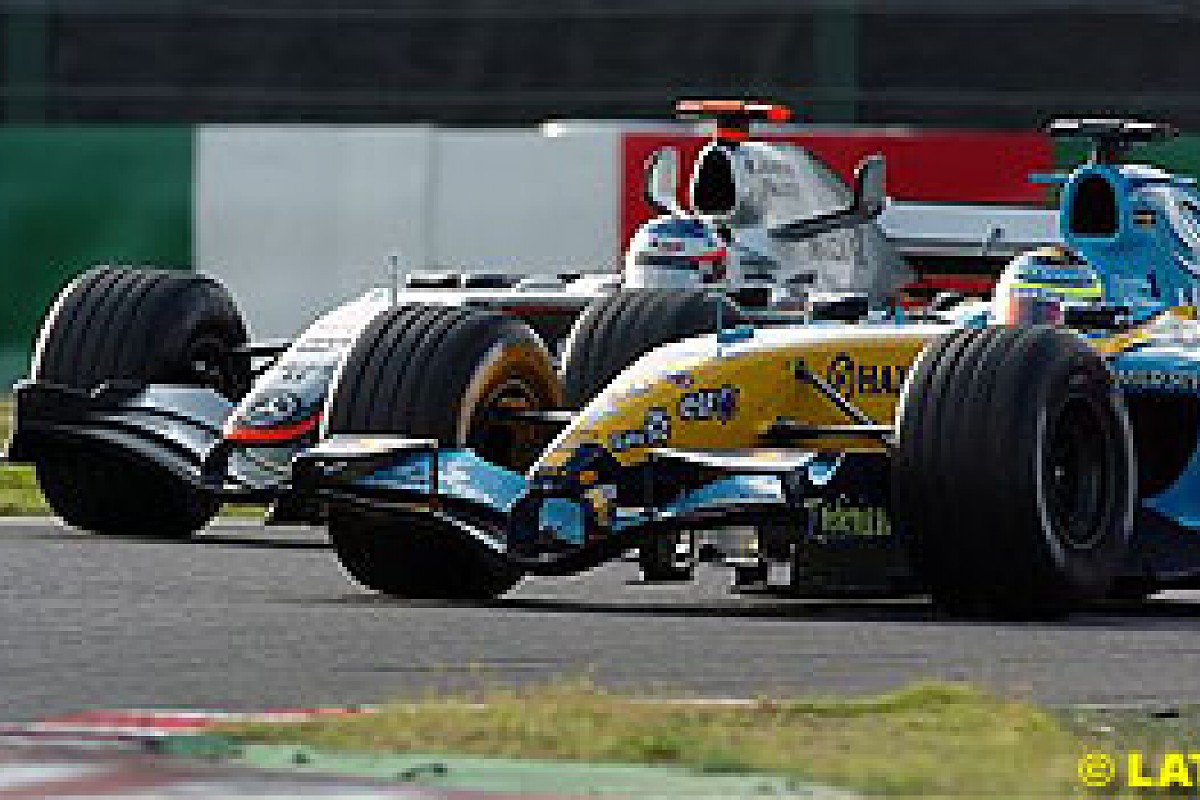 Renault team boss Flavio Briatore declined to blame Fisichella, offering mild praise that he was 'very correct' in his driving. But that will provide little comfort for the Italian. Fisichella was clearly shell-shocked during the post-race interviews, and it remains to be seen what effect this setback will have on his form and confidence.
For Kimi Raikkonen and Fernando Alonso, there are no such worries. Both came to Suzuka determined to make a point, and both left having made it emphatically. In the process, they not only restored their own reputations, but F1's pedigree of pure racing excitement. Yet still, there is disconnection between the two. What their rivalry needs is for Alonso to go around the outside of Raikkonen at 130R, or for Raikkonen to snatch a last-lap win from Alonso.
The way the pair of them are driving, it could still happen at the season finale in China. With the Constructors' Championship still there for the taking, there will be no shortage of motivation in either camp. It's a given that Raikkonen and Alonso will take their best form to China. If Montoya can get himself to the finish without incident, and if Fisichella can mix it up with the other three and perhaps beat them on merit, it would be the perfect end to the season.