The 2005 Brazilian Grand Prix Review

---
By Will Gray, England.
Autosport-Atlas GP Correspondent
McLaren finally got their first one-two in over five years, but the Brazilian Grand Prix was all about Fernando Alonso, who drove another flawless race to clinch the title and become F1's youngest World Champion. Will Gray reviews the events and results from the seventeenth race of the 2005 season
"I let my voice go on the radio at maximum volume," said Alonso. It was over.
Despite his cool exterior it was clear with just one-and-a-half hours between 24-year-old Alonso and his self-achievable date with destiny that the title would always be on his mind. It was, he drove with it as his main priority, and he did exactly what was needed. Third was enough. The screams were inevitable.
The race, as expected, went to McLaren at a canter. Renault's claims that their latest modifications had pushed them close to, if not ahead of McLaren after Alonso had claimed pole petered to nothing with the fuel factor removed, and McLaren secured their first one-two in more than five years.
But McLaren's achievements in confirming theirs is the fastest car on the grid were overshadowed by Renault's continued proof of the year-long consistency in both car and driver that was finally enabled Alonso to ease to the title with two races of the 19-race season left to run.
"It is never going to change winning a Championship, it's wonderful and it's relieving," said Renault chief Pat Symonds who, despite all efforts to create a composed and professional front, could not wipe the smile off his face as he took a brief break from the post-race celebrations.
"McLaren are quicker than us and it has been difficult so the atmosphere is pretty damned good in the garage and they will all be out celebrating tonight. We have had people in at the factory and had a relay back from here to the guys there, so I am sure they enjoyed it too."
The celebrations were deserved, they have been building to a crescendo for so long. The title, Alonso said, was his, in his mind, by the end of July, when he won the German Grand Prix thanks to a mechanical failure on rival Kimi Raikkonen's car, and it was only a matter of time before he secured it.
But it was not all glum news for McLaren. In truth, Raikkonen had effectively given up all real hope of winning the title some races back, so with his and the team's concentration already firmly on the constructors' crown the one-two was actually a perfect result for them.
Twice in the previous three races that long-expected double-top had been snatched away from McLaren in the closing laps by a collision between Juan Pablo Montoya and a backmarker, leaving the team wondering what they had done to upset lady luck so much this season.
But with Alonso's title secure the fortune fairy gave McLaren a break, allowing Montoya to race home to victory while still giving Raikkonen a double blow knockdown, as he failed to even beat his teammate and win the race on the day the title finally slipped from his hands.
The season has long been about the battle between Renault and McLaren, with Renault looking unstoppable early on but then McLaren turning it around to become the dominant team. Now, with just two points between them, it comes down to a two-race fight for that title.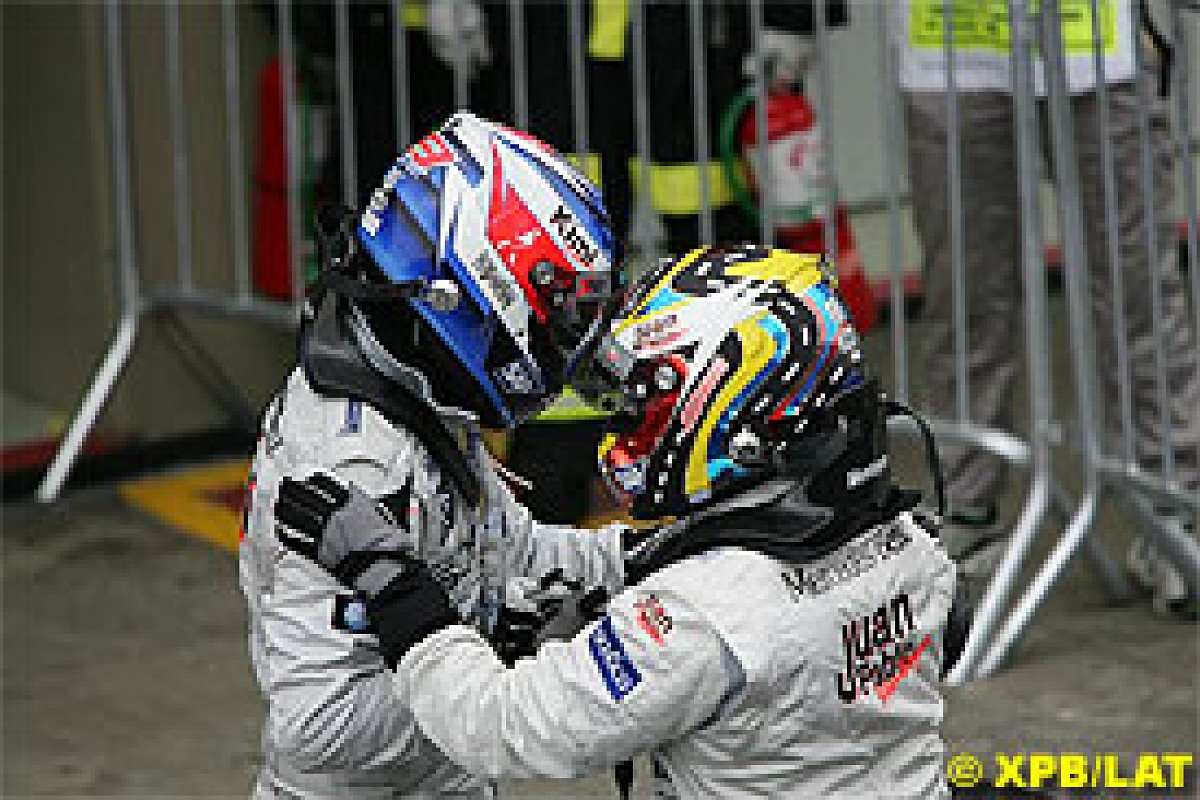 McLaren have won the last five races and Raikkonen, equal with Alonso on six wins this season, now faces the distinction of winning more than the Champion if he can turn dominance into victory in Japan or China, something that would probably please his boss Ron Dennis more than winning the constructors' crown.
"At the end of the day we are a racing team and we exist to win races, that's what we have been doing, and to have two races to go and to have won nine races we can't be too hard on ourselves," said Dennis. "No-one needs to point out to me that the objective is to win."
That objective was easily achieved in Brazil, thanks to a dominant performance throughout the weekend, once again. Renault came close, but in the end they were nowhere near. BAR's hopes of mixing it with Renault fell to nothing while Ferrari's claims of a mini-comeback sort of came true.
Jenson Button had expected to be in contention for a podium thanks to new modifications on his car but he ended up a disappointing seventh, leaving sporting director Gil de Ferran admitting "unexpected problems" had prevented the team from fighting as expected.
World Champion Michael Schumacher, meanwhile, concentrated not on the final relinquishing of his long-held title but instead on the improvements from Ferrari and Bridgestone that pushed him to a fourth place finish and his teammate Barrichello up to sixth, with expectations of more to come.
Those two teams are likely to enjoy a close battle in the remaining races while Williams, who it must be remembered won the Brazilian Grand Prix last year, are on a downward slide which hit a new low at Interlagos when the two cars took each other out in a collision at the first corner.
It was depressing stuff for the Grove group and mixed emotions from the race winners from Woking but down at the Renault garage the race meant nothing and there was no hiding what it meant to win their first world title since Michael Schumacher ten years previously: Well done Fernando. Job done.
Qualifying
The pressure told in the closing stages of the qualifying session as Alonso put in a smooth lap to claim provisional pole and Raikkonen threw away his opportunity of snatching it off his rival with a mistake in the first corner of his flying lap.
The Interlagos circuit proved slippery and difficult for many of the drivers but it was the usual suspects, minus one, at the front of the field as Alonso claimed his fifth pole and Renault and McLaren filled four of the top five places with interloper Button improving to fourth.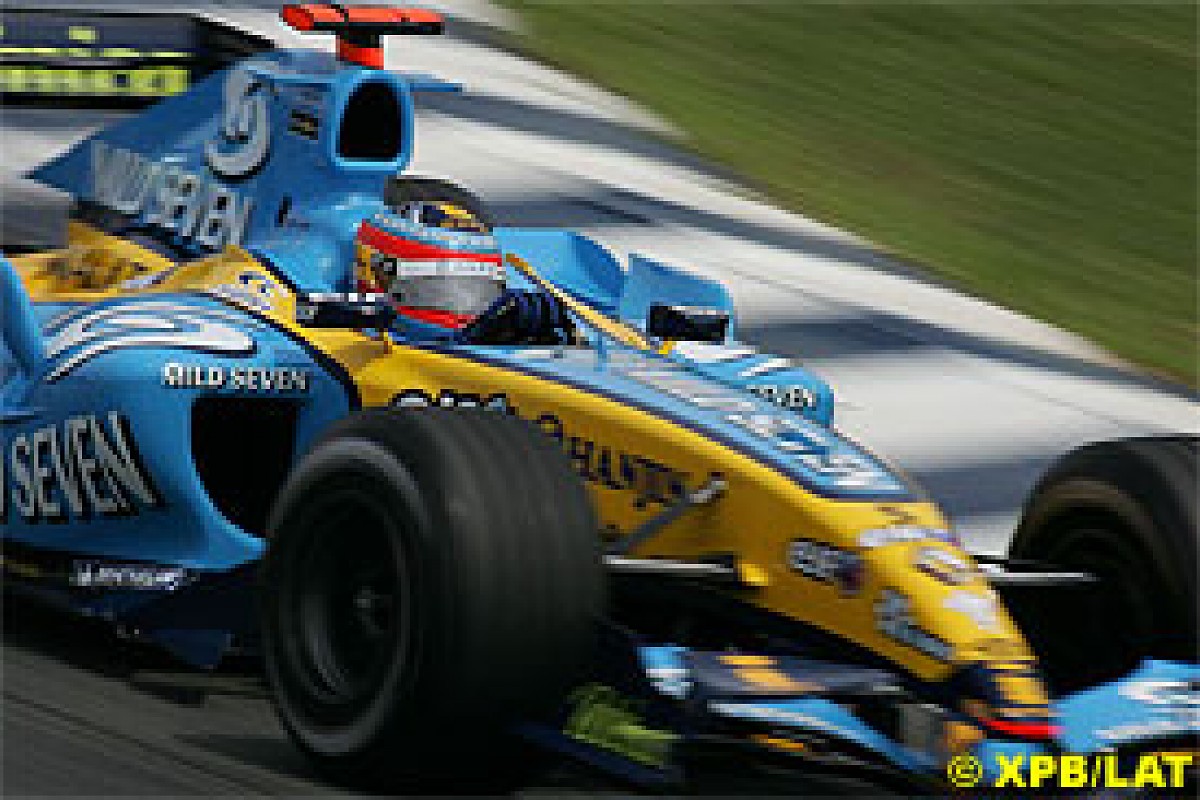 1. Fernando Alonso (Renault) 1:11.988
Alonso was the penultimate driver out in qualifying and he played it cool to set the fastest time in the first two sectors on his way to the best lap of the day. He was only one hundredth of a second slower than Montoya in the final sector and his combined time put him comfortably clear of his McLaren rival.
2. Juan Pablo Montoya (McLaren-Mercedes) 1: 12.145
Montoya amazed even himself with his pace after running early in the session. He sat on pole for most of the session with the fastest times in all three sectors but Alonso then bumped him down to second.
3. Giancarlo Fisichella (Renault) 1:12.558
Fisichella was another driver to suffer from a lack of grip, especially in the second sector, after starting early in the session but again he was not troubled too much in the end. He set the sixth fastest time in the first sector and the fifth fastest in the second but his impressive time in the final part of the lap, second only by four thousandths to Montoya, pushed him up the grid.
4. Jenson Button (BAR-Honda) 1:12.696
Button complained of oversteer in the high speed corners which caused him to come off the power in turn 11 and lose some time. He had hoped for better than fourth and his slow final sector, three tenths slower than Fisichella, proved costly.
5. Kimi Raikkonen (McLaren-Mercedes) 1:12.781
The pressure got to Raikkonen, the last man out on track, as he started his lap and he locked up a wheel heading into the first corner. He lost seven tenths of a second with the 17th fastest time in the first sector and despite going second fastest in the second sector he could never recover the lost time and was struggling with a flat-spotted tyre for the rest of the lap.
6. Christian Klien (Red Bull) 1:12.889
Posting his best qualifying performance since the season-opening Australian Grand Prix put a smile on Klien's face. He damaged his car badly by crashing it in Friday practice but the team re-built it, he made some set-up changes on Saturday, and ended up beating teammate David Coulthard by more than a second.
7. Michael Schumacher (Ferrari) 1:12.976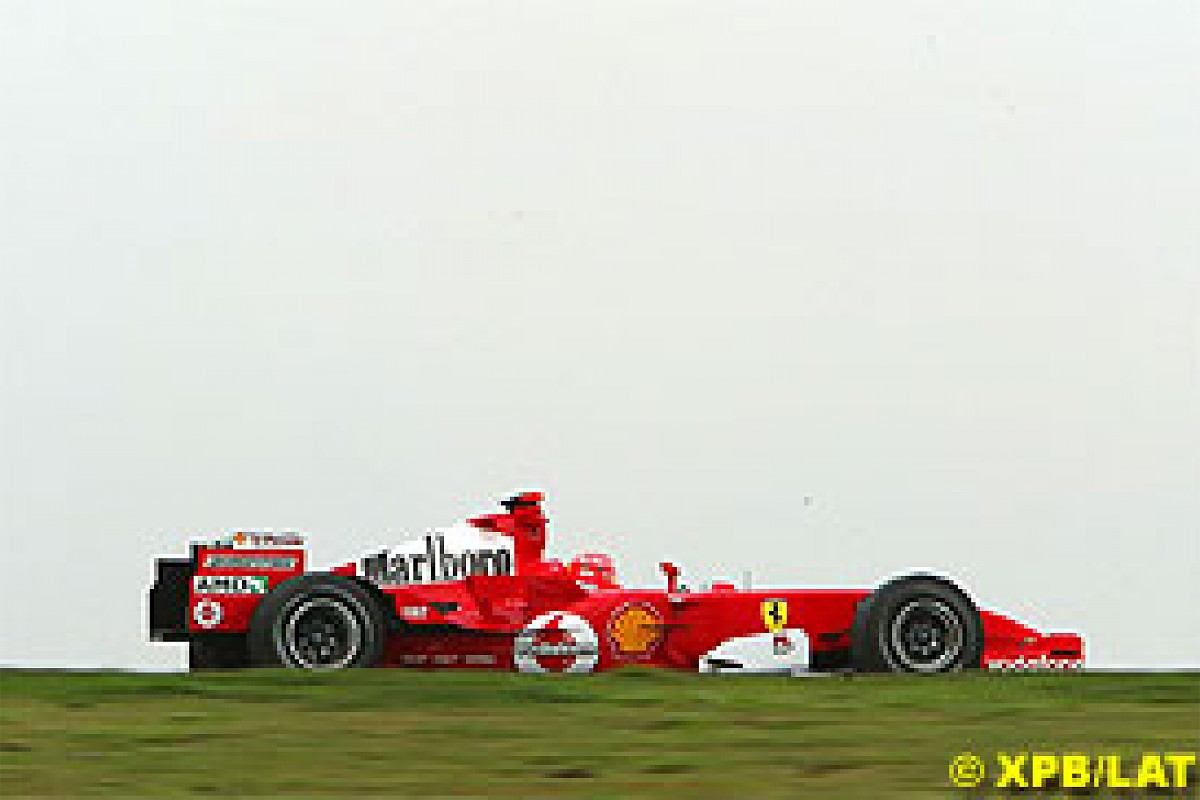 After claiming the circuit suited his Ferrari more than most, Schumacher posted a disappointing lap. He claimed the tyre pressures had risen higher than expected during his lap and the track was more slippery than it had been during the earlier part of the weekend. He finished third fastest in the first sector but 12th fastest in the second sector and he was relieved to be as high up the grid as he was when the session ended.
8. Jarno Trulli (Toyota) 1:13.041
Fuelled up because of a ten position engine change penalty and going out early in the session on a slippery track, Trulli did well to put his car in eighth thanks to a strong second sector, but he would ultimately drop down to 18th.
9. Felipe Massa (Sauber) 1:13.151
Massa complained of understeer in the Senna S and in turn nine he suffered an understeer to oversteer snap that also cost him time and places. But he remained consistent throughout the lap, setting the eighth fastest time in the first two sectors and the seventh fastest time in the third.
10. Rubens Barrichello (Ferrari) 1:13.183
After starting from pole in the last two races in Brazil, qualifying this year was always going to be a disappointment for Barrichello. He put in a strong start to his lap, almost matching teammate Michael Schumacher's first sector time, but the car was continually bottoming out and difficult to steer and a disastrous third sector, in which he set the 13th fastest time, dropped him down the grid.
11. Ralf Schumacher (Toyota) 1:13.285
Schumacher struggled to push hard because of understeer problems and like many other teams, he and his engineers were baffled as to why their car was not performing as well as it had done in the morning practice sessions as he qualified two tenths back from his teammate Trulli.
12. Jacques Villeneuve (Sauber) 1:13.372
Villeneuve hinted that a different strategy to teammate Felipe Massa was what made the difference between their two times, with Massa just more than two tenths faster. But the Canadian was baffled by his car's straight-line speed which was around four km/h less than Massa's despite the pair having the same aerodynamic set-up.
13. Tiago Monteiro (Jordan) 1:13.387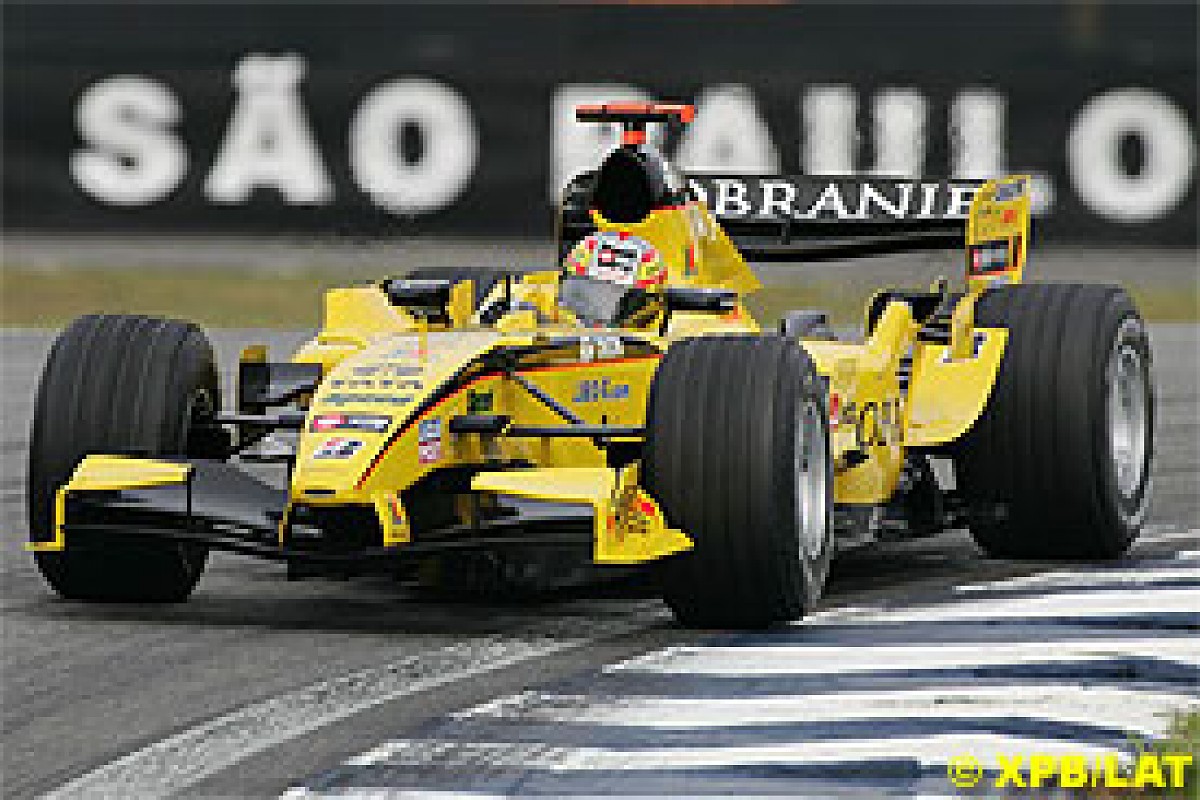 Monteiro felt he had been getting better and better all weekend and he was thrilled with his lap, which ultimately put him up to 11th on the grid when penalties were handed to other cars. He used the advantage of running eighth to set an impressive ninth fastest time in the second sector and came out ahead of the two Williams cars and David Coulthard's Red Bull as well as the usual other backmarkers.
14. Mark Webber (Williams) 1:13.538
These are depressing times at Williams for Webber and a small mistake as well as a difficult track saw him qualify in his second worst position of the season due to the 14th fastest time in each sector.
15. Antonio Pizzonia (Williams) 1:13.581
Pizzonia made a costly error in the middle sector, which put him down in 16th place in that part of the lap and his times in the first sector, where he finished tenth, and the final sector, where he finished an impressive sixth, deserved more than his 15th place on the timesheets.
16. David Coulthard (Red Bull) 1:13.844
Coulthard struggled with his car's balance, particularly in the middle sector, where he set the 15th fastest time, and understeer cost him time in the tight turns, all of which added up to put him more than a second down on his teammate Christian Klien.
17. Narain Karthikeyan (Jordan) 1: 14.520
Despite heading out later in the session than normal, Karthikeyan was slower than everyone except Robert Doornbos in the first sector but beat both Minardis in the final two to put Jordan higher up the grid than their backmarker rivals.
18. Christijan Albers (Minardi) 1:14.763
Oversteer in two of the quick corners left Albers just relieved to have made it round his lap in one piece and, based on his race strategy, he was not too worried that he finished two tenths slower than Karthikeyan.
19. Robert Doornbos (Minardi) No Time
Doornbos suffered a problem with his car's gearbox during Saturday practice and then felt uneasy driving with a heavy fuel load, which had made his car difficult to handle. He spun on his flying lap and failed to set a time.
20. Takuma Sato (BAR-Honda) No Time
Faced with a ten-place penalty for Sato's misdemeanour with Michael Schumacher at the last race in Belgium, BAR decided not to run a qualifying lap with his car and took the opportunity to install his 'Suzuka-spec' Honda engine one race early.
The Race
The grid took a long time to form as several drivers got confused over missing cars ahead, with Villeneuve and Monteiro both failing to take their expected places in the line-up.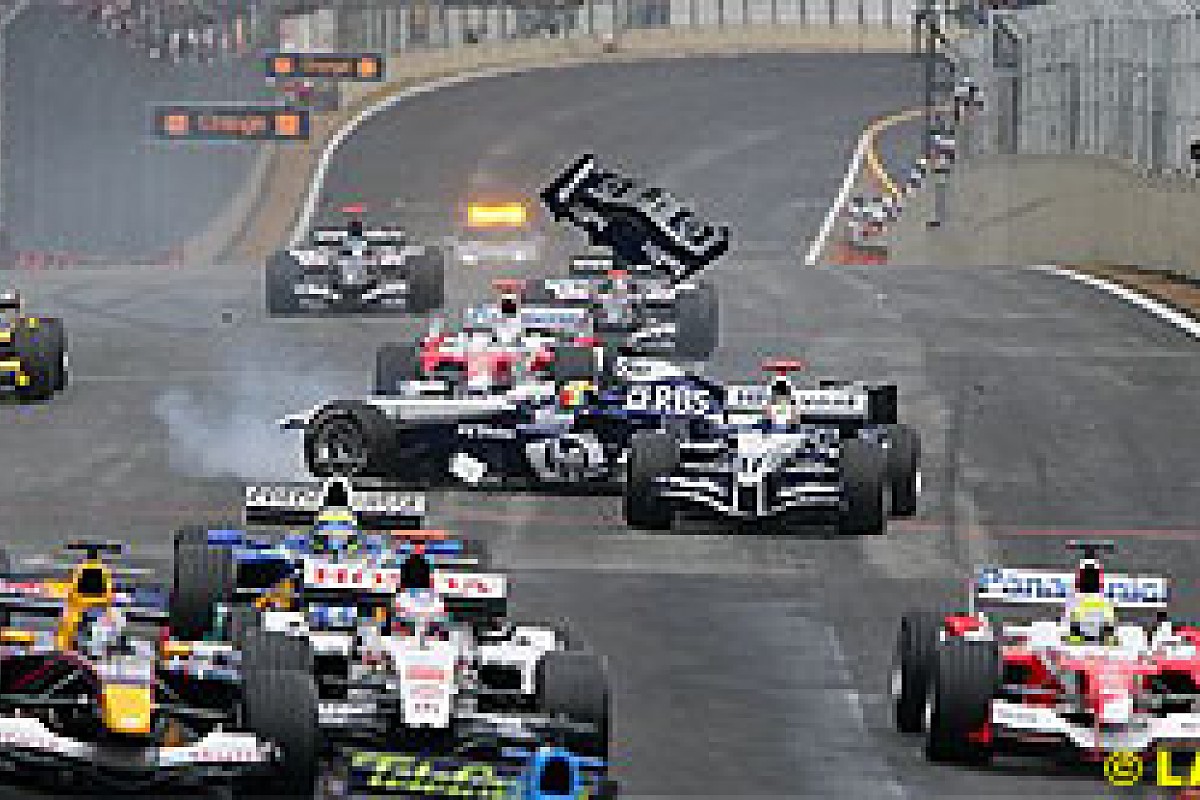 Villeneuve was forced to start from the pitlane as a punishment for Sauber, breaking Parc Ferme rules while Monteiro's good work in qualifying all went to nothing when he whizzed into the pits before the start.
When the lights finally went out, Alonso made a clean getaway to lead Montoya into the first corner and Raikkonen made a strong start to climb from fifth to third, jumping both third-placed Fisichella and fourth-placed Button.
Michael Schumacher also did well, bumping Fisichella down to fifth, Button to sixth and Klien to seventh while Massa plunged two places to tenth as Barrichello and Ralf Schumacher found a way around his Sauber.
There was carnage behind, however, when Pizzonia, starting from 13th on the grid, and Coulthard's Red Bull Racing machine collided and the Williams driver was spun into his teammate Webber.
Coulthard explained: "I got my front wheels inside the two Williams' of Webber and Pizzonia and as we approached the first corner I was between the two cars and Antonio was moving over from right to left.
"As Mark was on the other side of me, there wasn't anywhere for me to move to. All the cars touched, Antonio spun in front of my car and I think I also hit Mark."
Coulthard lost his front right wheel and was out of the race and lamenting "a pretty shit weekend" but Pizzonia, just one race after causing havoc with Juan Pablo Montoya in Spa, was not taking the blame.
"I was on full power, I still hadn't started braking when I just felt a sudden impact from behind," he said. "I watched the replay of the accident and I saw it was Coulthard. I am very surprised he did this."
Webber sided with Pizzonia and added: "I didn't see David until the last moment, I was looking to get away from the damp area at turn one and when David tried to pull out of the position he was in he clipped the back of Antonio."
The Australian nursed his damaged car into the pits and left it in the hands of the mechanics, jumping out of the car as they got to work to get him back in the race and gain him a few qualifying running order spots for Japan.
Meanwhile back on track, Sato, who started from the back having chosen not to set a qualifying lap due to position penalties for hitting Michael Schumacher at the last race in Belgium and for an engine change, made the most of the carnage.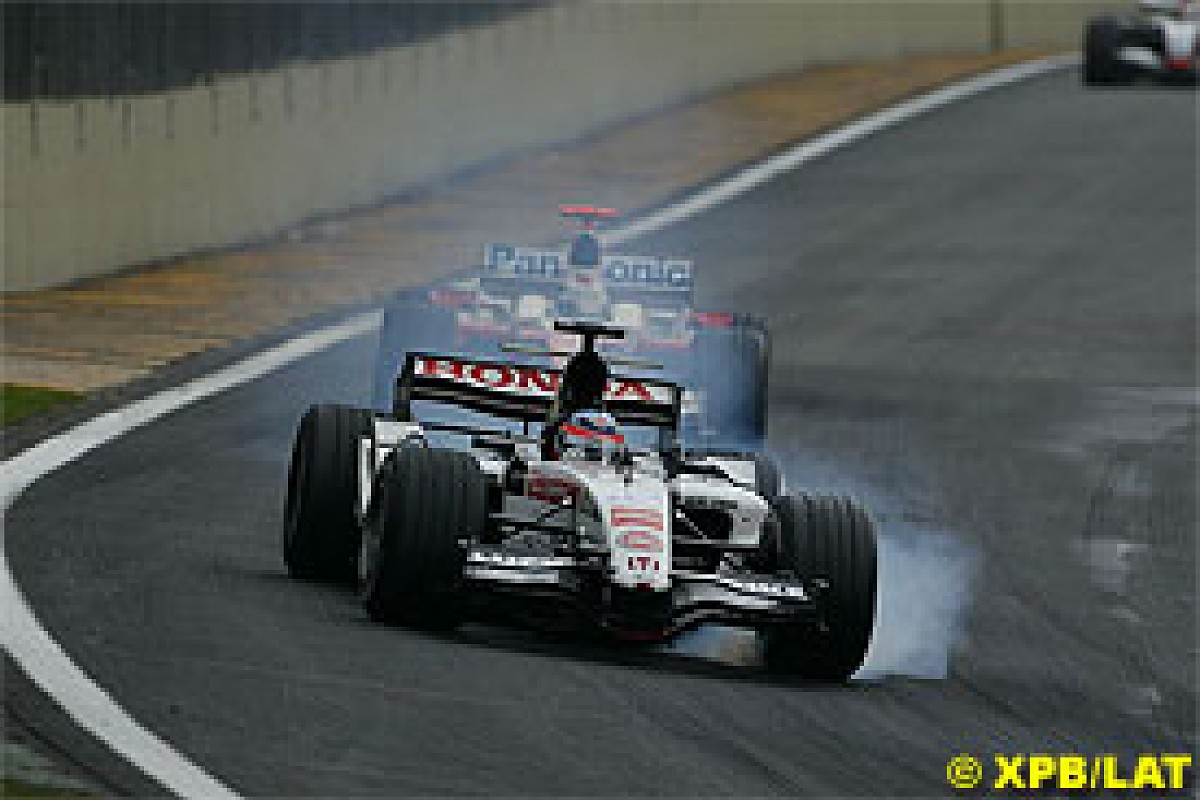 He moved up to eleventh, taking Karthikeyan through with him, followed by Albers, Trulli, who started down in 18th because of a ten position penalty for changing an engine, and Doornbos, with Villeneuve and Monteiro catching up at the back.
The safety car was deployed due to the debris on the track and the cars ran slowly before being set free again at the start of the third lap, with Alonso controlling the re-start to hold the lead into turn one.
But he already knew the McLaren behind him was faster and the inevitable passing move came quickly, at turn four. "I knew Juan Pablo was quicker and the first opportunity he had to overtake me I knew that I had no chance," said Alonso.
"I was going to go for turn one," said Montoya. "I showed the car and he just braked too late and made a mistake, and I just thought 'I am just going to see maybe he brakes really late' and he did and I had a run into the next corner."
Montoya tried to race into the distance but Alonso was having none of it and maintained a three-second gap to the Colombian while extending an advantage over the heavier McLaren of Raikkonen, behind in third.
"The first stint I tried to fight with Juan Pablo and with Kimi so the first 20 laps were quite quick to me," said Alonso. But they were also over quickly, as he was the first lead driver to pit, at the end of lap 22.
Fisichella came in on the next lap, as did Rubens Barrichello. Klien pitted on lap 24, then Michael Schumacher, Ralf Schumacher and Button all pitted on lap 26 as the McLarens continued on in one-two formation.
Montoya finally came in from the lead on lap 28, six laps later than Alonso, but Raikkonen continued to set fastest laps before finally coming into the pits at the end of lap 31, a full nine laps later than his title rival.
Raikkonen could not do enough in his three free laps to close the gap and gain an advantage to pass Montoya in the pits but his nine laps over Alonso enabled him to move ahead of the Spaniard.
Both Ferraris also made ground through the first stops, with Michael Schumacher making it past Fisichella to claim fourth and Barrichello moving up past Klien, but Sato was the last man to stop and stayed out until lap 37.
Doornbos retired after his 34th lap with a broken oil pipe and explained: "I was catching Narain and Christijan with good lap times, but then I started to lose performance and there was smoke coming out of the car."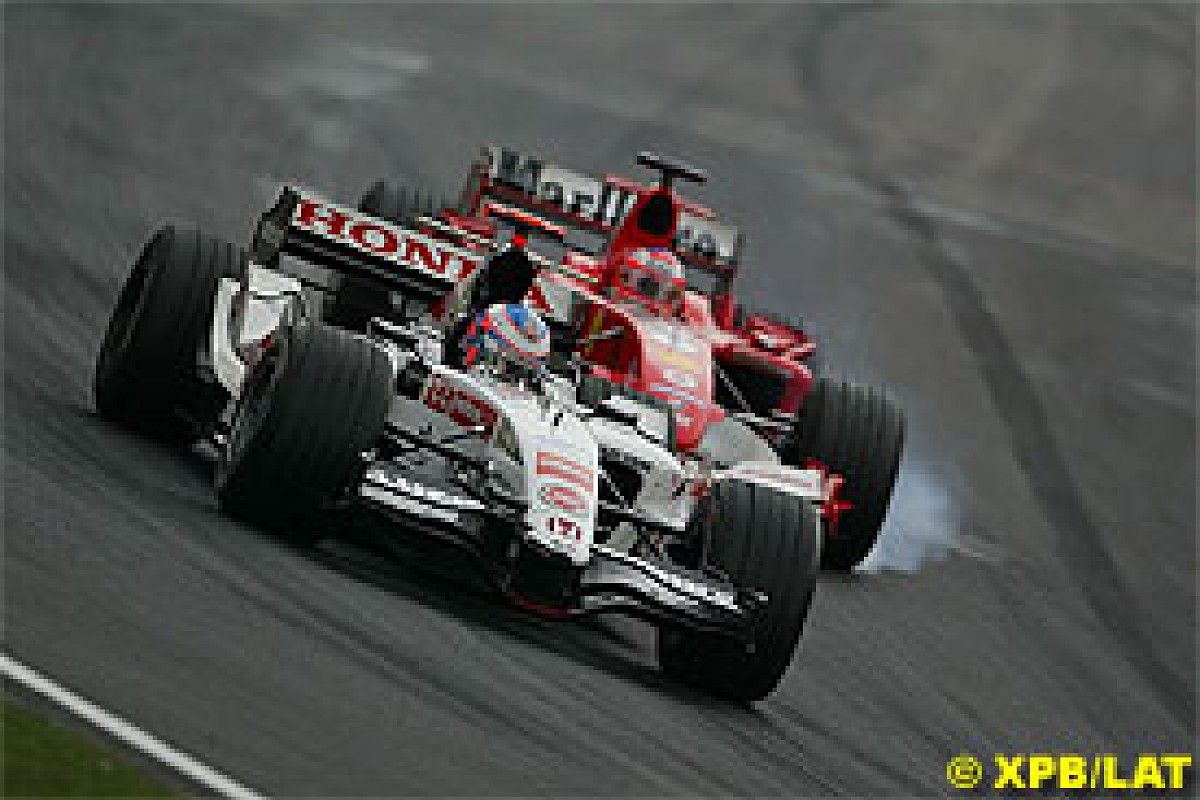 Barrichello was hounding Button for sixth place and the two future teammates enjoyed an aggressive battle for several laps before Barrichello made it past through the first set of turns on lap 44.
Barrichello was not impressed and said: "It was exciting but a bit crazy because it was a bit wet on the inside line." Button's excuse was a tyre problem and he explained: "We had been suffering with rear graining right from the start."
Montoya and Raikkonen held station up front, the gap between them varying between 1.5 and 4.5 seconds while Alonso stayed between 11 and 13 seconds behind in third, with Fisichella pushing Schumacher for fourth.
Alonso made his second stop on lap 48, with Fisichella following him in one lap later and Barrichello coming in one lap after that, but failed to get the jump on the Renault and instead held station.
Montoya had grown his advantage to 4.456 seconds by the time he made his final stop on lap 54, the same lap as Michael Schumacher, Klien and Villeneuve stopped for the second time.
Raikkonen then had five free laps to push and gain the time before his stop on lap 59, during which time Button was in on lap 55 and Ralf Schumacher pitted on lap 56 and Monteiro retired.
It was the first time in his Grand Prix career that Monteiro had failed to get to the finish of the race, ending his dreams of setting an impressive finishing record with Jordan.
"It had to stop at some point," said a philosophical Monteiro. "We were hoping we could make it to the end of the season but my car had a problem. You cannot control mechanical issues, there is nothing we can do about it."
Raikkonen's stop was smooth as ever and there was a race to the pit exit between the two McLarens, Montoya on tyres at temperature going through the twisty first turns and Raikkonen tiptoeing out the pits and held back by the white line.
Montoya won that battle and the race was over. "It was a big fight with Kimi and it was a matter of gaps," said Montoya. "After the second stop it was not easy keeping him behind, it was so close but it was just close enough."
Raikkonen admitted: "I wasn't quick enough. I was not quick enough in the early part of the race and also after the first stop from the beginning so Montoya always got a little gap and it was enough for him."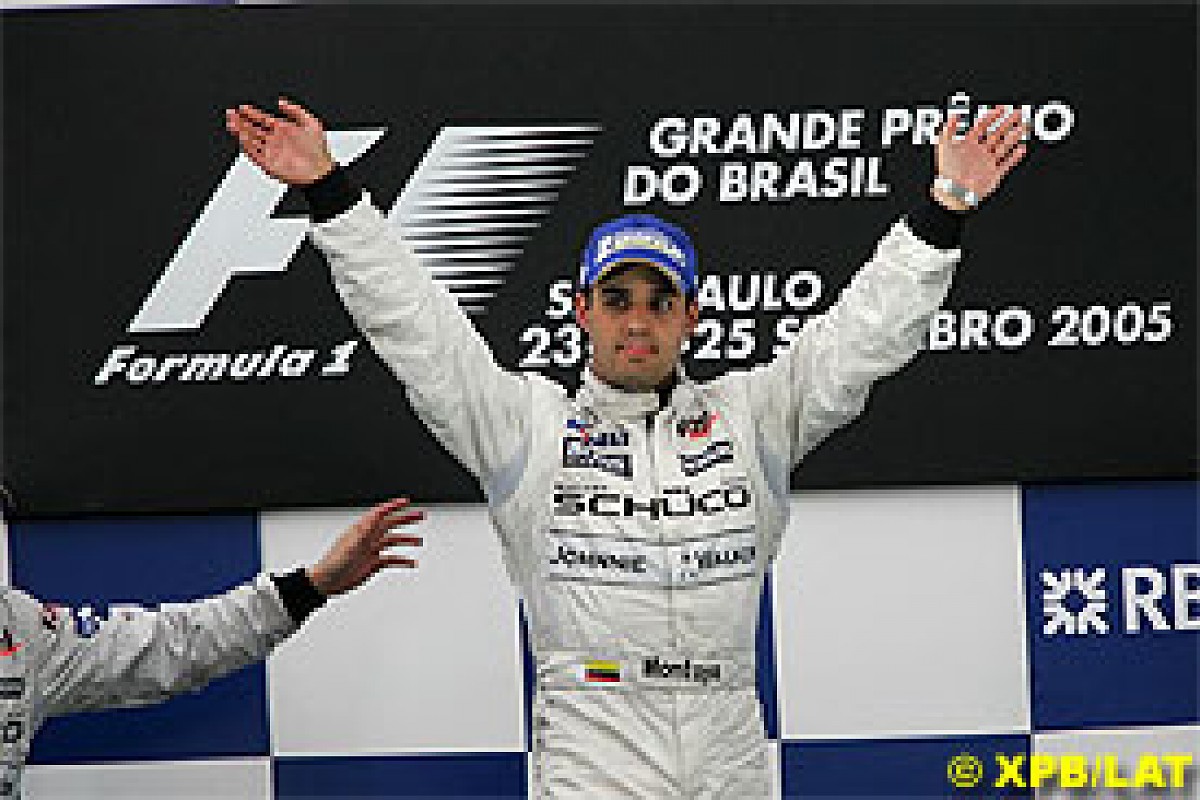 Raikkonen chose not to fight and slowly dropped back to finish 2.5 seconds behind Montoya in McLaren's first one-two finish since the Austrian Grand Prix way back in 2000, when Mika Hakkinen led home David Coulthard.
Alonso finished 25 seconds back while Michael Schumacher was 10 seconds further behind in an encouraging fourth, with Fisichella fifth, Barrichello sixth, Button seventh and Ralf Schumacher passing Klien in the final stops to claim eighth.
But the day belonged to Alonso, the new World Champion. "It sounds great," he said. "I am really excited because it is a dream come true for me. I am the youngest World Champion in Formula One. That feels good."
Race Results
Pos  Driver        Team                  Time   
 1.  Montoya       McLaren-Mercedes (M)  1h:29:20.574
 2.  Raikkonen     McLaren-Mercedes (M)  +     2.527
 3.  Alonso        Renault          (M)  +    24.840
 4.  M.Schumacher  Ferrari          (B)  +    35.668
 5.  Fisichella    Renault          (M)  +    40.218
 6.  Barrichello   Ferrari          (B)  +  1:09.173
 7.  Button        BAR-Honda        (M)  +     1 lap
 8.  R.Schumacher  Toyota           (M)  +     1 lap
 9.  Klien         Red Bull-Cosworth(M)  +     1 lap
10.  Sato          BAR-Honda        (M)  +     1 lap
11.  Massa         Sauber-Petronas  (M)  +     1 lap
12.  Villeneuve    Sauber-Petronas  (M)  +     1 lap
13.  Trulli        Toyota           (M)  +     1 lap
14.  Albers        Minardi-Cosworth (B)  +    2 laps
15.  Karthikeyan   Jordan-Toyota    (B)  +    3 laps

Fastest Lap: Raikkonen, 1:12.268

Not Classified/Retirements:

Driver        Team                  On Lap
Monteiro      Jordan-Toyota    (B)    56
Webber        Williams-BMW     (M)    45
Doornbos      Minardi-Cosworth (B)    35
Pizzonia      Williams-BMW     (M)    1
Coulthard     Red Bull-Cosworth(M)    1

World Championship Standing, Round 17:

Drivers:                    Constructors:             
 1.  Alonso       117        1.  McLaren-Mercedes 164
 2.  Raikkonen     94        2.  Renault          162
 3.  M.Schumacher  60        3.  Ferrari           98
 4.  Montoya       60        4.  Toyota            81
 5.  Fisichella    45        5.  Williams-BMW      59
 6.  Trulli        43        6.  BAR-Honda         33
 7.  R.Schumacher  38        7.  Red Bull-Cosworth 27
 8.  Barrichello   38        8.  Sauber-Petronas   17
 9.  Button        32        9.  Jordan-Toyota     12
10.  Webber        29       10.  Minardi-Cosworth   7
11.  Heidfeld      28
12.  Coulthard     21
13.  Villeneuve     9
14.  Massa          8
15.  Monteiro       7
16.  Wurz           6
17.  Karthikeyan    5
18.  Klien          5
19.  de la Rosa     4
20.  Albers         4
21.  Friesacher     3
22.  Pizzonia       2
23.  Liuzzi         1
24.  Sato           1


Fastest race laps: Click here
Pitstop times: Click here
Lap by Lap
Pre-race 1: Jacques Villeneuve, who qualified 11th, is ordered to start from the pit lane after the Sauber team is found to have disconnected the Canadian's right-side anti-roll bar link while the car was under Parc Ferme conditions. In addition, race director Charlie Whiting warns teams that drivers will be reported to the stewards if they maintain too slow a pace during any Safety Car periods.
Pre-race 2: The track retains a few damp patches following overnight rain - and menacing skies pose a distinct threat of further downpours. Local forecasters predict that the worst of the rain will hold off until about 16:30, although they say there is a risk of light showers. All cars come to the grid on dry-weather grooved tyres.
Pre-race 3: From 13th on the grid, Tiago Monteiro - who had a late clutch change in Parc Ferme - peels into the pits at the end of the formation lap.
Lap 1: World Championship leader Fernando Alonso streaks away from pole position - his fifth of the season - and fellow front-row starter Juan Pablo Montoya scrabbles into second from the greasier side of the track. Giancarlo Fisichella briefly holds third before Kimi Raikkonen and Michael Schumacher elbow him aside. Jenson Button lies sixth from Christian Klien, Rubens Barrichello, Ralf Schumacher, Felipe Massa, Takuma Sato (relegated 20 places on the grid for causing an accident at Spa and an engine switch), Narain Karthikeyan, Christijan Albers, Jarno Trulli (demoted 10 places at the start after an unscheduled engine change), Robert Doornbos (who failed to set a qualifying time after spinning off), Villeneuve and Monteiro. The Safety Car is deployed, however, after David Coulthard and Antonio Pizzonia collide on the run to the first turn - and Pizzonia's teammate Mark Webber takes a knock in the confusion. The first two retire on the spot. The Australian makes it to the pits.
Lap 3: Race restarts. Fisichella retakes Michael Schumacher into Turn One and seconds later Montoya sets up a successful pass to push Alonso down to second. Further back, Trulli wrests 13th from Albers.
Lap 4: Montoya extends his lead to 2.4s.
Lap 7: Montoya laps in 1m 13.160s to lead by 3.2s.
Lap 8: The Colombian ups his pace again: 1m 13.002s.
Lap 10: Montoya leads by 4.1s. Raikkonen is 1.9s adrift of Alonso in third. Fisichella is drifting and the rest of the order remains unchanged.
Lap 14: Trulli passes Karthikeyan at Turn One to take 12th.
Lap 17: Massa pits and slips from 10th to 16th.
Lap 18: Karthikeyan refuels. He drops from 13th to 17th.
Lap 20: Montoya leads Alonso by 4.0s and Raikkonen by another 3.0s Fisichella is a further 4.4s adrift. Albers pits.
Lap 21: Alonso sets fastest lap - 1m 12.653s - and cuts his deficit to 3.8s. Villeneuve finally passes Doornbos, at Turn One.
Lap 22: Alonso pits and slips to sixth.
Lap 23: Fisichella, Barrichello, Doornbos and Monteiro pit.
Lap 24: Klien follows suit and rejoins behind Barrichello.
Lap 26: Michael Schumacher, Button and Ralf Schumacher pit. Webber joins in again.
Lap 28: Montoya pits.
Lap 29: Needing to win (with Alonso outside the top three) to sustain his world title hopes, Raikkonen leads by 20.4s.
Lap 31: Raikkonen pits and rejoins second, less than 2s behind Montoya (who locks a front right wheel), but well clear of third-placed Alonso. Michael Schumacher is fourth from Fisichella, Sato (yet to stop), Button, Trulli (yet to pit), Barrichello, Klien, Ralf Schumacher, Villeneuve (yet to pit), Massa, Albers, Karthikeyan, Doornbos and Monteiro.
Lap 32: Trulli pits.
Lap 34: Villeneuve comes in. Doornbos pits with a smoking engine and retires.
Lap 35: Karthikeyan makes his second stop.
Lap 37: Sato finally pits: he drops from sixth to 10th.
Lap 41: Montoya leads by 1.3s but appears to be edging away from Raikkonen. Alonso is 10.1s adrift of the Colombian. Only nine cars remain on the lead lap.
Lap 44: Barrichello passes Button for sixth at Turn One. Albers makes his second stop, Karthikeyan pits for a third time.
Lap 45: Montoya leads by 3.0s. Alonso is cruising in third, with Michael Schumacher more than 15s adrift.
Lap 46: Massa and Monteiro pit.
Lap 48: Alonso refuels and rejoins fifth, just behind teammate Fisichella.
Lap 49: Fisichella pits.
Lap 50: Montoya leads by 3.8s from Raikkonen. Michael Schumacher - yet to make his second stop - is a distant third, ahead of Alonso. Barrichello pits and drops from sixth to ninth.
Lap 53: Trulli refuels.
Lap 54: Montoya, Michael Schumacher, Klien and Villeneuve pit. Michael rejoins fourth, almost 5.0s clear of Fisichella.
Lap 55: Raikkonen leads by 16.5s. Button refuels.
Lap 56: Ralf Schumacher pits and gains a place, rejoining ahead of Klien..
Lap 57: Monteiro's 100 per cent finishing record comes to an end as he pulls off with a smoking engine.
Lap 59: Raikkonen pits and rejoins just behind Montoya - just.
Lap 60: Montoya leads Raikkonen by 0.9s. Alonso - almost 25s adrift - Michael Schumacher, Fisichella and Barrichello are the only other drivers unlapped. Button lies seventh from Ralf Schumacher, Klien, Sato, Massa, Villeneuve, Trulli, Albers and Karthikeyan. Webber is still circulating, too, 26 laps adrift.
Lap 63: The McLarens ease their pace a fraction.
Lap 71: Montoya wins the Brazilian GP for the second straight season. Raikkonen is 2.5s adrift. Alonso takes third to become the sport's youngest World Champion at the age of 24 years, 1 month and 27 days (previous record-holder Emerson Fittipaldi was 25 years, 8 months and 29 days when he clinched the 1972 crown at Monza). Michael Schumacher takes fourth - his first points since Hungary - from Fisichella, Barrichello, Button and Ralf Schumacher. Klien, Sato, Massa, Villeneuve, Trulli, Albers and Karthikeyan complete the classified finishers.