Bye Bye Dubayy

---
By Karl Ludvigsen, England
Autosport-Atlas Senior Writer
The first round of the A1 Grand Prix series at Brands Hatch proved successful in terms of popularity among the fans. Karl Ludvigsen, however, wishes the championship disappears as quickly as possible...
Only a dozen miles west of where I live, the royal family of the Kingdom of Dubayy - better known as Dubai - bases its European race-horse stud in historic premises at Newmarket, Britain's premier racing center. They call it the Godolphin Stables in homage to Francis Godolphin, the Second Earl of Godolphin, who resided at nearby Cambridge. Shrewdly, the Earl became the owner of a stallion sired in Yemen that had been a gift to Louis XV of France. Known as "Godolphin Arabian", in the mid-18th Century the horse was one of three that sired the modern long-distance racing breed. He was interred in style near the Earl's Cambridge digs.
Architect of Dubai's role in the Sport of Kings is the Gulf state's crown prince, General Sheikh Mohammed bin Rashid Al Maktoum. He's also Dubai's deputy ruler, under his father Sheikh Maktoum bin Rashid Al Maktoum, and defense minister of the United Arab Emirates, of which Dubai is a member. In the 1980s Sheikh Mohammed, also known as "Sheikh Mo", committed his nation's considerable oil resources to his personal passion, horse racing. Wintering his horses in Dubai and bringing them to Europe for the racing season, Sheikh Mo started to make an impact in the 1990s.
In 1992 the Godolphin Stud scored its first major race win. Last year, with a stable some 400 strong, it amassed 128 victories. It's now one of the two largest racing operations in the world, rivaled only by Ireland's Coolmore. It employs Frankie Dettori, the Italian considered the world's best jockey and shows Emirates Airlines as its sponsor. If money can get the job done in horse racing - and it doesn't hurt - with rising oil prices Sheikh Mo will have plenty to splash around. With "The Middle East and the Gulf awash in cash," according to Business Week, Sheikh Mohammed is even setting up his country's own stock exchange. It opened for business on Monday.
Sheikh Mo has two brothers, Sheikh Hamdan bin Rashid Al Maktoum and Major General Sheikh Ahmed bin Rashid Al Maktoum. One of them is the father of a man who cut a major swathe in motor racing last weekend, Sheikh Maktoum Hasher Maktoum Al Maktoum. A genial business-suited man in his late twenties, this triple-Maktoum has burned his brand on a different kind of horseflesh than his uncle. He's the driving force behind the A1 Grand Prix operation that made its bow at Brands Hatch. You've heard the basics: identical Zytek-powered Lolas entered by teams representing nations and piloted by drivers from those nations.
A1 Grand Prix came to Brands with bells on. If as suggested the project has cost the Maktoums £250 million, say almost half a billion dollars, it showed. Its multicolored graphics were omnipresent. Special dressings for the pit garages and a row of offices for the teams in the paddock made the most of the shabby Brands facilities. Unsurprisingly, Emirates was one of the on-track advertisers, as was - more surprisingly - RAB Capital, a relatively small London financial-management firm specializing in hedge funds. Otherwise serious sponsorship was conspicuous by its absence, especially on the racing cars. Italy's entry carried large - and significant - question marks on its airbox.
I don't know what the young Maktoum and his aides said to the drivers before the racing, but the result was that one of the most heterogeneous fields of racers in living memory performed with impressive cool. They managed better starts than their Formula One colleagues in Brazil and showed exemplary manners on the track. Some of them weren't very good, with teams from Russia, Lebanon and China, but the young Nelson Piquet and New Zealand's Matt Halliday were impressive.
That said, A1 Grand Prix doesn't deliver on its premise. If the point of having identical cars is to show differences in drivers, why then are drivers considered interchangeable parts? They can be chopped and changed between qualifying and the two races, leaving the onlooker wondering who's in which cockpit much of the time. People are interested in people; A1 Grand Prix goes out of its way to obscure the role of the driver.
If what we need is a top-level formula that helps display the skills of drivers, we already have it in GP2. It's a far better proposition for this purpose than A1 will ever be, with the added advantage that it gives drivers valuable experience of the tracks used in Formula One. We've also seen some terrific racing in GP2, something that - in spite of the Monday-morning hype - wasn't all that evident at Brands Hatch. Moreover, I have to agree with BusinessF1 that GP2 is let down by amateurish TV commentary. The magazine suggested that the producers get the proven team of John Watson and Ben Edwards. Guess who has them instead: Sky Sports for its A1 Grand Prix broadcasts.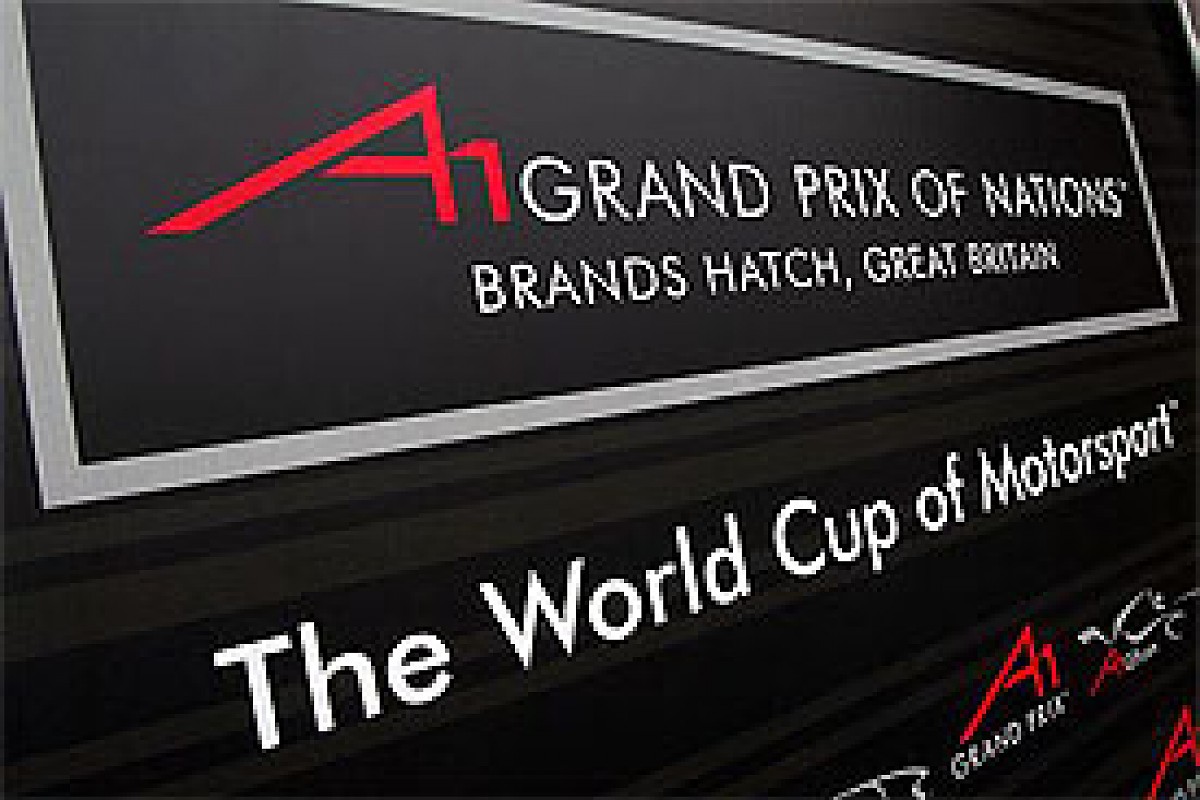 Of course A1 isn't a real contest among host-country teams. While drivers must be nationals, the personnel of the teams running the car's don't have to be. If Sheikh Mo's stables have been a boon to horse-racing employment, and they have, the same must be true of A1, which relies on experienced teams to operate its cars. They must be counting their blessings that this Dubai-backed project has come along to keep them in gainful employment.
The teams may also be wondering how long and how far this gravy trail will roll. It has some reprehensible attributes. We have, for example, more than enough nationalism to go around already. The last thing we need is another sport designed to set nation against nation. This isn't the first such in the world of cars, of course. A century ago the Gordon Bennett Cup races required every part of the car to be made in the country that it represented. And what was the result of that kind of thinking? Two World Wars in succession, that's what.
Closer to the heart of the sport, however, what I dislike most is that A1 Grand Prix is devaluing the concept of Grand Prix racing. Of course we have "Grands Prix" in other sports, usually to mark contests or series at the highest level. And auto races can and do carry the "Grand Prix" designation even though they're not part of the Formula One World Championship. Nevertheless, "Grand Prix" has always been associated with the highest form of auto racing, Formula One, and I resent the way it's been ripped off to serve the commercial goals of this series.
If you think I'm playing Chicken Little, consider this. Radio broadcasts in London were talking about "the British Grand Prix" being raced at Brands. And the track's own billboards proudly proclaimed, "Grand Prix racing returns to Brands Hatch". Such references sharply depreciate the value of "Grand Prix" as an accepted and understood alternative appellation for the pinnacle of automotive sport.
And if that's not bad enough, on the podium the three top drivers were handed huge cardboard checks proudly flaunting their teams' winnings. More than anything else, this crude and inappropriate display emphasized what this new series is all about, what is much more important to it than any sporting aspect: money. Personally, I hope A1 Grand Prix runs through as much of it as the Maktoums and their backers are prepared to spend and then quietly disappears.