Tweaks to the Formula Renault 3.5 championship are a customary end-of-season occurrence. The latest refinements, announced at the final round at Motorland Aragon, do away with the complex reverse grid and Superpole qualifying format, the intricacies of which had a propensity to baffle the uninitiated.
First introduced in 2007, a season which produced 13 different winners from 17 races, the reverse grid regulations were, perhaps, a little too effective in fulfilling their brief of providing the midfield drivers with a shot at glory.
The introduction of a Superpole session in 2008 removed the total dependence on the outcome of race one in determining race two's starting order. Instead, the top eight qualifiers were guaranteed their positions at the head of the feature race grid.
British Formula 3 champion Daniel Ricciardo testing at Barcelona
For the coming season, the imposition of a straightforward one qualifying session per race, along with a mooted reduced aero package for the opening race of each round, has been welcomed by teams. Team manager of the only team to confirm its driver line-up for 2010 (the Red Bull pairing of Brendon Hartley and British Formula 3 champion Daniel Ricciardo), Tech 1 Racing's Simon Abadie is satisfied with the direction the championship has taken.
"For me it is better, with two qualifying sessions you will have the possibility of fighting at the front all the time," said Abadie.
"In 2007, it was a big s***, the rules were not useful for the driver. If there was a problem in the first race, you lost the second race. With the Superpole in 2008 and 2009, it has been better, but I prefer the new regulations. They are sporting and it is not a bad idea to start with a light, Monza-style downforce setting. I think it can throw up a surprise for the team and driver."
In a saturated junior single-seater market, witness the slightly alarming turnover of drivers, Renault Sport Technologies' new competitions director Jean Pascal Dauce is aiming to maintain the championship's relevance. Carrying over into 2010 will be the well-received innovations for this year's series; a prize Renault Formula 1 roadshow 'test' to be awarded to the mid-season points leader, and an internship at Renault's F1 headquarters in Enstone.
"I'm not sure what goes on in Formula BMW, but I think the relationship with the Formula 1 team is much closer in World Series than any other junior championship," says '09 FR3.5 series runner-up Fairuz Fauzy. "The champion receives an F1 test, all the drivers can go to the F1 factory to learn how to prepare physically, understand the technology and do PR training. It is good for the credibility of the championship.
"I have been involved a little in Formula 1 [as a test driver] with Spyker, so I knew roughly what was involved, but I always keep an open mind to learn more. An internship twice a season would be a good thing. This year's event created a good atmosphere among the drivers. If you train together, and are friends, then you are not so inclined to be a [ruthless] s*** on the circuit.
"Also, all these things help raise our profile. The big crowds Renault bring [with free admission] are attractive to sponsors. It means we don't just have a specialist motorsport crowd but a good mix of the general public. It's the best series I have been involved with."
Early season championship leader Marcos Martinez was the first recipient of the roadshow test, at the wheel of a 2008 Renault R28, at Silverstone in July. The outing proved to be something of a consolation following the Pons driver's severe slump over the second half of the season, which dropped Martinez to seventh in the standings.
"I am still running through in my mind what I could have done differently to drive the F1 car faster," said Martinez. "I didn't have any contact with [Nelson] Piquet or [Fernando] Alonso. I did three or four laps on wet tyres on Friday and five laps on dry tyres on Saturday. There were so many interviews to do, that was the main thing, it was extremely busy on top of competing in a World Series meeting, but it was the most fantastic car I have ever driven.
"I started out on a World Series line and you can't believe how much faster the car can go. I thought, okay I'll brake at World Series braking points because I will be arriving at the corners much faster, but then you realise you could brake 20m later."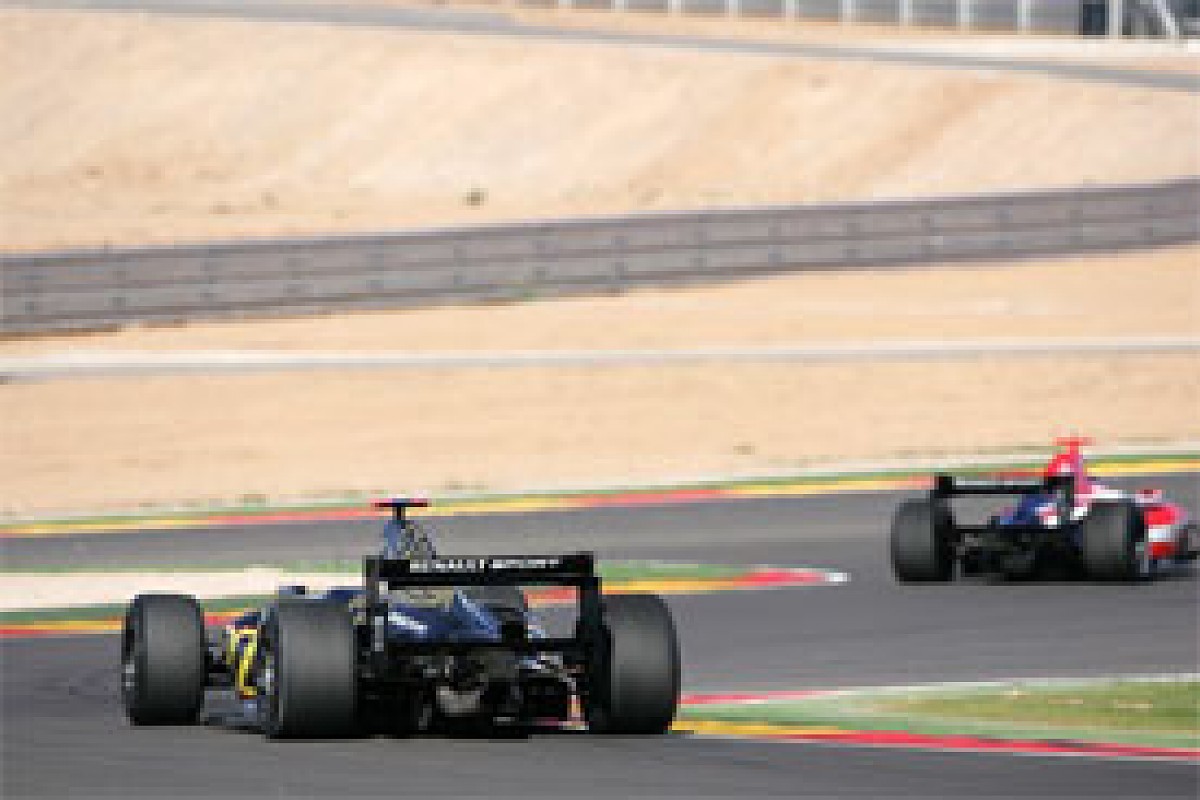 World Series by Renault testing at Aragon
Concerns from this year's rookies that comparatively limited time to acclimatise to the series, and tyres, had put them at an initial disadvantage against a large quota of experienced drivers, appear to have been addressed. There will be a slight increase in track time on offer next year, up to five hours of running available per round, So far, all positive.
While the award for the biggest rant of the year must, unquestionably, go to a certain British team railing against what it considered to be inconsistency on the part of race officials, the most oft-raised concern among teams has been that with the arrival of each new single-seater championship on the scene, a limited pool of drivers is diluted. So the fact that most teams have been fully booked in post-season testing in Spain at Motorland and Barcelona has been encouraging.
"With GP2, F3 Euro Series, F2 and now GP3, I think it's very difficult now for a young driver to know which direction to go to take," says championship winning team Draco's boss Adriano Morini. "I know people who speak highly about F2, my son for example, but I think it is very important to be schooled by a team with experience.
"My advice for a young driver is to look for a championship that is relatively cheap and from which there is a possibility to move into F1. At this moment, World Series has this potential. If the driver has quality, like [Robert] Kubica and [Sebastian] Vettel, he can move into F1. I think young drivers will look at this situation."