The 2005 French Grand Prix Review

---
By Will Gray, England
Autosport-Atlas GP Correspondent
Fernando Alonso streteched his lead at the head of the Championship table withe a dominant win at the French Grand Prix, also giving his Renault team their first home victory in 22 years. Will Gray reviews the events and results from the tenth race of the 2005 season
After the outfall from the United States Grand Prix, the meeting in Paris, the calls for resignations, personal attacks amongst team chiefs and presidents and backstabbing allegations, the French Grand Prix was a bit of an anti-climax.
And although it was nice to have some on-track action, there was never going to be any result other than a Fernando Alonso victory once Kimi Raikkonen had been pushed down the pack by the penalty for an engine failure in practice.
Suggestions of a Ferrari resurgence failed to materialise, with World Champion Michael Schumacher claiming a podium but finishing more than a minute off the pace of the two men battling to wrestle the crown from his head.
And as the trucks headed to Silverstone for a quick turn-around ahead of this weekend's British Grand Prix, it was clearer than ever that Alonso and Raikkonen are the men of the moment.
Alonso looked in control throughout, easing his way to his fifth win of the year, while Raikkonen raced smoothly, helped by his car's pace allowing him to run a two-stop strategy, up to second place.
But with both cars appearing to be equally matched at the end of the race, and Alonso able to maintain a constant and comfortable gap, it was a case of what might have been had the pair started on a level field.
Hopefully that will happen at Silverstone, with their first and second finishing positions giving them the chance to go head-to-head in qualifying and then fight it out for victory in the race.
But Schumacher refuses to lie down and he will also be there for the single-lap runs, with ever-improving Bridgestone tyres, ready to chase down his first 'real' victory of 2005.
His success in the United States dragged him into the picture in the title race, but realistically his car still appeared, in France at least, fast enough for a podium but off the pace to win a race.
Behind the top three it was a disappointing race for Toyota who, although they got both cars in the points, had expected to race strongly after Jarno Trulli secured a front-row start.
It was a nightmare for Williams, already winded by BMW's decision to side with Sauber for 2006, they took another double body blow when they posted their worst performance of the season, rating just above Jordan and Minardi at the back.
Mark Webber bravely soldiered on with a burning behind in the cockpit while Nick Heidfeld suffered an unexplainable problem with his car to leave the team in tatters ahead of their home race.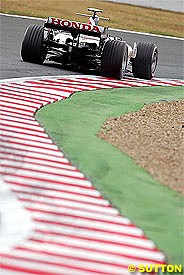 BAR-Honda, on the other hand, will head to Silverstone on a minor high after finally scoring their first points of the year with a fourth-place finish for Jenson Button. It was not the win they were looking for, but it is a start.
But the weekend continued with political wranglings overshadowing the racing, with rumours of a split within the Grand Prix Drivers Association developing just before race day.
A planned meeting with FIA president Max Mosley has already been arranged and cancelled, because Mosley feared the drivers would drag a political agenda into the meeting, and so it rolls on.
Silverstone is likely, then, to provide plenty more off-track action while on the track, despite Alonso's expectations of a struggle, there should be plenty of excitement as the battle for the world title continues apace.
Qualifying
The qualifying session was run in a bizarre order thanks to the bizarre race in the United States, which saw Ferrari pair Schumacher and Rubens Barrichello finish ahead of the two Jordans and the two Minardis.
But it made little difference to the two Championship leaders as Alonso cruised to another pole position while Raikkonen, despite a heavy fuel load, secured the third fastest time.
Raikkonen would drop down on the grid because of a penalty for an engine change, but the key man was Trulli, who ruined Schumacher's chances in the race by securing a place on the front row of the grid.
1. Fernando Alonso (Renault) 1:14.412
Renault showed their hand in Saturday morning practice, with Alonso and then Fisichella setting the session-leading times and the Spaniard, out tenth in the session, continued his form into qualifying with a smooth lap as he pushed hard but made no mistakes to secure the top spot, his second pole at the Magny-Cours circuit.
2. Jarno Trulli (Toyota) 1:14.521 + 0.109
Trulli was surprised by how well his car was handling following a major turn-around in strategy for his set-up on Saturday morning and he put in a mistake-free lap to secure his second consecutive front-row grid spot after claiming an ultimately pointless pole in the United States.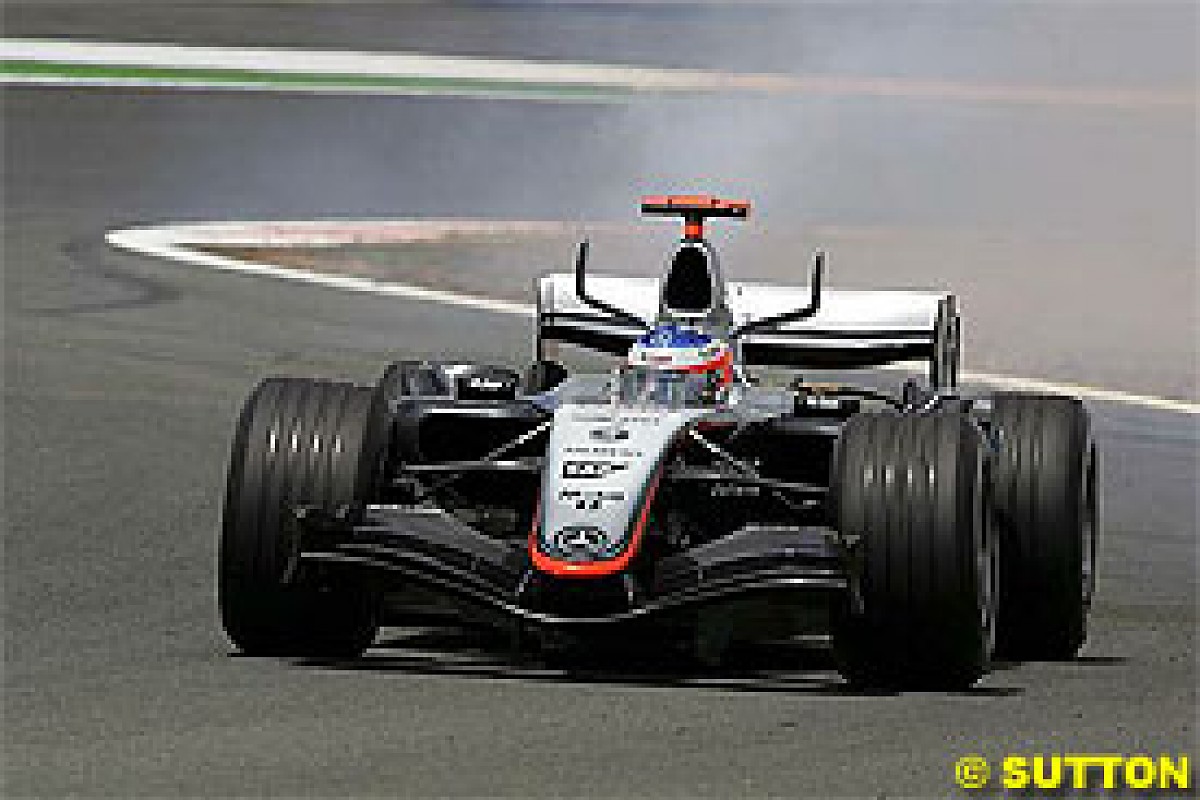 3. Kimi Raikkonen (McLaren) 1:14.559 + 0.147
Raikkonen already knew when he headed into the qualifying session that the highest place on the grid he could achieve would be 11th, because of his engine change in Friday practice. And astonishingly, despite being fully fuelled for the longest stint of any driver in the race, he managed to set the third fastest time to secure 13th place on the grid.
4. Michael Schumacher (Ferrari) 1:14.572 + 0.160
Schumacher, the winner in the United States, enjoyed an advantage from running last in the qualifying session for the first time this season, the only previous time being more of a hindrance when he suffered in a downpour in Australia. He made the most of it as he claimed fourth place but was actually disappointed not to fight for the pole. That said, he was only 0.051 seconds off second in a tight top four.
5. Takuma Sato (BAR-Honda) 1:14.655 + 0.243
Finally there was some good news for BAR-Honda as Sato shot himself right into the mix with a very strong qualifying lap. He outqualified teammate Jenson Button by almost four tenths of a second and was delighted to put himself between the McLarens and the Renaults.
6. Rubens Barrichello (Ferrari) 1:14.832 + 0.420
Barrichello was the penultimate runner in the qualifying session, coming out just before his teammate Michael Schumacher. He pushed to the limit but suffered graining on his front tyres at the end of the run and was forced to slow down in turn 13 after suffering understeer, something that cost him vital time.
7. Giancarlo Fisichella (Renault) 1:14.887 + 0.475
After reasonable first and second sectors Fisichella was disappointed to lose almost four tenths of a second in the final part of the lap, when he made a mistake that could have cost him a front row start alongside teammate Alonso. Instead, he was back in the pack in seventh.
8. Jenson Button (BAR-Honda) 1:15.051 + 0.639
Button thought he got all he could out of the car, suggesting he was on a different fuel strategy to teammate Sato, who finished four tenths ahead of him. He made no mistakes and ended up a solid eighth, right in the pack and ready to fight for his first points of the season.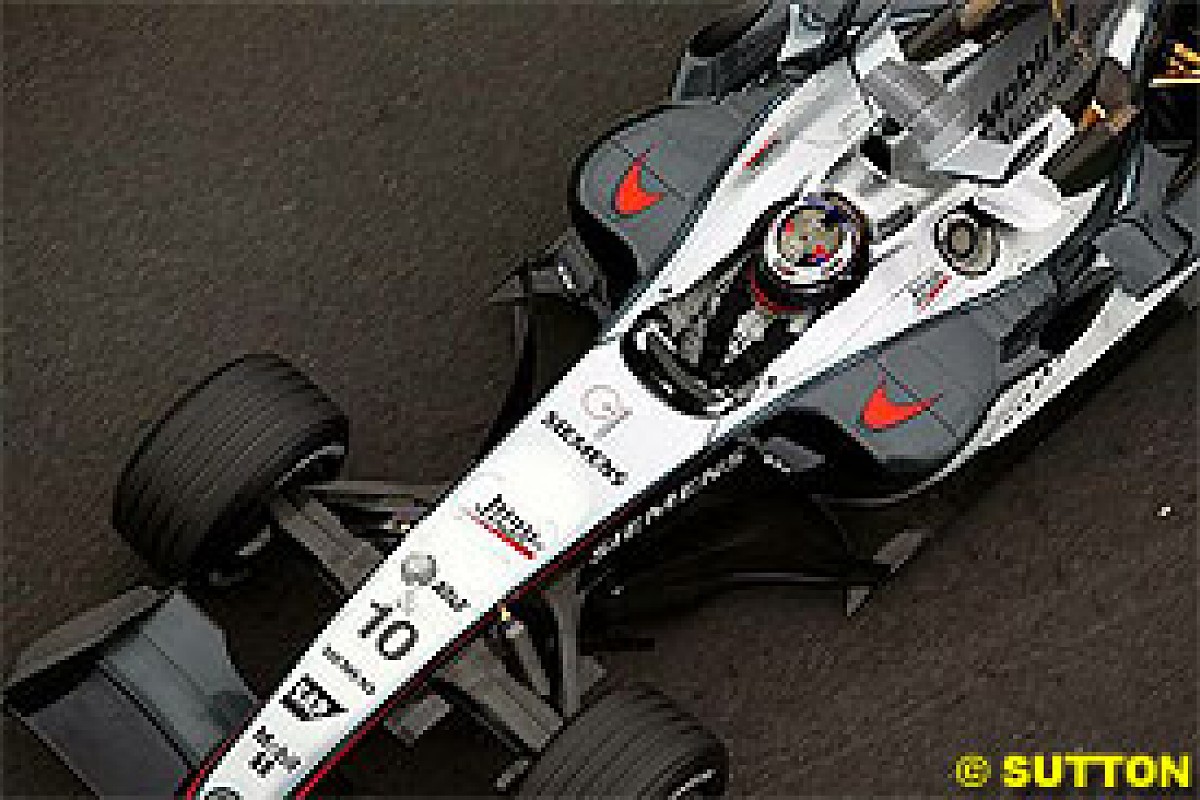 9. Juan Pablo Montoya (McLaren) 1:15.406 + 0.994
Once again, Montoya had to make his qualifying run early in the session, seven cars before teammate Raikkonen, so he suffered from a slippery track. He set a similar time to that which he set in practice but he was around eight tenths of a second slower than Raikkonen.
10. Felipe Massa (Sauber) 1:15.566 + 1.154
Sauber concentrated on race strategy for Massa's car and he was happy to put it into the top ten with what he believed was a strong race car. He also outpaced teammate Jacques Villeneuve by one tenth.
11. Jacques Villeneuve (Sauber) 1:15.699 + 1.287
Villeneuve was carrying four laps worth of fuel more than his teammate Massa for his qualifying lap so he was happily surprised to finish only around one tenth of a second behind. The understeer that had been hampering him all weekend disappeared for his crucial lap but he felt he could have done even better.
12. Ralf Schumacher (Toyota) 1:15.771 + 1.359
A major lock-up heading into the Adelaide hairpin caused Schumacher to lose a massive amount of time. He was hampered by heading out first in the session, following his crash in Indianapolis, and the mistake cost him half a second, so without it he could have risen up a few places.
13. Mark Webber (Williams) 1:15.885 + 1.473
Just two years after Ralf Schumacher won for Williams, the team's engineers were left baffled as to why their car was performing so badly around Magny-Cours. Webber was forced to fight for the midfield places and did the best he could after failing to find a way to improve the car.
14. Nick Heidfeld (Williams) 1:16.207 + 1.795
Heidfeld blamed an early start for his poor performance, claiming that the car actually felt good in the fast corners, and he had expected to do better in qualifying as he finished three tenths of a second slower than teammate Webber.
15. David Coulthard (Red Bull) 1:16.434 + 2.022
After experiencing a slippery track in the morning, Coulthard decided to take things a bit cautiously. He lost two tenths in the first sector, then lost a lot of time at turn eight. He eventually finished only one tenth ahead of teammate Klien and blamed his problems on his car's aggressive understeer.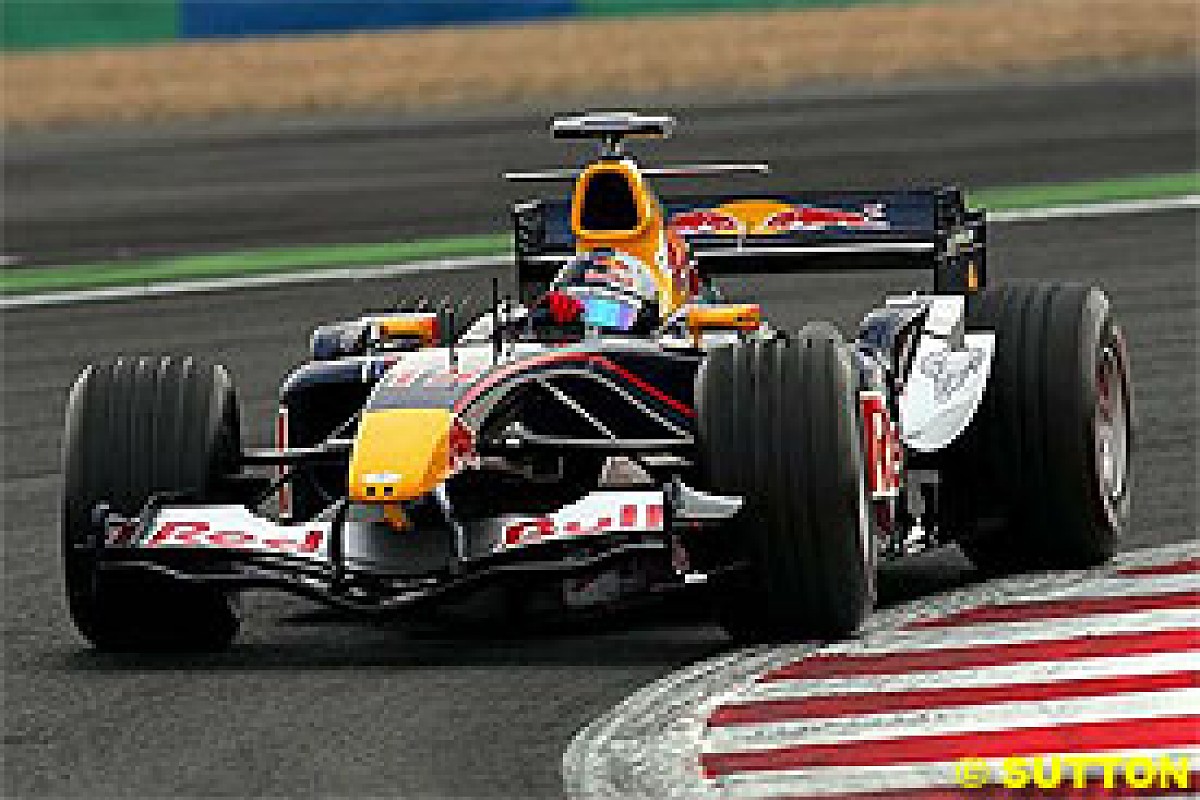 16. Christian Klien (Red Bull) 1:16.547 + 2.135
An accident in the opening practice sessions cost Klien half an hour of running time on Friday as well as 45 minutes in the first session on Saturday, as the team continued to work on his damaged car. For that reason, he claimed he could not attack the fast corners by the time qualifying came around.
17. Narain Karthikeyan (Jordan) 1:17.857 + 3.445
Karthikeyan admitted struggling a little on his lap but, despite several mistakes, the Indian driver managed to put himself at the top of the backmarker pile, some two tenths of a second faster than his teammate Monteiro.
18. Patrick Friesacher (Minardi) 1:17.960 + 3.548
Friesacher continued to push Minardi forward in qualifying, mixing it with the Jordans to claim 18th place on the grid. He had a small problem with the downshift on his car, but otherwise was happy with his lap.
19. Tiago Monteiro (Jordan) 1:18.047 + 3.635
Like all of his backmarker rivals, Monteiro enjoyed the rare chance to run late in the session following the bizarre events at the United States Grand Prix. But he had been struggling all weekend with problems and, despite being beaten by a Minardi, he claimed his qualifying lap was his best of the weekend.
20. Christijan Albers (Minardi) 1:18.335 + 3.923
Albers struggled with two major oversteering moments that cost him a significant amount of time and that put him almost four tenths of a second slower than teammate Friesacher.
The Race
The weather changed throughout the weekend but the race saw high temperatures, rising to around 30 degrees Celsius, and sunny skies when the cars formed together on the grid.
And after the fiasco that went on in Indianapolis two weeks previously it was a relief to see all the cars come round to take the start, with Alonso and Trulli lining up on the front row.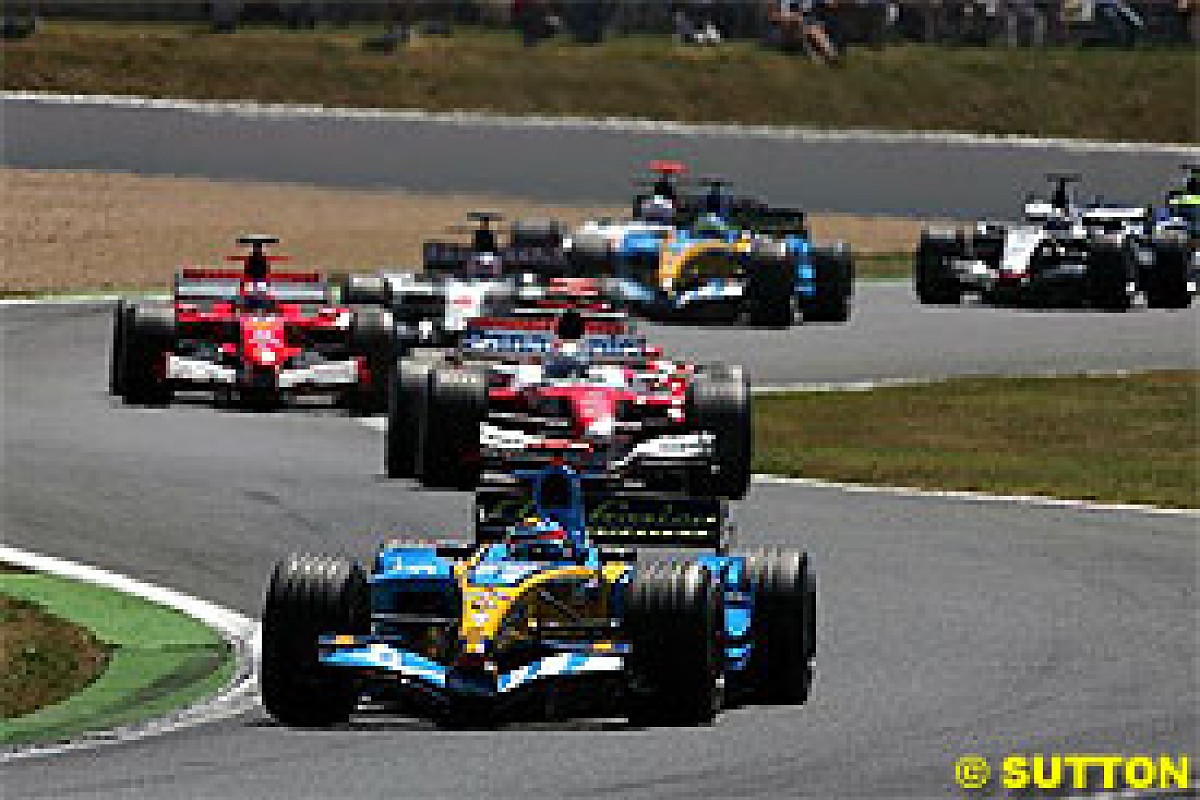 Taking things cautiously all the drivers made it through the first turn unscathed, with Alonso ahead of Trulli and third-placed Schumacher and Barrichello moving past Sato's BAR-Honda for fourth.
Both BAR-Honda drivers struggled off the line, in fact, as Button dropped down from seventh to eighth when Montoya found a way past while the second McLaren of Raikkonen moved up two places to 11th from his engine change induced 13th spot.
Albers made a stunning start from the back to climb two places into 18th while his teammate Friesacher did the opposite as he dropped to the back from the 18th spot on the grid.
Klien was the first retirement of the race when he stopped at the side of the circuit after just one complete lap. "I had a fuel pressure problem in the first lap," he explained. "There was nothing to do, but pull over."
Raikkonen was past Villeneuve by the end of lap two but after that the field was static, apart from Monteiro passing Albers for 17th on lap 12 and Friesacher pitting on lap 13.
By lap 15, Alonso had developed a lead of 21.337 seconds over Trulli, who had crucially been holding up a train of cars behind him, with Schumacher less than a second behind and Barrichello only a little further back.
Fifth-placed driver Sato, along with Massa, Ralf Schumacher and Monteiro, all stopped on lap 15 with Karthikeyan and Albers stopping one lap later then, back at the front, Barrichello stopped from fourth on lap 17.
Barrichello's stop was rapidly followed by his teammate Schumacher, then third, and second-placed Trulli, who came in together, with the Ferrari team short-fuelling their driver to get him out ahead.
Heidfeld also made his first stop on lap 18, then Fisichella came in, at the same time as Button, Villeneuve and Webber, but the Renault driver hit trouble with his fuel rig and dropped all the way to 10th place.
Leader Alonso stopped on lap 20 and, after the first stops of all the three-stoppers McLaren drivers Montoya and Raikkonen, who both went for a two-stop race, were behind Alonso in second and third places.
Schumacher was in fourth with Trulli fifth, Sato sixth, Barrichello seventh and Button in the final points position in eighth. Montoya then pitted on lap 25 for his first stop of the race.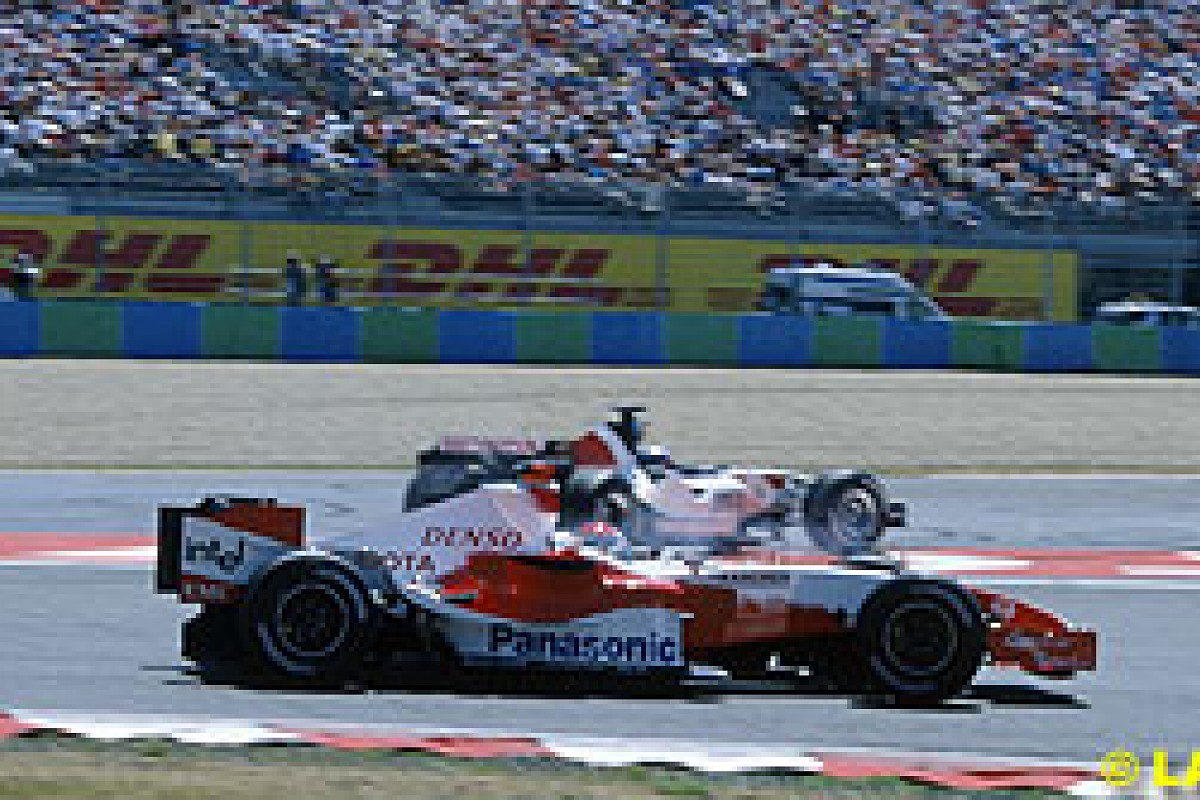 Sato dropped to ninth when he slid wide at the hairpin on lap 27. "I was mixing it with Jarno Trulli and Rubens but when I tried to overtake Trulli, I suffered with lack of grip and struggled with traction," said Sato.
Raikkonen then set some stunning fast laps before pitting at the end of lap 28 and, thanks to his speed, he came out ahead of Montoya to maintain second place and start the chase of leader Alonso, 29.4 seconds ahead.
Felipe Massa began to suffer hydraulic problems on his Sauber on lap 28 and he pitted to try and solve the problem. "First of all the steering started to become very heavy, then I couldn't select the gears," he said.
"The team tried to fix the problem and I went out again, but it was still there so I had to retire." He ended his race on lap 30 and Friesacher then added himself to the list of retirements with a tyre problem three laps later.
Schumacher pitted for his second fuel stop on lap 34, the same time as Sato, then Heidfeld dived into the pits on lap 37 after suddenly experiencing massive unexplainable handling problems.
"I thought it was a suspension that had failed because it felt really strange, especially in a straight line," said Heidfeld. "From the pits the engineers told me that there was a problem with the differential.
"They sent me out again because they said we should try to stay out in order to get the best race result possible for qualifying at the next race in Silverstone, but the car was very difficult to drive."
On lap 40 Albers plunged straight into the barriers at high speed when he suffered a left rear tyre problem on his Minardi, the second such incident of the race for the team.
Minardi boss Paul Stoddart explained: "Both cars retired as the result of the valve caps not being refitted to the left rear tyres after the drivers' second pit stops. We will be investigating the issue further."
Barrichello pitted on lap 39, then race leader Alonso pitted at the end of lap 41 and a smooth stop put him out clear in the lead with a 13-second advantage over second-placed Raikkonen.
Heidfeld stopped again on lap 47, then again on lap 48, and would ultimately stop twice more in failed bids to solve the problem that dropped him right down towards the back of the field.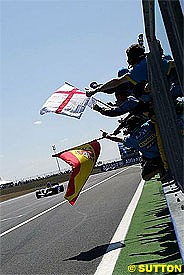 The order shuffled with the final sets of stops but Alonso continued to run strongly and put fourth-placed Barrichello a lap down on lap 49 as he continued his Sunday afternoon stroll.
Sato went off again when he slid on some oil then Schumacher pitted at the end of lap 50 for his final stop, coming out in third to hold onto a potential podium finish.
Raikkonen pitted from second on lap 55, then Alonso made his final stop of the afternoon on lap 58, just as he closed in to lap teammate Fisichella, and he rejoined comfortably in the lead.
That left the order with Alonso ahead of Raikkonen, Schumacher, Fisichella, Button, Trulli, Ralf Schumacher with Villeneuve completing the final position in the top eight.
But Fisichella saw crucial points disappear when he stalled his engine as he tried to leave the pit after his final stop at the end of lap 59. The team admitted it was their mistake, but that only made it harder for Fisichella.
It was great news for Button, however, as it promoted the point-less driver up into fourth place with 11 laps to chase down Michael Schumacher for the chance to take his first podium finish of the year.
He failed, having to settle for fourth as the top three ran home in separated formation with Alonso a comfortable and stable distance ahead of Raikkonen and Schumacher completing the race around one minute and 20 seconds behind.
Those three drivers were the only ones on the lead lap, but, once Raikkonen was hit with his grid penalty, Alonso was handed a perfect chance to dominate and he didn't need to be asked twice.
Race Results
Pos  Driver        Team                  Time   
 1.  Alonso        Renault          (M)  1h31.22.233
 2.  Raikkonen     McLaren-Mercedes (M)  +    11.805
 3.  M.Schumacher  Ferrari          (B)  +  1:21.914
 4.  Button        BAR-Honda        (M)  +     1 lap
 5.  Trulli        Toyota           (M)  +     1 lap
 6.  Fisichella    Renault          (M)  +     1 lap
 7.  R.Schumacher  Toyota           (M)  +     1 lap
 8.  Villeneuve    Sauber-Petronas  (M)  +     1 lap
 9.  Barrichello   Ferrari          (B)  +     1 lap
10.  Coulthard     Red Bull-Cosworth(M)  +     1 lap
11.  Sato          BAR-Honda        (M)  +     1 lap
12.  Webber        Williams-BMW     (M)  +    2 laps
13.  Monteiro      Jordan-Toyota    (B)  +    3 laps
14.  Heidfeld      Williams-BMW     (M)  +    4 laps
15.  Karthikeyan   Jordan-Toyota    (B)  +    4 laps

Fastest Lap: Raikkonen, 1:16.423

Not Classified/Retirements:

Driver        Team                  On Lap
Montoya       McLaren-Mercedes (M)    45
Albers        Minardi-Cosworth (B)    38
Friesacher    Minardi-Cosworth (B)    34
Massa         Sauber-Petronas  (M)    31
Klien         Red Bull-Cosworth (M)    2


World Championship Standing, Round 10:                

Drivers:                    Constructors:             
 1.  Alonso        69        1.  Renault           89
 2.  Raikkonen     45        2.  McLaren-Mercedes  71
 3.  M.Schumacher  40        3.  Ferrari           69
 4.  Trulli        31        4.  Toyota            53
 5.  Barrichello   29        5.  Williams-BMW      47
 6.  Heidfeld      25        6.  Red Bull-Cosworth 22
 7.  Webber        22        7.  Sauber-Petronas   13
 8.  R.Schumacher  22        8.  Jordan-Toyota     11
 9.  Fisichella    20        9.  Minardi-Cosworth   7
10.  Coulthard     17       10.  BAR-Honda          5
11.  Montoya       16       
12.  Massa          7       
13.  Villeneuve     6       
14.  Wurz           6       
15.  Monteiro       6       
16.  Karthikeyan    5       
17.  Button         5       
18.  Albers         4       
19.  Klien          4       
20.  de la Rosa     4       
21.  Friesacher     3       
22.  Liuzzi         1       


Fastest race laps: Click here
Pitstop times: Click here
Lap by Lap
Lap 1: World Championship leader Fernando Alonso capitalises on his third pole position of the year and beats away fellow front-row starter Jarno Trulli. Michael Schumacher grabs third from, Rubens Barrichello, Takuma Sato, Giancarlo Fisichella, Juan Pablo Montoya, Jenson Button, Felipe Massa, Jacques Villeneuve, Kimi Raikkonen, Ralf Schumacher, Mark Webber, Nick Heidfeld, David Coulthard, Narain Karthikeyan, Christian Klien, Christijan Albers, Tiago Monteiro and Patrick Friesacher. Alonso leads by 1.4s at the end of the lap, with the Ferraris right behind Trulli.
Lap 2: Alonso extends his lead to 2.8s. Raikkonen passes Villeneuve. Klien pulls off at Turn 4 and retires.
Lap 3: Alonso laps in 1m16.791s and continues to pull away at about 1.4s per lap. Schumacher is on Trulli's tail, with the rest of the top 10 spread out fairly equidistantly behind.
Lap 4: Alonso ups his pace to 1m16.551s...
Lap 5: ...and 1m16.507s. He leads by 7.0s.
Lap 10: Alonso stretches his advantage to 14.1s. The rest remain as they were, although Webber and Heidfeld - 13th and 14th - are losing touch with Ralf Schumacher.
Lap 12: Monteiro passes Albers for 17th.
Lap 13: Friesacher makes the race's first stop.
Lap 15: Sato, Massa, Ralf Schumacher and Monteiro refuel.
Lap 16: Karthikeyan and Albers make their first stops.
Lap 17: Fourth-placed Barrichello pits.
Lap 18: Trulli and Michael Schumacher pit - and the German gets away first. Heidfeld stops, too.
Lap 19: Fisichella, Button, Villeneuve and Webber pit.
Lap 20: With a lead of almost half a minute, leader Alonso stops. He rejoins still in first place, with the yet-to-stop McLarens of Montoya and Raikkonen next up, 11.0s and 13.8s adrift.
Lap 21: Coulthard pits.
Lap 22: Sato outbrakes Barrichello amid backmarkers at the hairpin.
Lap 23: Monteiro passes Karthikeyan.
Lap 24: Raikkonen laps in 1m16.434s - the race's best yet.
Lap 25: ...and 1m16.423s. Montoya pits and gets out ahead of Michael Schumacher.
Lap 26: Alonso leads Raikkonen by 9.2s.
Lap 27: Sato passes Trulli approaching the hairpin - but runs wide in the process and drops to 10th by the time he gets back on track.
Lap 28: Raikkonen finally pits - which highlights the worth of his qualifying lap (third fastest to Alonso and Trulli, although a 10-slot grid penalty - post-engine change - forced him to start 13th. He rejoins second, almost half a minute behind Alonso. Montoya is third, from Michael Schumacher, Trulli, Barrichello, Button, Fisichella, Sato, Villeneuve, Ralf Schumacher, Webber, Heidfeld, Coulthard, Monteiro, Karthikeyan, Albers and Friesacher. Massa - who had been 11th - pits and retires.
Lap 30: Webber refuels.
Lap 34: Michael Schumacher and Sato make their second stops. Friesacher pulls off with a deflated right rear.
Lap 37: Heidfeld refuels.
Lap 38: Albers crashes out.
Lap 39: Barrichello pits.
Lap 41: Alonso makes his second stop and rejoins with about 14s in hand over Raikkonen. Montoya is fading badly and lapping more than two seconds off the pace.
Lap 42: Coulthard pits.
Lap 43: Ralf Schumacher pits.
Lap 44: Fisichella pits.
Lap 45: Trulli pits.
Lap 46: Button pits.
Lap 47: Michael Schumacher passes the slowing Montoya. The Colombian pulls off before the lap is over. Heidfeld makes his third stop.
Lap 48: Villeneuve pits.
Lap 49: Heidfeld is back in for the fourth time.
Lap 50: Michael Schumacher makes his third stop but retains third. Alonso retains a comfortable lead over Raikkonen. Only the top four cars are now on the same lap. Sato runs wide at Estoril and collects a bit of gravel.
Lap 51: Heidfeld ploughs on with what is now a five-stop strategy.
Lap 54: Barrichello makes his third stop.
Lap 55: Raikkonen makes his second and final stop and rejoins 33s adrift of Alonso. Fisichella is right on Michael Schumacher's tail. Heidfeld pits again but still refuses to quit.
Lap 56: Sato pits. Heidfeld manages a lap without stopping.
Lap 58: Alonso makes a swift final stop and retains a comfortable advantage. Fisichella pits from fourth - and stalls before rejoining. He slips to sixth. Coulthard refuels, too.
Lap 61: Alonso, Raikkonen, Michael Schumacher and Button - about to be, but not quite lapped - run first to fourth. Trulli, Fisichella, Ralf Schumacher, Villeneuve, Barrichello, Coulthard, Sato, Webber, Monteiro, Heidfeld and Karthikeyan are all between one and four laps adrift.
Lap 62: The leader laps Button.
Lap 70: Alonso wins by 11.8s from Raikkonen, with Michael Schumacher almost a lap in arrears. Button scores BAR-Honda's first points of the season in fourth place. Trulli, Fisichella, Ralf Schumacher and Villeneuve complete the top eight.