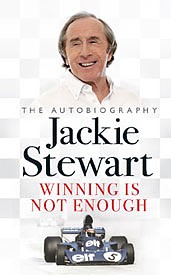 It was supposed to be a glorious 100th - and last - grand prix for Jackie Stewart. Then tragedy struck. In this extract from his new autobiography, Winning is Not Enough, the three-time world champion recounts his final days in F1
It's 1973. Jackie Stewart has already scored his 27th grand prix victory, at the Nurburgring. He has clinched his third world championship in five years for the Tyrrell team. Now he is heading for his 100th GP, the US at Watkins Glen, in the knowledge that it will be his last. Only three people - team boss Ken Tyrrell and Ford's Walter Hayes and John Waddell - are in on the secret that he is retiring. Stewart has chosen not to tell his wife Helen, nor friend and team-mate Francois Cevert.
The Canadian Grand Prix had been a frustrating weekend because I finished fifth in a race I could have won, and Francois injured his ankle in a collision with Jacky Ickx. That meant he would have to hobble around on a pair of crutches during the break we had planned to take before the US Grand Prix a fortnight later.